Simple Butternut Squash Bread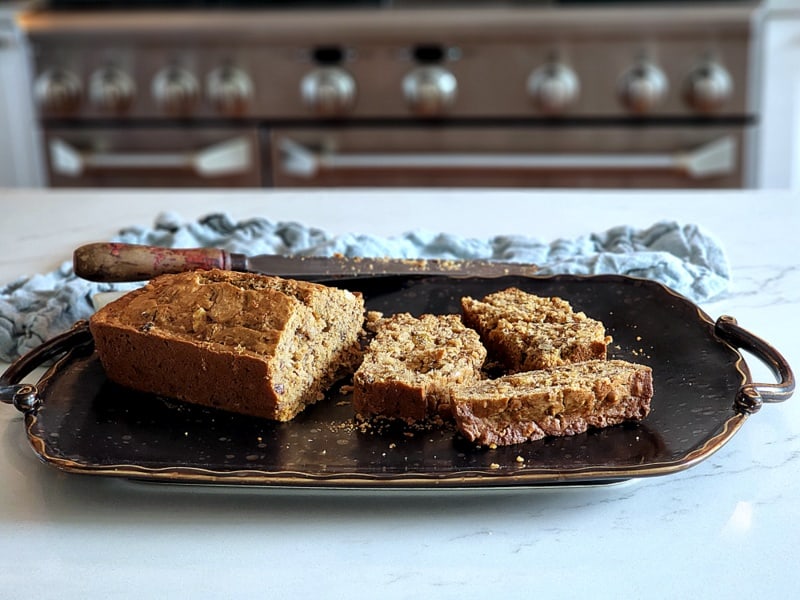 Simple Butternut Squash Bread requires not cutting or chopping of butternut squash! Nope! We're using nutrient-dense bone broth soup! Wowzee!
Butternut Squash Bread Recipes
Butternut squash just tastes like Fall! But you don't have to struggle with a big ol' butternut squash peeling, cutting and cooking it to make this recipe.
Nope! It's going to be much easier because I know you want simplicity!
If you've looking for a great boxed butternut squash soup, then please check Kettle and Fire. With my discount code, ALLYSKITCHEN, you'll get 20% off at checkout.
I strong recommend buying several boxes, especially during Fall, because they do run out and/or have shortages! You can use this soup for so so many things. Not just soup!
Cinnamon Butternut Squash Bread
There's something just tingly and special about the first bite you'll take of a slice of this not only cinnamon but pumpkin pie spiced butternut squash bread.
As my friend, Kelly, said after her first bite, 'OMG, I just got goosebumps!'
Butternut Squash Bread Healthy
What makes this a more healthy 'bread'. Well, it's butternut squash soup and it's from Kettle and Fire.
One of the best bone broth companies out there, this soup herbalicious aromatic soup has nine grams of protein per serving (one cup). It's made with pasture-raised chicken bone broth. And, it has other ingredients like coconut milk that just put it in the decadent category!
Simple Butternut Squash Bread
This recipe is pretty simple.
You'll pull together your wet ingredients. And, you'll mix your dry ingredients.
Put them together and magic happens.
Easy Butternut Squash Bread
Warm cinnamon spice makes you feel like you're tasting the best of Fall.
I recommend making the bread. After it cools, wrap in plastic wrap and then let it sit over night. No need to refrigerate unless you're kitchen is extra warm.
Cinnamon Maple Butternut Squash Bread
Drizzle that maple syrup on top before baking and you've got the final touch of slap happy Fall season!
If you've slices are a tad bit crumbly, not to fret. Just pinch up with your fingers and eat!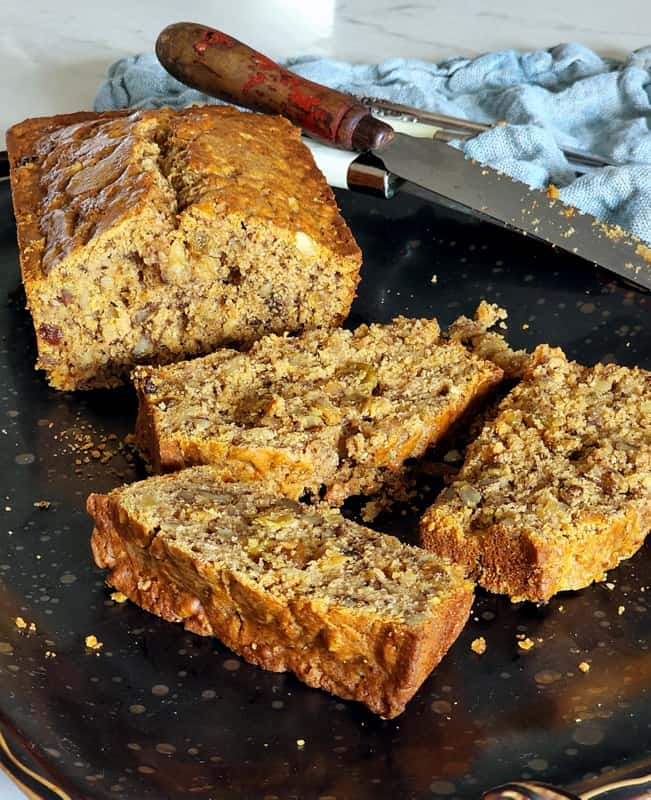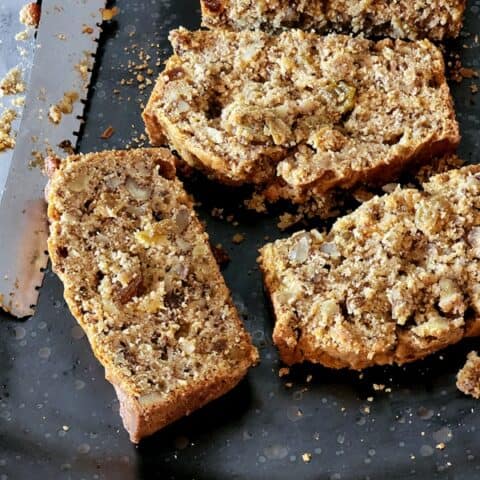 Simple Butternut Squash Bread
Yield:
One bread loaf pan
Ingredients
Preheat oven to 350
1 ½ cups flour, all purpose
1 Tbl. Baking powder
¼ tsp. sea salt
3 tsp. pumpkin pie spice mixture
1/3 cup coconut oil, room temperature
2 pasture-raised eggs
1/3 cup brown sugar, can substitute coconut sugar
1 cup Kettle and Fire Butternut Squash Soup
1 cup golden raisins
1 cup walnuts, chopped
1-2 Tbl. Maple syrup
Instructions
In a large mixing bowl, sift together the flour, baking powder, salt and spice mixture. Set aside.
In a medium size mixing bowl, put the coconut oil, eggs and brown sugar.
Blend with a hand mixer on medium speed about 2 minutes. Add the butternut squash soup and blend well. Pour the wet mixture into the dry and blend well.
Add the raisins and walnuts and blend. Pour into a well-grease baking loaf pan.
Drizzle the maple syrup on top. Bake in a preheated 350 oven for about 42 to 46 minutes or until a wooden skewer comes clean from the center.
Remove to a cooling rack. Use a butter knife to gently go around the outside edges of the loaf helping to dislodge from the pan.
Let the bread cool completely then remove from the pan. Best to let it sit a while at room temperature before you slice.

Notes
Another option for the maple syrup is to drizzle on after the bread is baked. There will be crevices and cracks. Take a skewer (or the end of a wooden spoon) and make a few pokes on top (about 2" into the bread) then drizzle on the syrup. It will tend to moisten the bread.
Order Kettle & Fire soups! Use my code ALLYSKITCHEN at checkout for 20% off! Delivered right to your home! Best bone broths on the market!