tuscan kale fusilli pasta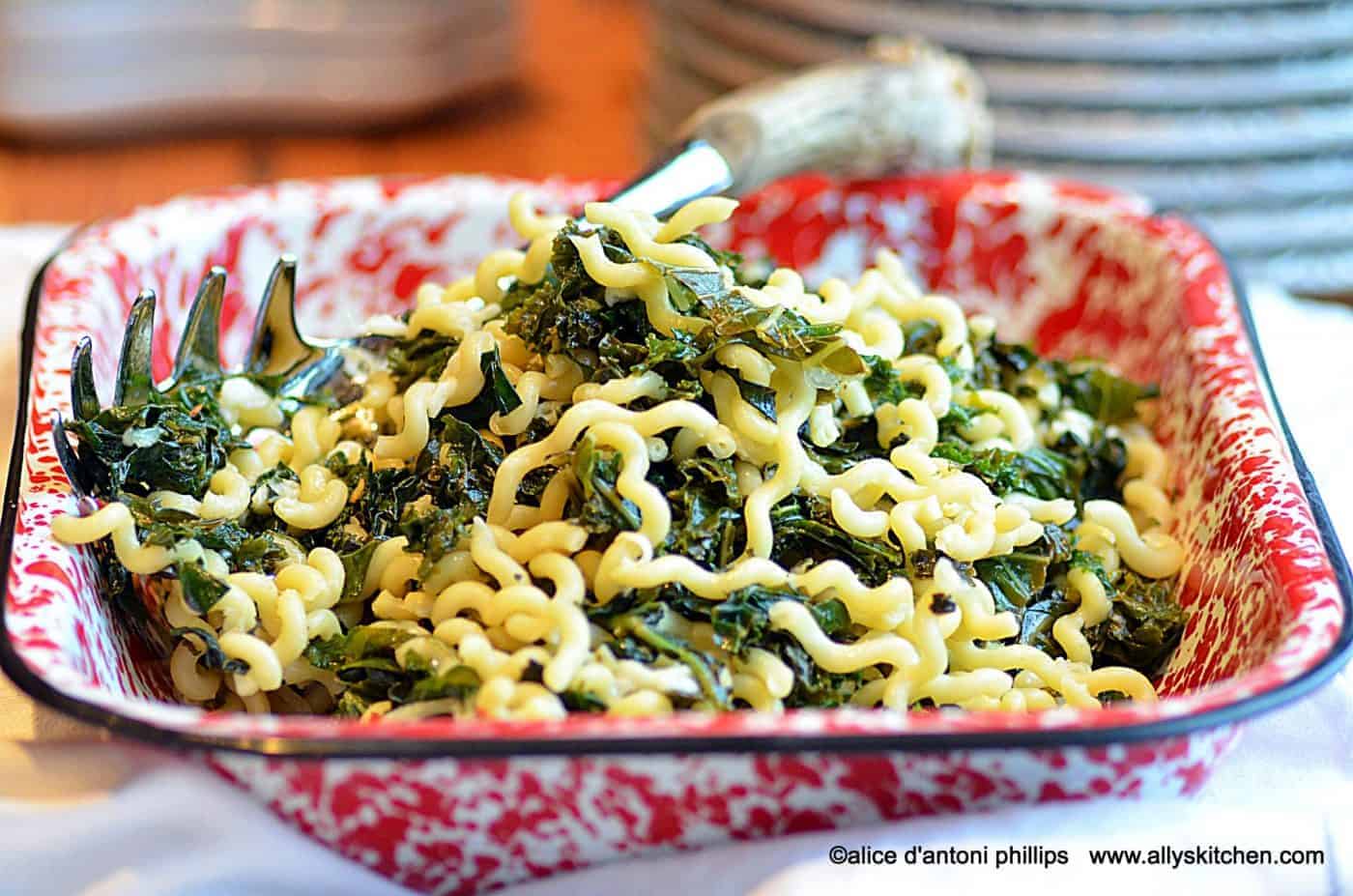 Best Pasta Recipes
Tuscan kale pasta is a vegetarian meal that won't dissapoint! The kale is mixed in tender chessy pasta fusilli noodles that are belly filling!
No doubt, we're all looking for the best pasta recipes out there in cyberspace! I'm sure this has to be one of those best recipes for a few reasons.
I like to eat pretty things. I like to prepare unique looking dishes that have eye appeal. I like to introduce to my family and friends new versions of their favorites. That's the story of this pasta dish.
Tuscan Kale
Most of us are familiar with curly kale, but have you ever tried Tuscan kale. Mainly different in appearance, Tuscan kale and regular kale can be used interchangeably. Also known as 'dinosaur' kale, and my grandsons love this name, Tuscan kale is a little more tender and that make it great to use for raw dishes or for recipes that require limited cooking.
Benefits of Kale
The benefits of kale abound according to Healthline:
Kale Is Among The Most Nutrient-Dense Foods on The Planet. …
Kale Is Loaded With Powerful Antioxidants Like Quercetin and Kaempferol. …
It Is an Excellent Source of Vitamin C. …
Kale Can Help Lower Cholesterol, Which May Reduce The Risk of Heart Disease. …
Kale Is One of The World's Best Sources of Vitamin K.
Fusilli Noodles
It's always fun to try a new pasta noodle. And, these fusilli noodles just look fun!
They're curly and wavy making them perfect for holding sauces, heavy cream sauces, and yes, the kale, being trapped in the grooves. In Italian, the word for spindle is 'fuso' hence the word fusilli. This pasta becomes curled by spinning the strips of pasta on a rod. How cool is that!
Veggie Pasta
Veggie pasta is simply a light and healthy meal. Especially, when you load up on the veggies even if it's just one, like this tuscan kale fusilli pasta. Of course, feel free to put your own signature touch on this recipe and add other vegetables. I'm thinking cherry tomatoes would be great as would diced zucchini, squash and small flowerettes of broccoli!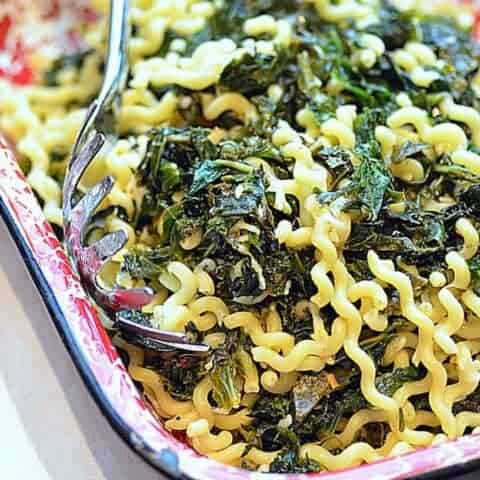 fusilli bucati luighi and tuscan kale
Tuscan kale pasta is a vegetarian meal that won't dissapoint! The kale is mixed in tender chessy pasta fusilli noodles that are belly filling!
Ingredients
2 bunches of fresh kale, stem removed and chopped into pieces, Tuscan or regular kale
3 Tbl. coconut oil
2 Tbl. lemon pepper
1 tsp. sea salt
1/2 tsp. red chili flakes
1/4 cup vegetable broth
8 oz. pasta, cooked according to directions
3/4 cup Parmesan reggiano, freshly grated + more for garnishing
1/4 cup extra virgin olive oil
Instructions
In a large heavy pot over medium high heat, put the coconut oil and add the chopped kale. Add the lemon pepper sea salt and chicken broth. Using tongs, toss and blend the the kale into this mixture. Cover and let the kale steam for about 5-7 minutes.
Reduce heat to medium low and cook another 20-25 minutes, tossing occasionally. Drain off any remaining liquid, turn heat to simmer, cover and set aside.

Prepare pasta according to package directions. When draining reserve about 1/2 cup of the water. Mix the drained pasta in with the kale, add the parmesan reggiano and toss/blend well using tongs.
Add about 1/3 cup of the pasta water, cover and let the pasta sit for about 15 minutes to absorb the flavors tossing once or twice.

Ready to serve!