boho carrot ginger seasoning cubes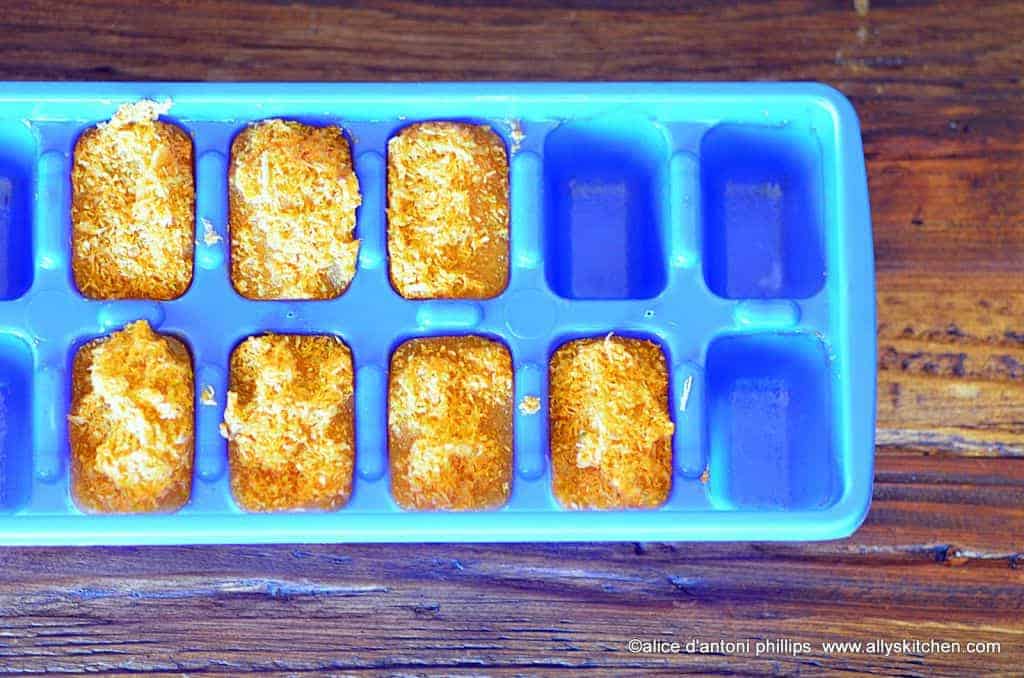 Sometimes in cooking a seasoning combination is called the 'holy trinity'. Sometimes cooks call it a 'mirepoix'(pronounced meer-pwah) which is a French word. And, there are different trinities or mirepoixs~~like a Cajun mirepoix uses onions, celery and green bell peppers, instead of carrots in the French version. Italians call this trinity a "soffritto", "odori", or "battuto" and it's onions, celery and carrots usually in a the ratio of 2:1:1.
Regardless of what you call it, one thing's for sure~~this mixture, which is cooked in butter or oil to help release flavors, is the underpinning, the foundation, the building block of great flavor in cooking whether you're doing a stew, soup, gumbo, rice and beans, pasta sauce and more! These aromatic ingredients, which also can be herbs, extend even simple pinto beans to another level of flavor. In fact, I tested them in a pot, not even sauteing them in butter or oil, but dropping the frozen cubes into the nearly cooked beans, and there was a mini-tsunami explosion of flavor that happened!
My suggestion is that you experiment with your cubes~~use them in different ways, thaw them and saute, use them frozen in simmering soups, thaw and put in smoothies~~I think you'll come up with lots of ideas!  And, puuuulllleeeeze, share with me those ideas!
xoxo ~peace and more seasoning in life~ ally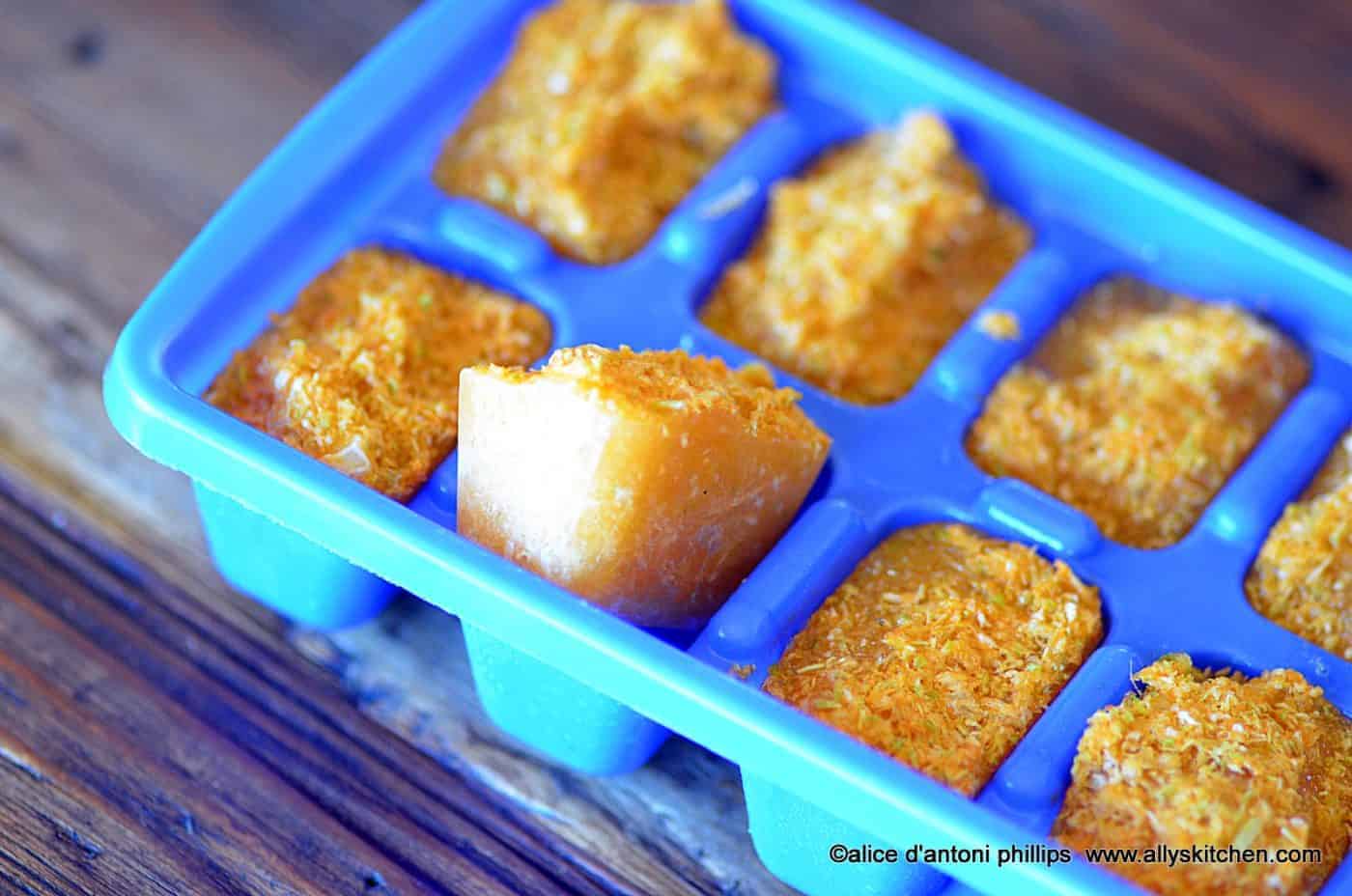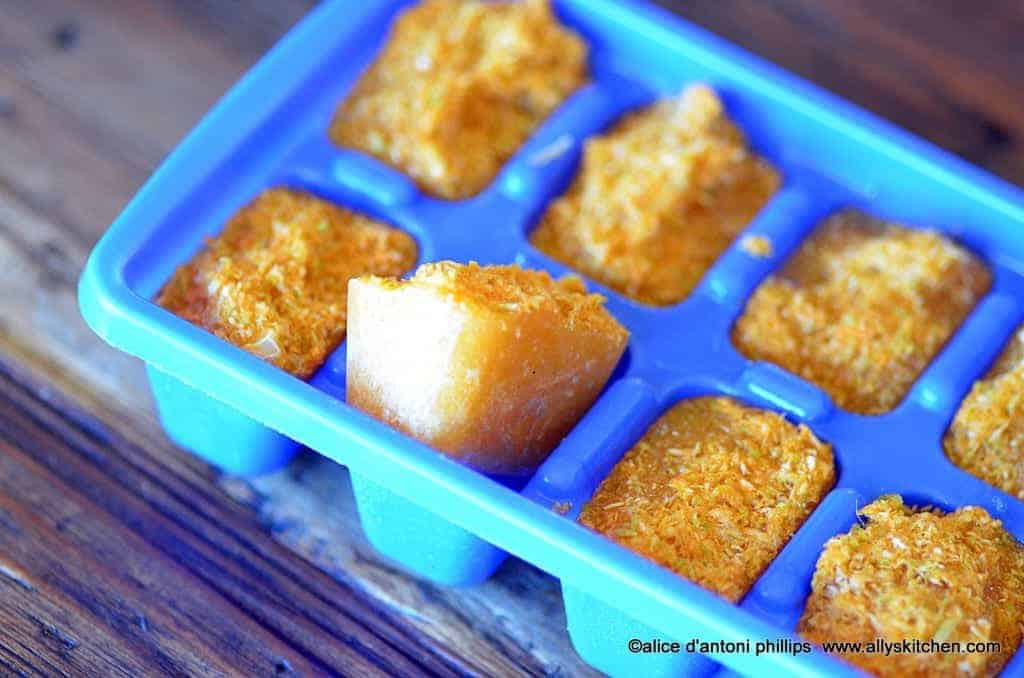 Makes: 1 ½-2 dozen
What you need:
2 cups chopped celery
1 large sweet onion, cut in pieces
1 cup Dole Carrot Ginger soup
6 garlic pieces, cleaned and whole
1 Tbl. freshly grated ginger
What you do:
Place all of the ingredients into a food processor and pulse until there's a thick liquid. Pour into freezer trays and when frozen remove and put in freezer bags. Make sure the bag is airtight. Will keep about 6 months.
©alice d'antoni phillips www.allyskitchen.com