steak au poivre lemon butter herb sauce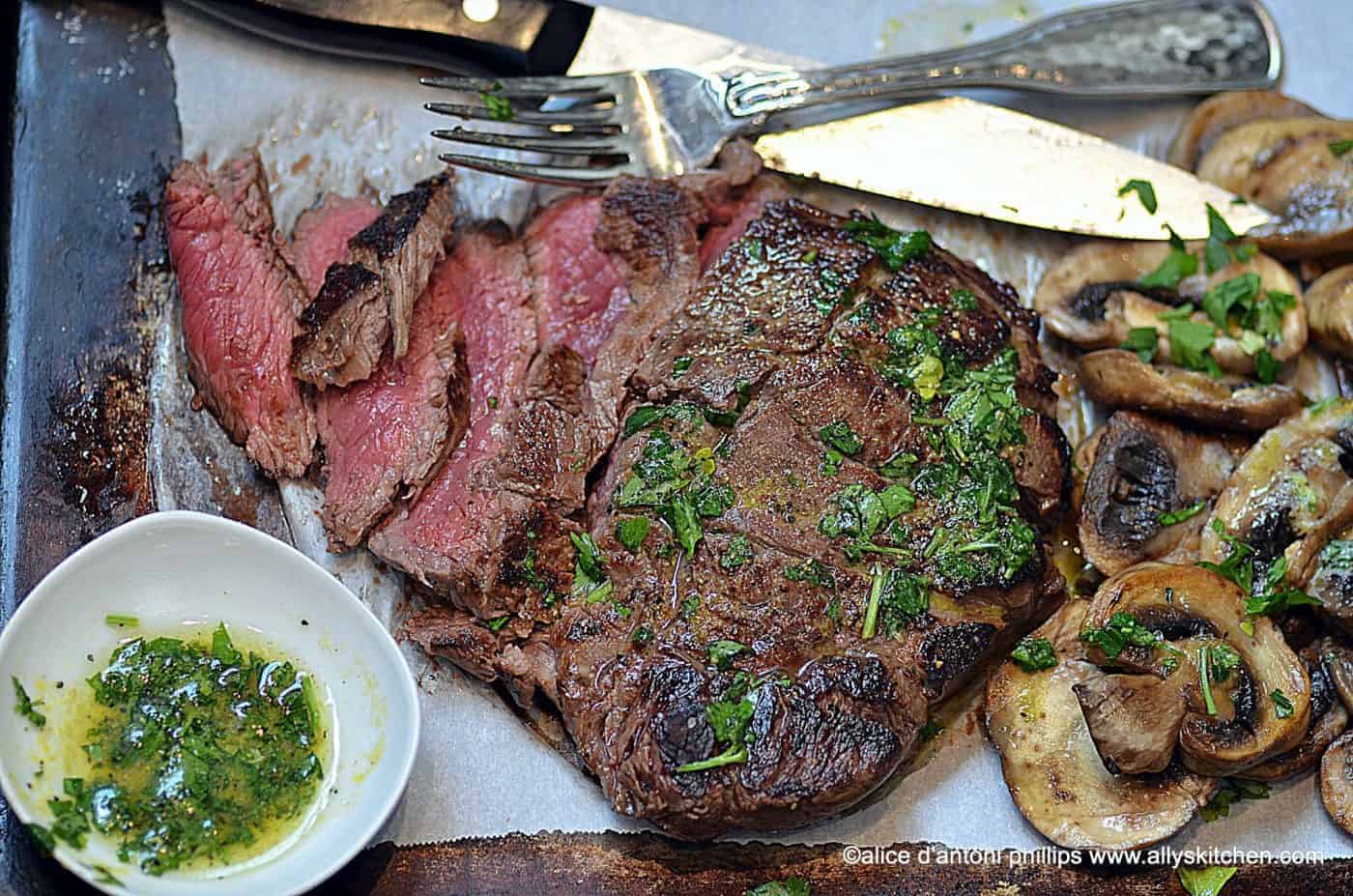 Recipe Steak Au Poivre
Steak au poivre is French for pepper steak. But, please don't think this steak recipe is complicated because it's not! You'll love it! It's so tender!
Steak au poivre is a quick pan seared steak. A high-quality tender cut of beef seasoned with salt and pepper is perfect. And, it's pan seared and cooked in a hot skillet with butter. I love my steak au poivre with oven fries!
Steak and Frites
When we lived in Boston on Beacon Hill, our favorite restaurant, Beacon Hill Bistro, was in walking distance. And, we dined there at least weekly. Ben and I love sitting at bars, especially small intimate ones like the 'Cheers' bar. This bar was like that. You only had seats for about eight people. And, you could eat at the bar. I always, yes, always, ordered their steak frites! OMG, to die for! If there's one big thing I so desperately miss about living in Boston, well, it's the steak and frites from Beacon Hill Bistro!
Since I love steak frites so much, I'd serve with either of these 'french fry' recipes
peasant herb oven french fries
Steak Diane
Steak Diane and Steak au Poivre are similar. You steak. It's usually thin either from the cut or from pounding it somewhat thinner. Seasoning is just salt and pepper. Preparation is really simple. It's quickly sauteed in butter in a hot skillet.
Diane sauce is typically mustard, Worcestershire sauce and cream. It's made in the drippings of the hot skillet.
French Steak
Steak au poivre is French for pepper steak. Typically, it's made with filet mignon. However, there's no hard and fast rule that says you have to use filet mignon. I mean it's quite pricey! This is my 'variation' my boho'ing of traditional steak au poivre. Yes, there's the peppery taste, and, yes, there's the high temp pan searing in the cast iron skillet.
Au Poivre Sauce
If you choose a cut of beef that's just not as tender as a filet, like I did in this case with a top sirloin, making it more 'tender & juicy' means a few things for me.
Scoring it prior to cooking, keeping it at a rare to medium rare finish, slicing it thin at an angle when serving and creating a nice butter sauce when serving. This recipe is my boho rendition of steak au poivre.
Enjoy! xo ~peace~ ally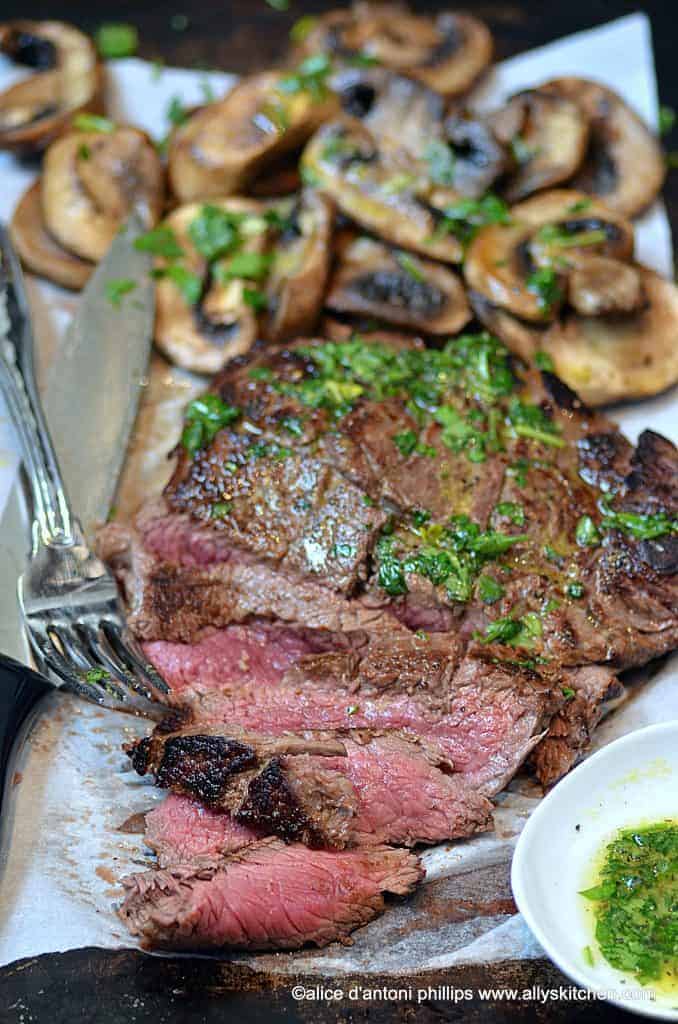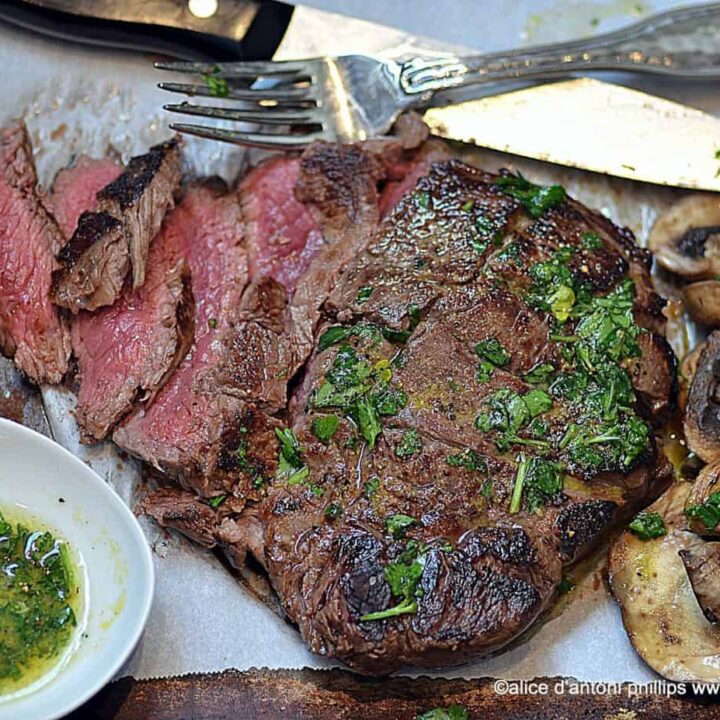 steak au poivre lemon butter herb sauce
Steak au poivre is French for pepper steak. But, please don't think this steak recipe is complicated because it's not! You'll love it! It's so tender!
Ingredients
Coconut cooking Spray
1 lb. beef, top sirloin, ribeye or NY strip, about 1 to 1 1/2" thick
1 1/2 tsp. sea salt, divided
1 tsp. pepper/garlic blend (if making yourself: 1/2 tsp. garlic granuales + 1/2 tsp. coarse ground pepper)
8 oz. mushrooms, your choice
1/2 tsp. lemon pepper
2 Tbl. butter, melted
2 Tbl. fresh flat parsley, finely chopped
Instructions
Score the steak (about 1/4" deep criss-cross pattern) on one side. Sprinkle both sides with one teaspoon of salt and pepper/garlic blend; work into the meat with your fingers. Coat both sides with cooking spray.
Let a 10" cast iron skillet over medium high heat get hot. Put the steak in, scored side down, and let it sear on the first side about 3-4 minutes. Flip and cook on the other side about 3-4 minutes. The steak will be about rare to medium rare. (Remember you can always 'cook a little more' but you can't 'uncook'.) Remove from heat and let it rest about 3 minutes then slice at an angle for serving.
For the mushrooms, coat the skillet with cooking spray. Turn heat to medium high, put the mushrooms in, sprinkle with remaining salt and cook about 5 minutes tossing and turning. Turn off heat, cover with a lid and let them steam about 5 minutes.
Put the butter in a small microwavable bowl; melt on high for about 20 seconds, remove and add the lemon pepper and parsley and blend. Drizzle some over the steak and leave some for individual servings.
Notes
I used two 10" cast iron skillets--one for cooking the mushrooms and one for the steak; however, you could use one.