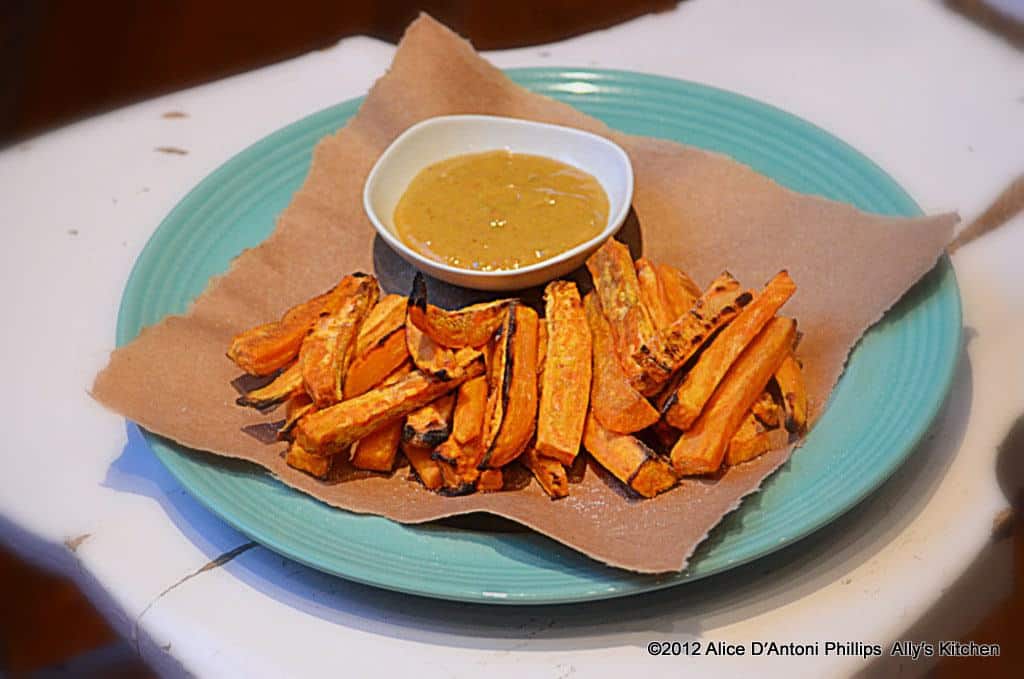 Yes, there are 'Short Ribs.' How 'bout 'Short Fries'! The hardest part about making sweet potato fries is peeling them! Especially, if I buy long somewhat large fat sweet potates, and that's what I want when I'm doing fries. Nice long fries with ninety degree angles on the cuts. Alas, these that I got were just way too long.
I was struggling with manipulating these big boys in my hand. I didn't want to risk cutting myself—I mean sweet 'taters come in such irregular shapres—so, I decided to cut them in half and make short fries. I mean it makes perfect sense to me! Short ribs…short fries. I added a little more sea salt to them, which really accented the sweet flavor. and, the dipping sauce I made was great, but I didn't keep track of my exact measurements, because, yes, I was winging it. I don't think you can go wrong with whatever you concoct!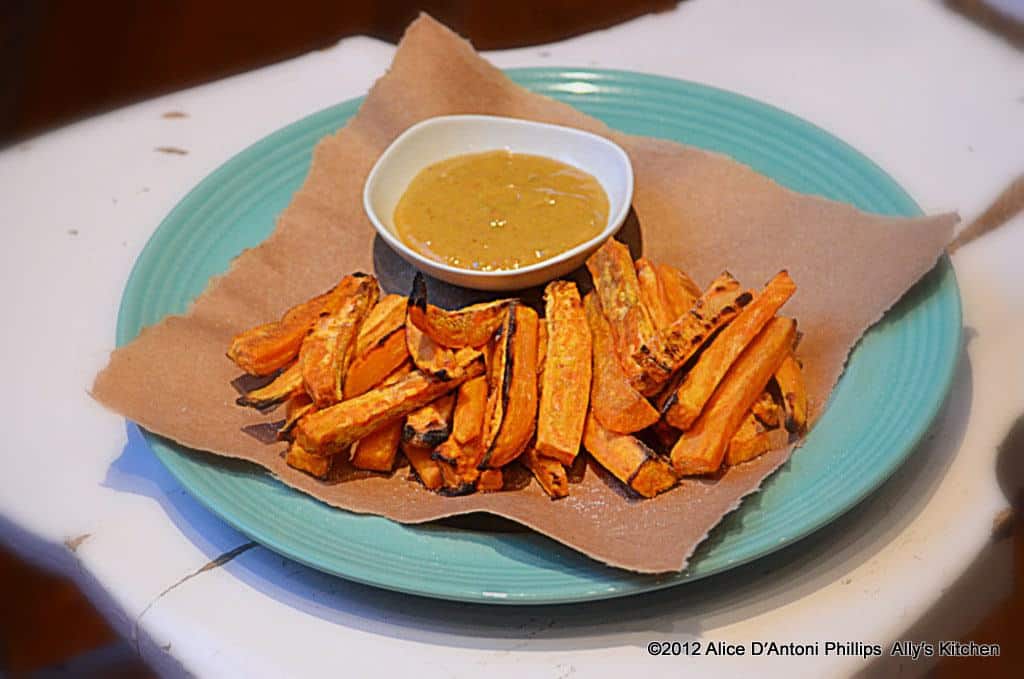 Serves: 2
Preheat oven to 425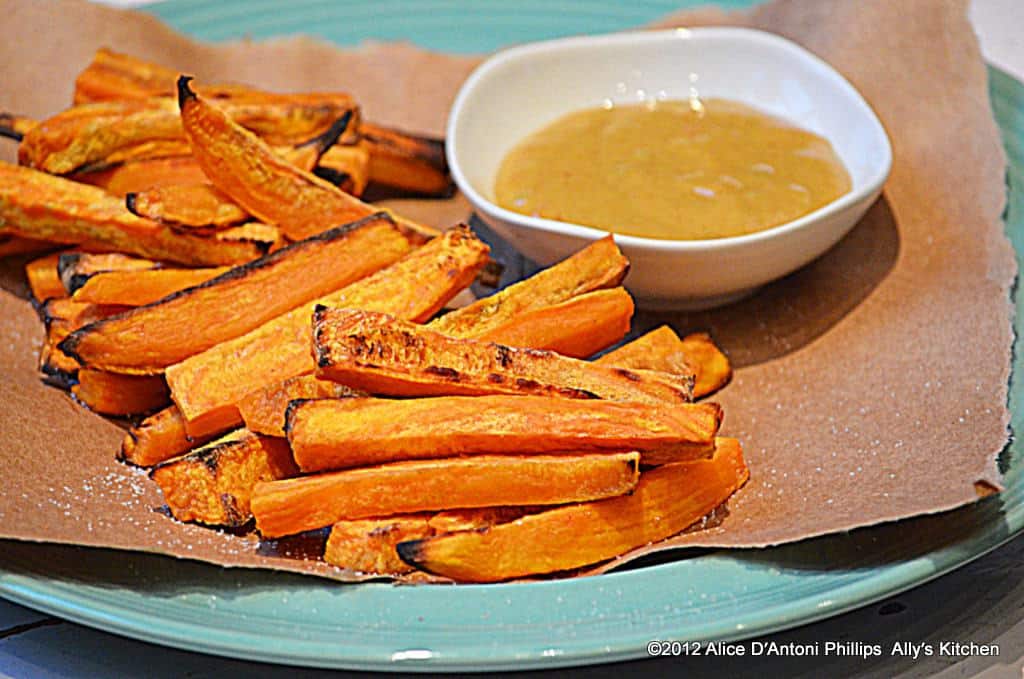 What you need:
2 good sized sweet potatoes peeled and cut into about same size thickness fries.
(Note: You can slice into any shape you prefer!)
Canola cooking spray
Sea Salt
Fresh Ground Pepper (optional)
3 tbl mustard (can use stone ground, too)
2 tbl honey
1 tsp Worcestershire
1/4 tsp cayenne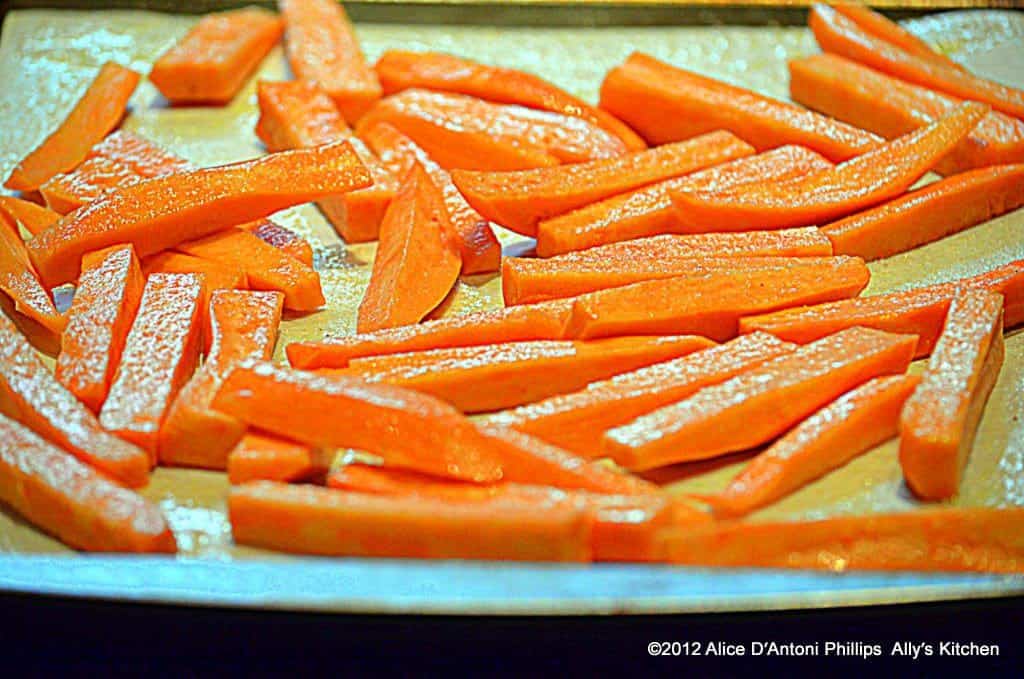 What you do:
Place fries on a parchment lined cookie sheet. Be sure not to crowd the fries. Coat with cooking spray. Toss and cover. Sprinkle salt on them. Oven roast for about 17-20 minutes or until tender. If there are some thinner cut fries, the edges could char somewhat. That doesn't bother me—I like crispy fries.
When done, remove from oven. Give another quick spray of canola and another shake of sea salt.
Combine the mustard, honey, Worcestershire, and cayenne and blend. Serve with this or your favorite dipping sauce.
Serve immediately.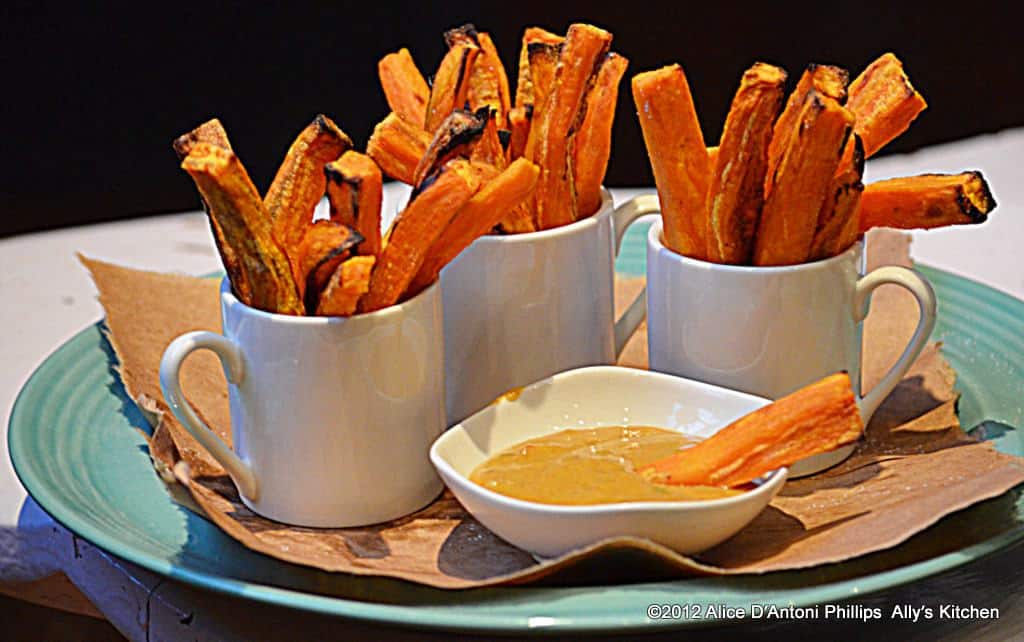 ©Alice D'Antoni Phillips www.allysktichen.com