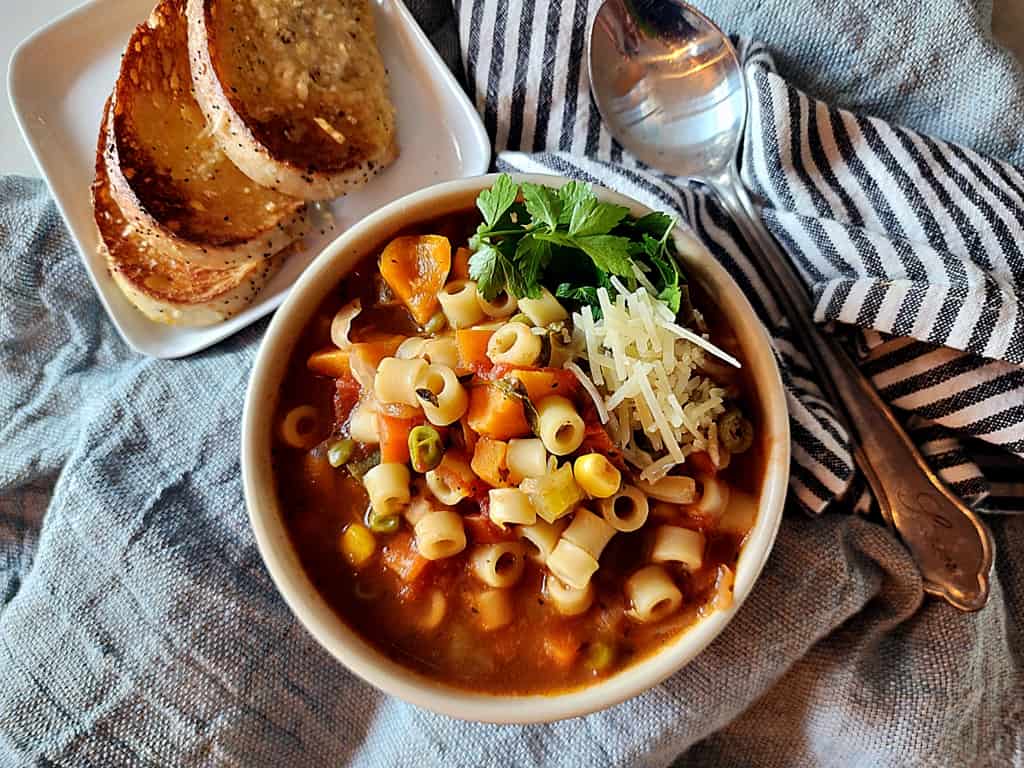 Mama and Grandma made the best vegetable soup, and I'm so glad I paid attention as a kid! This soup is off the charts easy & deeelish!
How to Make Vegetable Soup
Vegetable soup is one of the easiest soups to make. Mom used to call it 'stone soup' because she'd throw in everything in the refrigerator, leftovers and even stones from the garden!
Seasonings for Vegetable Soup
Seasonings in the soup are so important. And, it's more than just salt and pepper. I like to add a few things that create a more memorable flavor profile.
Then, of course, we're going to ramp up the B vitamins with nutritional yeast. It also give it more yummy flavor. If you've not tried nutritional yeast, read more about it here. And, check it out at my Amazon Storefront. I keep at least 2 extras in my pantry all the time because for me, it's an essential like salt and pepper.
View this post on Instagram
Old-Fashioned Vegetable Soup
What I love about this soup is that it's adaptable, flexible and versatile. You use veggies that you have or veggies that make you happy.
Plus, cooking it stove top is really all about the old-fashioned way of cooking.
Homestyle Vegetable Soup
I'm boosting the nutritional value in this soup with the bone broth protein supplement. If you'd like to learn more about this great product, check it out. It's tasteless and all it does is improve the nutrients in what you're cooking or making. Each scoop has 15g of protein collagen. I love this brand because it's clean ingredients and only made with grassfed beef bones.
There are many ways to increase the nutrients in what you're cooking, and, certainly this bone broth protein supplement powder is a great and easy way. Use in baking, smoothies, shakes, soups, stews, pot roasts and more!
Oh, one more thing. If you order using those links, you'll get an auto 15% discount at checkout. Not too shabby.
Now if you're vegetarian, you'll probably opt out. That's perfectly fine!
Italian Minestrone Soup Recipe
Yes, this soup is similar to Italian minestrone. This popular soup just speaks volumes about Nonnas worldwide!
Vegetarian Minestrone Soup
Minestrone soup is a classic dish in Italy. And, you can make this recipe vegetarian by using vegetable broth and omitting the bone broth protein supplement.
If you're wondering how minestrone soup came about, well, according to history, it originiated long before the Roman Empire! Imagine that! I mean the Roman Empire spanned from 27 BC to 286 AD.
This is what I simple adore about food, recipes, dishes. It's not just something delectable, it's history. And, if you've not read the history behind Madam's Lace Cookies, well, you must! Think JFK, Jackie, Camelot and that enchanting period of America's history!
Old-Fashioned Minestrone Soup
I do think my vegetable soup is similar to old-fashioned minestrone soup.
Yes, I've added many more vegetables, and, for my family that means more nutrition.
Easy Vegetable Soup Recipe
Easy recipes make us more inclined to cook. Don't think with the list of ingredients that this recipe is difficult.
I'm doing something a little differently with the spices and infusing them into the vegetables before we add the tomatoes and bone broth.
It creates more dimension and depth to those veggies!
Easy Homemade Vegetable Soup
Perfect for freezing, this homemade vegetable soup will become a staple in your home. Make a big pot and save some for another time. It's also great because this soup will keep for about five days refrigerated. You may need to add more bone broth because that pasta tends to be thirsty and soak up the liquid! Enjoy my luvs!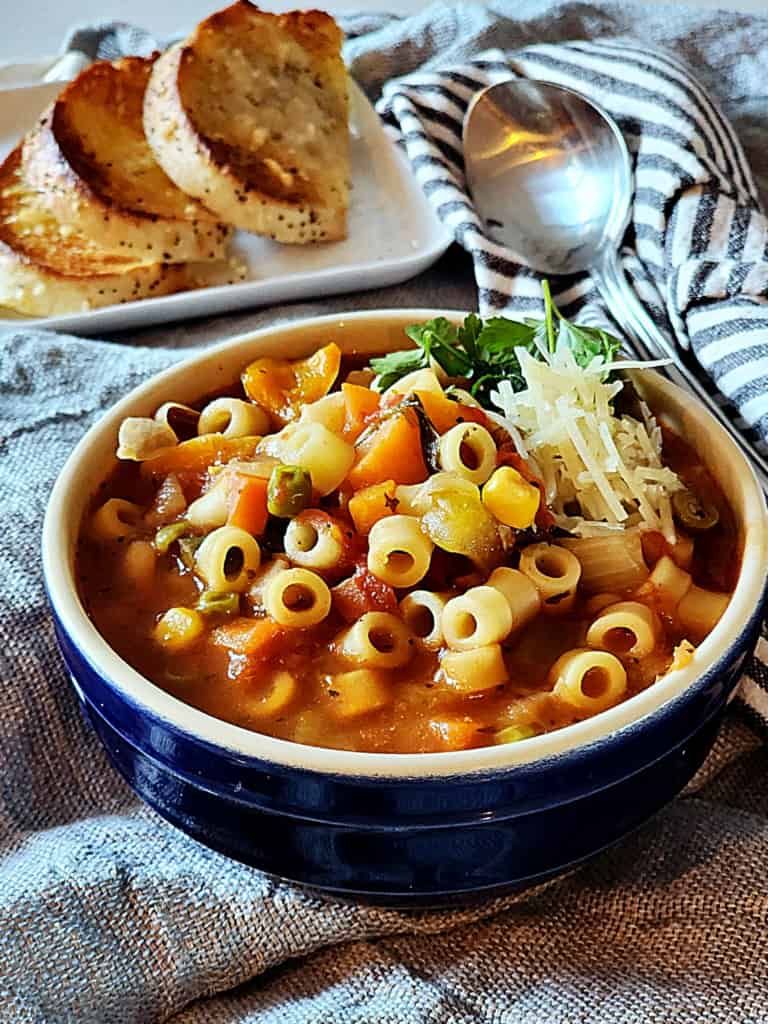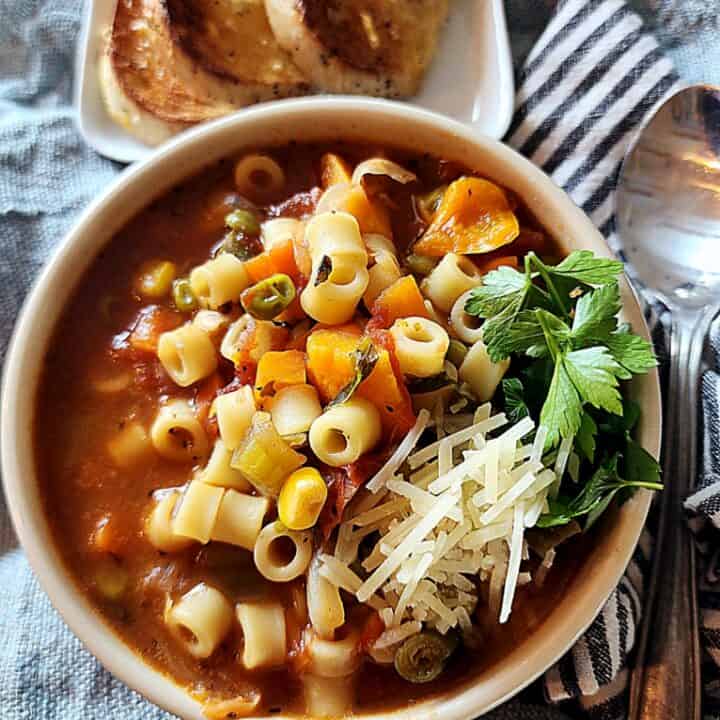 The Best Vegetable Soup
Yield:
Servings: A bunch of people!
Ingredients
4 Tbl. extra virgin olive oil, divided
1 cup sweet onions, diced
4 garlic whole cloves, in skin
1 cup potatoes, diced, sweet or white potato
1 can (15 oz.) garbanzo beans, drained
4 bay leave
3 Tbl. nutritional yeast
3 tsp. garlic granules
3 tsp. onion powder
2 Tbl. Italian seasoning mixture
2 tsp. sea salt
2 tsp. pepper
1 tsp. red chili flakes, optional
1 cup mini peppers, diced
1 cup celery, sliced with leaves
24 oz. frozen vegetable mixture, thawed
2 scoops bone broth protein powder, optional
32 oz. Kettle & Fire cooking beef bone broth
1 can (24 oz.) San Marzano whole tomatoes with juice, rinse can with about 1 cup of water or bone broth
16 oz. Kettle & Fire Chipotle Beef Bone Broth
1 1/2 cups Ditalini pasta
Instructions
In a large (8 quart) soup pot, put half of the olive oil. Turn heat to medium. Put in onions and garlic and saute until fragrance of onions emits.
Add potatoes and garbanzo beans and blend. In a small bowl, mix together the spices.
Sprinkle on the mixture in the pot and blend well. Add the remaining olive oil and blend. Cook about 3-4 minutes uncovered.
Add the peppers, celery, thawed vegetables, bone broth protein powder (optional) and blend well. Add the 32 oz. of beef bone broth, tomatoes and remaining chipotle beef bone broth (rinse the tomato can with that broth. Blend well. Cover and let this mixture cook about 20 minutes stirring occasionally.
Add the pasta, blend, cover and cook until the pasta is tender, about another 20 minutes.
Remove the garlic cloves. They should be rather soft and 'pasty' Pop out of the skins and discard skins. Mash garlic and return to soup and blend well. The 'garlic paste' should blend into the soup mixture.
Reduce heat to low/simmer and let the soup 'grandma' cook another about 15 to 20 minutes and then ready to serve!