korean spicy sweet beef udon noodle bowl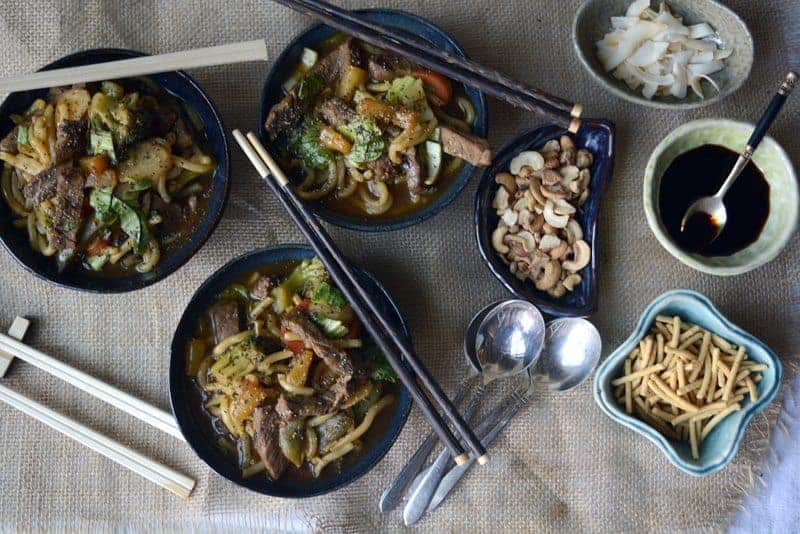 Nothing more comforting than a beef udon noodle bowl! Wait til you see how simple it is to make and get ready for bursts of flavor!
Beef Udon Noodle Bowl
Thanks to Dole Sunshine for partnering with me for this post! I am the creator of this recipe and for the description and information that follows. For a full disclosure, click here!
Beef Udon Noodle Bowl Recipe
Do you think of fruit when you order a korean spicy sweet beef udon noodle bowl? Or an Asian noodle bowl? Probably not. But, that's what makes this recipe so unique and bursting with even more flavor!
Beef Udon Noodles
This recipe takes no time at all to prepare because you're using a very tender good grade of beef, like flank steak, ribeye or a New York strip cut, and you'll be assured that the beef is velvety delicious!
Beef Udon Soup
I was pleasantly surprised with the Spicy Korean BBQ Simmer Sauce from Savay, which I found at the Kroger grocery store.
It had the flavor profile that I was looking for, and I think you'll like it, too!
Udon Noodle Soup
I especially liked that there's no high fructose corn syrup in it, and, interestingly, it's certified Kosher by the Orthodox Union! By using shortcuts like this sauce and the prepared Udon noodles as well as the frozen veggies, your preparation time is cut in half or more!
Udon Noodle Bowl
But, of course, the star of this recipe is the pineapple and mandarin orange slices in coconut water from Dole Sunshine. Yes, all natural, including the juice! The contrast of the sweet and spicy just makes this recipe extra special! You'll probably want to double it because, believe me, your eaters will want seconds! xox ~ally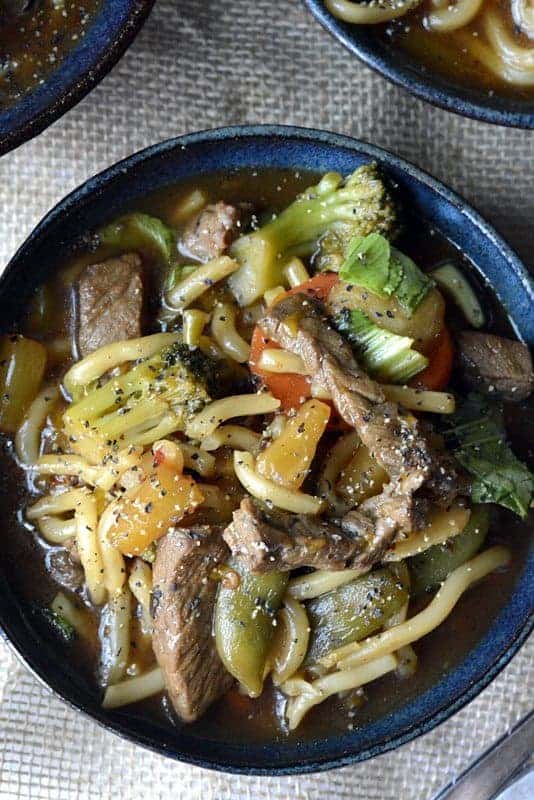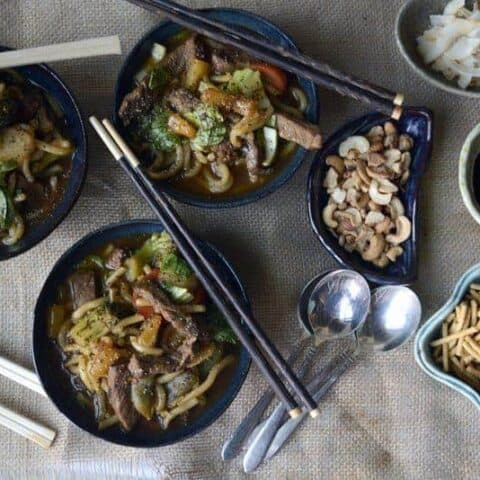 korean spicy sweet beef udon noodle bowl
Ingredients
1 to 1 ¼ lbs. beef, New York strip, rib eye, flank, use a tender cut, cut in about 1/2" wide strips and about 2-3" in length
¼ cup sesame oil
½ tsp. sea salt
1 tsp. coarse ground pepper + more for sprinkling garnish when serving
8 oz. package Spicy Korean BBQ Simmer Sauce + 1 cup filtered water to rinse package,
2 (7.1 oz.) packages [Udon Stir Fry Noodles|https://www.amazon.com/Ka-Me-Stir-Noodles-Udon-Ounce/dp/B008B39XMY} , ready to serve,
2 (4 oz. containers) Dole Sunshine Fruit Cup Pineapple Mandarin Orange in Coconut Water
1 package (10.8 oz. previously frozen) Birds Eye Steamfresh broccoli, carrot, sugar snap peas water chestnut mix, mostly thawed
2 cups baby bokchoy, fresh, organic, sliced and leaves chopped roughly
Instructions
In a large deep heavy skillet over medium high heat, put the sesame oil. When the oil is hot, add the beef strips and sprinkle with the salt and one teaspoon of pepper. Turn, toss and cook about four to five minutes.
Reduce heat to medium and add the BBQ sauce and water. Blend. Cover and cook about five minutes.
Reduce heat to medium low. Add the noodles, carefully blend (the noodles will be stuck together from the packaging), cover with a lid and let the mixture simmer about eight to ten minutes. This will loosen the noodles. Use tongs or a large fork to gently separate the noodles and blend into the liquid.
Add the pineapple/mandarin oranges with the juice and the thawed vegetable mixture. Blend into the mixture. Cover with a lid and let the mixture cook another about ten minutes stirring a couple of times.
Reduce heat to low. And add the fresh baby bokchoy. Blend into the mixture. Cover and let it steam about five minutes.
Serve immediately. Garnish with a sprinkle of coarse ground or freshly ground pepper.
Extra topping sides: Fill bowls. Serve with a variety of garnishes like chow mein noodles, toasted dried coconut crushed chips, low sodium soy sauce, nuts (I chose salted cashews.), etc.
Notes
1. Other options for a Korean BBQ Simmer Sauce: