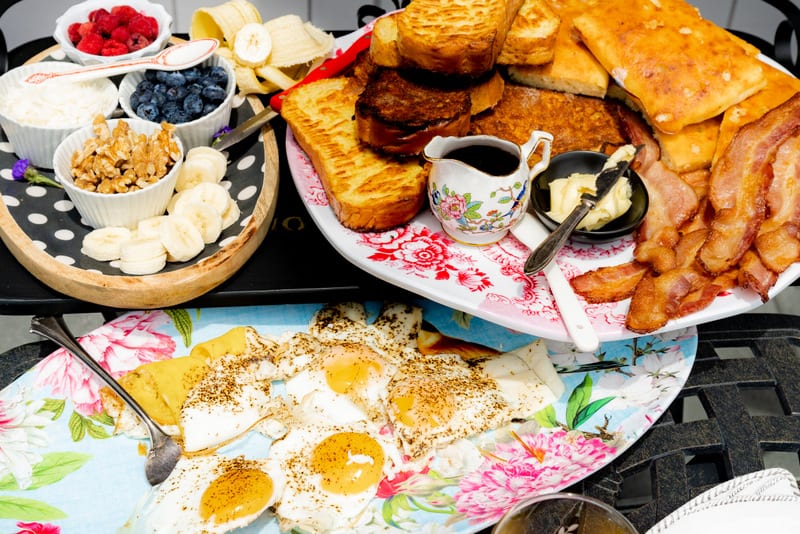 Cooking for a crowd? Then this sheet pan brunch is done easily and quickly in the oven! Eggs, bacon, French toast and pancakes!
Sheet Pan Breakfast
Sheet pans are such versatile baking implements. I mean they're for more than cookies! And, you can create your entire breakfast on a sheet pan.
Sheet Pan Pancakes
When you've got a crowd, the way to go is sheet pan pancakes. You can't make them any better than this. I promise.
Just make that batter and bake in your sheet pan. Hey, what's the big deal with round pancakes. It's all about square and rectangle pancakes
Real Simple Sheet Pan Brunch
Now what you have here is a real simple sheet pan brunch. Bacon. Pancakes. French toast. And, eggs. And, all done on the sheet pan.
Sheet Pan Eggs
There's no better way to do eggs for a crowd than in the oven on a sheet pan. They come out perfect depending upon what finish you want. We love ours about mid-sunny side. Slightly runny yolk, so about 4-5 minutes at 400 does it.
Of course, if you want them more done, then a little more time. Remember the high temperature of the oven cooks these eggs fast.
And, another thing, the whites will run together. But, that's no problem. You simply slice and divide them when done.
Breakfast in the Oven
Breakfast in the oven usually means a casserole. But, this sheet pan breakfast is just like you slaved over the stove cooking bacon and flipping pancakes.
Sheet Pan Breakfasts
Other things you can put on the sheet pan for your breakfast spread are things like veggies. Try to choose those vegetables that have about the same cooking time, like zucchini and squash. If you're using potatoes, you'll want to give them time to cook depending upon the cut of the potato.
I like to use a mandolin and have very very thin potato slices, almost like chips. These cook much faster.
Sheet Pan Brunch Recipes
Sheet pan brunch recipes can be sweets, too. This Perfect Peach Pizza Pie would dazzle your crowd! And, if you want savory pizza well then my breakfast spinach pizza is super delicious and easy and even has the option of an egg on each slice!
Pancakes in the Oven
Pancakes in the oven means that you get over the idea of pancakes being round! These are going to be either small squares or rectangular pieces. Thin and delicious, you'll use your regular pancake batter, and bake away! I love putting the pearl sugar on top. It's an added treat of crunchy and sweet! Now I love using pearl sugar in lots of recipes, so you might consider buying some!
Easy Sheet Pan French Toast
Here are some of my recipes with pearl sugar. Honestly, it's a fun product that adds a real flair to baking. Or, hey, you can use it in your coffee or tea!
Sheet Pan Bacon and Eggs
When I do just bacon and eggs for Ben and me, I'll use the sheet pan! First I'll 'fry' the bacon. Remove it. Drain most of the drippings, and, yes, we always save these drippings because they're liquid gold and great for seasoning beans. Then I'll crack the eggs on the same parchment paper sheet pan. Pop them back in the oven, and they're done in no time!
Oven Bacon
Cooking bacon in the oven is THE way to do it. No popping of grease. No standing there waiting for the bacon to get done. It's as easy as ABC! Remember always line those cookie sheets or sheet pans with parchment paper. Makes clean up a snap!
Eggs in the Oven
Eggs are a no brainer in the oven. If you're not doing bacon, not to worry. Just line that sheet pan with parchment paper. Coat with a little cooking spray or a drizzle of butter (coating the paper). Then crack your eggs on to the sheet pan. Salt and Pepper. A 400 degree preheated oven. About four minutes for sunny side. If you want done yolks then pierce the yolk before you put it in the oven. It's gonna be perfect.
For more easy breakfast and brunch recipes, go ahead, take a peek here!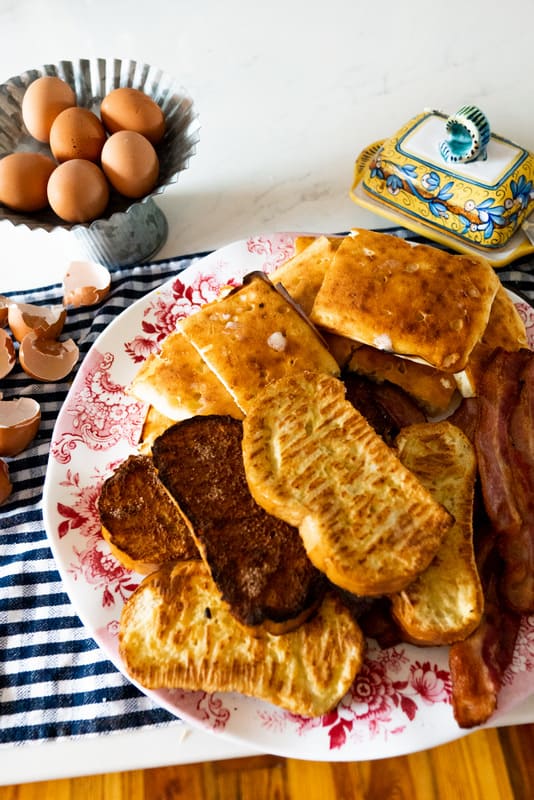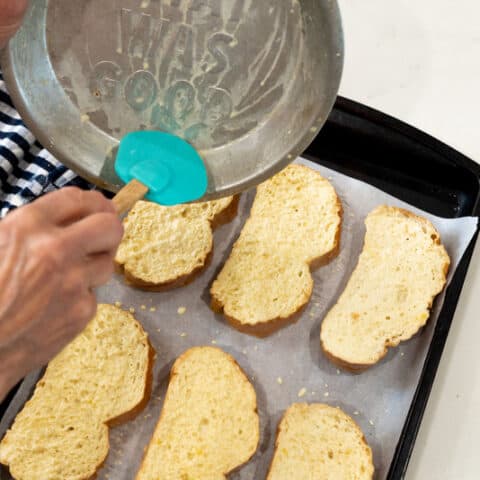 simple sheet pan brunch
Yield: Feeds about 6-8 folks
Ingredients
Preheat oven to 400
OVEN BACON:
10-12 slices thick cut hickory smoked bacon
OVEN EGGS:
6-8 eggs
Salt and Pepper to taste
OVEN FRENCH TOAST:
2 eggs
1 cup milk
1 tsp. vanilla
1 tsp. nutritional yeast
6-8 slices bread
1/4 cup sugar
2 tsp. cinnamon
OVEN PANCAKES:
1 1/2 cups flour, all purpose
1/8 tsp. salt
1 Tbl. baking powder
1/4 cup sugar
1 Tbl. nutritional yeast
1 cup buttermilk
1 tsp. vanilla
4 Tbl. oil
2 eggs
1/2 cup ricotta cheese, somewhat room temperature
1/3 cup pearl sugar
Instructions
OVEN BACON: Put a oven-safe cooling rack on the sheet pan. It should somewhat fit inside the pan. Place the bacon slices on the rack. Cook in a preheated 400 oven about 20 minutes or longer if more crispy bacon is desired.

Remove from oven. Put bacon on a serving plate. Save bacon drippings if desired.

OVEN EGGS: Spray a sheet pan lightly with cooking spray. Place a piece of parchment paper on it. Crack the eggs into the sheet pan. Salt and pepper to taste.

Bake in a preheated 400 oven about 4-6 minutes or to your desired finish.

OVEN FRENCH TOAST: Blend all the ingredients together in a pie plate. Line the sheet pan with parchment paper.

Dip the bread several times into the egg mixture. Place on the parchment paper. Sprinkle the soaked bread with cinnamon sugar.

Bake in the preheated 400 oven for about 16-20 minutes.

OVEN PANCAKES: In a large mixing bowl whisk together the flour, salt, baking powder sugar and nutritional yeast. In a large mixing cup, whisk together the buttermilk, vanilla, oil, eggs, and ricotta cheese. Combine the wet ingredients with the dry mixing into a batter.

Pour into the parchment paper-lined sheet pan. Sprinkle the pearl sugar on top. Bake in a preheated 375 oven for about 18 to 20 minutes. Turn oven to broil (sheet pan should be about 16+" from the broiler) for a couple of minutes to brown the top of the large pancake.

Remove to a cooling rack. Cool and slice.