These quick dinner bites are so simple and easy. Plus, very quick to prepare. Even in a pinch! Friends stop by during the holidays, unexpected, and you whip this up and you'll be the kitchen goddess or king!
And, if you eat enough of these quick dinner bites, you will have had a dang healthy dinner! Another idea for these dinner bites is to make it 'interactive' like a chili or pizza bar where you start with the chili or basic pizza then your guests add on to their liking, the toppings. Well, that's the same idea with the dinner bite bar. Start with the bite of pork chop on the skewer and let your guests 'build' their bites!
It's so much fun and get creative with what you can skewer on. Think sweet and savory!! xoxo ~ally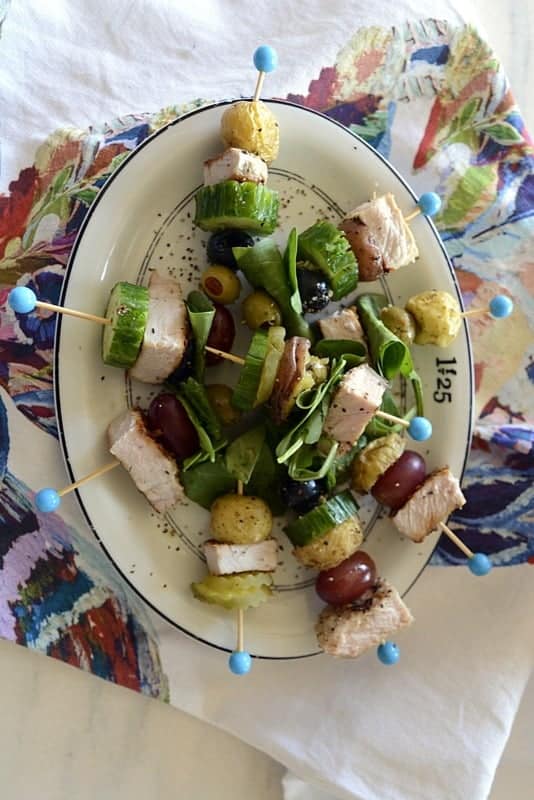 Ingredients
3 pork chops, boneless, about 1 1/2" thickness
1 tsp. extra virgin olive oil
1/2 tsp. sea salt
1/2 tsp. coarse ground pepper
1 tsp. garlic and herb seasoning mixture, or your favorite
DINNER BITE TOPPINGS
1 cup Fresh Spinach & Arugula leaves
1/2 cup olives, black and green
1/2 cup dill pickles, drained
12-18 grapes, red seedless
1/2 cup cucumbers, mini, slices (about 1/4" thick)
12 Baby Potatoes, whole or halves, quickly cooked in microwave
Instructions
Rub the chops with the olive oil (both sides). Season each witht he salt, pepper and seasoning mixture.
Heat a non-stick or cast iron skillet over medium heat. When hot, coat lightly with cooking spray. Place the chops in the hot skillet and pan sear on each side about two and one-half to three minutes. Remove to a plate. Cover with foil. Let them rest about five minutes. Then cut into about 1-2" bites. Each chop should yield about 6-9 bites.
Use 4" skewers to create the dinner bites using different combinations of ingredients threaded on the skewer.
Notes
Can substitute chicken for pork.
Brainstorm other dinner bite ingredients for skewer, like pineapple chunks (zucchini, squash, cherry tomatoes and more!)
Experiment with your seasoning mixtures. Try dry harissa, Jamaican Jerk, Greek, Italian and more!
https://allyskitchen.com/quick-dinner-bites/
©ally's kitchen intellectual property