salmon with watercress scallion caper vinaigrette topping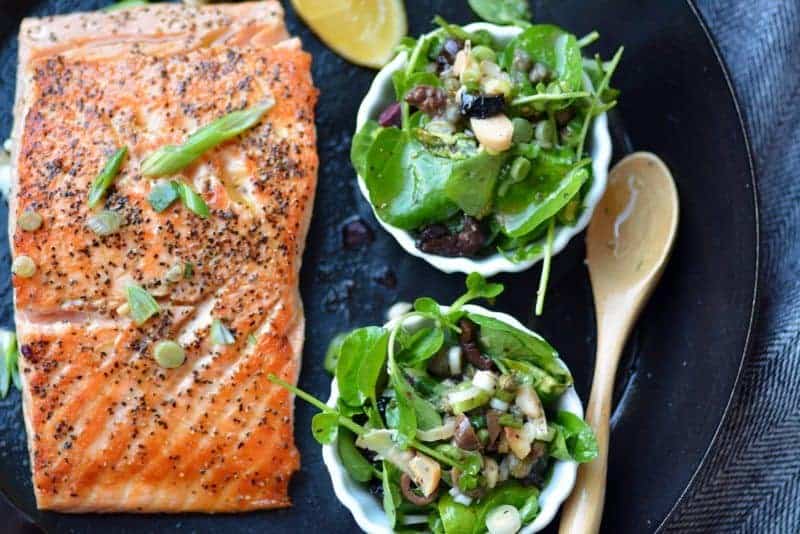 Meals that are quick and easy are the best. Now I love anything with lots of greens and salty. And, this recipe for salmon with watercress scallion caper vinaigrette topping answers all my adventurous palate desires!
I've learned in the past few years how to cook salmon to perfection. I suppose it was the glaring cold glassy eyes of Chef Gordon Ramsay when I was on season 2 of MasterChef who scared the beejeebees out of me when I presented my dish. Yes, salmon. He calculatingly looked at me, only about 24 inches from each other nose to nose, and said in his monotone British accent, 'When I cut into this salmon, it'd be moist and translucent…" Not a scintilla of emotion was on his face other than the scowl that said to me that he'd been weaned on a dill pickle.
He was not disappointed. I had worked long and hard to cook salmon to perfection. Had it been different I may have been banned from the cooking universe! And, not talking to you now!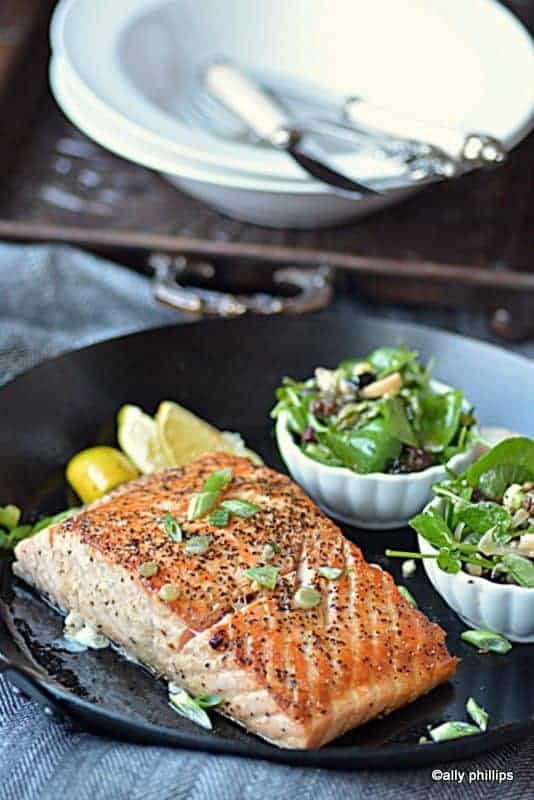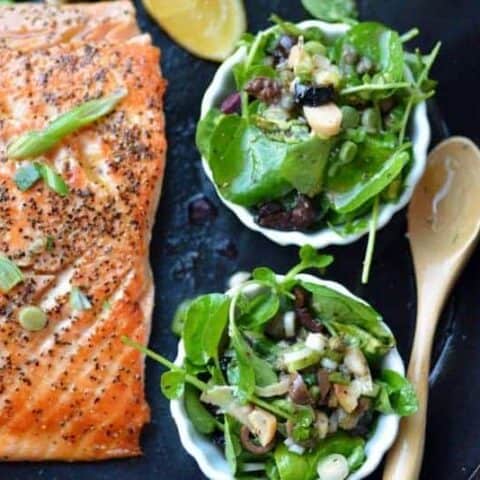 salmon with watercress scallion caper vinaigrette topping
Yield: 2 people or one really hungry!
Ingredients
1 lb. salmon, about 1 ½ to 2 inches thick in centermost part, skin on
2 Tbl. capers, drained
2 Tbl. deli salad bar garlic pieces, chopped
3 Tbl. black olives, chopped
4 green onions, sliced with green tops
1 cup watercress
4 Tbl. extra virgin olive oil, divided
1 large lemon, divided
1 tsp. coarse ground pepper, divided
½ tsp. sea salt, divided
Instructions
Prepare the salmon with 2 tablespoons of olive oil rubbed into the meat, then sprinkle on ½ teaspoon pepper and ¼ teaspoon salt.
Use a large heavy skillet. Get it hot on medium high heat then coat lightly with cooking spray. Put skin-side up first in the hot skillet. Cover with a lid. Pan sear for about 3 ½ to 4 minutes. Flip, cover and pan sear another about 3 minutes.
Remove from heat. Keep covered. Prepare the topping.
In a small bowl, combine the capers, garlic, olives, onions, water cress, two tablespoons of olive oil, one-half lemon juice, ¼ teaspoon salt and ½ tsp. pepper. Toss and blend.
Serve with the salmon in two small bowls. Use the remaining lemon for serving with the salmon.
Notes
Hey, if you can't find watercress, then substitute some baby arugula, sunflower shoots, microgreens. The idea is for something delicate and green.