mediterranean salmon salad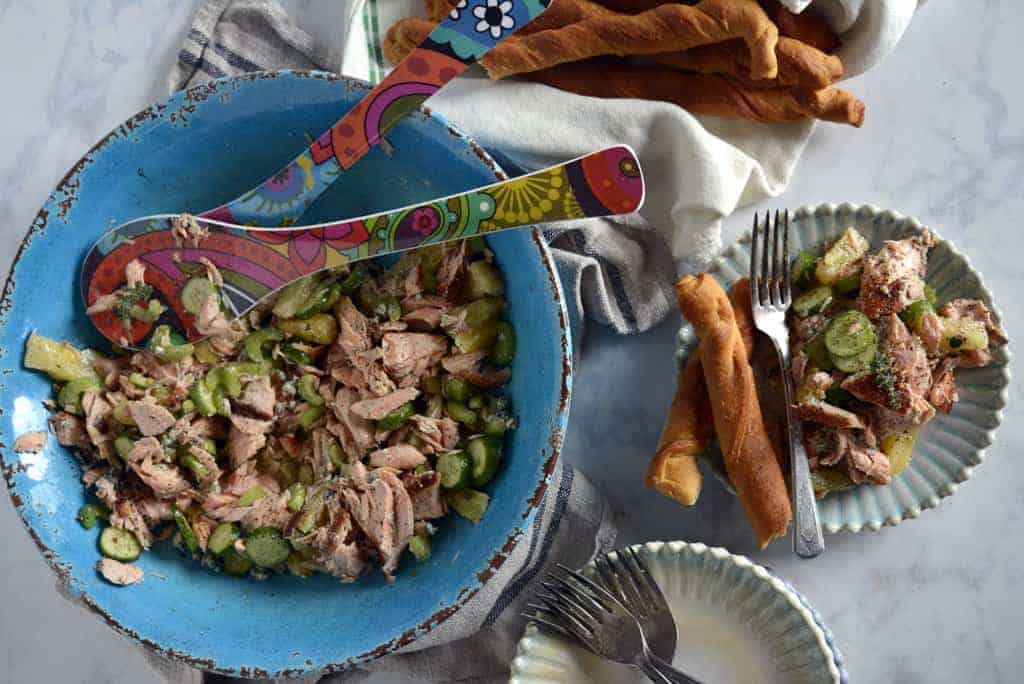 Escape to the seaside with this Mediterranean Salmon Salad. Full of flavors, healthy salmon, textures and colors! It's simple. Easy. Deelish!
Mediterranean Salmon Recipe
Growing up in southern West Virginia, Logan County and a little magical town called Man, we had salmon at some meals, but only salmon from a can.
Yes, Mom would make the most divine salmon patties. Not often. On special occasions. I suppose salmon in a can was really pricey even back then, and that determined how often we ate it.
Mediterranean Salmon
So, when I make this Mediterranean salmon salad, it sweeps me back to days growing up and watching Mom open those cans of salmon, draining (and reserving) the liquid, then using a big bowl to mix together all the ingredients.
Fresh Salmon Salad Recipe
Patting out those patties ever so perfectly then gingerly placing them in hot oil in the well-used cast iron skillet where the pan sear would lock in those luscious flavors and then placing them on a draining rack.
Yes, this was her system of execution. It was precise.
Best Salmon Salad
Mom's salmon patties were always full of great flavors, and I remember the extra crunch on the outside, then tender flakes of salmon on the inside, made me want to take yet one more bite.
Getting fresh fish wasn't easy in our Appalachian mountains and hollers.
Salmon Salad Cold
While we had a river, the Guyandotte, a tributary of the Ohio River, that snaked through six counties in Southern West Virginia, the wildlife was annihilated in the river because of the waste dumped into it by the coal companies.
I remember that river as being black, yes, black as coal. And, it was unfit for human contact. But, I do remember as a kid, stepping my feet into these ebony waters on hot summer days.
Healthy Salmon Salad
The 1960s began the turnaround and clean up of sorts. It went throught the 1970s and with new state and federal guidelines, the dumping and discharge of waste from the coal industry changed the look of the Guyandotte.
Mediterranean Salmon Salad
Not until later in my adult life did I have 'real' salmon, as in a salmon filet.
And, I was introduced to fresh fish and seafood when I moved from West Virginia to South Carolina as a young bride just starting a teaching career and life in the Lowcountry.
Easy Dressing for Salmon Salad
The Lowcountry was uniquely different with food and cooking. Shrimp, clams, mussels, flounder, spot, drum, trout and more.
And, yes, I was able to get salmon, real salmon, and not from a can. Thank goodness for these markets and grocery stores and for being able to afford to buy salmon!
Plus, once you read the recipe, you'll see how even easy and simple the dressing is for this salad.
Salmon Salad Ideas
I deeply thank Mom for introducing me to this healthy and delicious fish. Yes, thinking back now, she was mighty 'progressive' in food preparation, new flavors and ingredients.
Even if it was from a can.
Ingredients for Mediterranean Salmon Salad
This Mediterranean salmon salad is choked full of healthy flavors and lots of textures that make it most scrumptious.
I can honestly say that I can probably eat this entire amount in this recipe within two days. Yes, it's that good.
Of course, if you're not a salmon lover, then never mind, you're not going to get the 'high' that I do. But, if you are, then get ready rocket off to happy land! xoxox ~ally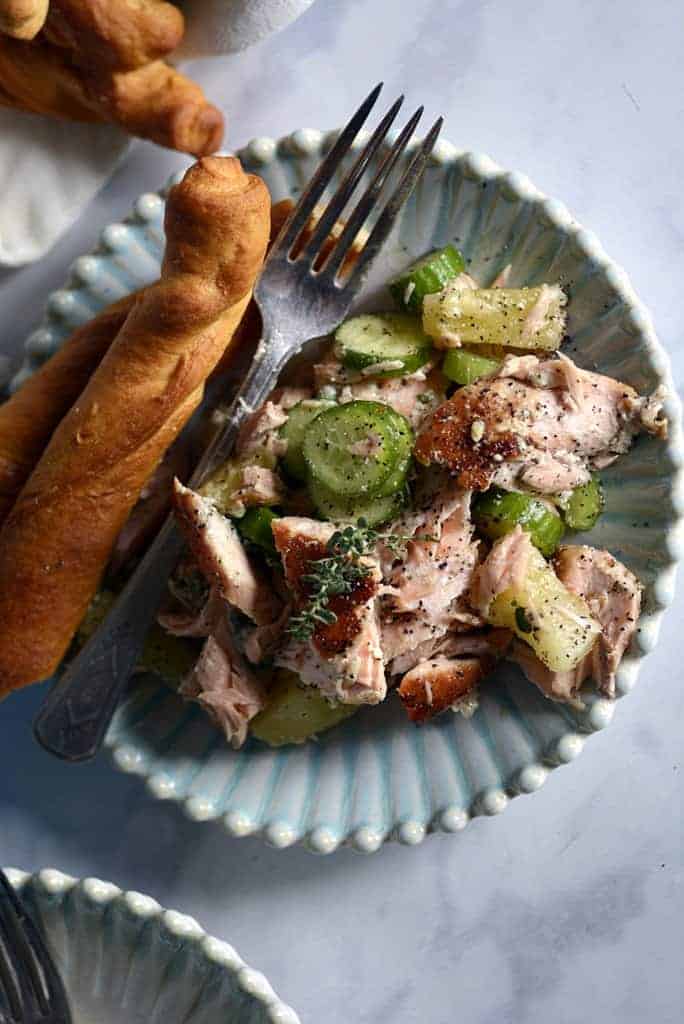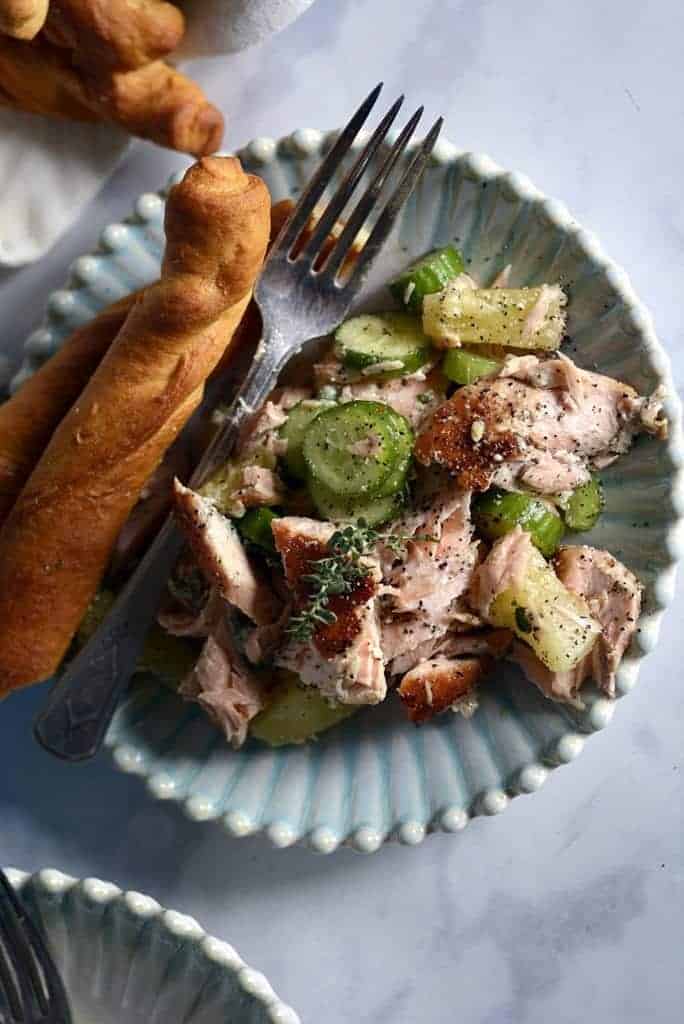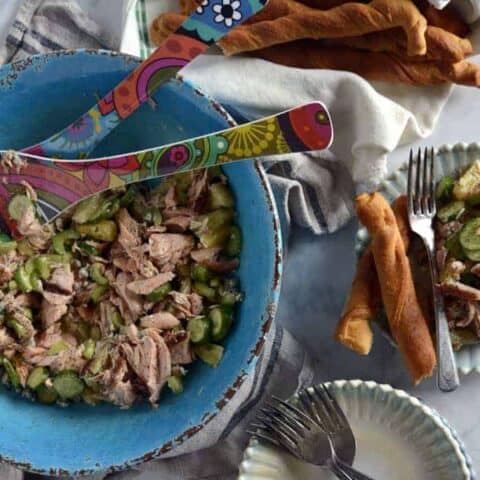 mediterranean salmon salad
Ingredients
1 to 1 ½ lb. salmon
1 ½ tsp. sea salt, divided
1 ½ tsp. coarse ground pepper, divided
Avocado Cooking spray
1 cup baby cucumbers, sliced thinly
1 cup celery, sliced
1 ½ cup Dole Sunshine frozen pineapple chunks, thawed and drained well
¼ cup bleu cheese crumbles
1 Tbl. fresh thyme leaves
1 tsp. red chili flakes
2 tsp. Italian seasoning, dried
¼ cup extra virgin olive oil
1 large lemon, juice and zest
Instructions
Heat a large cast iron skillet on high. Cut the salmon into two or three large pieces. Sprinkle with one-half teaspoon of salt and pepper on top meat side (if there is still skin on bottom side). Coat the hot skillet with cooking spray. Put the salmon in the skillet (salt and pepper side down).
Cover with a lid. Pan sear for about 2 minutes. Reduce heat to medium high and cook another about 4 minutes. Flip the salmon and cook on the other side, covered with a lid, about 6 minutes. You want your salmon done. Remove to bowl and break into large chunks with a fork. Let the salmon cool.
When the salmon is cool, add the cucumbers, celery, pineapple chunks, bleu cheese and sprinkle on the thyme, red chili flakes, Italian seasoning and remaining salt and pepper.
Combine the olive oil and lemon juice/zest in a small bowl. Stir then drizzle on the salad. Toss. Blend. Eat.
Notes
Swapping out red seedless grapes for the pineapple chunks gives a new twist to the salad!

Try slicing green onions and small peppers and putting in the salad. Another new flavor explosion!

For another flavor flair, use lime instead of lemon and throw in some chopped cilantro.

Sometimes I like to add the crumbled bleu cheese right before I serve the salad, or give folks an option of adding to their servings.