I'm convinced that food is the great connector in life. Seems that any place I go and it doesn't matter what the occasion or reason, the topic of food comes up! For instance, hubby and I were riding the Harley on the remote back roads of Colorado. We stopped at an old general store, yes, that still had a phone booth outside and old toilets filled with dirt and flowers. Inside the wooden floors, aged from years of oil, creaked as we walked down the 'aisle' looking for snacks—yes, food that was on wooden shelves reminiscent of a 1920s store in 'Little House on the Prairie'—yep, it was pretty cool!
So when we went to pay for our things—register area cluttered with everything from hunting gear, fishing lures and more, we noticed lots of 'blue' ribbons—well, come to find out, cuz we asked about them, that the proud cashier had won these, year after year, at the county fair for her blueberry biscuits and peach pies—she was proud as punch, and rightly so—but, dang, she wouldn't divulge her recipes!
Now this recipe was shared by a new fella we met at a friend's home—Bram, who loves to cook, is from New Zealand, and, you guessed it, the subject went to food—he told me about what he called 'motorcross chook'—I had no idea what it was, and then he explained. Well, you see the chicken 'looks like' roadkill because you butterfly it to lie flat—yep, like a car that might have smooshed that cheeekin that didn't quite make it across the road!
I'm telling you this is the best stuff you'll put in your mouth. The broth is like a fine French delicacy, and when you pierce open the potatoes, which just simmer and steam in the broth, they begin absorbing that shimmering broth. The chicken is crispy on the outside and quite tender and juicy on the inside. It's so tender, you can serve a breast with a wing or leg with a thigh totally intact—this makes it really kind of peasantly chic. Serve this dish straight from the big skillet in which it's cooked and use big deep plates or bowls—it's a site to behold!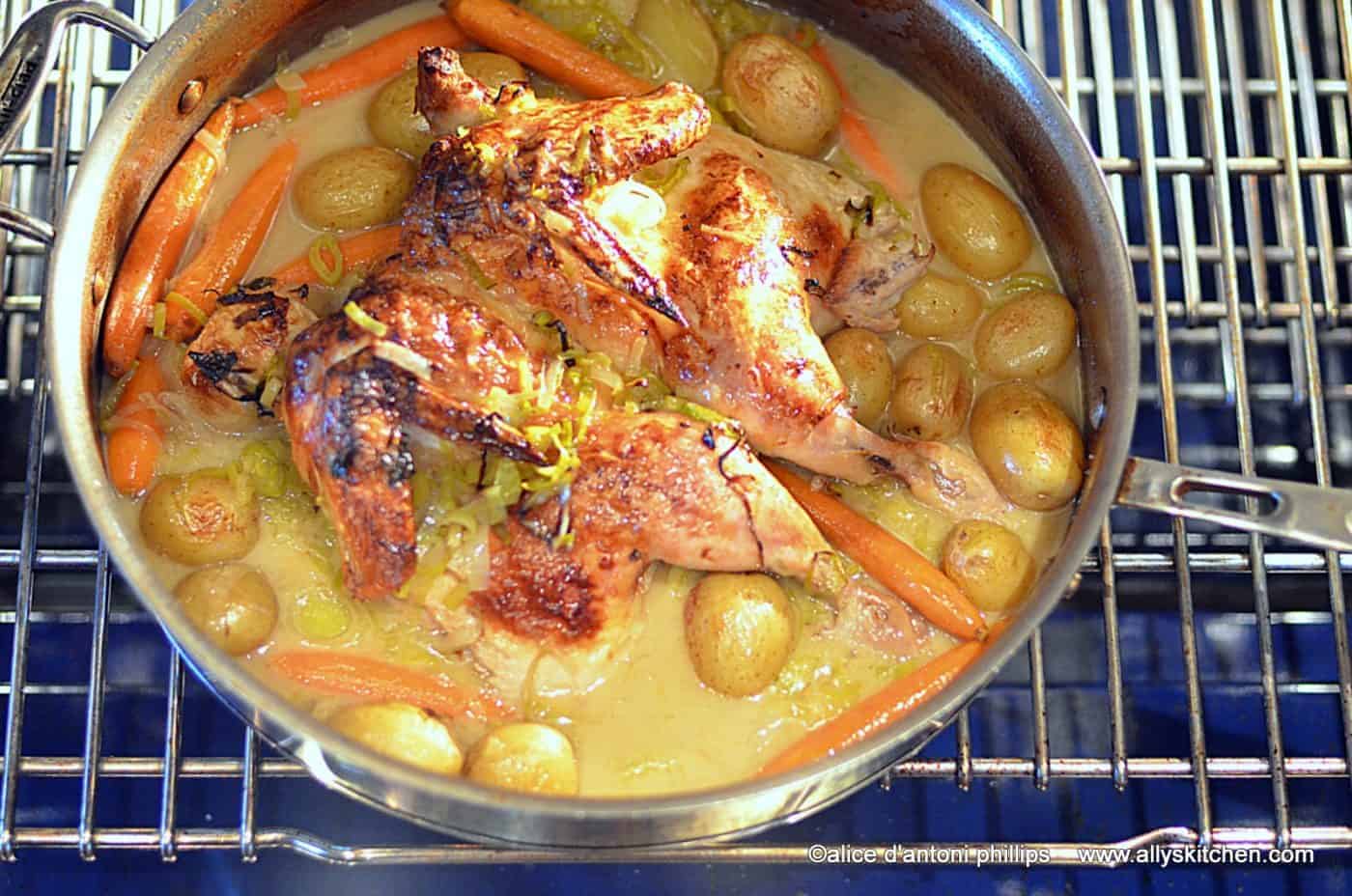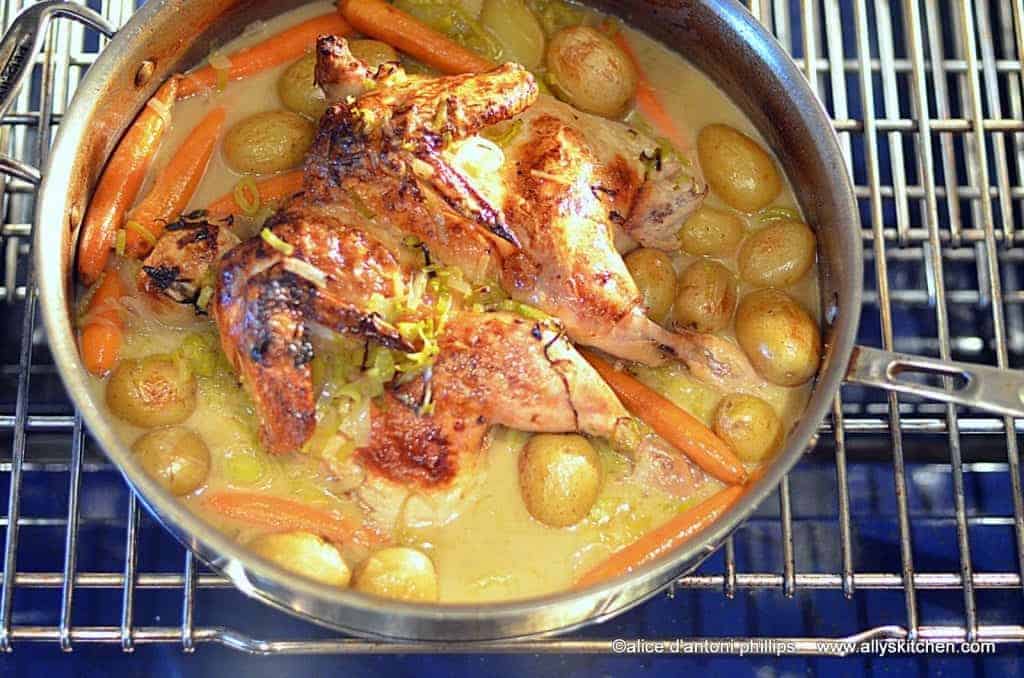 Serves: 4
Preheat oven to 425
What you need:
1 3 to 3 ½ pound whole chicken butterflied from the back to lay flat (do not cut all the way through)
3 tsp. sea salt (divided)
1 whole garlic bulb (skins removed as much as possible leaving bulb intact)
1 bouquet fresh herbs, several stems each of: basil, mint, thyme, and flat parsley
1 cup finely chopped sweet onion
¼ cup bacon drippings
3 Tbl. butter
1 ½ cups white wine
32 oz chicken broth (divided)
Root Vegetables:
3 cups small whole potatoes
3 leeks, thinly sliced into the green parts (careful to pull away the outer leaves and wash well)
1 bunch whole small carrots (12-15 carrots)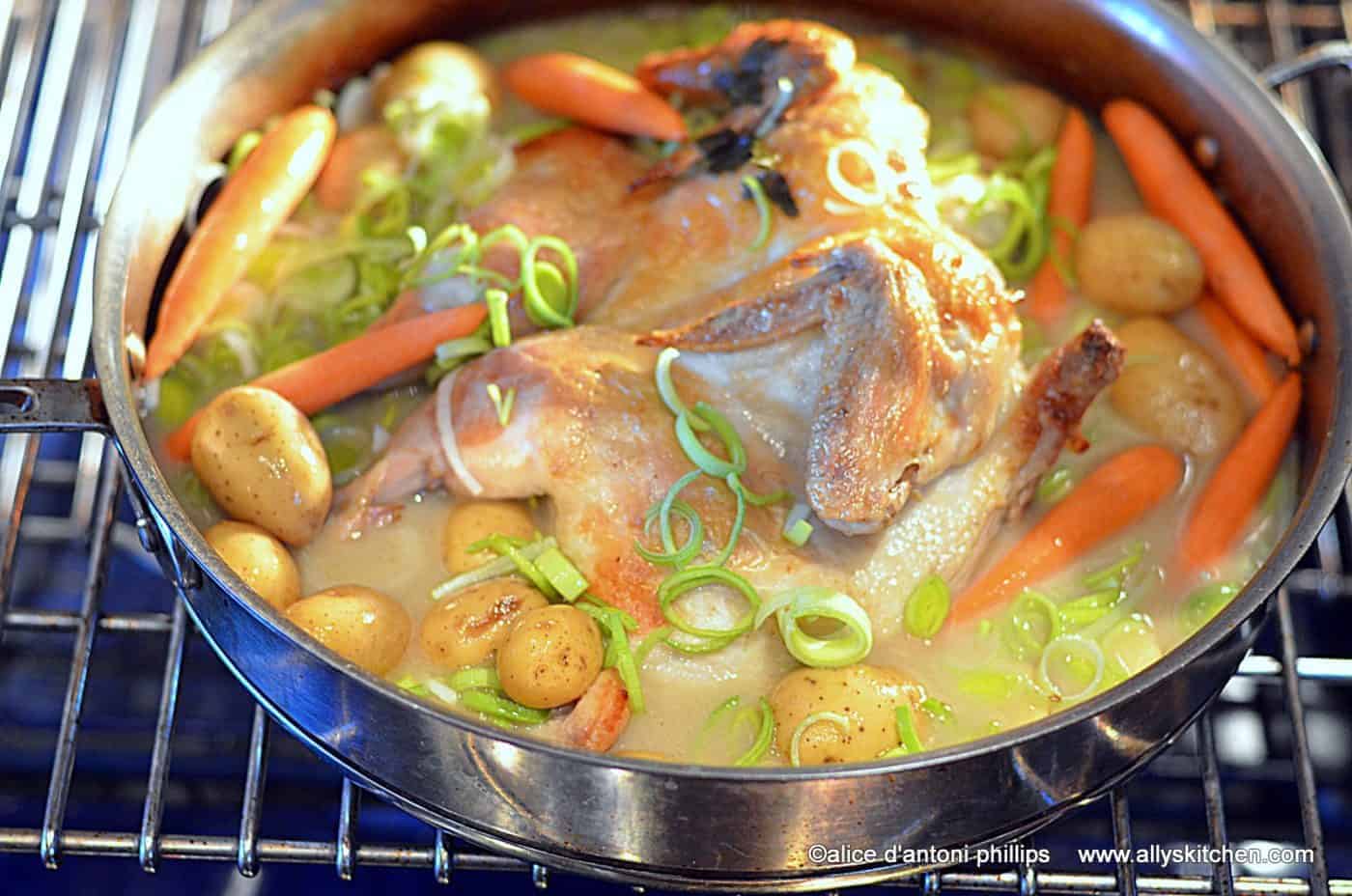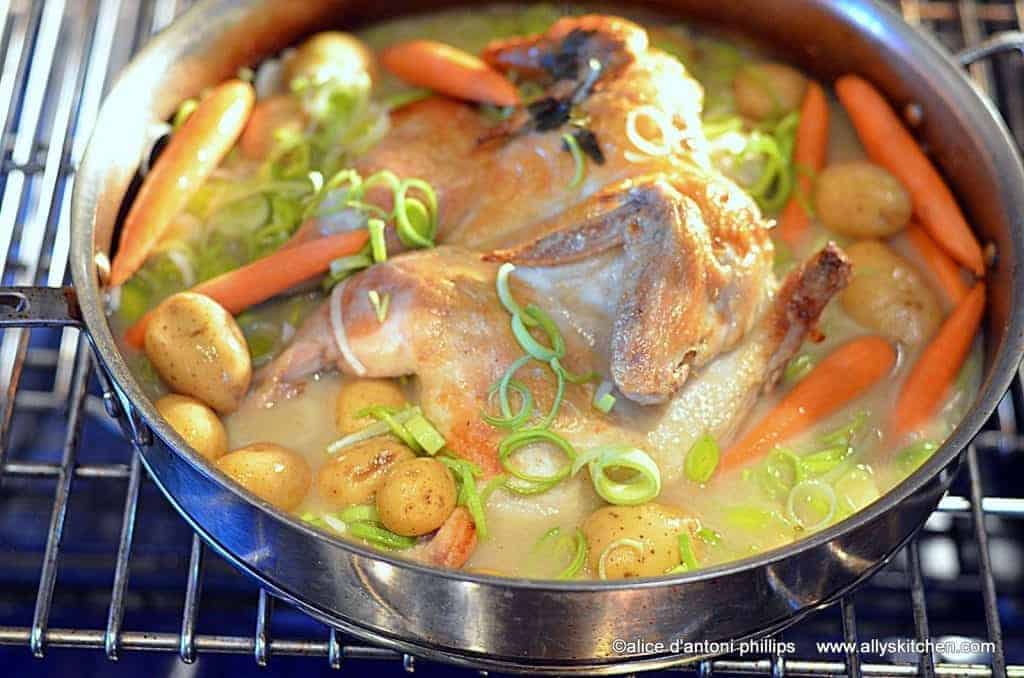 What you do:
In a large roasting pot pan (with a lid), place the onions and herb bouquet in the center. Coat the chicken all over with 2 teaspoons of salt. Lay the chicken over the onion/herbs spreading out the bird flat.
Drizzle the bacon drippings on the chicken then lay the butter on top of the bird. Put the wine and 2 cups of chicken broth in the pan.
Put the chicken (covered with the lid) into a preheated 425 oven for one hour. Remove the lid, baste the chicken well and cook another 30 minutes uncovered.
Put the root vegetables in around the chicken. Sprinkle on the remaining salt. Cover and cook 30 minutes.
Remove the lid, baste several times with the broth and cook another 15-20 minutes. The bird will be perfect!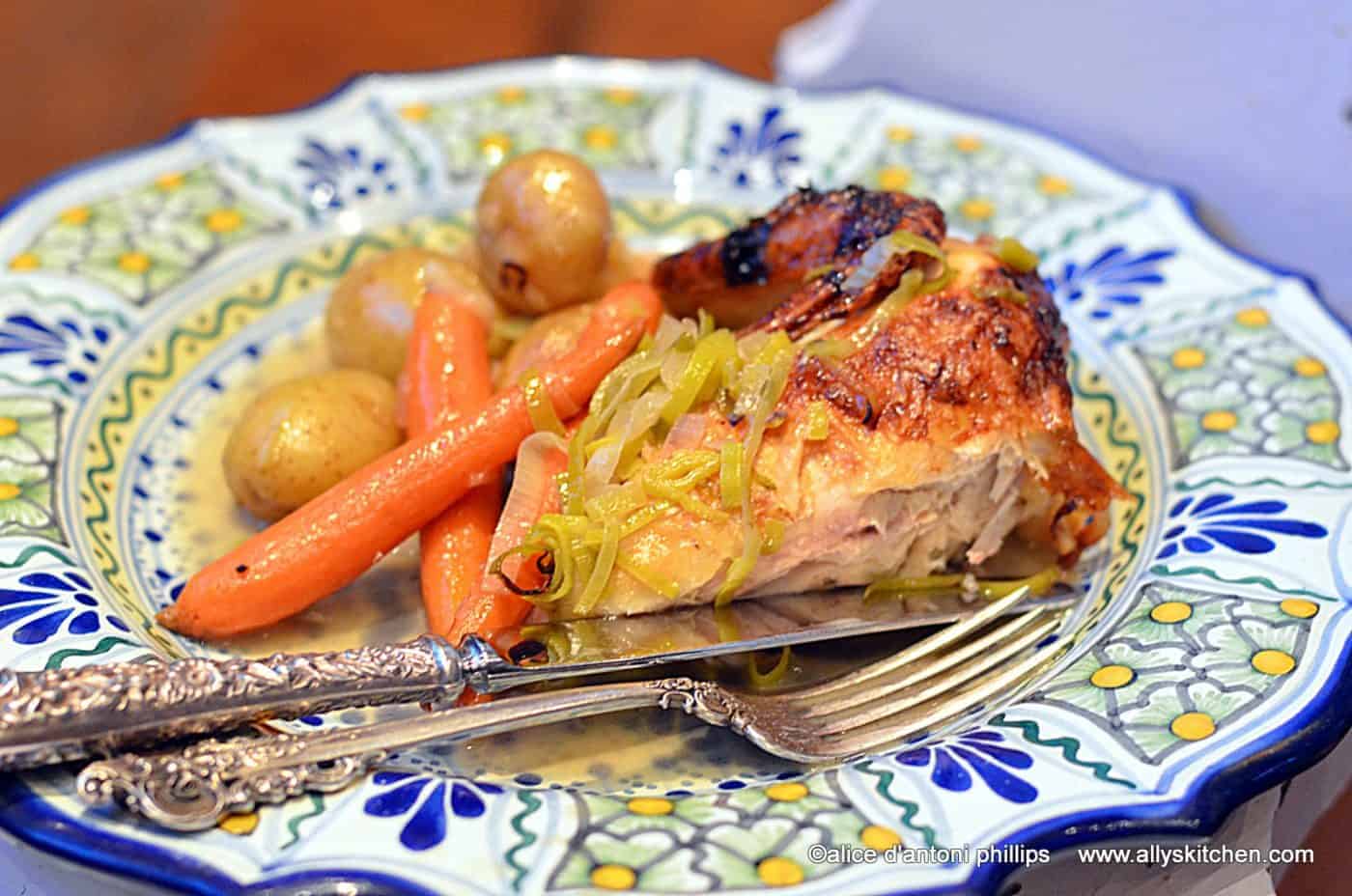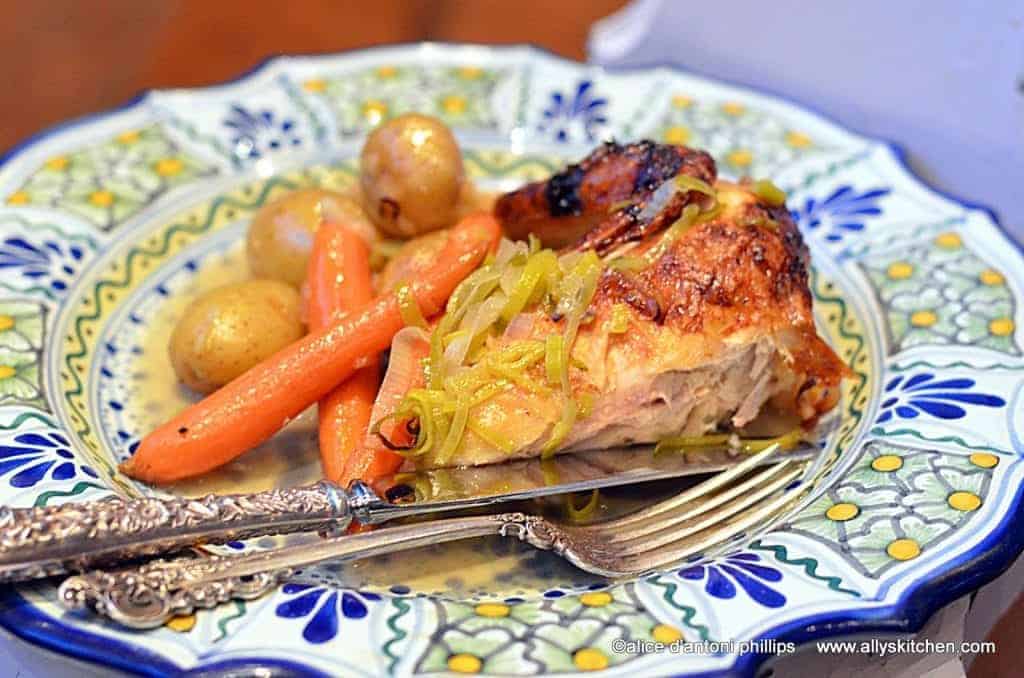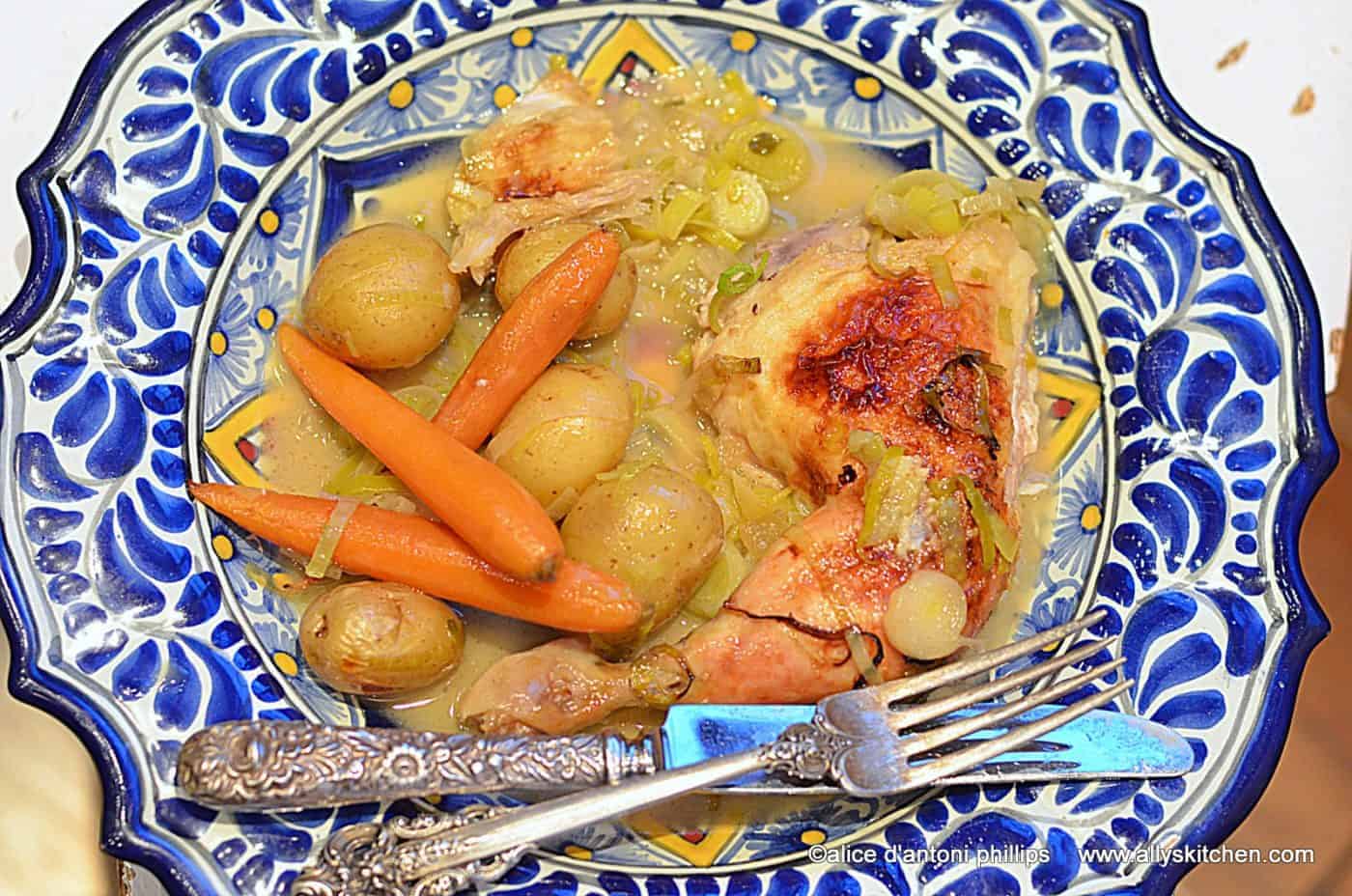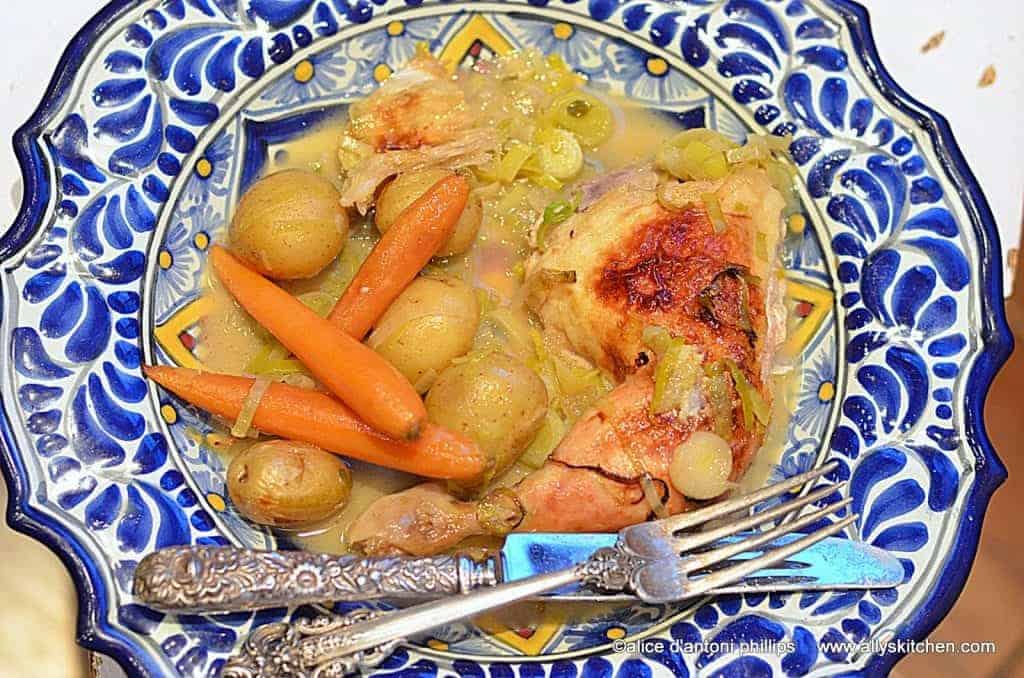 ©alice d'antoni phillips www.allyskitchen.com