French-inspired cheesecake and simple—if that sounds like an oxymoron, then don't be alarmed.  French cooking doesn't have to be complicated—it just has to be good. And while elaborate gastronomic feats can be good, they're also very intimidating to the everyday cook, like me, and maybe like you, who knows! I'm hoping you'll come along with me and make this lemon cottage cheesecake.
The best way to make French-cooking good, yes, really good, is to use the best ingredients, those as I say that are 'close to the earth'—ingredients that your grandmother would give you high fives for using! A second hallmark of French cooking is presentation—yes, you want to make your food WOW you in how you present.  With those two premises under your belt, you're on your way to the beginnings of French cooking.  Why not start with this simple, healthy and, oh, so very stunningly tasty and beautiful ~lemon cottage cheese cake~  You'll feel like you're at an outdoor café in Paris!
Side note…I like my cheesecakes thin, so I divided the batter between a springform pan and a round tart pan! That also reduces cooking time!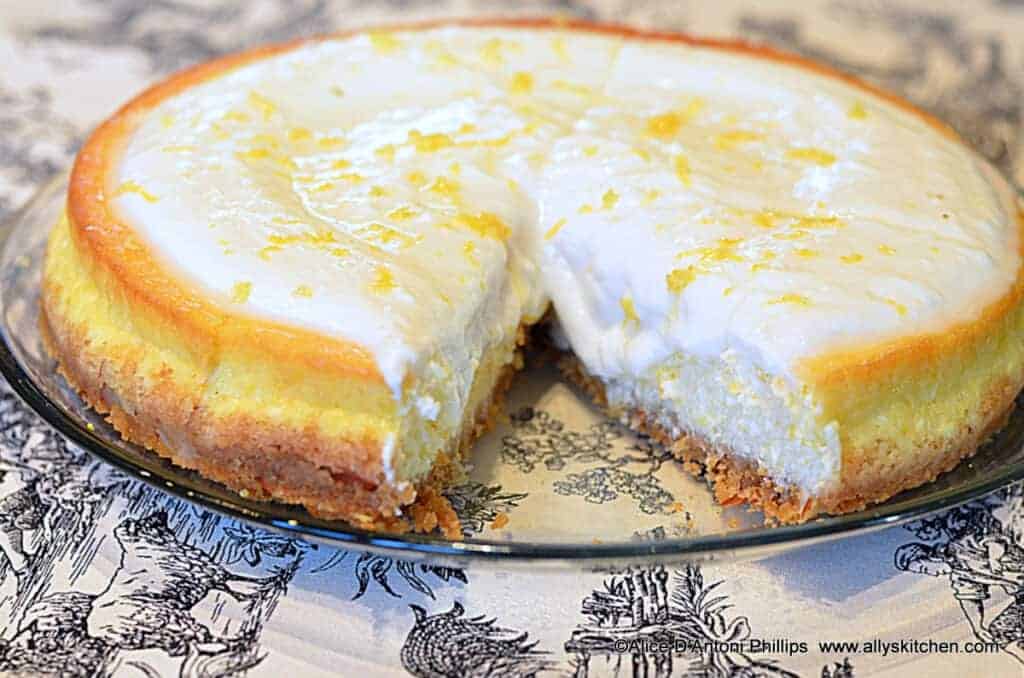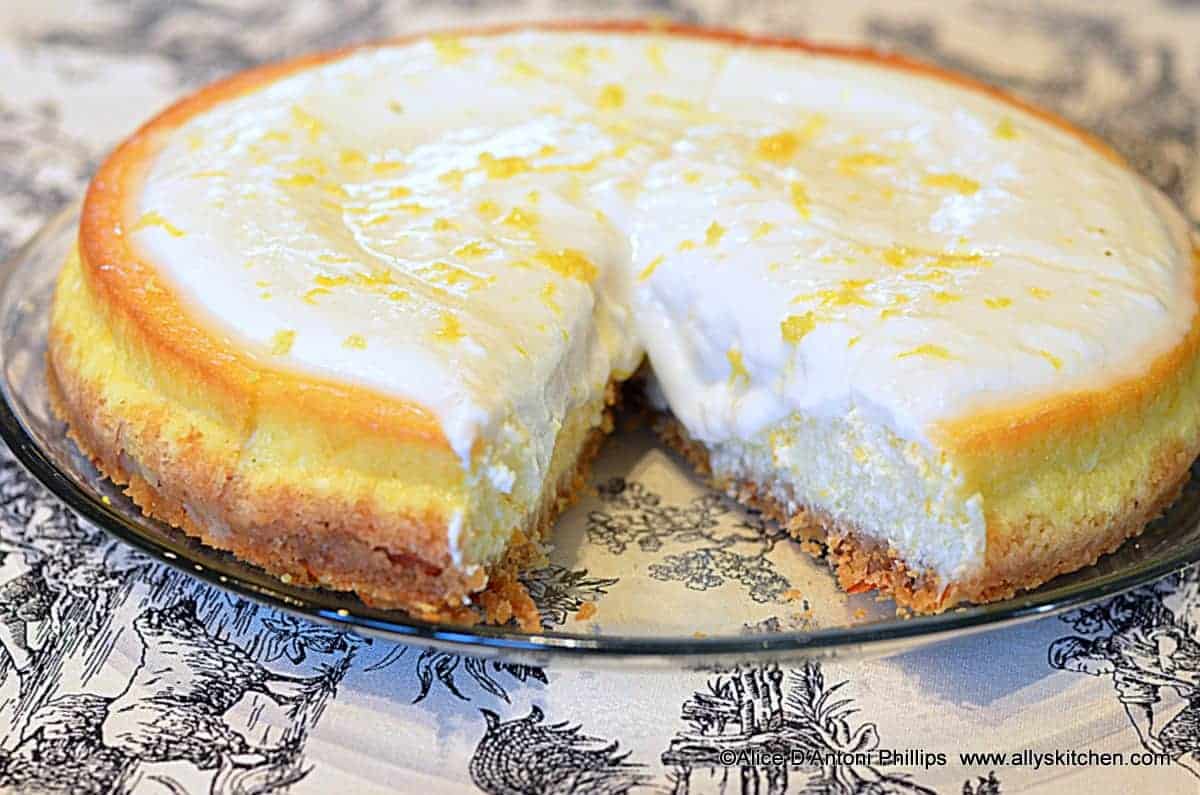 Makes:  One springform cheesecake (about 4″+ thickness) OR using two pans resulting in about 2″ thickness cheesecakes
Preheat oven to 325
What you need:
Crust:
3 cups crushed honey graham crackers
½ cup sliced almonds
6 Tbl. melted butter
3 Tbl. sugar
Filling:
16 ounces small curd cottage cheese
8 ounces mascarpone  (room temp)~~if you can't find mascarpone, substitute 8 oz. Greek yogurt cream cheese
8 ounces whipped cream cheese (room temp)
5 eggs
1 ½ cups sugar
¼ tsp sea salt
3 tbl flour
3 tsp Rodelle Lemon Extract
3 large lemons—juice & zest
TOPPING (optional):   2 (6 oz.) containers of a very good Greek lemon yogurt to spread on top then grate some fresh lemon zest. Or dust powdered sugar on top~~either way it's wonderful with fruit, too!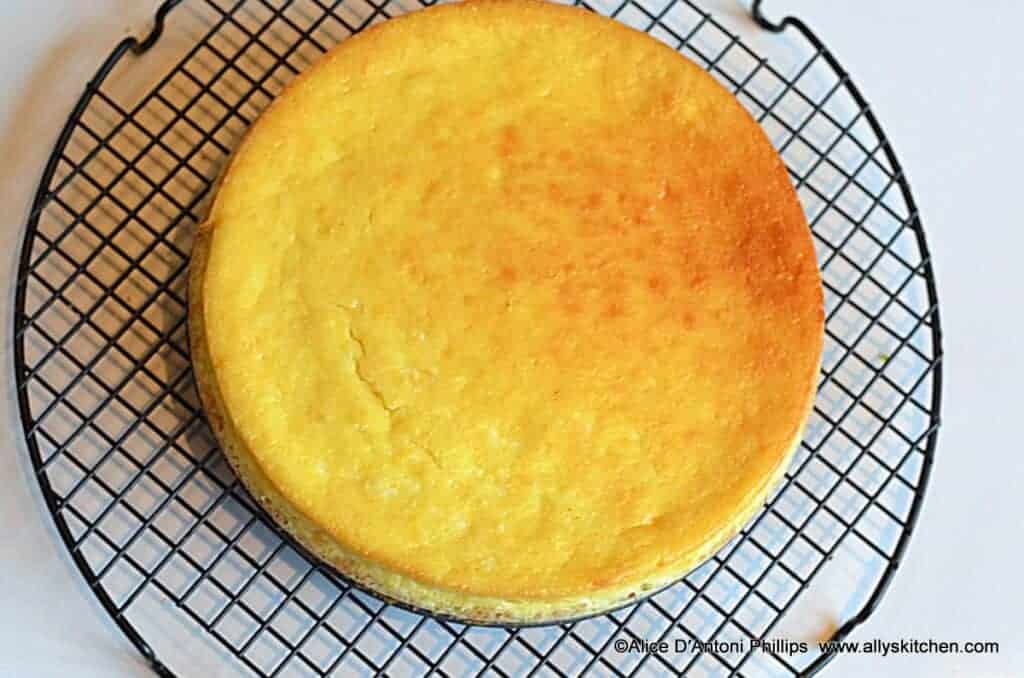 What you do:
Crust:
Combine the crushed graham crackers, almonds, melted butter and sugar in a bowl and blend well.  Pat into the bottom of a springform pan.  Pack down well.  Coat the sides with cooking spray. Cover the bottom and about halfway up the sides with a piece of foil.  Set aside.
Filling:
Combine the cottage cheese, mascarpone and whipped cream cheese in a large mixing bowl.  Blend together on low using a mixer.  Add the eggs and blend on low with the mixer.  Then add the sugar, salt, flour and blend on low with the mixer.  Finally, add the lemon extract, juice and zest and blend in with a rubber spatula.
Pour into the springform pan (that is covered on the bottom/sides with foil).  Cheesecake will be baked in a water bath.  Place in a large skillet and pour in about 2 cups of water around the pan.
Bake for about 75 minutes in a preheated 325 oven. (NOTE:  If you're making two cheesecakes that are not as thick, reduce your cooking time to about 50 minutes~the middle should be slightly jiggly.)
Do the toothpick test in the center.  It should come out basically clean.  Remove and let the cheesecake cool for about an hour.  Refrigerate about 6 hours before serving.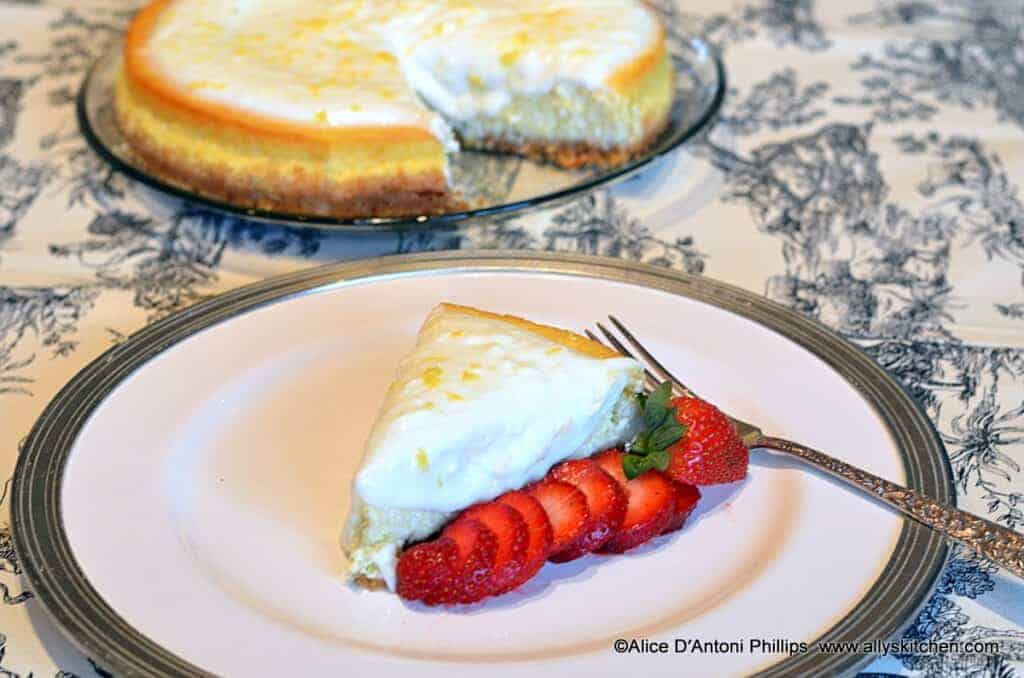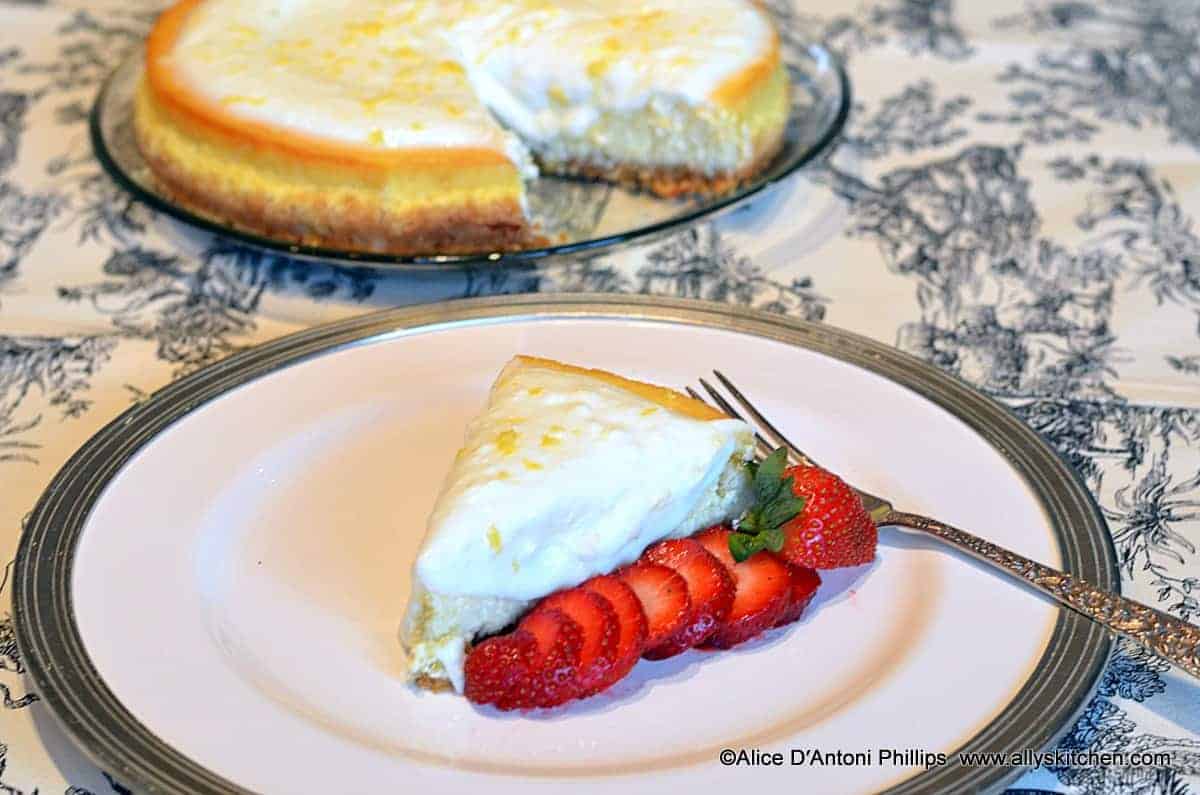 ©Alice D'Antoni Phillips  www.allyskitchen.com