roasted cauliflower gruyere parmesan béchamel sauce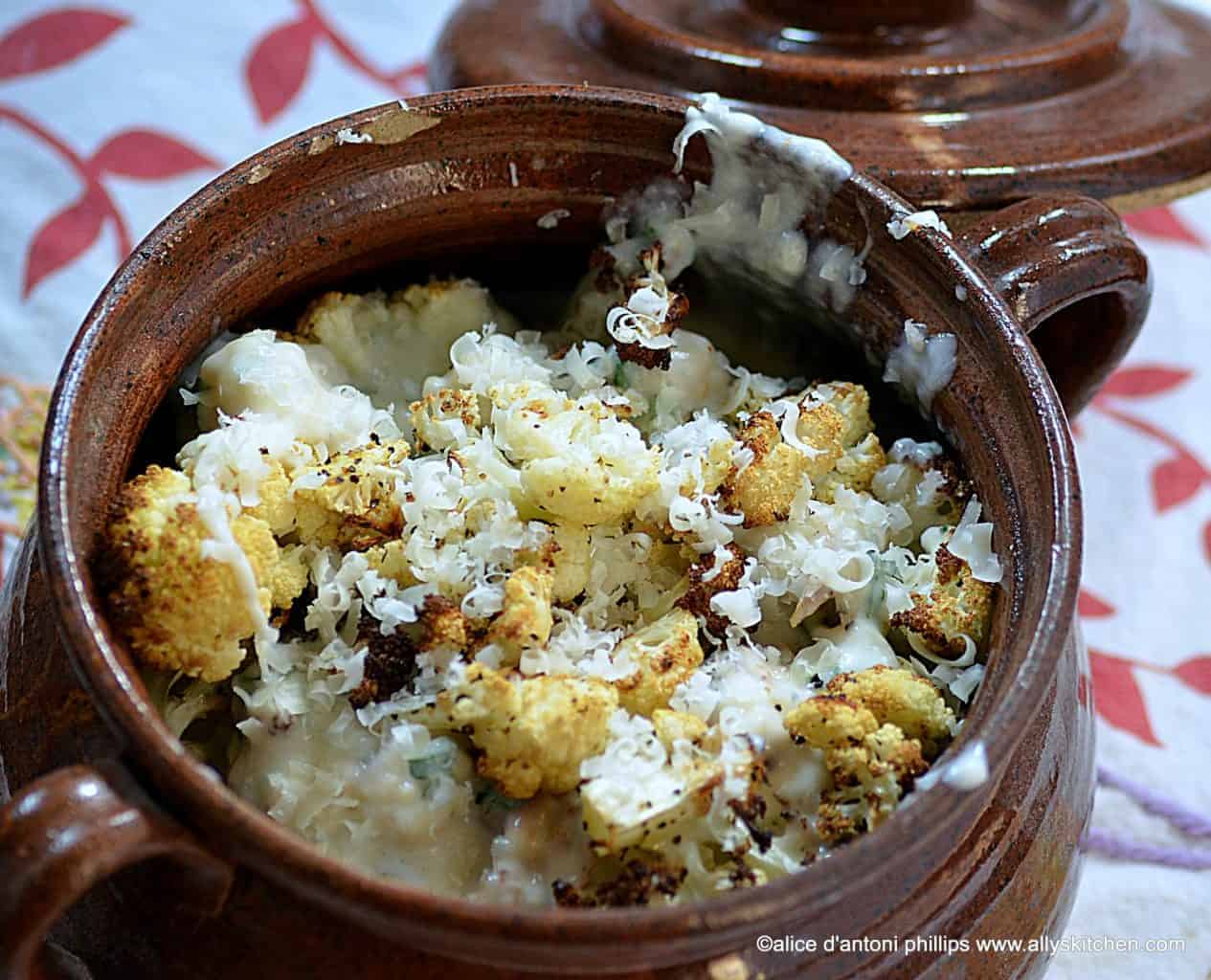 We all love raw cauliflower on those appetizer tray! Lets us know we're snacking healthy! High in vitamin C and fiber, cauliflower can be cooked so many ways and served either 'straight' or like this dish. Now, we're gonna be talking roasted cauliflower!
Kind of like a 'casserole' with the creamy cheesy béchamel sauce, the roasted cauliflower takes on an elegance, I think. Now you don't have to finishing it off as a casserole with all the sauce. You can simply serve the sauce as a side and let folks choose how much they want to drizzle on~~kinda like you do gravy!
For me, this dish was essentially the 'meal'~~I served it with steamed kale, and it was totally satisfying and quite filling, not to mention, vegetarian at that!
This roasted cauliflower and creamy sauce would be great with my kefta! I tasted kefta all over Morocco looking for the best, and I found it! Here's the recipe!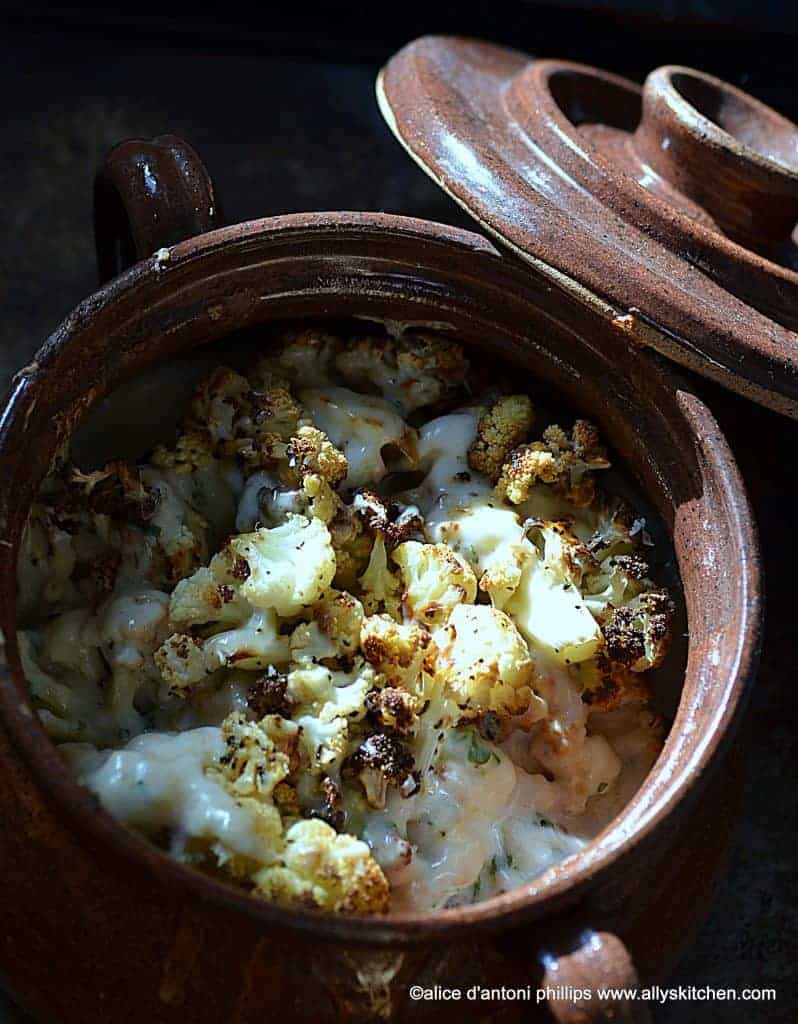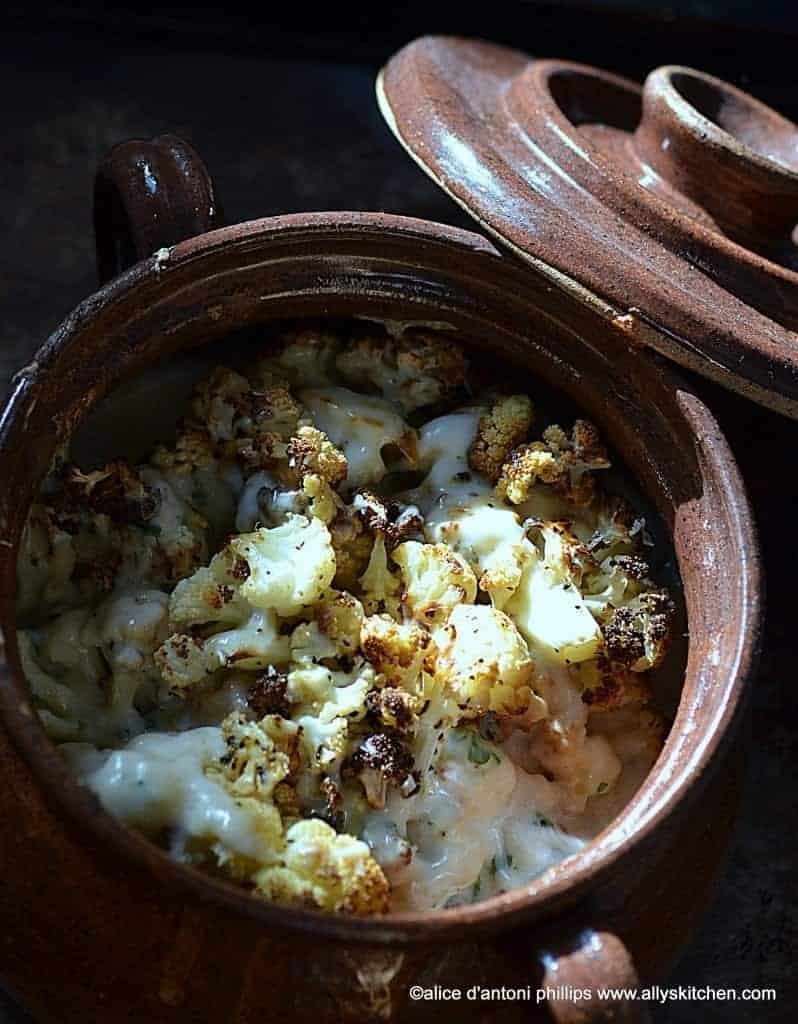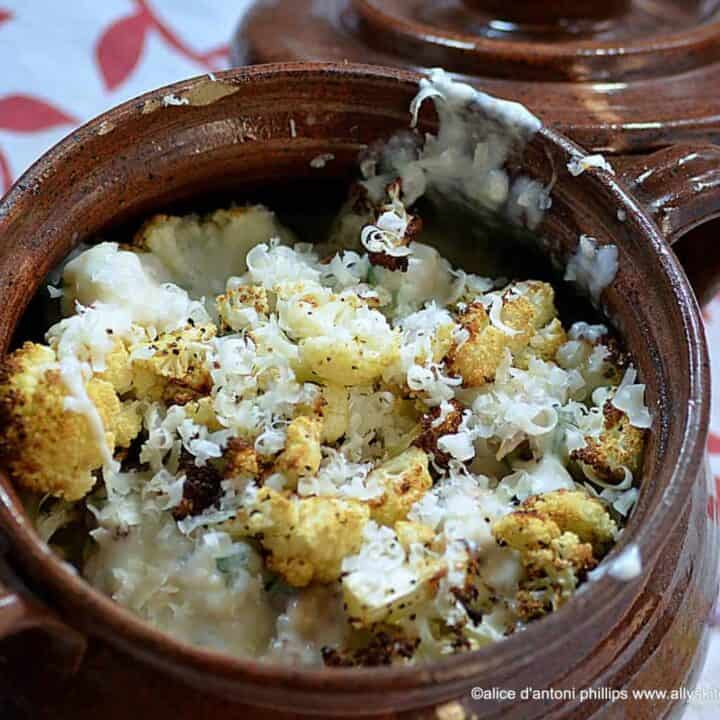 roasted cauliflower gruyere parmesan béchamel sauce
Ingredients
Preheat oven to 400 then reduce to 350
1 head of cauliflower, cut into bite-size flowerettes
Cooking spray
2 tsp. lemon pepper
½ tsp. sea salt
Bechamel Sauce:
3 Tbl. Butter
3 Tbl. all-purpose flour
1/8 tsp. nutmeg
¼ tsp. red chili flakes (optional)
1 ¾ cups milk
1 cup grated parmesan
1 cup grated gruyere
¼ cup flat parsley, chopped
Instructions
On a parchment paper lined cookie sheet, put the cauliflower pieces, coat well with cooking spray, sprinkle with lemon pepper and salt, toss and blend. Roast in a preheated 400 oven for about 17-20 minutes. Remove and set aside.
In a heavy medium sized pot over medium heat, melt the butter. Put the flour in and whisk quickly. Add the nutmeg and chili flakes (optional) and blend. Slowly blend in about half of the milk whisking the entire time to blend into a sauce.
Reduce the heat to medium low. Add the grated cheeses and blend in, add the remaining milk and parsley and blend. You will have a thick creamy sauce. Remove from heat and set aside.
Put the roasted cauliflower in a baking dish. Drizzle with the sauce. Cover and bake for about 15-18 minutes in a preheated 350 oven. Ready to eat!