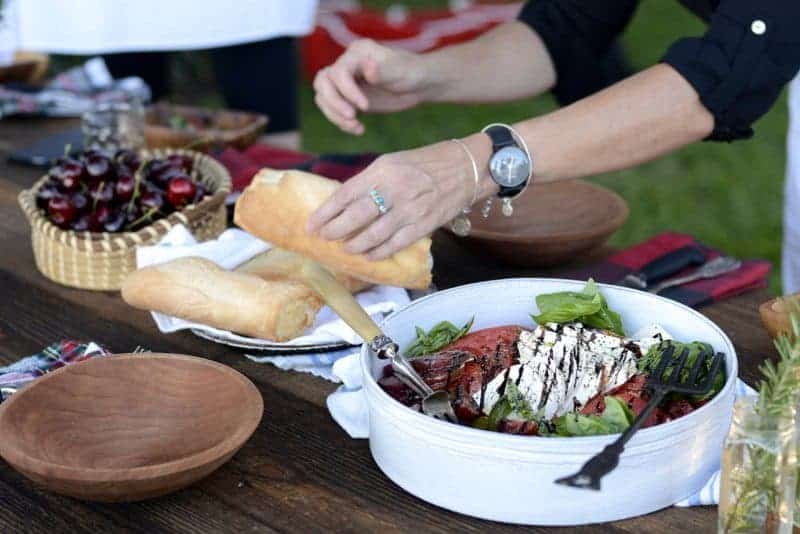 Summertime. Such a glorious season. Summertime and the living is easy so George Gershwin's song goes. We know though for some summertime isn't easy living but maybe the busiest season of the year. Think farmers. This is when they adhere to the saying of  'make hay while the sun shines' time. Yes, they have to take advantage of the season while it's prime.
For others summer means different things. It's vacation time. Many folks plan and save all year for that week or, if they're lucky, two weeks of vacation. Seemingly, taking time to rest, families pack so much into those few days that by the time they return home, they need a vacation from the vacation! So much for easing the stress, kicking back and rejuvenating yourself.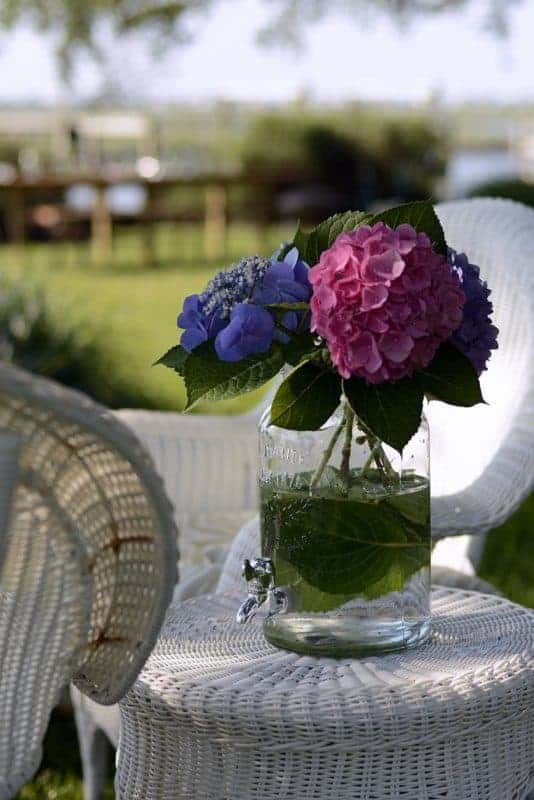 Summertime remarkably has health benefits, too. This Huffington Post article points out that "people are 26 to 36 percent more likely to die in winter from a heart attack, a stroke, heart failure or some other circulatory disease." Evolving Wellness highlights seven great things about summer including free vitamin D, which is great for folks living in places like Russia and Alaska where winter days' sunlight are short and fleeting. And, don't forget summer gives us the chance to sweat more. No, it's not disgusting or gross. It's a natural way for the body to do some detox when you're enjoying physical activities in the great outdoors.

Summertime is also the time to take advantage of being outside. Walking barefoot. Sitting on the front porch late into the evening. Taking walks in the neighborhood, at the park, riding bikes and more. Summer's also the time to eat outside. If the bugs aren't a huge nuisance and it's not oppressively hot and humid then take your family and friends to your table in Mother Nature's setting. Besides the beauty and change of scenery, you're going to be breathing fresh air and get that overall good feeling of the expansiveness of having no walls and certainly no ceilings!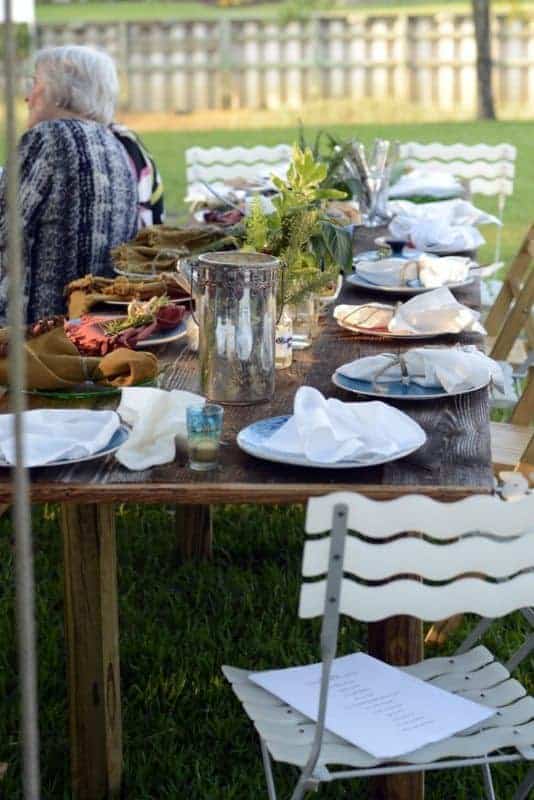 I love entertaining outdoors in the summer. From having evening cocktails or a glass of tea in the yard to making a sandwich at lunch time and heading outside to find a quite special spot to eat, summer gives us these hidden opportunities to feel happier. A Summer Table can help you make this happen more often.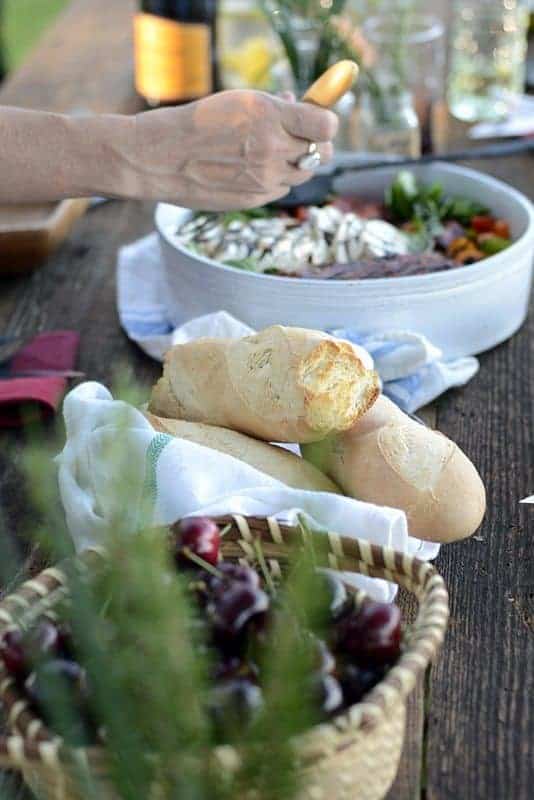 Tip #1:
Devote a table or tables to your outdoor dining. Rather than having the schlepp the table in and out of storage, think about setting it up and having it there anytime you have the urge to use it. Since I enjoy folks over for meals, I had two tables built. One is a 'Harvest Table'. It seats up to 16 and is in the side yard. The other is what I call the 'Farm Table' which seats about 10 and is in a covered area of my home. Both offer almost daily opportunities to dine outside. Even if it's just me taking my cup of coffee and bagel outside at the crack of dawn and sitting there watching the sun rise. There's just medicinal value in these quiet temporary moments that set the stage for the full day.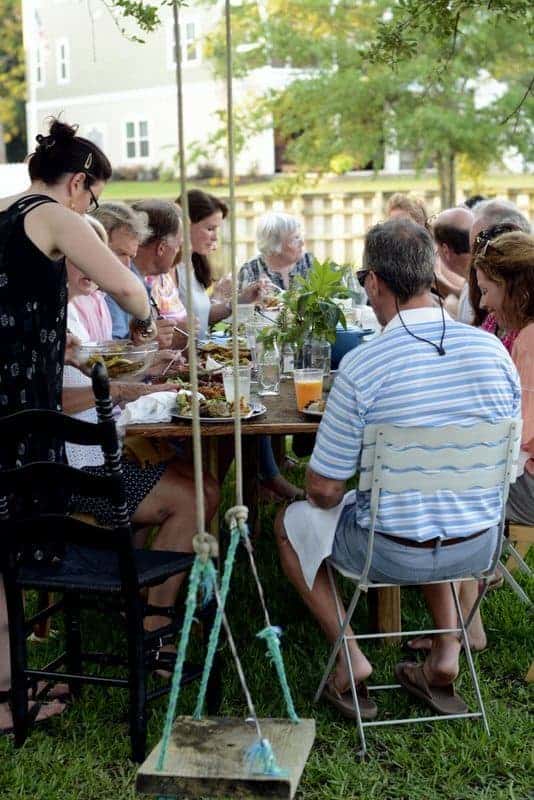 Tip #2:
Organize an array of dishes, drinking cups/glasses, utensils and serving pieces that you want to devote to using outdoors. You can simply put these things in a basket if it's just for a few folks or clean out a few shelves or a space in your pantry or cabinets for your summertime serving fare. Look for unique pieces at consignment, antique, resale and thrift stores. Things made from plastic, enamel, melamine. There's no shortage in retail stores like WalMart, Target, TJMaxx, Marshalls and more of really cool cute things that will liven your table and create the mood you're looking to give.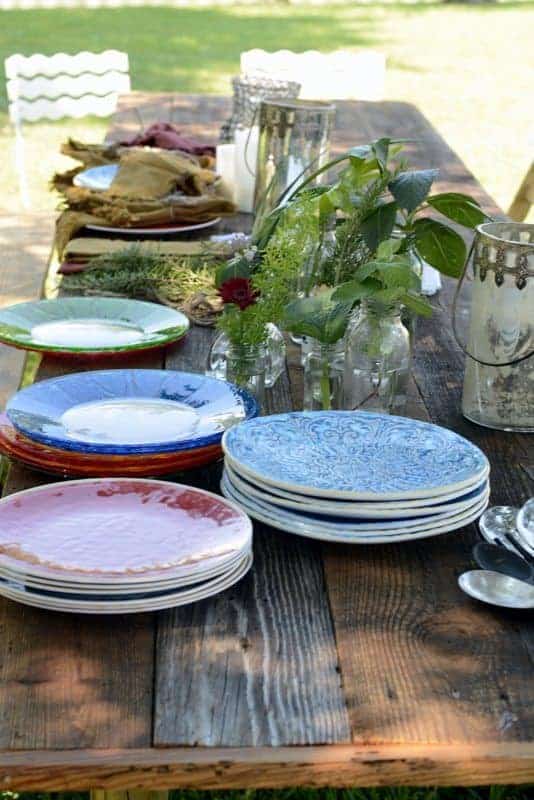 Tip #3:
Let your 'napkins' be big and useful. You don't want to worry that someone's getting a lot of butter on the pretty napkin because they've slathered the butter on their corn and are wiping their hands. Yes, you'd maybe cringe at watching that oil go into your best napkin. In the summer, I love to use dish towels as my napkins. Here's some that I have and I totally adore. They're reasonably priced. Durable. Plus, at a little over a buck each, it sure goes a long way for a 25×15″ napkin! Another great napkin choice are bandanas that you can get at the big box stores like WalMart. They cost about a dollar and once washed and relaxed become perfect napkins.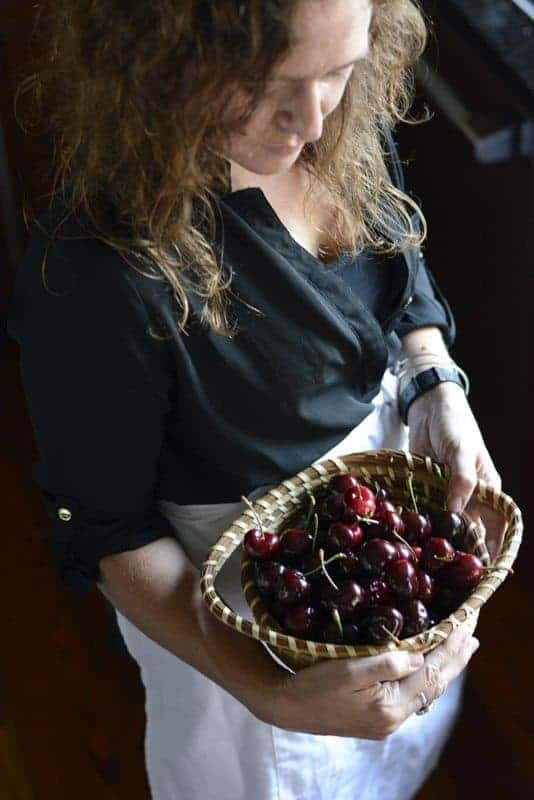 Tip #4:
When you're thinking centerpieces, consider this. Your food can be used as the focal points. And, with the abundance of fresh fruits and vegetables during this glorious season, it's a perfect time to showcase them! Use a variety of heights and levels. For instance, put the fresh strawberries on a small plate on in a bowl and perch on a cake stand. Of course, it's always beautiful to snip greenery and flowers from your yard and put in clean food jars. Some of the jars that food comes in are just gorgeous, and they are useful for so many things.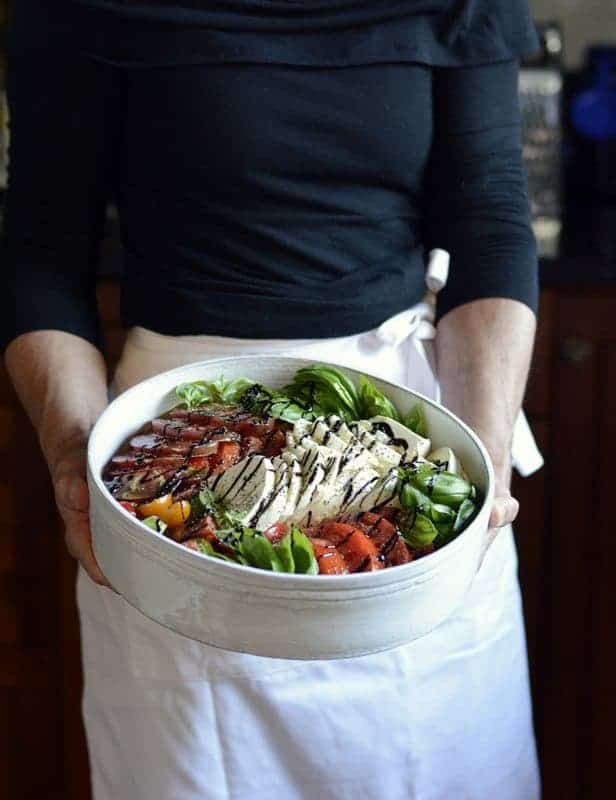 Tip #5:
Just don't think full meals at your summer table. Think just about any and everything. Heading there for dessert and tea/coffee. Cocktails and neighbors around the table with a charcuterie spread. Do breakfast out there when you have a crowd. Imagine inviting friends to breakfast or brunch! Lunch and a sandwich bar that invites your friends and family to congregate and communicate. Put a 'ban' on cell phones. Real people doing what they're God given wiring is intended to do, talk to each other.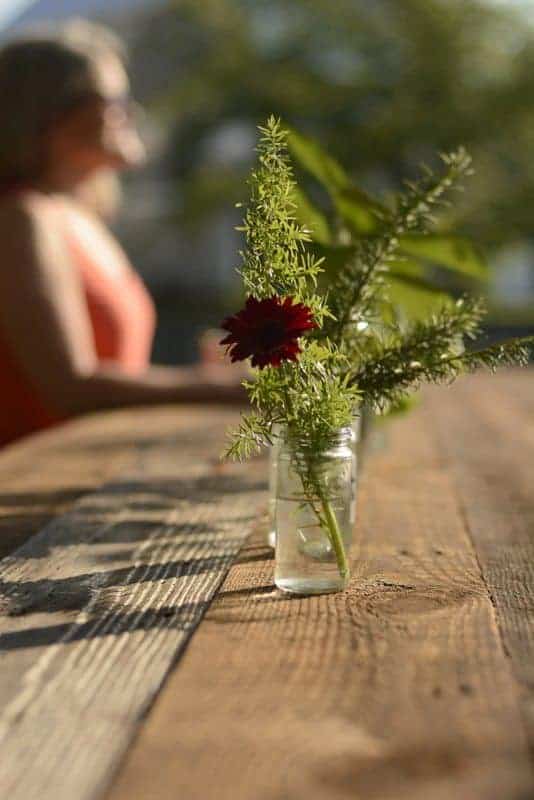 Tip #6:
Simply enjoy. Make it easy. Make it communal. Make it memorable and magical. The 'Summer Table' is a season for rejuvenation. It's a daily vacation that can do more than feed the belly. It can feed the soul and spirit giving you health benefits you never knew existed.