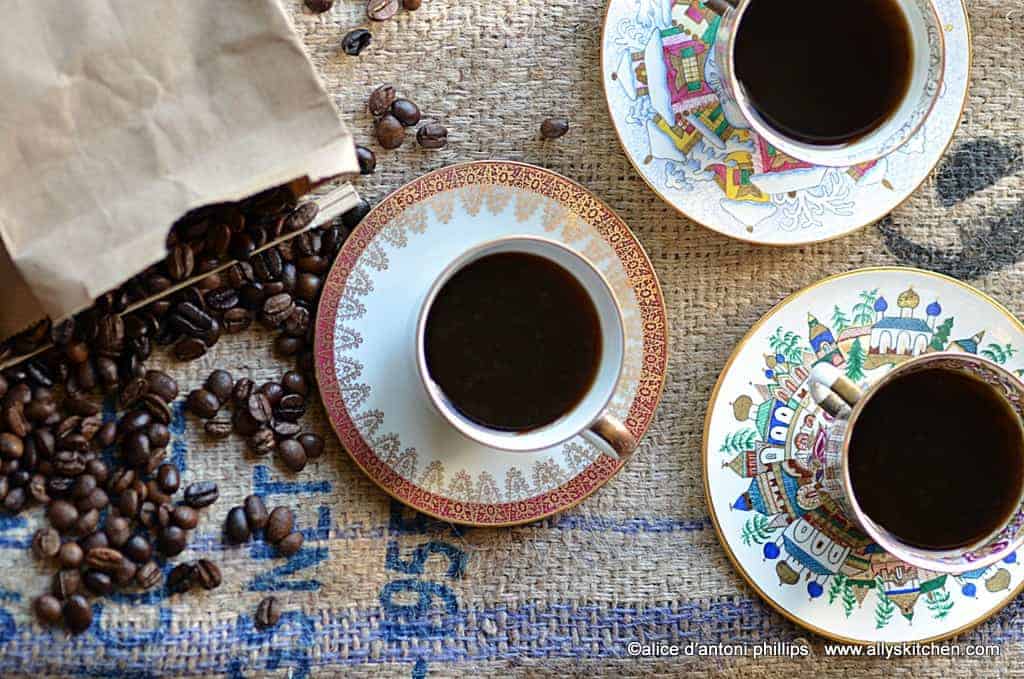 Creating your own home coffee bar is not only convenient and smart, but it saves lots of money! Grab my ideas for making yours the best!
Home Coffee Bar Design
I've created a snappy little video of my happy space in my home where most all of these ideas are incorporated. Take a look. You might find some inspiration!
Coffee Bar
I love coffee. And, I know I'm not alone. I mean just look at the sales of coffee from Dunkin' Donuts to Starbucks, coffee is a culinary delight and here to stay. Listen up to some interesting facts from the National Coffee Drinking Trends 2010, National Coffee Association reported by the Harvard School of Public Health:
58% of Americans over 18 drink coffee everyday
65% of Americans drink it with breakfast
30% drink it between meals
5% drink it with meals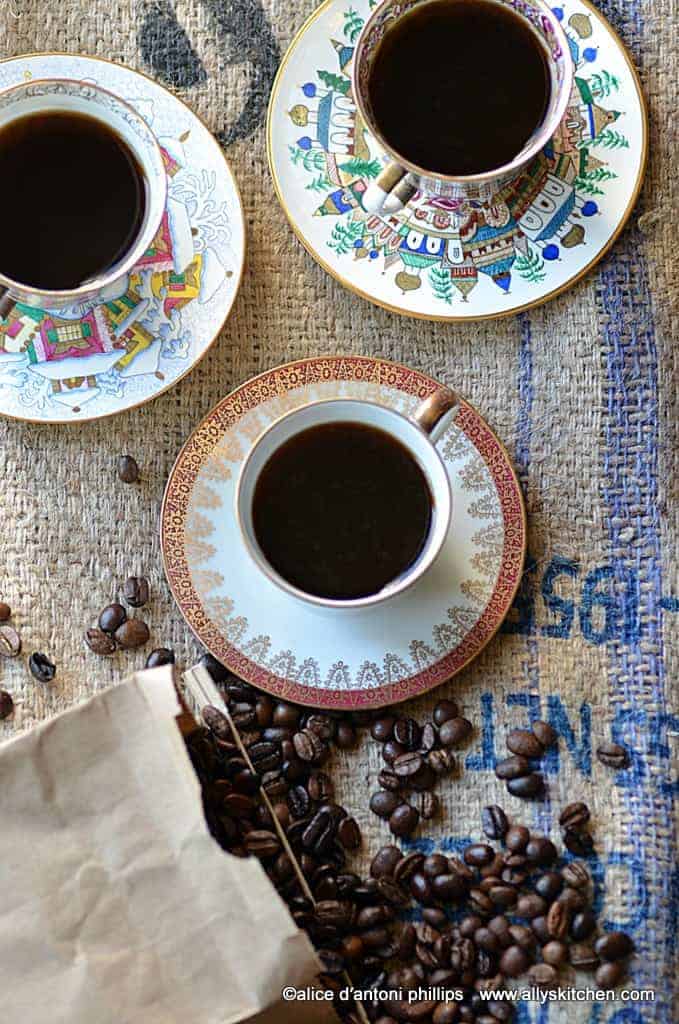 Coffee Bars at Home
Yes, like with most anything we eat or drink, there can be ups and downs, good things and bad things, positives and negatives. For coffee, here's a link if you want to explore the 'benefits' and don't forget to check out the 'downsides'.
Ya'll know that you can explore endlessly information in cyberspace, so do that on your own! For now, let's talk more about your own home coffee bar!
Kitchen Coffee Bar
Now, I don't often go out and pay four or five bucks for a coffee drink. but, I must admit that I'll sometimes swing through Mackie D's and order up a cup on the go and, yep, make that the senior discount!
And, I do love Dunkin' Donuts whole bean coffee, and when I buy my inventory, usually a case at a time, I earn points with my 'membership' card. I'll admit I even have a specially designed DD card with my photo on it that I put money on and use when I make purchases!
Coffee Bar Cabinet
However, to shell out several dollars for a coffee drink, that's rare for me. Why? Well, because I've invested in my own coffee bar or coffee house right in my own kitchen. With a few guidelines and ideas, you can do the same thing.
In the long run it's gonna save you lots of money. So think about it, your own coffee bar or being at the mercy of high bucks coffee drinks?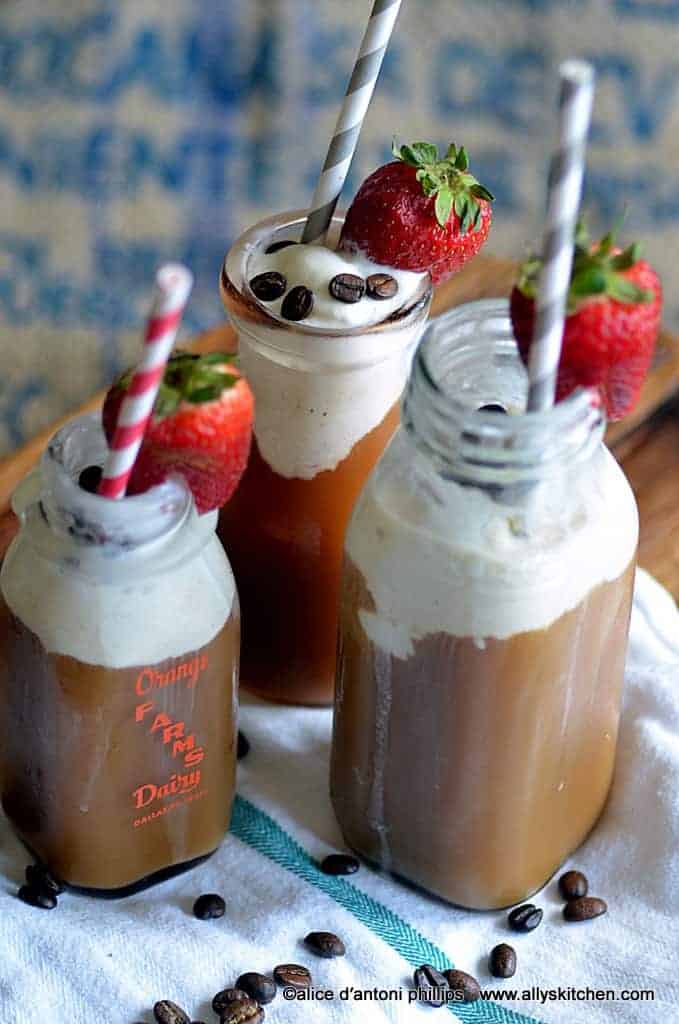 Coffee Bar Ideas
Here are some of my ideas that might work for you. Or, take my ideas and change them up to work for you. Everyone's kitchen space is different from size to layout. But, if you can manage even a few square feet and then style it to your needs, you might find more benefit than just coffee.
My coffee bar is one of my 'happy spaces' in my home. 'Happy' places are areas that you go to that just make you smile!
Coffee Station Ideas
Find a space in your kitchen for your coffee bar/space. Designate it as your 'happy space' for coffee. The size of your kitchen will determine the size of your space. Even a few square feet can work. You might use a small table or shelf if you have space!
How to Set Up a Home Coffee Bar
Invest in a really good coffee maker. Since you're not going to be spending money buying coffee at pricey places, you can do this. Believe me, it makes a difference in the quality of the coffee.
Grind you own beans. There is nothing more intoxicating than the aroma of freshly ground beans. Coffee grinders come in many varieties. I love my Capresso coffee grinder and have had several in the past 15 years.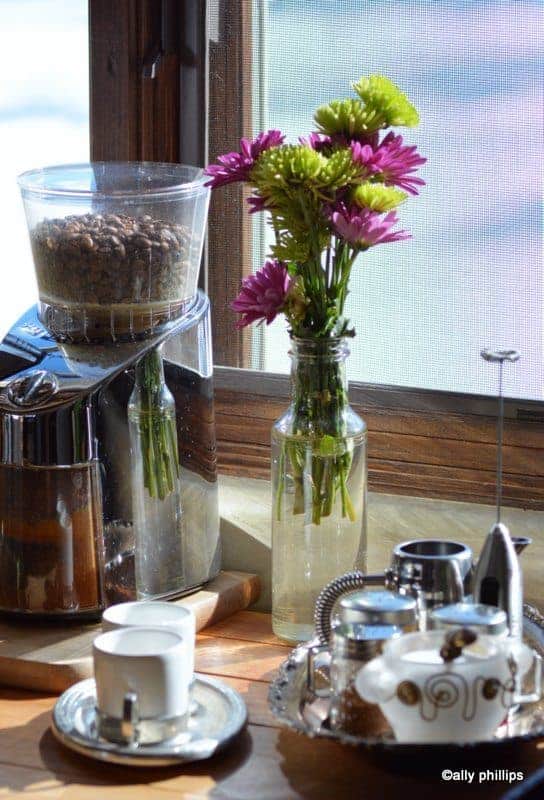 Home Coffee Bar Supplies
Find little coffee spoons. They're just so dang cute. And, if you, or your guests use cream and/or sugar, it's fun to use these cutesy spoons.
Designate a water pitcher that you refill daily with fresh water to pour into your coffee maker. It's just a convenient nice touch that saves time. If you don't have space, don't worry about it. If you do, find a pitcher that has character. Something vintage, old silver plated, pottery. Conversation pieces!
Best Home Coffee Bar
Have coffee cups nearby. I like different kinds. Dainty coffee cups. Espresso cups. Vintage cups and saucers. Again, your space will determine how many you can display or put in your space. Thrift, consignment stores are great places to find interesting cups and saucers as well as yard sales.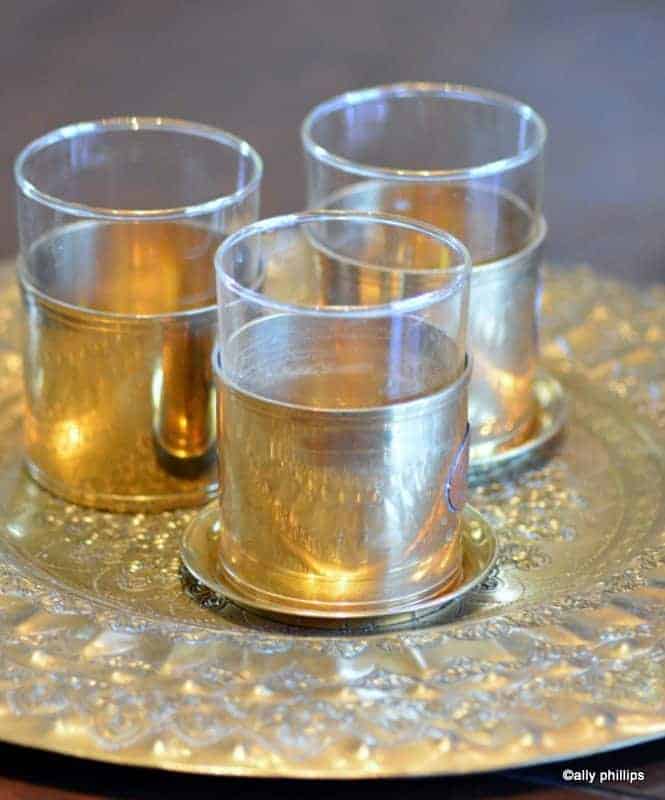 DIY Home Coffee Bar Ideas
A cream 'frother' is just the bomb. They're inexpensive and quickly can give you that frothy milk that makes you think you're at your favorite coffee shop. I have a battery operated one that I got at Williams and Sonoma.
Put together a small tray of 'condiments'. Sugar, cinnamon, nutmeg, cocoa, brown sugar, coconut sugar. All those things that spice up coffee and make you think you're at some trendy coffee shop. Unique creamer and sugar containers area always fun.
French Press Coffee
Think about investing in a French press. They come in different sizes and can cost as little as $15 dollars. And, keeping it displayed in your coffee bar area reminds you to sometimes use it. If it's stashed in a closet or cabinet, what happens? You know!
Now, why do I love the sweet littl' French press? Well, when you're in the mood for something different, don't want to brew a pot, and you want to imagine yourself at a Parisian café sipping coffee that's been brewed in the French press then you can. Yes, I like dreaming!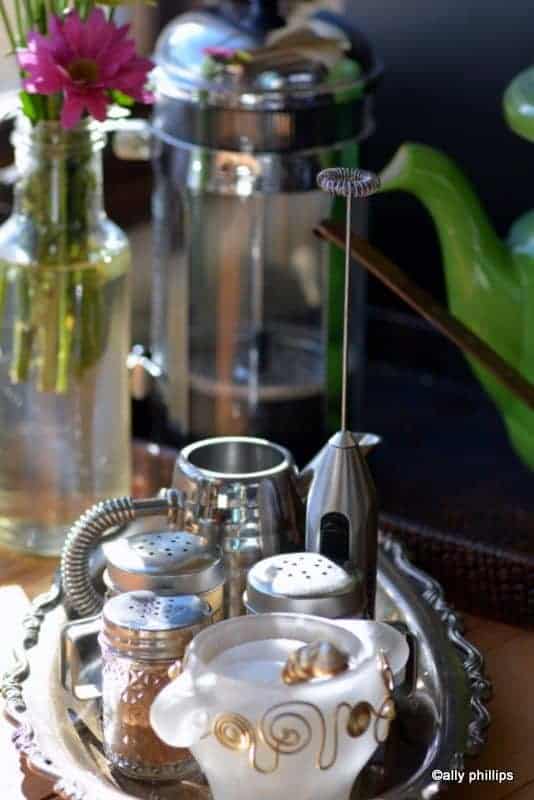 Create a Home Coffee Bar
If you have leftover coffee, don't toss it out. Maybe later in the day if you need a jolt or boost of energy, then make your own iced coffee!
I love keeping a small vase of fresh flowers, or just one stem, near my coffee bar. It just adds color and brings smiles. If you don't have flowers, then find a stem in your yard or at the park. Just something live and vibrant to add pizzazz!
Home Coffee Accessories
A small dainty dish towel or napkin is perfect to put near the coffee cups. When someone uses a spoon for stirring their coffee, they just lay it on the pretty towel or napkin.
Refold the napkin (to cover the coffee stains) each day, and you can use it for a while before having to put out a new one.