The Best Types of Cheeses for a Charcuterie Board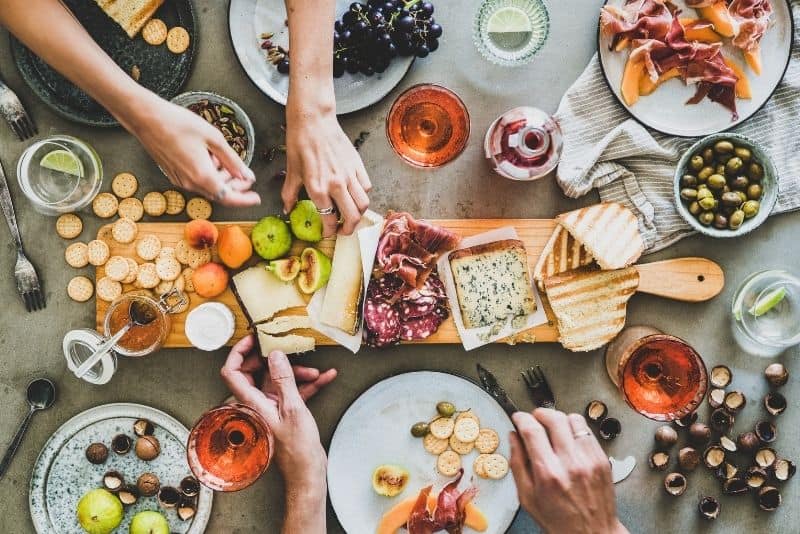 Cheese is the main attraction of every charcuterie board. If you have a gluten allergy, are dairy free, or even enjoy the different varieties from any intake, you are in the right place. This is your safe space for all things cheese. So, to kick things off, we have provided the best types of cheeses for a charcuterie board.
And, don't forget that your fresh herbs make a beautiful garnish for your cheese boards. Or simply chop up fresh herbs and mix in extra virgin olive oil with some salt and pepper. It's an easy addition to go with these delicious cheese options.
Cheese boards are so versatile and can be served even when you're doing movie night with the grandkids!
Black Ash Cheese
Origin: Morbier in Franche-Comte
Dairy-free? Yes.
Gluten-free? Yes.
Even though it doesn't look appealing to the eyes, it is safe and tasty to eat. Originally named morbier, the cheese itself, called Black Ash Cheese, is coated in vegetable ash; this adds an earthy touch to this intense cheese wheel.
This cheese is perfect for the vegan in your friend group, as it's made from cashew and a hint of red wine. Serve this with crackers and fruit, and your palette will be satisfied.
Manchego Cheese
Origin: La Mancha Wilderness in Central Spain
Dairy-free? No.
Gluten-free? Yes.
This delicious cheese originates from Spain, the La Mancha region. The cheese is produced from sheep's milk, which delivers impactful nutty, grassy, and even savory flavors. Sheep's milk still contains lactose.
Manchego is best served with Spanish crackers, along with serrano ham, almonds, walnuts, honey, quince paste, and marmalade. Leave the cheese in the refrigerator for at least 30 minutes before serving.
Gouda Cheese
Origin: The Netherlands
Dairy-free? No.
Gluten-free? Yes.
This cheese is made from semi-hard cow's milk. Originating from the Netherlands, you can enjoy notes of nutty flavors that have a sweet, smooth coating of buttery goodness that will have your tastebuds buzzing. Gouda is best served with bread and fruit.
Brie Cheese
Origin: France
Dairy-free? No.
Gluten-free? Yes.
Brie is a smelly, tolerable, yet delectable cheese that will have you addicted in less than five minutes. This cheese is very popular to cook and serve on a charcuterie board. Originating in France, this cheese was named after the area that the cheese was made in. Brie cheese is made from softened cow's milk.
Brie cheese must be served an hour before your guests arrive and can be served along with a baguette and crackers. We also recommend honey and fig jam as a spread.
Cheddar Cheese
Origin: Cheddar, Somerset, England
Dairy-free? No.
Gluten-free? Yes.
Whether you are serving aged cheddar or another variant, everyone can enjoy a familiar and delicious favorite: cheddar cheese! This type comes in white and orange and originates from Cheddar, an English village. The flavoring will differ depending on how long the cheese has aged. Enjoy this piece of heaven with crackers, hard salami, some fruit, and delicious French bread to complete it.
These are the best types of cheeses for a charcuterie board. The best cheeses come from all over. There is more to learn about, so take the opportunity in discussing the origin of cheese and the charcuterie board. A discussion about international cheese and charcuterie boards will introduce you to a world of delicious flavors. Come and enjoy international cheeses with friends!