green energy smoothie bowl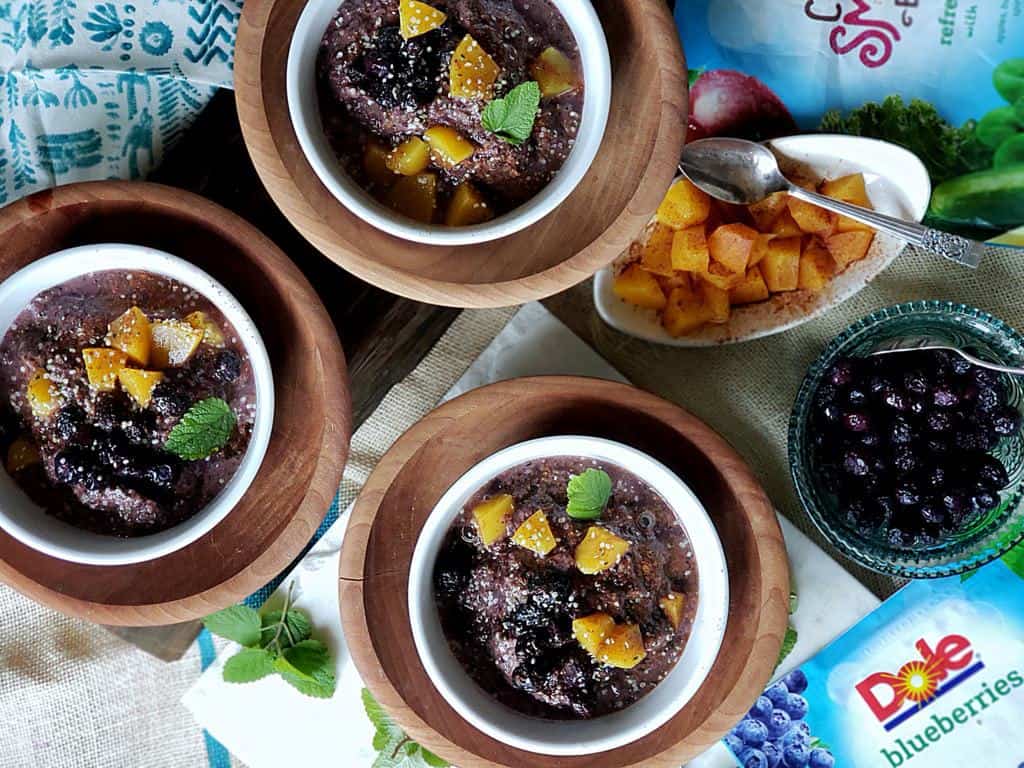 Thanks to Dole Packaged Foods for partnering with me for this green energy smoothie bowl! I am the creator of this recipe and for the description and information that follows. For a full disclosure, click here!
Why I Love Crafted Smoothie Blends
I cannot tell you how much I love love Dole's new Crafted Smoothie Blends! Why do I love them?
They're four versions of fruit, veggie and herb mixes. And, some with spices!
They're packaged in convenient 8 ounce packages.
They are guaranteed to be fresh frozen fruit, and you get large nice chunks.
You can create artisan smoothies in no time at all!
And, when I make smoothies, I make a lot of it because these smoothies will keep refrigerated for a couple of days. No kidding. I just put them in Ball or Mason jars and in the refrigerator. Now, I KNOW these smoothies are exceptionally delicious and nutritious. Just check out the ingredients. Another way I know is that I've taken them to share with my yoga friends after class, sometimes as many as 20 yoginis, all standing around sipping refreshing smoothies after a good workout. And, I recently took a large batch to my physical therapy. Yep, got a bum shoulder and am doing PT for it, so I thought why wouldn't everyone there love a little 'Ally Love' that could do nothing but perk up their healing process! And, I was right! From folks who were nearly octogenarians to Millennials, all of there for one reason or another, loved a sip of a healthy refreshing smoothie.
These smoothie bowls make a wonderful breakfast, lunch or snack. If you want to add some granola, then it's almost like you're having a dessert rather than something that's really good for you. I keep on hand various things to add to my smoothies including maca, dried wheatgrass, organic cacao, gogi berries, flax seeds, chia seeds, milled flax and chia, acai powder, and spirulina powder. These ingredients help boost your nutrients and bottom line this is good for you. Smoothies are a great way to get these superfoods into your diet. And, I guarantee you're gonna LOVE these bowls of goodliness! xox ~ally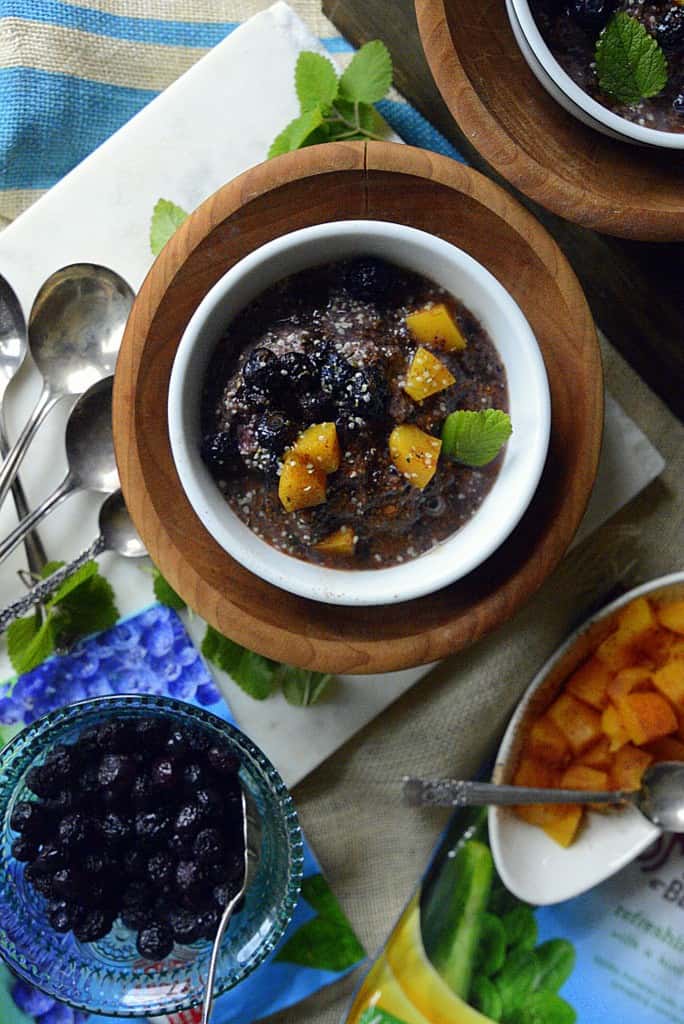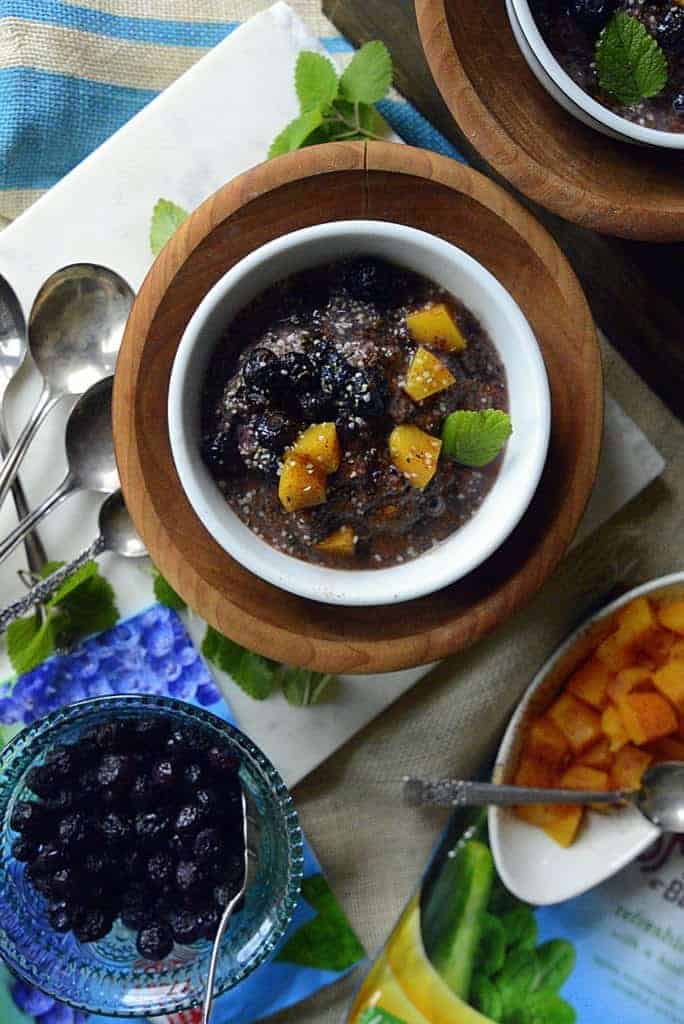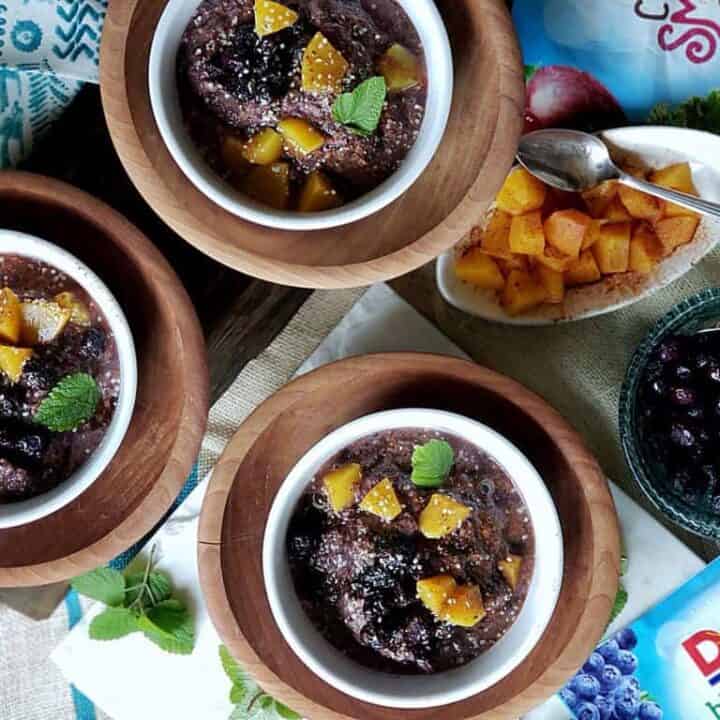 green energy smoothie bowl
Ingredients
2 (8 oz.) packages Dole Packaged Foods Crafted Smoothie Blend Refreshing Greens
2 ½ cups Dole Packaged Foods frozen blueberries, divided
8-10 slices Dole Packaged Foods frozen peaches, thawed and cut into bite size pieces, dust with some cinnamon, set aside for garnish
1 ½ cup almond vanilla milk, sweetened
¼ cup + 2 Tbl. Organic Hemp Seeds, divided
3 Tbl. Maca Powder
2 tsp. ground cinnamon, plus more for garnish/dusting
2 pinches sea salt
Honey, garnish (optional)
Fresh mint leaves, garnish (optional)
Instructions
Chill the serving bowls in the freezer about 30-60 minutes before serving.
Put the smoothie blend refreshing greens, one and one-half cups blueberries, eight peach slices, one half cup peach juice, almond milk, one-fourth cup hemp seeds, maca powder, two teaspoons of cinnamon and salt in a blender (food processor or other appliance to blend).
Blend into a creamy mixture. Pour into the chilled bowls.
Top with some of the remaining blueberries, peach bites, a sprinkling of more hemp seeds, a dusting of more cinnamon and a drizzle of honey. Serve immediately.
Notes
OTHER GARNISH IDEAS:

Granola

Sliced almonds

Sliced bananas