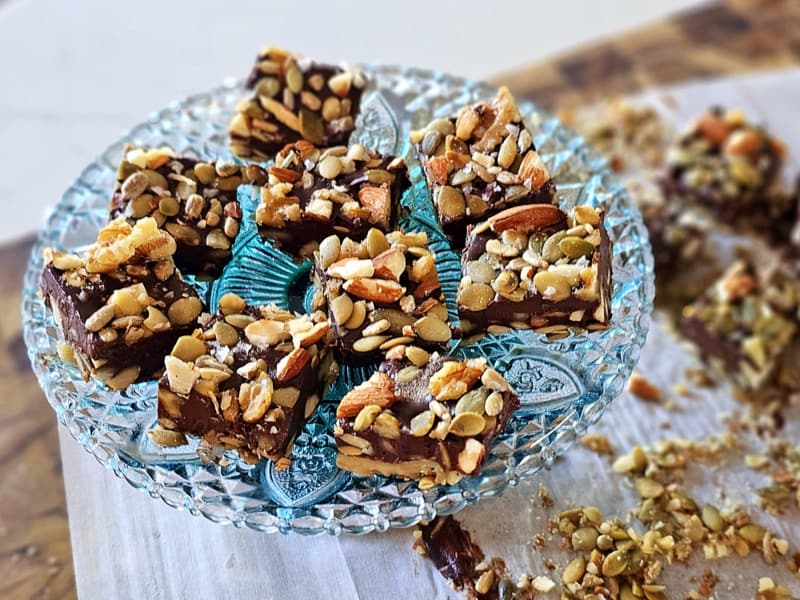 Nibble on this freezer nut fudger with much less guilt! Protein and 70% cacao sweetened with maple syrup. Yes, it can be with nuts nor not!
Protein Fudge
There's one ingredient in this fudge that makes it a super protein fudge. It's the PaleoValley Bone Broth Protein Chocolate Supplement.
It not only adds the protein but some extra chocolateEEEEE flavor.
Made with only grass-fed bones, no hides, it's top quality and you can use it in so many things. From smoothies and shakes to cream of wheat, oatmeal, and more baking ideas.
If you'd like to purchase, click here, and you'll get an auto 15% discount at checkout. I keep it in my pantry and make hot chocolate for the grandkids, too!
Protein Powder Fudge
We all love chocolate, but why not add something to the fudge when you're making it that pops the protein value.
Not only is there the supplement in here where each scoop has 13 grams of protein, and we're using two scoops, but we also have the nuts.
Now, if you're not into nuts, then make it seeds, another great source of protein.
Fudge Chocolate Recipe
This recipe is so very simple.
It's basically a chocolate ganache with the protein supplement in it and a dash of maple syrup.
The UNsweetened almond milk makes it dairy free, but you could certainly use cream or half and half (half cream and half whole milk). That seems to make for a finished fudge that cuts more like a bar.
This fudge cuts well after frozen, but it's on the more creamy and velvety texture side.
Easy Chocolate Fudge
While this is a super easy chocolate fudge recipe, you might want to take a gander at more of my chocolate recipes, cookies, cakes, even sips. Click here because you'll get some enlightening inspiration!
Now biting into this fudge is like a taste of a thick dreamy chocolate cake icing. But, you hold the square in your hands and nibble on it. Be fast because it will get all fudgy gooey on your fingers!
Know what I like to do? Put one little square on a pretty saucer, add some fresh raspberries and strawberries and eat it with a fork. Yep, like a piece of 'cake'! And, I'm talking a tiny piece. That's all you need.
How to Make Chocolate Fudge
First of all, I'm no expert on making chocolate fudge.
The way I make it is to just pour my chocolate ganache into a parchment paper lined pan, then basically let it sit a room temperature and cool then 'harden'. And, presto, I can cut it into squares.
This recipe calls for a few more ingredients because we're adding the protein powder. And, you want to make sure you get it fully dissolved and incorporated into the milk before you add those chocolate pieces.
Chocolate Fudge with Nuts
Now, I love the crunch textures, and that's why I'm using nuts and seeds in this recipe.
You can surely omit this and make straight protein fudge, but be sure to add those pops of sea salt flakes on top before putting in the freezer. OMG, when you bite into one of those squares with the salt flake, it's like a burst of more flavor!
Nut Fudge
This nut fudge is perfect for that little extra hint of chocolate and sweet that you might want. It quells the craving. You can cut the squares or slices to your desired size. Believe me a little bit goes a LONG WAY!!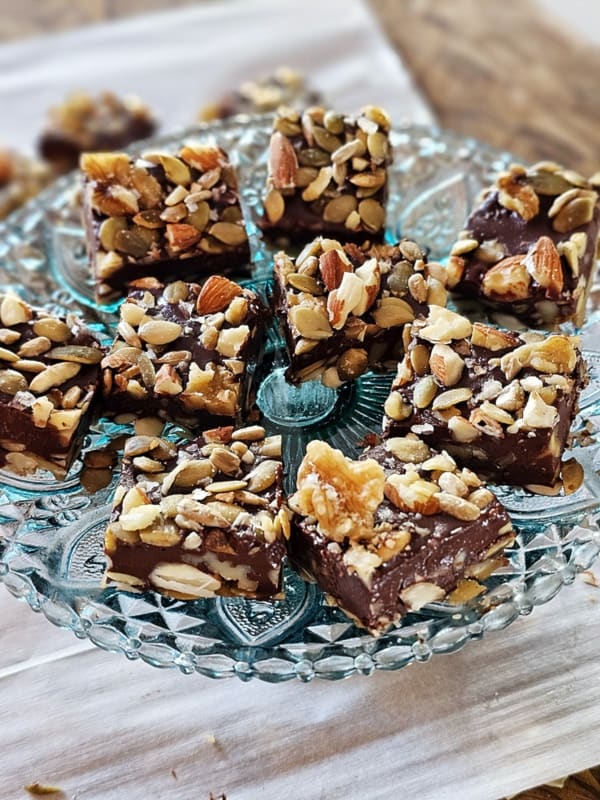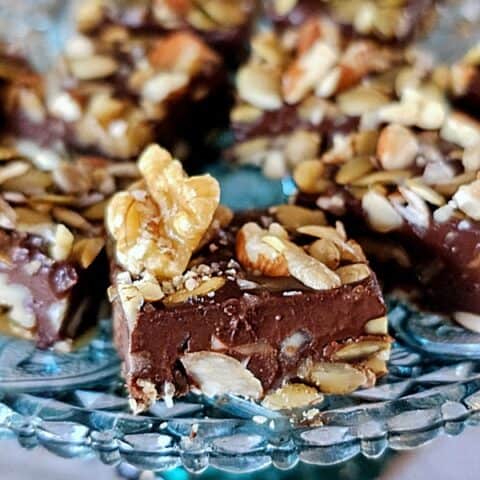 Freezer Protein Fudge
Yield:
Makes: About 24 2x2" squares
Ingredients
3/4 cup UNsweetened almond milk
2 scoops Paleo Valley Chocolate Bone Broth Protein Supplement
1 Tbl. maple syrup
10-12 oz. 70% cacao pieces
1 1/4 cups nuts/seeds, your choice, chopped and mixed
Sea salt flakes
Instructions
In a small saucepan over medium heat, put the almond milk. Whisk in the bone broth protein supplement and maple syrup. Blend well.
Add the cacao pieces and blend and melt stirring as it melts. Add more chocolate if it seems too thin. Add more milk if it's too thick.
The chocolate should coat a ladle or spoon when it's about ready. Remove from heat.
In a small baking pan, about 6 x 8", put a sheet of parchment paper. Add one cup of the nut mixture.
Pour the chocolate mixture on top of the nut mixture. Spread around as if icing a cake. Sprinkle on the remaining nut mixture.
Allow it to cool somewhat then put in the freezer before cutting into squares. Keep well covered refrigerated or in freezer.