breakfast singapore hawker style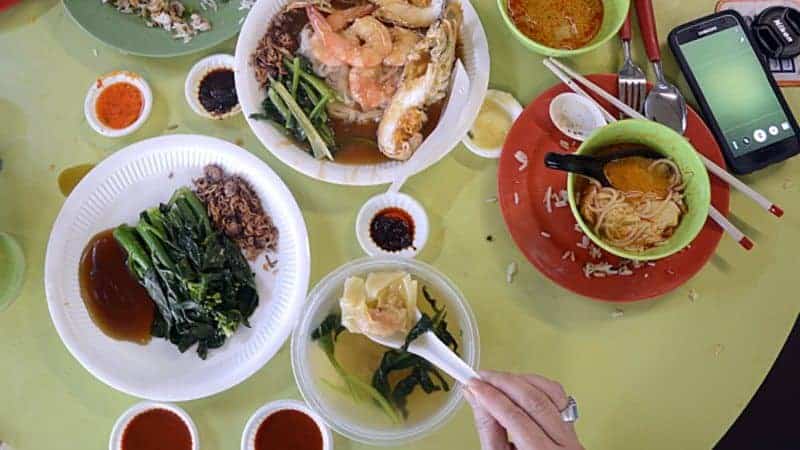 Country of Singapore
Breakfast in Singapore hawker style is a sight to behold and gastronomical experience! Let some of these ideas inspire your new morning menu!
The island of Singapore is a bucket list place to visit. A sovereign nation, it's located on the southern tip of Peninsular Malaysia in Southeast Asia. Ben and I were in Singapore for nearly a week as we journeyed on a month trip to China and Hong Kong. Yes, it was a culinary dream for me especially!
Foods of Singapore
When I travel it's all about the food. And, the foods of Singapore do NOT disappoint!
Singaporean food super popular for its seafood. It's not unusual to eat stingray and even the eyeballs of the fish, which are considered a delicacy. But there are other types of foods, meat, rice, noodles and desserts and snacks.
Singapore Hawker Center
A hawker center is a sight to behold! It's like a huge food court and most all the foods are commonly found in Singapore. The stalls that the vendors work in are teeeny tiny, but what comes from these limited spaces is glorious!
In the old days, many of these families operated their food sales on streets from a roadside stall or pushcart. Yes, street food. But today 'hawkers' are found in other places like the hawker centres, food courts and even coffee shops.
Singapore Breakfast
Now, I'm a big breakfast person, and when I have company, it's a full spread and meal serving up everything from eggs, bacon, ham, sausage, gravy, potatoes and veggies to pancakes, scones, omlettes, frittatas and more.
However, I've never experienced a Singaporean hawker style breakfast until I did this with Candice Leong, also known as 'The Gluttenous Temptress', and her Mom, Jenny! I had no idea what to expect, and, lawsy sakes alive, was I (and my hubby Ben) in for a treat! Breakfast Singapore hawker style does not disappoint!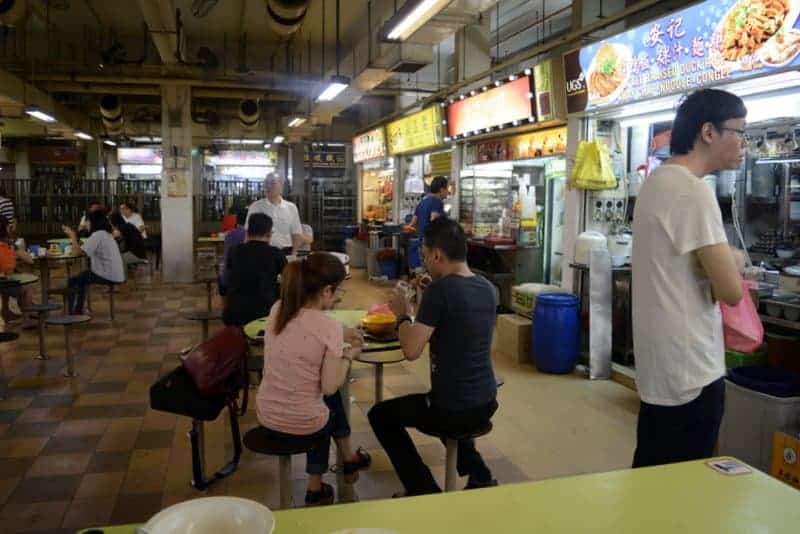 Hawker Food
Candice and Jenny picked Ben and me up at our hotel. Yes, we were in Singapore to experience the food scene. And, there's no one better to do that with than Candice. A private chef, food consultant, and party conspiratrice, Candice knows her way around Singapore like a pro. Born and raised there, she's traveled the world in search of food, but hangs her hat here in Singapore where there's a bustling and outrageously varied food scene.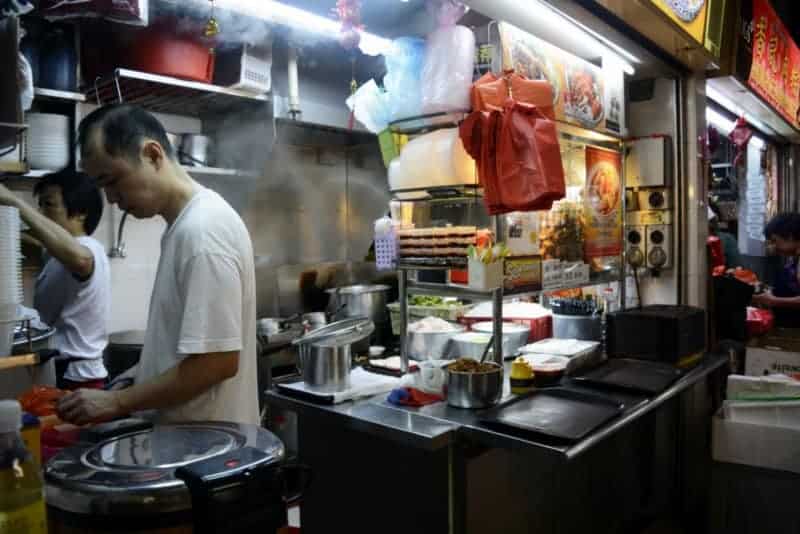 Singapore Hawker Centre
We traveled about 15 minutes to the Hong Lim Hawker Center. Parked the car in a multi-level parking garage, then walked to what was like a 'food court'. But, a food court on steriods! Small compact cooking paces lined on each side with small stall after stall being a specialty food. You can imagine the aromas. The sounds. I was amazed at the efficiency given the postage stamp size kitchen, cooking, preparation and serving area. The throngs of people all searching for what their food craving was for this morning. This place is for everyone regardless of age or income!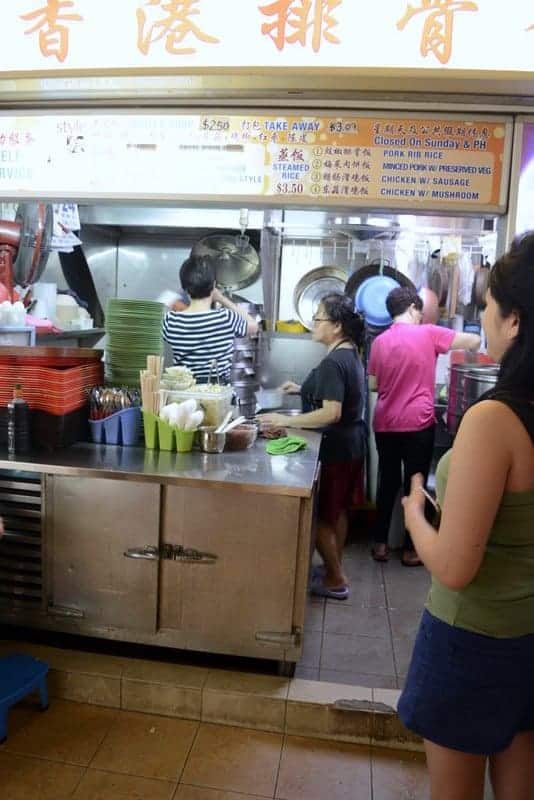 Foods of Singapore
Built in 1978, the first wave of street hawkers in post-independence Singapore, many from Chinatown's Hokien Street, moved to Hong Lim Food Centre. Foods mainly served are Chinese, Malay and Indian. The prices are cheap. The quality of the food is excellent. The portions are huge. And, the tastes and flavors are extraordinary!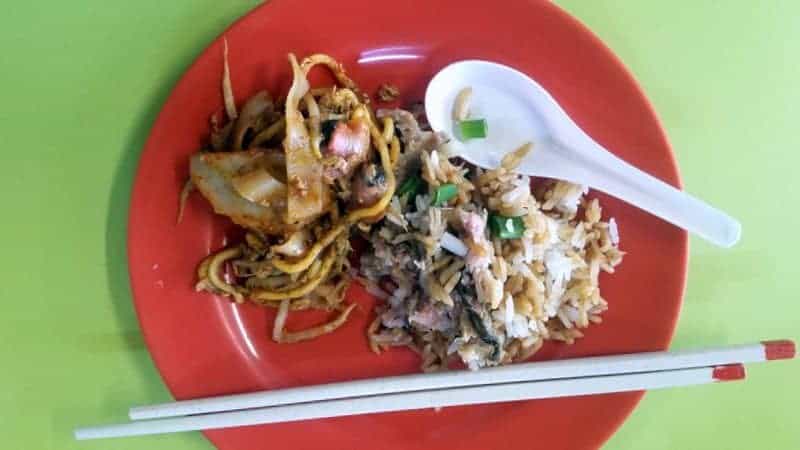 Street Foods Singapore
Many of the vendors are families that have been operating their businesses 20 years or more. Some are street foods of Singapore. While others operate in hawker centers or both. There's distinctively an intrinsic pride and heritage that you get here unlike when you dine at the fancy restaurants. Recipes represent a legacy that is passed from generation to generation.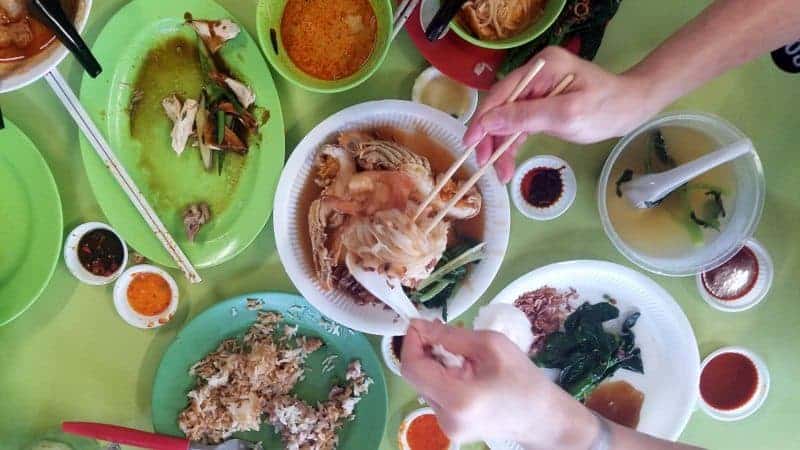 Singapore's Best Foods
And, everyone we encountered went out of their way to answer questions and tell us about their featured dishes. There was definitely some hometown and family pride glowing on their faces! The only thing 'fast food' about this was standing and waiting for your order to be cooked to perfection right in front of your eyes.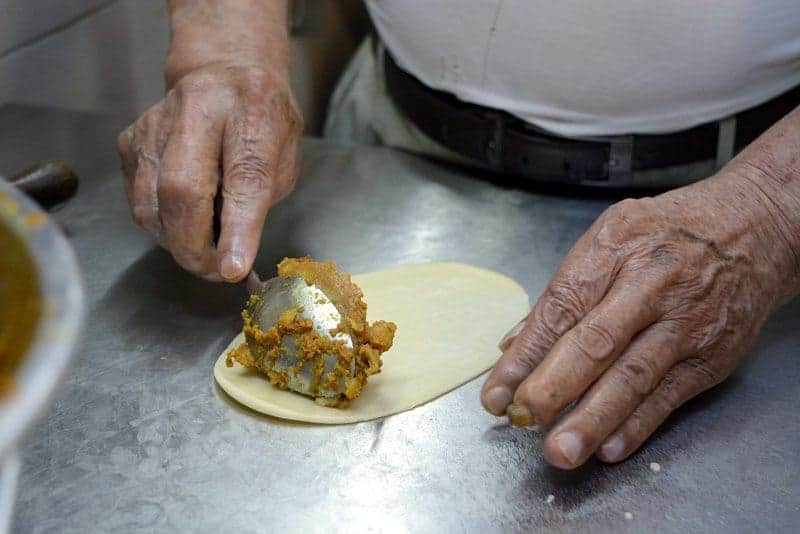 Singaporean Food
For about an hour, Candice and Jenny made the rounds with Ben and me most of the time following like dutiful children as they selected what Singaporean food we were going to eat. We sat family style at a bright green table among hundreds of other folks who were chowing down.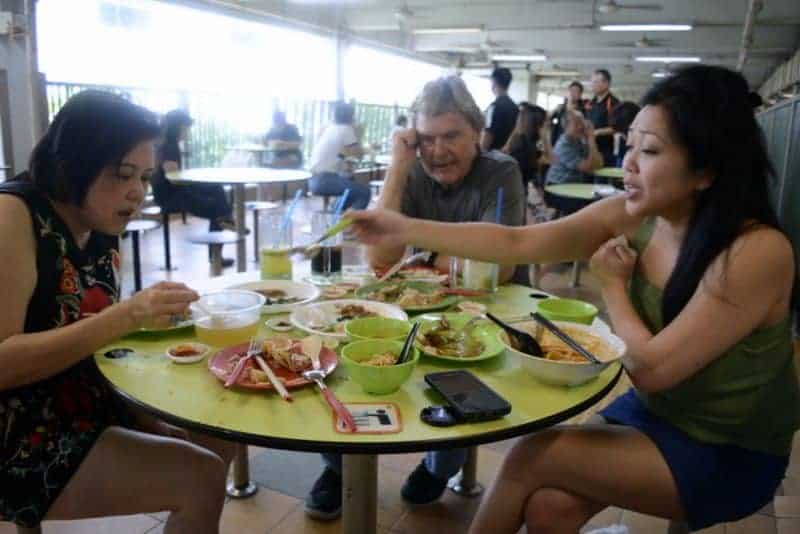 Glass Jelly Drink
And, after our 'first wave' of food had been eaten, Jenny and Candice jumped up, disappeared for a few minutes and returned with more unbelievable plates of goodliness ! The meal was topped off with things like Chin Chow, a grass jelly drink and Sugar Cane Juice where I witnessed the sugar cane milky sweetness being pressed from the cane.
Grass jelly drinks are purportedly able to help relieve heartburn, constipation, abdominal bloating, fever and diarrhea.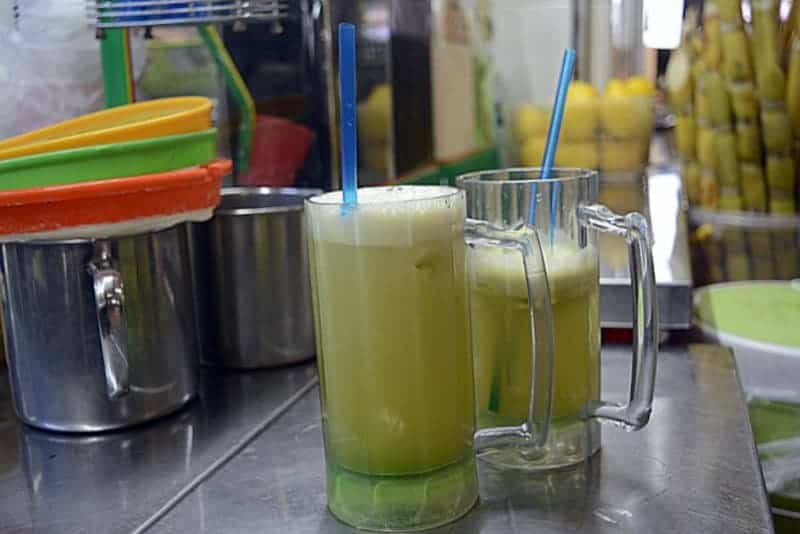 Chinese Pancakes
As we were leaving, we could resist 'dessert'. But, still in the breakfast genre. Yes, Chinese pancakes, but not pancakes as we Westerners think of. One huge PAN cake that's filled with either ground peanuts, fresh coconut or red bean paste, then cut into serving size pieces for purchase.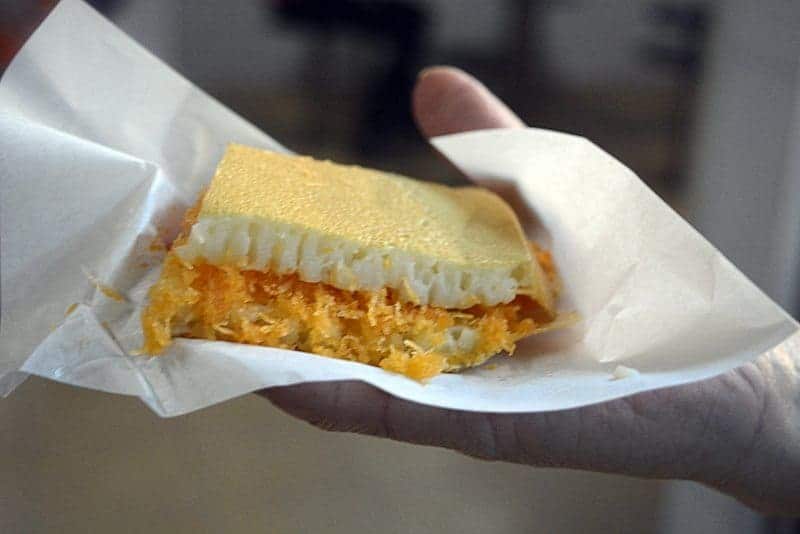 Best Breakfast Singapore
As we made our way back to the car after nearly two hours of feasting, I knew that I had experienced something gastronomically enlightening. Yes, the best breakfast in Singapore.
This 'something' would have a profound affect on my traditional thoughts of breakfast and brunch. And something that would make me realize that eggs and bacon, yes, while good, are not the only 'fish in the sea' for breakfast.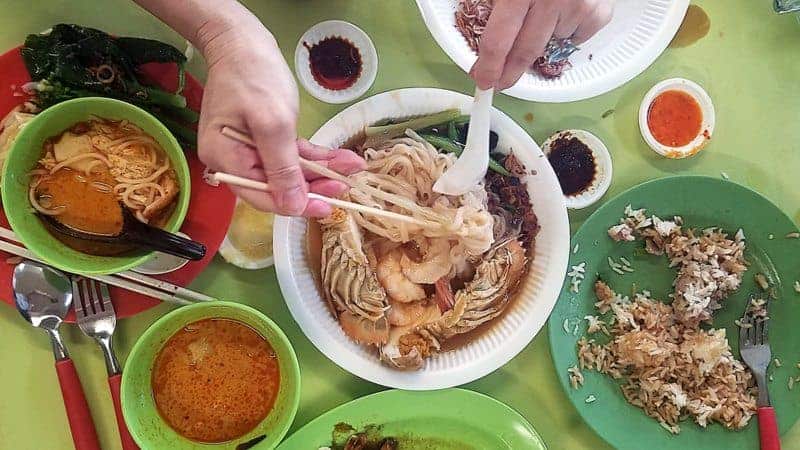 Singapore Foods
Here're the Singapore foods on our table and rapidly devoured and in our bellies! You can imagine the inspiration I now have for creating new recipes. And, rest assured, that soups will be on our breakfast menu in the future! For now, just know that this breakfast was the best of my life. The proof's in this pix!

Hainanese Chicken with Rice

Malaysian Noodle
Char Kway Teow
Char Kway Teow (rice pappardelle fried in lard with chilli, eggplant, bean spourts & cockles)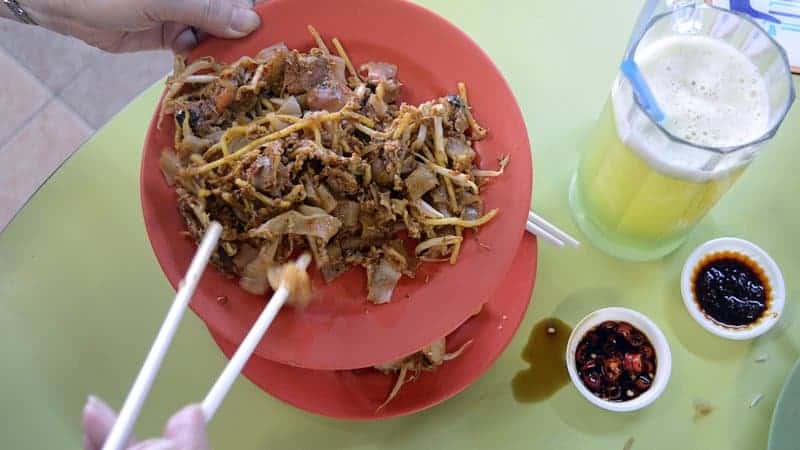 Pork Patty w/Preserved Vegetables steamed on top rice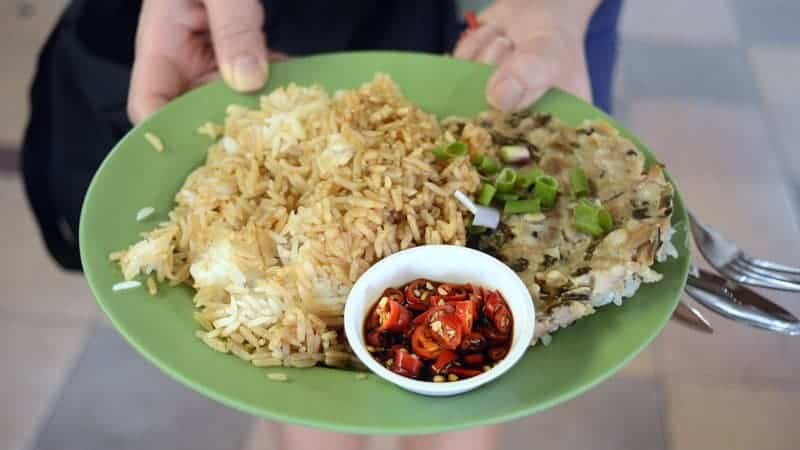 Curry Noodles w/Potato Fried Tofu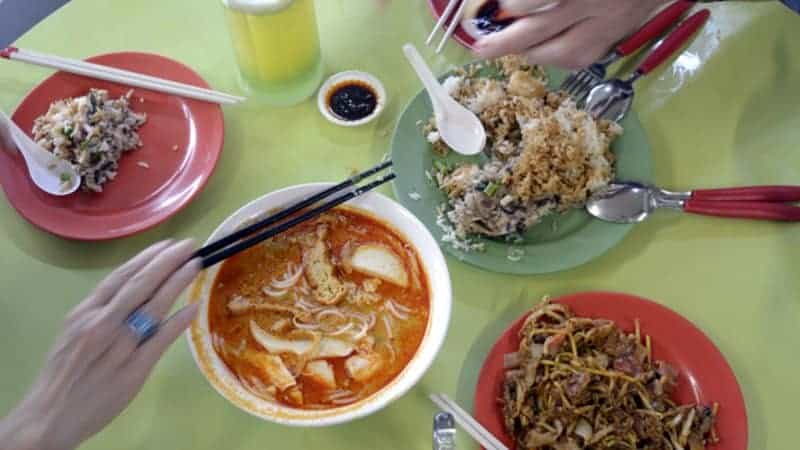 Ho Fun Noodle
Mantis Prawn Hor Fun (Rice Noodles)

Shrimp Dumplings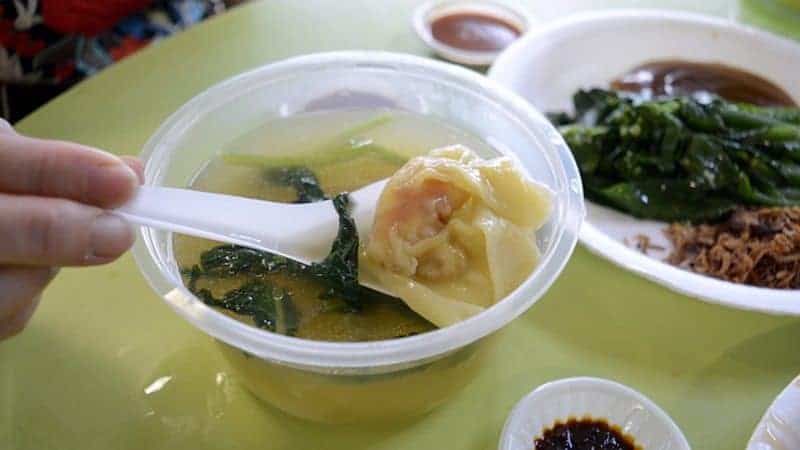 Won Ton Soup (Shrimp Dumpling)
Chinese Vegetables
Kai Lan Vegetables w/oyster Sauce & Fried Shallots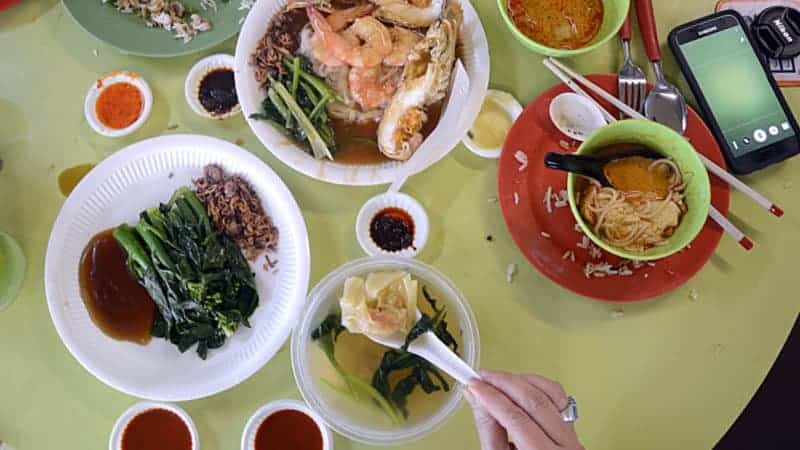 Chinese Pancake Dish
Chinese pancakes (coconut, peanut and red bean paste)