Salads. Always a welcome bowl or platter on my table, and, I'm sure yours, too. And, serving this eastern european red potato dill yogurt salad is sure to be popular. It's a version of potato salad that comes from eastern european countries where different flavors combine to bring together a luscious creamy flavor profile.
Rather than mayonnaise, usually oil and vinegar is used. With this version, I'm bringing together some Southern'ness' to it with a little mayo, some Mediterranean infusion with Greek plain yogurt, and, of course, olive oil and lemon juice. But, the star of this potato salad is not the potatoes, it's the dill and cucumbers! Yes, unexpected, and ever so wonderful on the palate with its texture and taste. You can serve this warm or cold…doesn't matter because it's good all the way around! Here's to adventurous palates ~peace~ xoxo ally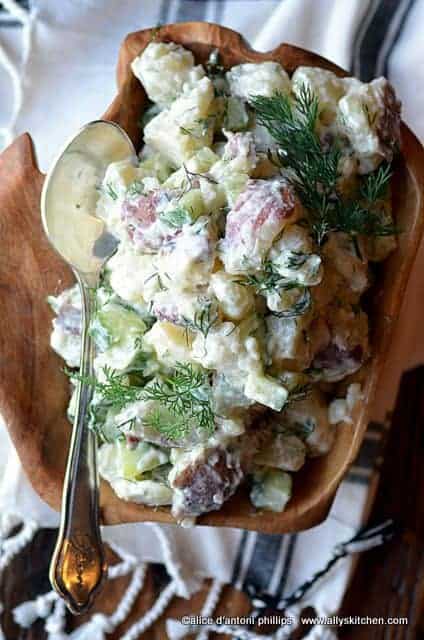 eastern european red potato dill yogurt salad
Ingredients
8 large red potatoes, washed well and cut into quarters
3 cups water
2 tsp. sea salt (divided)
1/3 cup mayonnaise
½ cup Greek plain yogurt
2 Tbl. Extra virgin olive oil
½ large lemon, juice
1 tsp. white pepper
1 Tbl. Italian seasoning
1 large English cucumber, washed, skin on, and diced (yielding about 2 cups of diced cukes)
4 green onions, sliced thinly with some of the green tops
1 cup celery, thinly sliced (optional)
1/3 cup loosely packed fresh dill, plus sprigs for garnish
Instructions
Put the potatoes in a large heavy pot, cover with water, 1 teaspoon of salt, cover, and bring to boil on high cooking about 15-20 minutes. Reduce heat to medium and cook another about 30 minutes or until the potatoes are soft and can be pierced easily with a fork.
Remove, drain off water, and let potatoes cool then with your hands, break them into smaller bite size pieces. Try to 'mash' them. You want them as chunks.
In another mixing bowl, combine 1 teaspoon of salt, the mayo, yogurg, olive oil, lemon juice, white pepper and Italian seasoning. Whisk together.
Put the cukes (optional celery) and green onions in with the cooling potatoes and toss. Add the mayo/yogurt sauce and toss and blend. Add the fresh dill and toss gently. (Note: Taste to see if more salt is needed.)
Refrigerate to let the flavors blend or you can serve immediately.
https://allyskitchen.com/eastern-european-red-potato-dill-yogurt-salad/
©ally's kitchen intellectual property