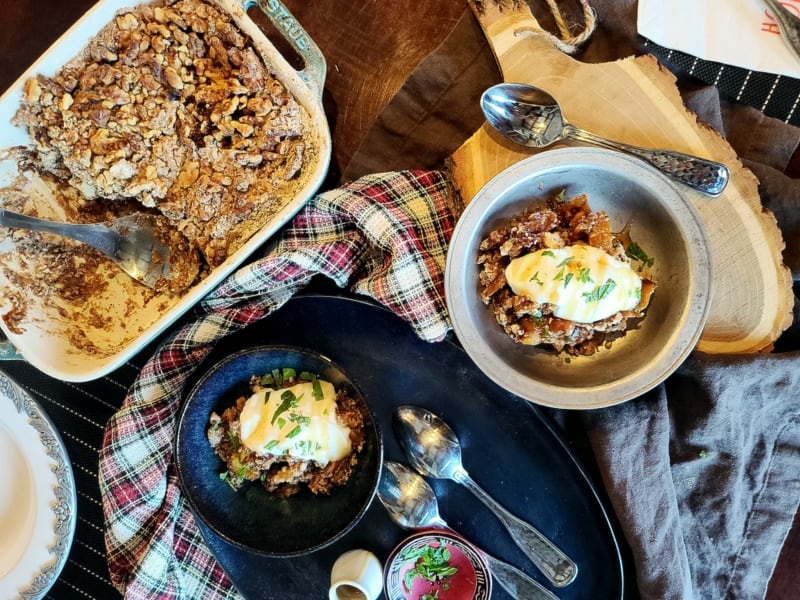 Get ready for loads of taste and flavor with this Paleo GF Peach Dump Cake! Serve hot with creamy yogurt and honey!
Gluten Free Dump Cake
Take about a delicious gluten free dump cake. Well, here you have it. Developed in collaboration with Bobby from FlavCity, you've got to watch the YouTube video of Rose (who's a whopping 2 1/2 years old!) making it.
Fresh Peach Dump Cake
You can certainly use fresh peaches to make this dump cake. But, when fresh peaches are out of season, then frozen peaches are a great alternative.
Easy Dump Cakes
Dump cakes are the easiest! I mean, you basically do what it says. You dump! And, typically dump cakes are made with dry cake mixes, but since Bobby of FlavCity and I were making it, we wanted to challenge ourselves and make it gluten free and paleo!
Dump Cake with Frozen Peaches
Frozen peaches are the bomb! Really! Having worked for years for Dole Packaged Foods, I know that their frozen peaches are harvested at the peak of ripeness then processed.
Frozen peaches are typically uniformly cut slices. And, they're juicy and fresh tasting.
Easy Peach Dump Cake
Using a cake mix takes a few steps out of the process, like gathering the ingredients. But, once you see the dry mix for this cake, you'll realize you're probably spending maybe an extra 5-7 minutes of preparation. Not too bad for a paleo gluten free peach dump cake.
Gluten Free Peach Dessert
Now this peach dessert isn't intended to be a 'pretty' cake. I call it a pretty mess. It's akin to an Eton Mess! Absolutely delicious. And, you want to serve warm. Yes, it doesn't have to cool but for a few minutes, then you scoop it into bowls with your toppings.
Gluten Free Peach Dump Cake
And, the toppings we chose for our servings was plain Greek yogurt. And, we used goat milk yogurt. It was surprisingly tart and refreshing and paired well with the sweetness of the peach dump cake!
Gluten-Free Peach Cobbler
Making this dump cake, which is very similar to a cobbler, gluten-free makes it available to all those folks who prefer GF! And, if you want to substitute almond flour for the GF flour, we think it would work nicely.
However, if you'd like to have more dump cake options that aren't GF paleo, then here are a couple of options. Pineapple Coconut Buttermilk Dump Cake and Mandarin Pineapple Dump Cake
Paleo GF Peach Dump Cake
This easy paleo GF peach dump cake can be modified slightly in preparation. Some ideas:
Mix the walnuts with the dry mixture. Add the ghee and blend. Spread on top.
For a more cake-like batter topping, add a cup of coconut milk to the dry mixture and blend well.
Add an extra bag of frozen peaches for more peachy!
Add one cup of coconut milk to your peaches. You'll have more creamy.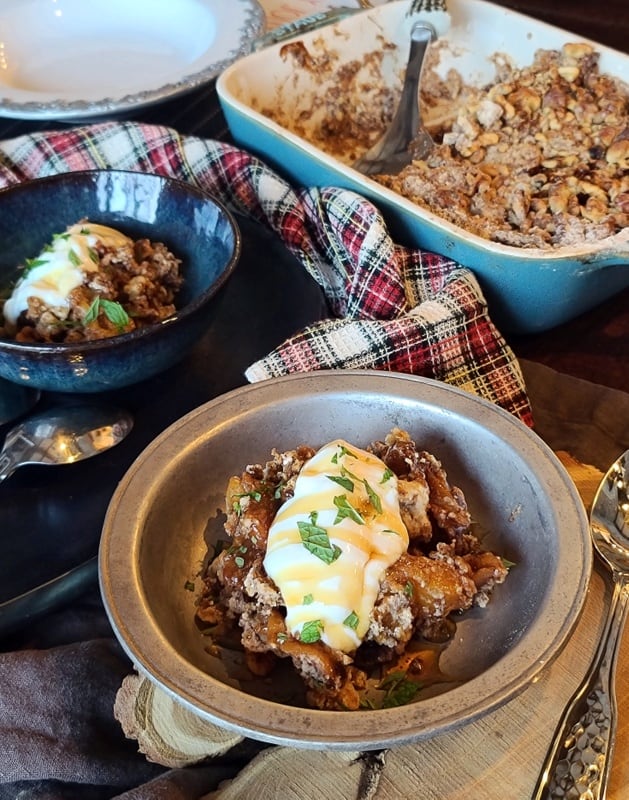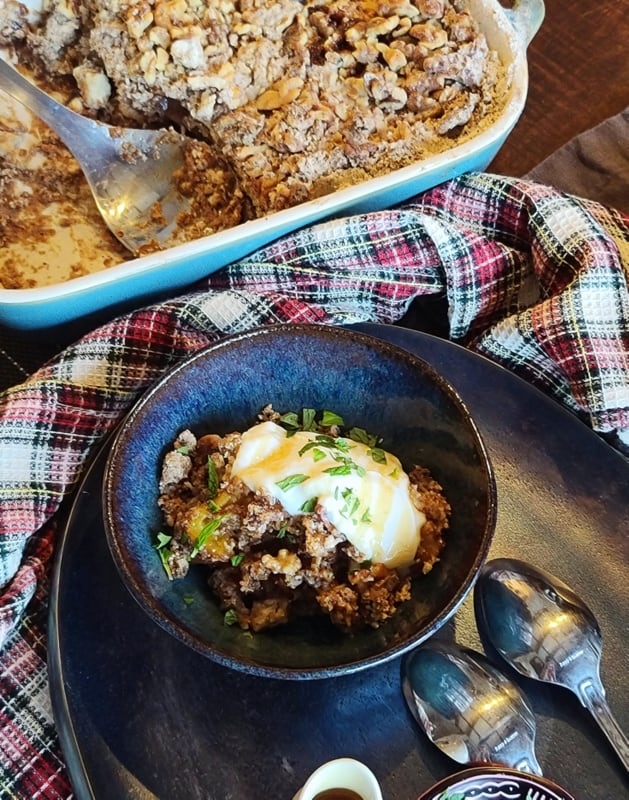 Paleo GF Peach Dump Cake
Yield:
Makes: 9 x 12" baking dish
Ingredients
Preheat oven to 375 first 40 minutes then 400 for 10 minutes
3 (10 oz.) bags frozen organic peaches
2 tsp. cinnamon
1 tsp. nutmeg
1 tsp. cloves
1 tsp. ground ginger
1 1/2 tsp. allspice
1/2 tsp. sea salt
3/4 cup coconut sugar, divided
2 1/2 cups GF Paleo baking flour
2 tsp. baking powder
1 tsp. baking soda
1 cup shredded coconut, UNsweetened
1 1/2 cups walnuts, chopped/crushed
15 oz. ghee, melted, divided
SERVING:
Organic Greek Plain Yogurt
Wildflower honey, warm
Instructions
Put three tablespoons of ghee in the baking dish. Add the peaches.
Mix the spices, cinnamon, nutmeg, cloves, allspice, ginger, and salt. Add half the coconut sugar. Put half of the spice mixture and sugar on the peaches and mix well. Reserve the rest of the spice mixture/sugar for the dry cake mix.
In a large bowl, combine the baking flour, baking powder, baking soda, remaining spice mixture, coconut sugar and shredded coconut. Put on top of the peaches and spread out. Add the walnuts to the top and spread out.
Drizzle on the remaining ghee using a fork to gently work into the dry mixture.
Bake in a preheated 375 oven for 40 minutes. Turn heat to 400 and bake another 10 minutes.
Remove and let the mixture cool somewhat.
Serve scoops of the dump cake with a big dollop of yogurt and warm honey.
Notes
1. Three bags of peaches works, but if you want to make it 'peachier' then add a fourth bag!