mandarin italian fusion sweet & spicy chili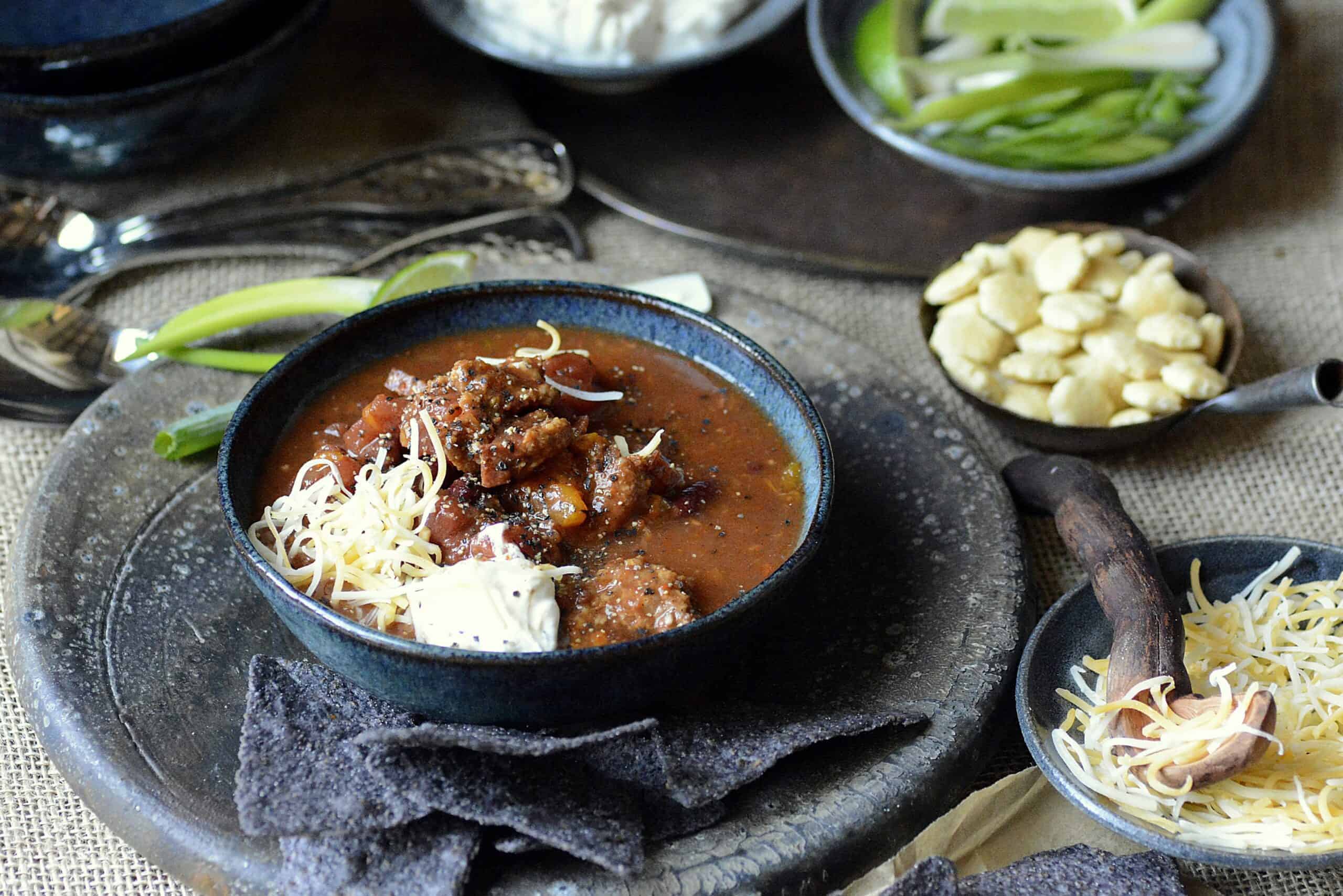 Thanks to Dole Sunshine for partnering with me for this post! I am the creator of this recipe and for the description and information that follows. For a full disclosure, click here!
How about making a chili fusing the sweetness of mandarin oranges with Italian sausage and pepperoni! I mean once you taste this simple ridiculously easy recipe, I think you'll be making it time and time again simple because it's packed with flavor and layers of dimension!
Dole's mandarin oranges are simply divine. They're sweet and juicy, packed in their natural juices and perfect for adding just a tad of sweet to the savory and spicy of this chili. As all these flavors come together while cooking, you'll simply go about your business while the slow cooker does its work and come home to insanely intoxicating aromas.
As you can see from my pictures, there's a brothiness to this recipe plus a chunkiness to the meat. I like that textural variation. Then add to that the chunks of tomatoes and the toppings that you're gonna, for sure, load on, like cheese, sour cream, green onions, crumbled crunchy Frito chips or whatever satisfies that crunchy desire, then you'll probably be going back for seconds.
As Dole Packaged Foods' Brand Ambassador, I really love showing you how their products are more than just sweet sunshine in a jar, can or freezer bag. They're products that can add nutritional value and expanded flavors to not only sweet things in life, but the savory, too!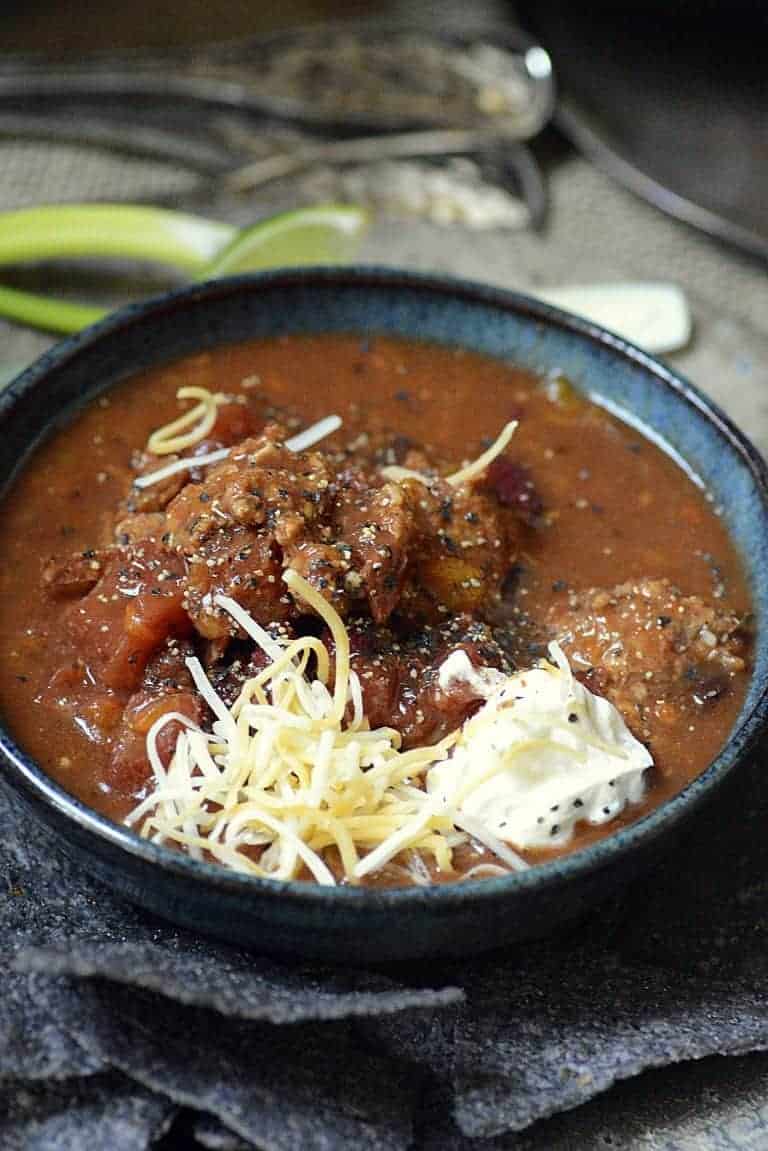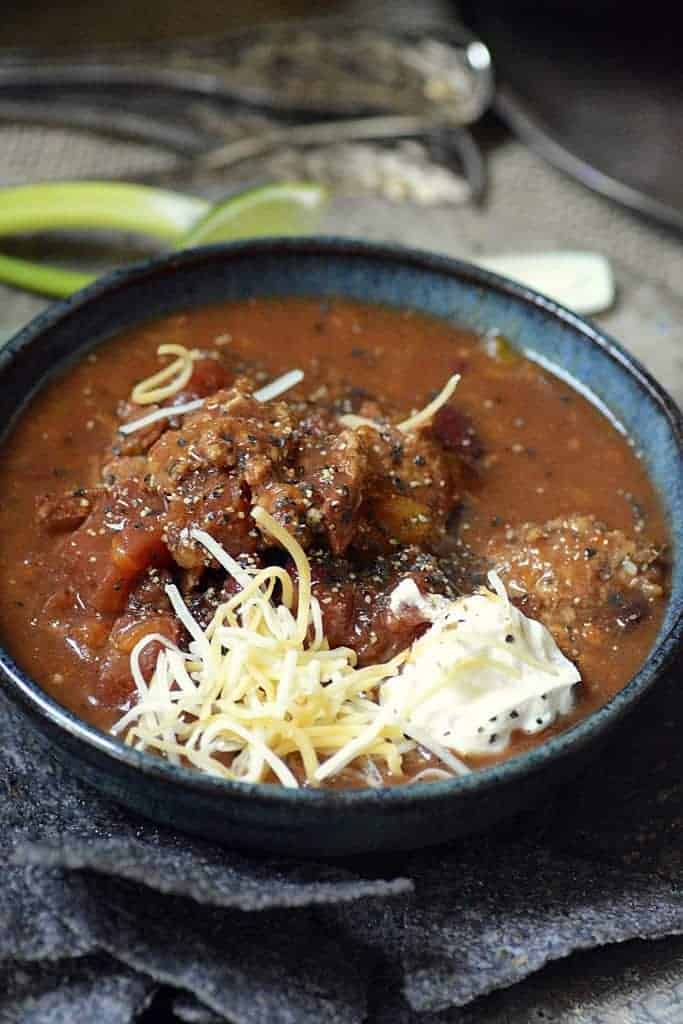 mandarin italian fusion sweet & spicy chili
Ingredients
Serves: 6+
1 lb. ground Italian sausage
1 (1.25 oz.) McCormick's Chili Mix (If you want more spiciness, select the 'hot' version.)
1 (1.25) Lipton's Onion Seasoning & Soup Mix
1 (25.5 oz.) jar Dole Sunshine Jarred Mandarin Oranges roughly smashed and drained
2 cans (14.5 oz.) Italian tomatoes, chopped
3 cans (14.5 oz.) low-sodium beans, your choice with variety, kidney, black, pinto, or combo of beans
1 ½ tsp. sea salt
1 tsp. coarse ground pepper + more for garnish
Instructions
Take the ground sausage and crumble with your hands. Put in a slow cooker.
Add the chili mix, onion mix, smashed mandarin oranges, tomatoes, beans, salt and pepper. Blend with a wooden spoon. Cover with lid.
Turn heat to High for four hours. After four hours, keep slow cooker on Warm until ready to serve.
Serving Suggestions: Offer a variety of toppings, grated cheeses, sour cream, sliced green onions, olives, etc. and serve with saltines, tortilla chips, cornbread, artisan bread, etc.