Funny how you get inspired to do a dish.  Since we're having dinner guests tonight, since I had about a 2 1/2 pound chuck roast, since I didn't want to do 'just' a country roast with veggies…I needed inspiration.  Enter my friend, Chris, who's website is The Cafe Sucre Farina.  She did an awesome variation of Julia Child's 'Beef Bourguignon' making a soup.  So, I knew that I wanted to take off on Chris's path and do a 'boho'd' beef bourguignon.
Now, I don't think Julia would roll over in her grave with these changes to her very famous recipe. I truly think she'd be tickled pink to see the rogue variation I'm making!   I've added one more spice and a dash of kick. Throw in some different mushrooms and rustic carrots and onions, and you'll see why Julia is probably smiling from above!
Since we had dinner guests, I decided we'd have a fancy menu. Whit, my fabulous friend created it!  We wanted the French flair knowing that Julia was channeling us.  And, we gussied up the table with an eclectic combination of dishes, scarves (as a runner), napkins, candles and more!  What an evening! Couldn't have been better had we been in Paris!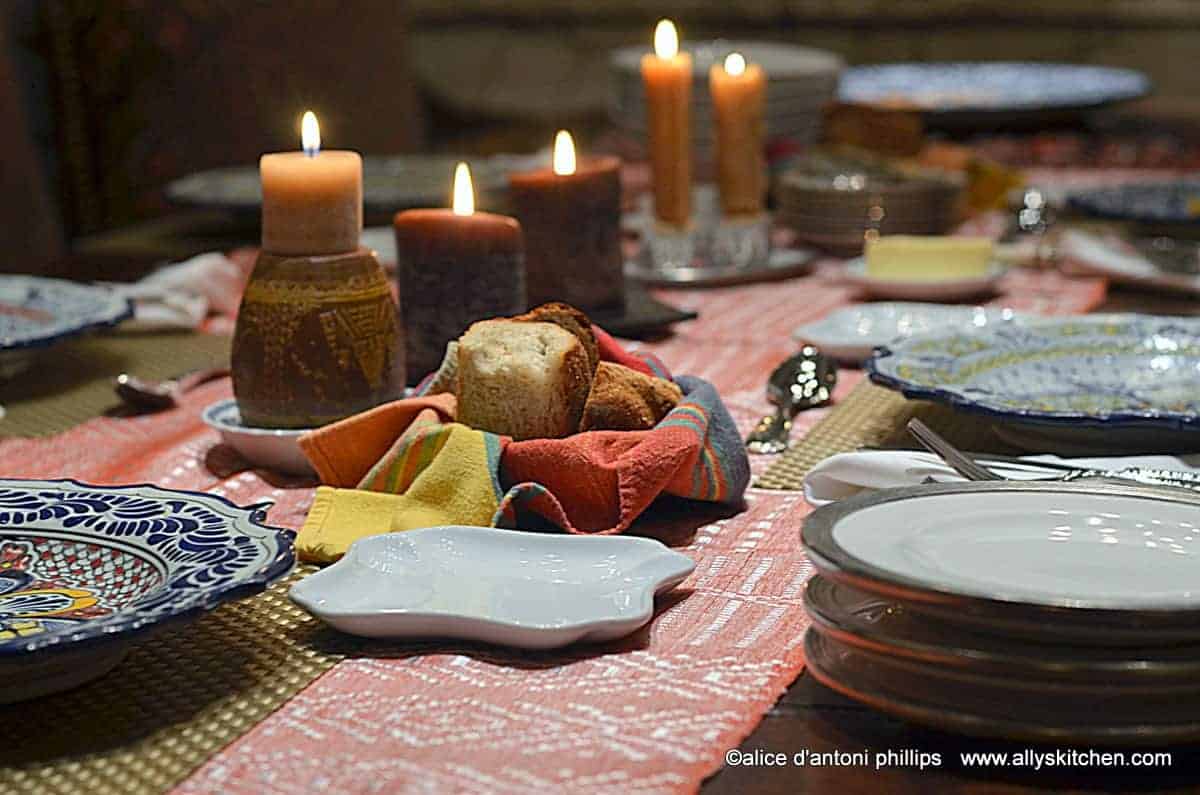 Ingredients
3 Tbl. extra virgin olive oil
6 slices bacon diced
2 to 2 1/2 lb. chuck roast, cut into 2-3" cubes
1 1/2 tsp. sea salt
1 tsp. coarse ground pepper
2 cups robust red wine
5 cups beef broth
1/4 cup concentrated tomato paste
2 Tbl. garlic paste (or finely minced garlic
1 Tbl. dried thyme
1 Tbl. dried tarragon
1 tsp. red chili flakes
1/4 cup sifted flour
2 cups petite whole carrots
3 cups mushrooms, chantrelle and shitake or your choice
2 cups sweet onion, large dice
Instructions
In a large cast iron skillet over medium high heat, put the olive oil and bacon.  Cook and crisp the bacon then remove with a slotted spoon.  Reduce heat to medium.  Salt and pepper the beef cubes. Put about half of the beef cubes in and brown. Do not crowd the beef  Remove with a slotted spoon to a bowl and repeat with the remaining beef.
Turn heat to medium high and slowly add the red wine letting it sizzle and deglaze the skillet.
Add 2 cups of the beef broth, tomato paste, garlic, thyme, tarragon, red chili flakes and whisk together cooking about 3 minutes.  
Reduce heat to medium and sift in a few tablespoons of the flour whisking the entire time. This will thicken the mixture. Turn off heat.
Put the browned beef cubes in the slow cooker and cover with the beef broth.  Pour the thickened skillet mixture into the beef cubes.  
Cover and cook on 'high' on the slow cooker for about 4 hours.  Check several times to see if you need to add water or more broth.
At the 3 hour cooking point, put the carrots in.  Put the mushrooms and onions in at the 3.5 hour cooking time.  After 4 hours the meat will be very tender.  Reduce the slow cooker to warm for another hour or so until serving time.
Notes
Serving Suggestion: Large white deep bowls.  Don't overfill.  Top with bacon crumbles and a sprig of fresh thyme.  I served with a wedge of grilled garlic artisan bread.
https://allyskitchen.com/boho-beef-bourguignon/
©ally's kitchen intellectual property