Psssssst~~If you haven't read the first part, swing by and check it out~~read more~~
Once upon a time~~blah blah blah, maybe a blip or glitch or two, then it's Cinderella time~~and, she lived happily ever after! I remember these kinds of fairy tales when I was a little girl~~and, now even as a kid in a big body, I admit I have probably fantasized more as I've watched movies, yes, 'Pretty Woman' 'An American President' 'Mama Mia,' depicting this kind of storyline.
My weekend at the 2013 DOLE California Cook-Off falls into this fairy tale time for me.  And, my feet still have reached the ground as I sit here in 34C Delta flight #1654 cruising at 35,000 feet.  Just what happened and how it happened has happened to some, not many, and there's where the magic comes in!  It's knowing that it CAN happen for you, if you just believe, create, work and dream.
Competing~~the unexpected~~
Cooking contests are more than just competing.  They're full of parties, activities and fun that go along with shindigs of this nature.  Since I'd come to this event solo, I wasn't sure what to expect, but much to my surprise and definitely a God wink, I had an old friend who I'd not seen in over 30 years contact me on Facebook when she saw I was going to be out there in sunny California.  Janice and her friend, Stacy, were going out for a girls' weekend—they would fetch me at LAX, we would have lunch, they'd come to the Dole cocktail party as my guests, and they'd be at the event!  So here I was standing on the curb at LAX waiting for the red car~~saw it, flipped my thumb out (remember when you used to see 'thumbers' on the road) stuck out my leg, and they knew it was me!
Then another God wink!!  Two dear foodie friends whom I've only known virtually, Jennifer D. and Sara of My Imperfect Kitchen, were coming! OMG, I was elated—I could not have scripted, chosen, planned anything more perfectly than these four amazingly talented, loving, and energetic women. Diverse and all connected to my heart and soul in some new or old way, two East coasters and two West coasters, each leading different lives~~no longer did I feel alone but knew the Big Guy upstairs had orchestrated the 'guest' list, and He had more in store for me!
Of course sleep is not something that's really going on when you're in one of these competitions, at least for me—my mind is always churning thinking about even plucking out precisely the micro leaves from fresh mint for the garnish!  So, I run on pure adrenalin and dust!  We headed to the big day around 10 a.m.; things would officially start at 12:30, the clock would tick for 60 minutes.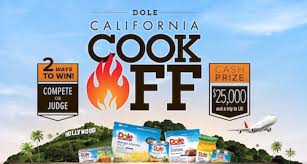 I did a little gasp as we entered the center of the beautiful Santa Monica Place~~geeze, this was like Maximus in the 'Gladiator' when he entered the arena and he looked up, around and gazed at what was to be!  Wide-eyed and like a kid I saw the impressive layout for the cook-off—a slick shiny huge Airstream that Weber had brought in,white lined chairs for spectators, stations where freebies were being given, and three cooking stations cordoned off, big umbrellas shading some of the hot California sun, inside the corral a makeshift little 'Ally's Kitchen'—a big banner on the outside reading 'Alice P. … Finalist…Murrells Inlet, SC' and the name of my recipe!
Then there was the grand stand where the judges were to be seated at a long table, no swivel chairs like 'The Voice' but more like the 'American Idol' judges' table.  This was the big stage, the backdrop showcasing DOLE and where the MC, Tom (a heckuva lot cuter and adorable than Ryan Seacrest!) would keep the crowd going with his antics, where celebrity Chef Ben Ford, yes, son of Harrison,  would be demonstrating, cooking, and eventually tasting and rating our three recipes, and where three other judges would soon be seated.  Audience seating was lined up—snow white chairs neatly aligned in rows.  Music was playing, People were meandering.  Shoppers stumbled upon the fun and festivities.  Most had individual delicious servings of some Dole product in their hands, eating, checking out what was about to happen.  Scattered around this big circus of DOLE fun were tables for raffles, giveaways, and more tastings of the delicious Dole products—it was a veritable wonderland of happiness on this blue sky sunny Santa Monica day!
And, here I was, littl' ol' Ally, having the huge support of hundreds of friends from FB who were following my shenanigans, on my magic carpet once again, and all sending soulful messages of good luck, love and you can do it good wishes!  I was pumped beyond belief!  This couldn't have been more exciting than the NCAA or Wimbledon finals, the last laps of a NASCAR race, the final goal kicked in the World Soccer, or that big hand laid down in World Poker!
Competing~~the jitters
First thing I did in my new about 10×10 kitchen was to make it my own.  The work table had to be re-planned—some things I didn't need—get rid of them, like the food processor, space was more important.  Then there were the tools I needed—grilling, mixing, stirring—each had to go in its best place.  The Weber rep came over, showed us how to use the grill, and that monster was turned on!  In no time at all, that temperature gauge was at max—800—wow, talk about intimidating!  But, we needed it to heat at this temp for a while to burn off the newness and get some seasoning going on it.  Between that Weber and the sun, our postage stamp kitchen was in full heat mode!
I was so lucky to have a sous chef! Susan, an avid and well-known food blogger from the website, Doughmesstic!  How lucky could I get—another God wink! She had a calmness about her, a business air that said to me, this girl is a winner—there wasn't anything she didn't do without thought and intention—eeegads, how did I get so fortunate—just the kind of person I needed!  Susan knew she was there to support me, to watch my back, to see things that maybe I would miss—and, she did!
About 30 minutes before we were to start, we were given our ingredients—two bags of groceries with everything, and two of some, that I had requested in my list to Dole.  Time to get these things all in order, pop open lids, take plastic off new salt, pepper, spice jars, open the mint boxes, the yogurt and goat cheese containers—these were minute things that would save us time! After this, Susan and I powwow'd –I went over the recipe, the execution, the steps, what I needed her to do, how I wanted her to do it, what I would be doing, and how we would come together after about 50 minutes into a full symphony of kabobs and grilled fruit ready to plate and present to the judges!
Oh, yes, there were glitches—the harissa that I dusted on my meatballs and fruit then a wiff of wind and also in my eyes—OUCH!  For about 10 minutes I was literally blinded by intense stinging and burning—the Dole folks quickly got me eye wash—I put on my sunglasses and forged ahead!
Then the sticking of the meatballs on the grill. OMG, we had 'tested' a meatball for heat and timing…it didn't stick, but the full kabobs were sticking.  Here was Susan and me, like Frick and Frack, her with a long metal grill spatula and me with gigantic tongs trying to gently nudge these delicate meatballs from the grill not totally decimating them and leaving the delicious grilled and charred outer part on the grill!
And, I didn't expect to MC, Tom Lowe, to bring the microphone over with Jeanette on his arm and announce to the thousands of people that she and I would be singing 'Take Me Home Country Road'!  Only two West Virginia born and bred girls would know that song as well as 'Oh, Those West Virginia Hills!'  Nothing like a quick audition for 'The Voice' while cooking!  And, during all of this Jennifer and Sara were checking on me, taking pictures, Facebook'ing, Tweeting, making sure I was good and asking if I needed anything, playing bad cops with some of the on lookers who wanted samples, to taste or to buy!  All the while my goal was to create a platter of 5 individual perfectly seasoned, cooked and plated kabobs & fruit!
Competing~~the glitter~~
Those last few minutes of a food competition when you know the clock is running out in be especially nerve wracking, but for Susan and me, it was like a respite, a time to breathe.  We were ready, everything was plated except putting on the kabobs, which were on the turned-off grill staying warm.  When we were down to 45 seconds, we were going into team mode—carefully put the kabobs on the plate and dust on the chiffonade fresh mint and flakes of glimmering sea salt.
Five. Four. Three. Two. One…step away!  Time's up!  We'd done it!  High fives.  Smiles. Hugs.  We looked at our plate.  Jennifer and Sara gave their smiles and approval—it was a masterpiece of beauty, and the smells of the harissa, the cooking meatballs, the grilling shrimp, the Greek yogurt sauce all wafted through the air!  Random people came up.  Congratulated us.  Gave beautiful compliments.  Said this is the winner!  Now, it was in the judges' hands.  When my turn came to walk those steps taking the dish to the judges, my entire attention was on, don't trip!  Careful.  Navigate each step!  I presented it to Chef Ben.  He asked questions about preparation, flavors, the spices, what to expect.  I answered as best I could with thousands of folks watching! And, no Ryan Seacrest nor Simon Cowell were anywhere around to sign me to a singing contract!  So, all my eggs were in one proverbial food basket!
I'd just cook my #*%& off in hopes of taking home $25,000, and now I'd done all I could—it was up to the 4 judges—Chef Ford, last year's winner, Jeanette, Liz a prolific food blogger, and Kim, a non-foodie guy who'd applied on Dole's website to be a judge and who was selected!
It's all over but the shouting~~
We contestants, spouses, and sous chefs went to a nice lunch nearby—I felt like a wet noodle inside.  Totally drained of energy, sapped of thought, numbed of emotion~~yep, I probably looked like someone from 'Night of the Living Dead' sauntering to the restaurant.  The first thing I wanted was a stiff drink! Well, really a nice chilled glass of chardonnay!  Lunch was ordered…the 'Bison Burger' was calling my name.  Man, I was looking forward to it!  This was the lunch that was~~we ordered, but didn't eat, at least I didn't, and I had my heart set on that burger with Kale Salad!  There just wasn't enough time—well, I did have enough time to sip that one glass of chardonnay…and, yes, I needed that to calm the jitters!
Time to head back, climb that stage one more time, stand there with Lorie and Carmel, my fierce talented competitors whose dishes were Food & Wine quality presentation and I know taste, and see who would take home the big kahuna!  Chef Ben said it had been a tough and close battle of the contestants!   This year's entries were the best of the best.   And, by the way, they said that the ante had been upped this year from the past years just when they saw these our three finalists' plating!
Without any hem and hawwwing or a commercial break, a Dole executive did the drum roll, and the winner of the 2013 Dole California Cook-Off is… ****hearts pounding*** ***hands clamming*** ***eyes looking downward*** ***thoughts racing***–ALLY PHILLIPS!!!
The first to give me genuinely huge big bear hugs and warm wishes were Carmel and Lori—what classy competitive women—what an honor to have grilled side-by-side against truly the best—to have been pushed to another level of competing because of these women!
And, now my friends, I sit 35,000 feet in the air and write this sharing with you a glimpse into the world of competitive food sport.  My big cardboard check will be shipped—could not get that 4 foot baby in my luggage but do want to literally take it to the bank and get a kick out of the teller who gets me first, and I say, "I'd like to deposit this!"  And, that could be another adventure!!
It's been a whirlwind ride since that beautiful June 29, 2013 day~~lots of love, support, well wishes, high fives, and genuine happiness from friends and family who're sharing in this adventure~~never in my wildest dreams would I have thought I'd make the Wall Street Journal either~~that's a big bucket CHECK!
I can't thank Janice enough for capturing on her cell phone 25 seconds to 25 thousand dollars!