Strawberry Rhubarb Custard Tart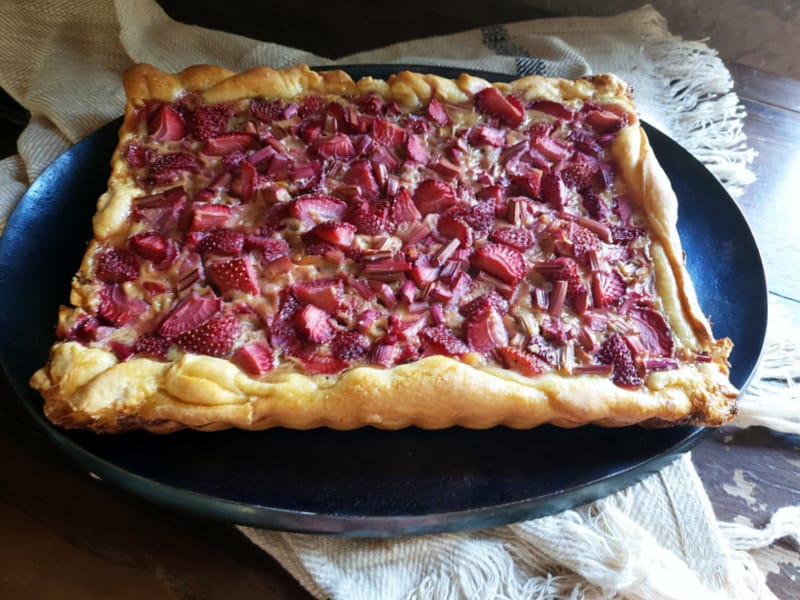 Hello super easy and delicious strawberry rhubarb custard tart! Guaranteed to be the hit of the picnic or party!
Old Fashioned Strawberry Rhubarb Pie Recipe
This easy pie recipe, for me, is inspired by two things, fresh rhubarb in season in the Summer and to make a simple and quick strawberry rhubarb pie that's no sweat as in easy!
Strawberry Rhubarb Slab Pie
That's the cooking style of my dear girlfriend, Marie Christine. I've learned so much from her about French cooking and the French style of food.
Easy Pie Crust Recipes
Of course, cooking with Frenchie. Frenchie, my dear girlfriend is just, so French. Very French. Born and raised in Brittany, she's been in the United States for a while, but she has not lost any of her Frenchness!
Rhubarb Desserts
What I love about her cooking are her artistic tendencies. She adores and decorates her creations with subtle but chic style.
And, another thing about her is that she's so earthy in her cooking. For instance, the rhubarb I'm using in this pie was given to me by Marie Christine. She'd gathered it from a 100+ year plant near their cabin in the high elevation (9k+ feet) mountains of Colorado. In the Fall, she forages for mushrooms and always brings me some of the most amazingly delicious edible and healthy mushrooms you've ever tasted.
Strawberry Rhubarb Pie Recipe
And, one of the big ideas that I've learned from Frenchie in cooking is that 'less is more'. Simple and simplified is the best kind of cooking. Yes, if you start with wonderfully fresh high quality ingredients then cooking and baking are simple.
Recipe for Strawberry Rhubarb Pie
An easy recipe is just what you need for a strawberry rhubarb pie. And, with only a few ingredients, you're guaranteed a stunning tasty pie.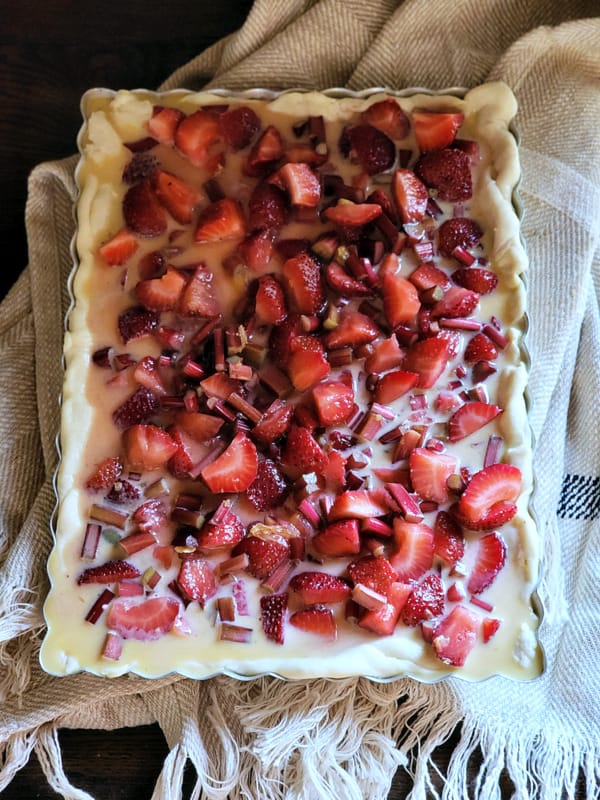 Strawberry Rhubarb Custard Tart
Yield:
One: About 8 x 11 tart pan
Ingredients
Preheat oven to 350
16 oz. fresh strawberries, cleaned, trimmed and cut into bite size pieces
2 cups fresh rhubarb stems, sliced into about 2" pieces
1 fresh orange, juice
1/8 tsp. sea salt
1 1/2 cups sweetened condensed milk
2 pasture-raised eggs
1 pizza dough, about room temperature but previously refrigerated, roll out, can substitute pie crust or puff pastry
Instructions
Preheat oven to 350. Grease very very well the tart pan making sure you get inside the fluted areas.
In a medium mixing bowl, put the strawberries and rhubarb. Squeeze the orange juice, add the salt and toss and blend well. Set aside.
In a large glass measuring cup or small deep bowl, put the sweetened condensed milk and eggs. Whisk together well.
Put the dough in the tart pan. Work the dough into the sides of the pan. You can pinch and move dough to areas needed.
Pour the liquid mixture into the tart pan. Put the strawberries/rhubarb in this mixture.
Bake in a preheated 350 oven for about 25 to 30 minutes. Remove to a cooling rack.
Take a 6-8" wooden skewer and gently go into and around the fluted curves (while the tart is still hot) loosening the dough from the sides. Sometimes the custard mixture will make the dough stick to the sides.
Cool. Slice. Serve.
Notes
It's important to loose the dough from the fluted sides when the tart comes out of the oven. Some of the sticky custard mixture caramelizes during baking and makes the dough stick regardless of adequate greasing of the pan.
Let the tart cool completely before cutting. Remove from the tart pan (leave the bottom part under the tart).
Use a pizza cutter for easy rolled cutting of the tart.