the hippie chic fall table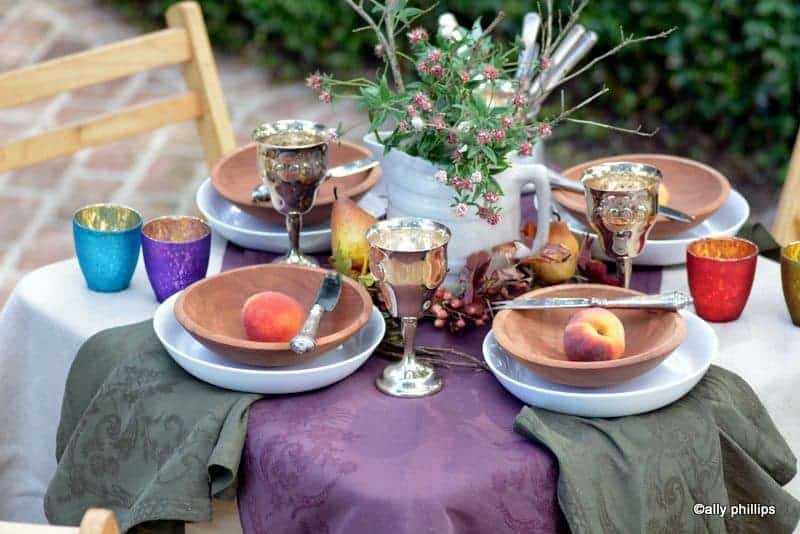 Fall's one my favorite seasons for so many reasons~from the shorter days, falling leaves, start of the holiday season including Halloween for adults! Then there's an entirely new array of foods for Fall~soups, stews, heartier fare that sticks to your ribs and warms your belly, especially if you're temperatures start dropping. But, Fall also means, for me, bringing out more of the hippie chic styling for the table! Colors that are warm and seductive, fabrics that suggest snuggling on a chilly Fall evening and plants, flowers, fruits, and vegetables that ring in the hues of the season!
For me, table designing should be first and foremost easy~as in making it happen without making it a huge production. No sweating bullets. Not trying to 'make' it happen~in other words, just 'letting' it happen. When you let go of those preconceived notions about table décor, then you let yourself free. Yes, free to 'let' it happen. And, in life, sometimes the best things just happen! What's more inviting about letting your 'hippie chic' shine through is that it's all you~no rules, no guidelines of right or wrong~it's this freeness that moves our spirits and fuels our souls. 
Here are some of my favorite tips for your Fall table designs~
Spontaneity
Remember when you were a kid and you just let things happen when you were playing. Your mind was free to roam, explore, dream and discover. One of my treasured memories of childhood during the Fall season was laying in the mounds of leaves that I'd raked (yes, most certainly begrudgingly!) into big piles in the yard. Yes, they were crunchy and smelled delicious. My hands behind my head and looking up the sky, I'd see the possibilities in the clouds that were floating by. From animals to people to objects, anything was possible. Well, that's what I want you to do with your table 'settings'. Start digging deep into that inner child that's still in you.
What you're seeing here that I photographed literally happened at my house. I wanted to write a post for you on Fall. I started pulling stuff. Stuff that I like. Stuff that made me smile. Stuff: colors, textures, shapes, things, that reminded me of Fall. With a couple of baskets like Little Red Riding Hood, I went to closets, the pantry, different rooms of the house, even to the shed and gathered a collection of things~pillows, scarves, tapestries, dish towels, and more, that didn't have any rhyme or reason or probably even make sense for a tablescape.
Yes, I was letting my adhd brain (and we all can have that if we just let go) shine flitting like a bumble bee, not focusing and letting everything capture my attention. But, that's part of the magic of the experience. When it comes together, you're gonna step back, look at what you've done and say WOW!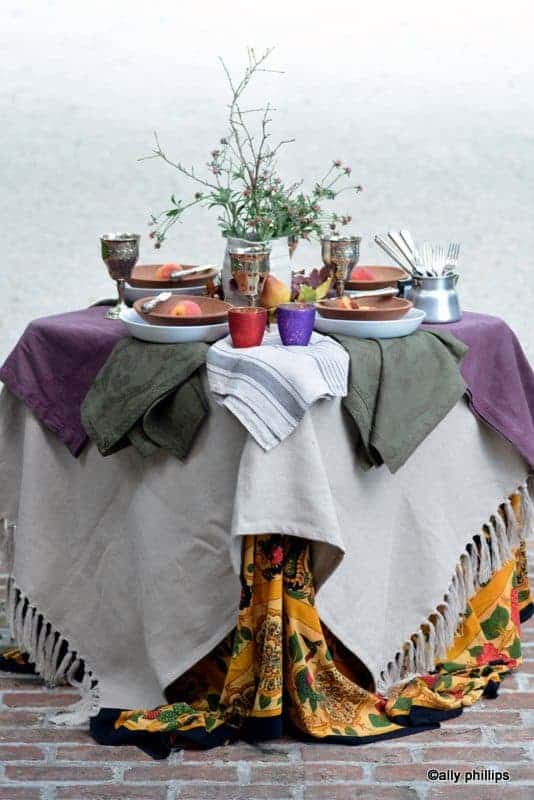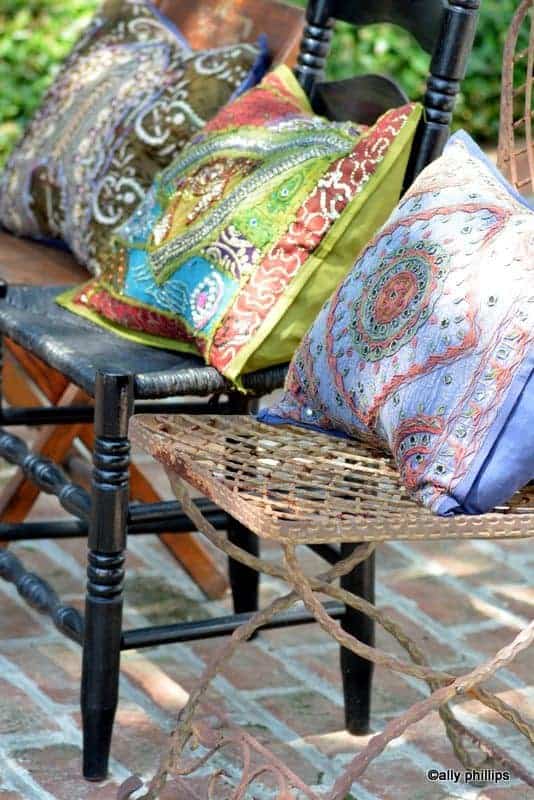 Quirky
Imagine a world of sameness. A world of matchy matchy. A world where things are so predictable and only used for one thing because something's not meant to be used otherwise. For me, that's a pretty boring and numbing world. Create some quirky in your life and start with your table!
Maybe even err on the side of 'eccentric'~hey, for a table it translates into bursting character and personality. It's like that table's going to start chatting with you and your guests as you're exploring the dining experience.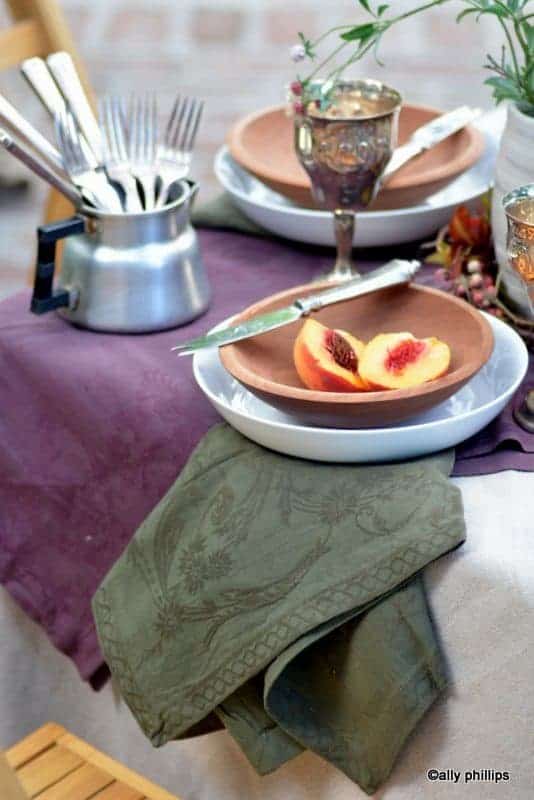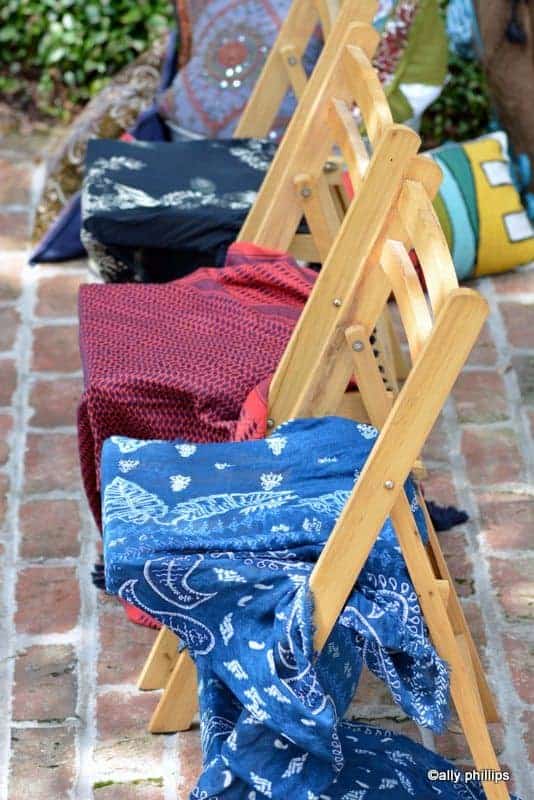 CHAT
Ok, my new acronym for tables: Chic Hippie Ally Tables—get it. What are CHAT tables? Well, they're tables that open the world to you. They're tables that are global. They're tables that are warm, inviting, and lingering. Tables that make you want the time to never end. Not only because of the design but, of course, the great food.
A CHAT table has discernable characteristics—tribal inspiration, retro touches, European glamour, displayed treasures, sophisticated Bohemian flair, distressing, mess, clutter, mixtures, patterns, layers, tapestries, pillows, odds and ins, even jewelry. Go ahead, get your CHAT groove going!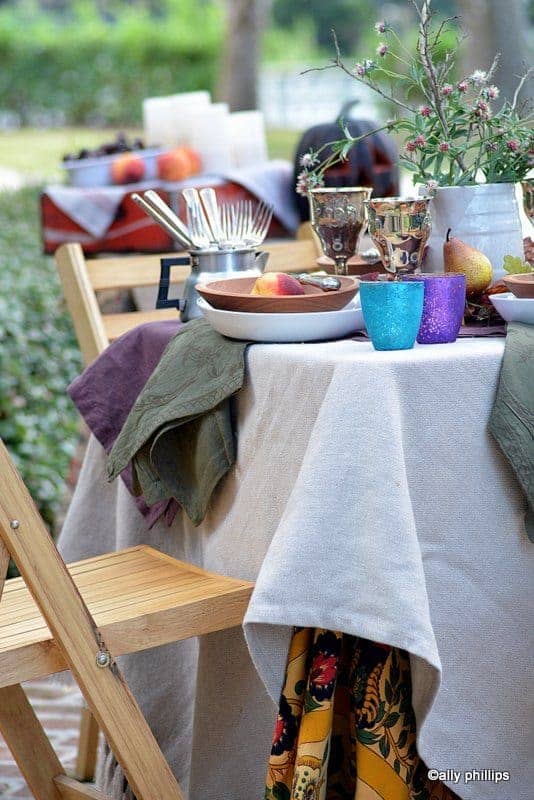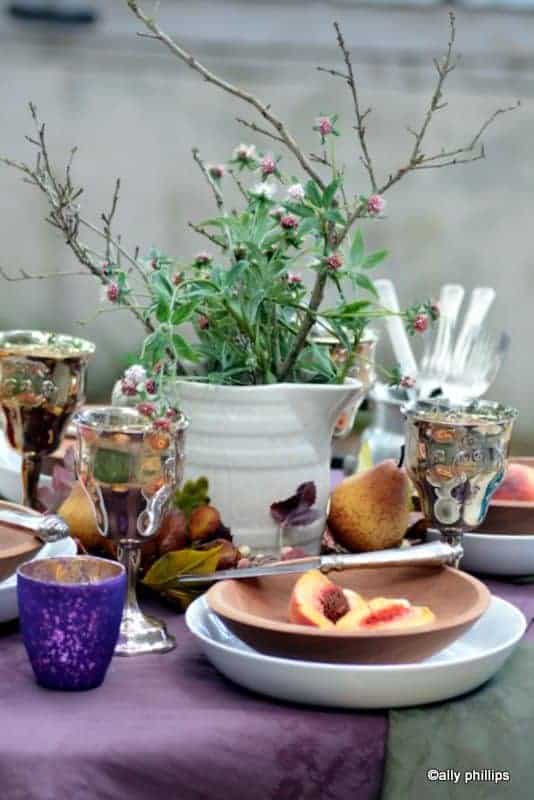 Imagine
I can't even 'imagine' conceive visualize think about having a brain like Walt Disney. Like Einstein's his was on fire as in seeing what can be. There were no boundaries. No chains binding him to what was 'right' what was expected, what was. Thank goodness for his brain because we'd be sad littl' puppies without all his magic! That's what I want you to do with your table.
Look at something, like the flap of a cardboard box, and imagine it as your name place tags on the table. Find some vintage clothespins and just see all the ways you can use these on your tables. Don't want to use it as a name tag, then how 'bout the name of the dish. Or just spread good juju energy and write words of goodliness~peace, love, share, kindness~you're sending subliminal messages of happiness as you break bread together. Hey, and if conversation lulls, you can turn it into a game. Have each guest give an example of the trait in their life~yeah, something real and personal! Could open up some deep conversation, insight and laughter!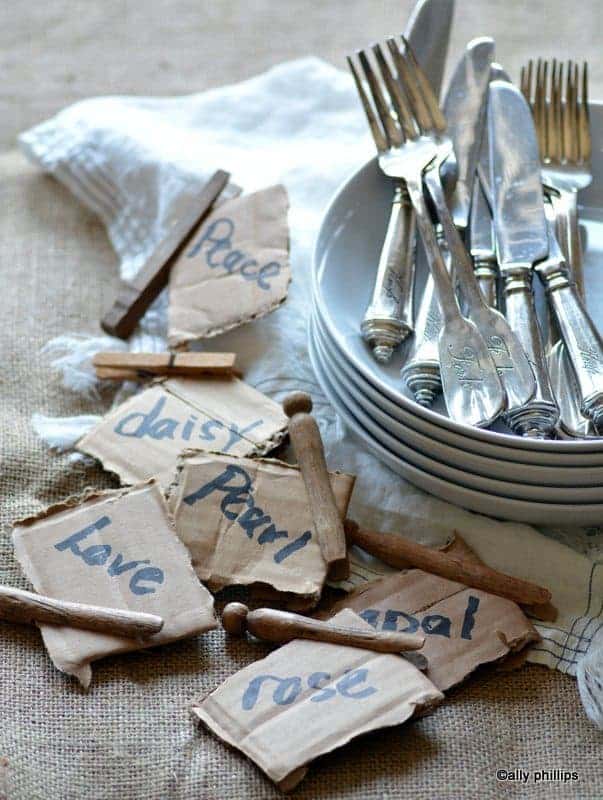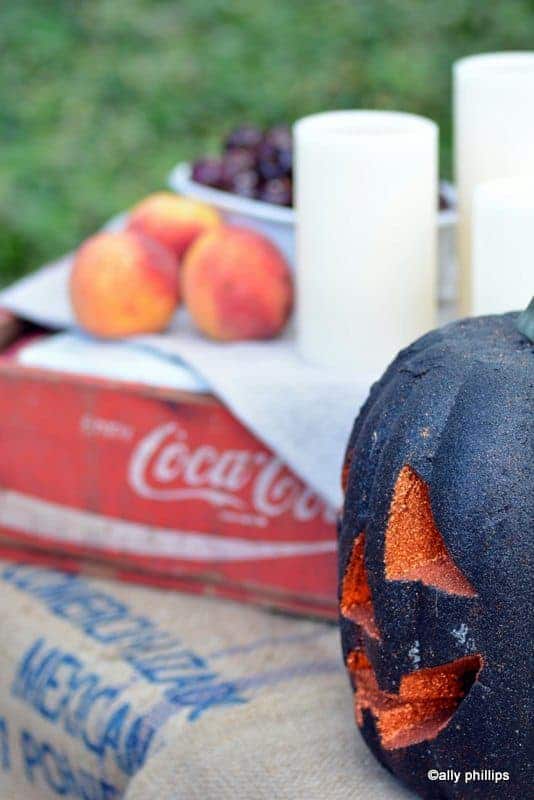 Now it's time for you to get busy. Yep, I'm stickin' to just four tips here, but they're four boho-powered & packed tips that can do so many things with in your everyday living. Again, remember the rules. There are no rules. That's the only rule. Be you. Be fabulous. Be whimsical and free! ~peace & namaste~ ally xoxox
Don't forget~I love reading your comments!