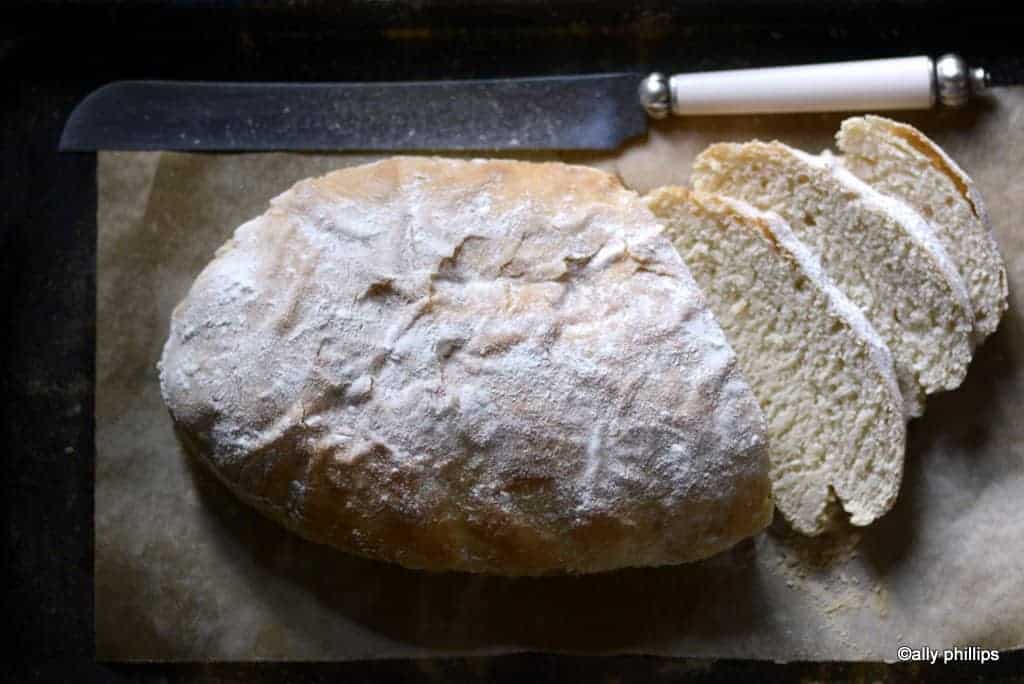 Appalachian Mountains
Appalachian white bread is a simple way to make homemade bread pretty quickly. Bread making is part of my growing up and stories from Grandma's kitchen!
Funny how siblings that grow up in the same family have their own unique memories and perspectives on childhood, life, family, friends and other things as they get into their adult lives. Each of us remembers things differently. Each of us was impacted by things differently. We're all affected by events, people, happenings in the way(s) that our brains processed them, and we each save those memories in the way that we believe it happened. With those thoughts, I go into my memory of Appalachian white bread.
See I was one of three girls, each of us about 18-24 months apart. Unlike my sisters, I was the one who loved to cook. Yes, from an early age, I can remember helping Mom in the kitchen, watching her as she cooked, seeing her can and store food in the basement for the winter, really liking to be there in the kitchen and not wanting to be anywhere else. Another vivid memory I have is spending hours and hours for years in my paternal Grandmother's kitchen. I doubt that my sisters recall spending much time at all in Grandma's kitchen watching her peel potatoes, string beans, shuck corn, listening to her stories, helping her stir pots on the stove, going into the pantry and into the dank stone basement to get things that she asked for. Yes, I was always the kid who was mesmerized by the artistry that I observed in both Mom and Grandma's kitchens.
Southern Food
Southern food can also be synonymous with soul food. And, much of what defines southern food also is seen in Appalachian foods. Mashed potatoes, greens, biscuits, gravy, stews, dumplings, pinto beans, cornbread, sweet tea. fried foods, and more. It's almost like a 'family' with Southern food, soul food and Appalachian foods. Maybe that's why when I moved further South as a young married girl, I had no problems whatsoever adapting to the food and cooking it. It's what I'd grown up on in those Appalachian Mountains.
That's where I learned to make bread. In Grandma's kitchen. Yes, a small town nestled in Southern West Virginia in the heart of Appalachia. You see, my Grandma Alice, yes, I was named after her, was a spitfire tiny woman who always wore a pretty 'day' dress (I can't ever remember seeing my Grandma Cook in pants.) and who always had a linen handkerchief tucked in her sleeve. You never knew when you'd need to blow your nose or a sneeze was coming on. She was full of piss n' vinegar not mincing words, loving to gossip, addicted to romance magazines and movie stars, Elizabeth Taylor, Clark Gable, Ginger Rogers, Fred Astaire, all the icons of the early and mid 20th century. When Liz Taylor married Eddie Fisher, Grandma just knew she was a home wrecker, that she had 'stolen' him from Debbie Reynolds, that littl' vixen, that hussey. On and on Grandma would rant and fuss as if they were her neighbors and bestie buddies.
Grandma's Kitchen
It was in Grandma's kitchen on Thursdays, as I remember, that bread would be made for the weekend. You see, Grandma's house, with its big wrap around porch, was always bustling with people coming and going. And, seeing how three daughters (of her eleven children), now adults (and one married with two children of her own who lived there), still lived with her, there was always need for something on the stove. A meal was never far away. Plus, anyone who stopped in, and people did this all the time, knew that there was something good to eat, like these Appalachian Buttermilk Cucumbers.
Bread
Grandma Cook's bread was beyond amazing. I only wish I'd been more observant as a child during those years, but I did watch and learn. One thing I know is that she would say 'beat the hell' out of the batter before it became thick dough by adding more flour. I'd watch as she'd cradle that big large ceramic bowl on her hip, like holding a baby, and take her wooden spoon and beat and beat and beat. Dang, what a way to get out aggression and pent up anger. Plus, it was a heck of an upper body work as I now know. From this dough came not only large yeast rolls and bread, but cinnamon rolls, too. Yes, applachian white bread evokes vivid and warm memories for me of a time when I was spending time with two women who influenced my life beyond measure, each in ways that I now better understand. I sure hope to pass down this love of bread making, yes, doing it the old fashioned way, to my youngest grandchildren, alas, all boys, but who love being in their Mama Ally's kitchen and cooking with me. So much of life happens around the table and in the kitchen. xoxo ~ally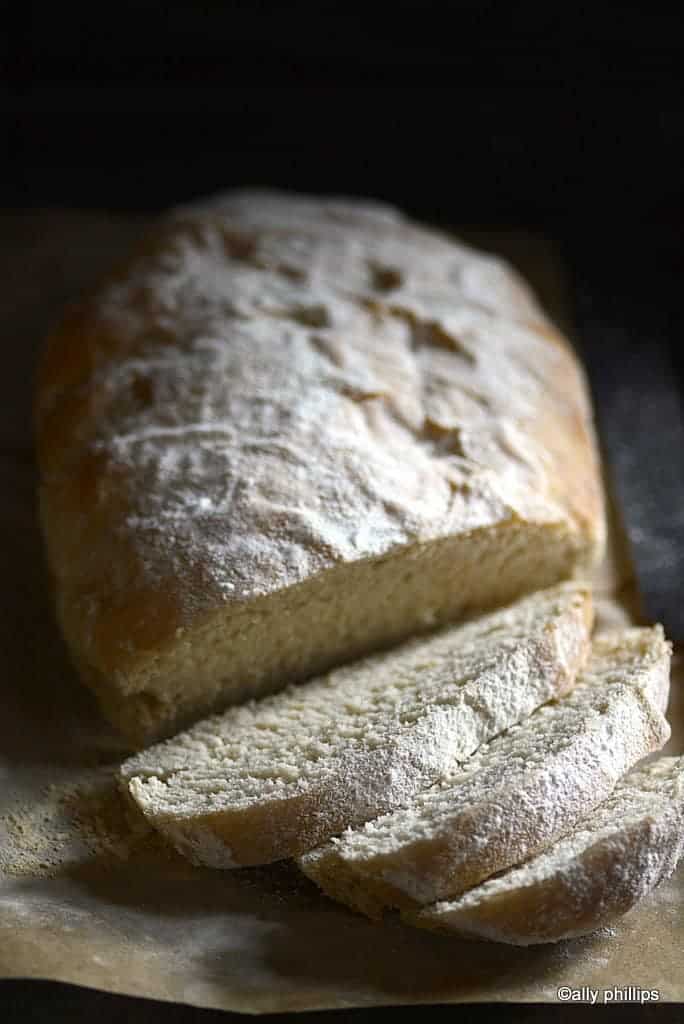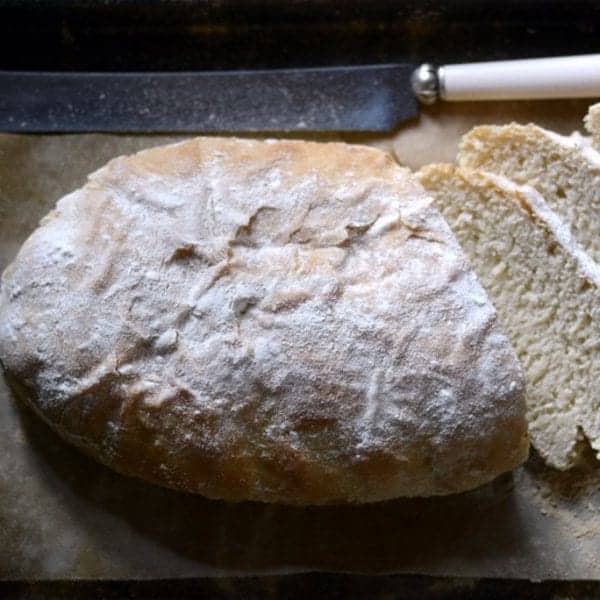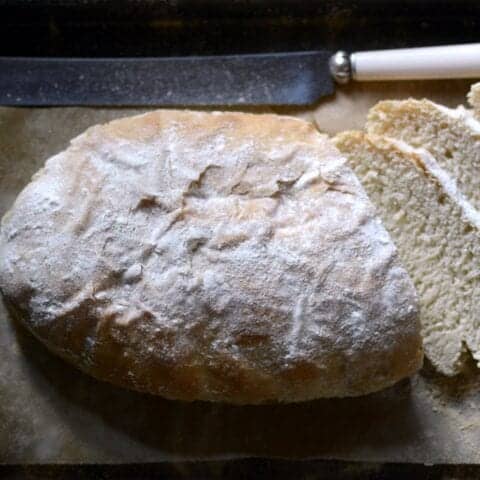 appalachian white bread
Appalachian white bread is a simple way to make homemade bread pretty quickly. Bread making is part of my growing up and stories from Grandma's kitchen!
Ingredients
1 package (1/4 oz.) quick rise yeast
1 cup water, 120-130 degrees
3 ½ cups self-rising flour, divided
¾ tsp. sea salt
1 Tbl. oil
Instructions
Put the water in a glass measuring cup. Microwave on high 75 seconds. Add the yeast. Blend. Cover the cup with a towel and let it do its action for about 5-7 minutes.

In a large mixing bowl, put one and one half cups of flour, salt and oil. Blend with a wooden spoon.

Start pouring in the water and blending (using a wooden spoon) making a thick batter (about the consistency of a cake batter). Take a whisk and whip out all the small lumps. Whip about 4-5 minutes.

Add in more flour, one-half cup at a time (total 1 1/2 cups), then beat and blend with your wooden spoon. The batter will be thick and doughy. (Yes, it's an upper arm work out!) Keep mixing , folding and 'churning', the batter about 5 minutes. (I know your arm will need a rest!)

Cover with a clean dish towel. Put in a cold oven with the light on. Let it about double in size (about an hour or so).

Punch down. Add another ½ cup of flour. Mix, turn and 'knead' (folding over and using your wooden spoon and your hands) in the bowl (no need to dump out) with your wooden spoon. Dough will be more elastic and like bread dough.

Do this kneading action in the bowl another about 5 minutes. Shape into your desired loaf. Place in your greased baking pan. (I used a cookie sheet covered with parchment paper.)

Bake in a cold oven set for 400 degrees about 22-25 minutes.