15 May 2013
It goes without saying that no trip begins without drama…a 'slight' glitch that makes your heart flutter, but in this case, almost go into cardiac arrest!  So Ben and I get to the new, fancy dancy Myrtle Beach International airport, really it's first-class and styling all the way.  Since the kiosk won't take my FF number, we decide to get a real live person, something of an anomaly these days in any type of venture!
So Ben hands her his passport first, no problem, she prints out his tickets.  'Are you checking bags?'  Of course not, packed everything for about 3 weeks in our small roll ons.  Then I give her my passport.  She starts pecking and pecking and pecking.  She asks for my drivers license.  More pecking…now sounding like the thunder of wild horses.  'Mrs. Phillips, I'm sorry I can't find you in the system…'  Hot saliva starts to run in my mouth, heart racing, Ben looks at me…I look at him…we're dumbfounded!  I'm thinking 'what the frig…you booked the tickets'…oh, no, marital fighting right here in this fine new arena!  And, yes, we're thinking we HAVE to get on this leg from MYR to ATL lest we miss our international flight to Cologne, Germany!  Time's ticking!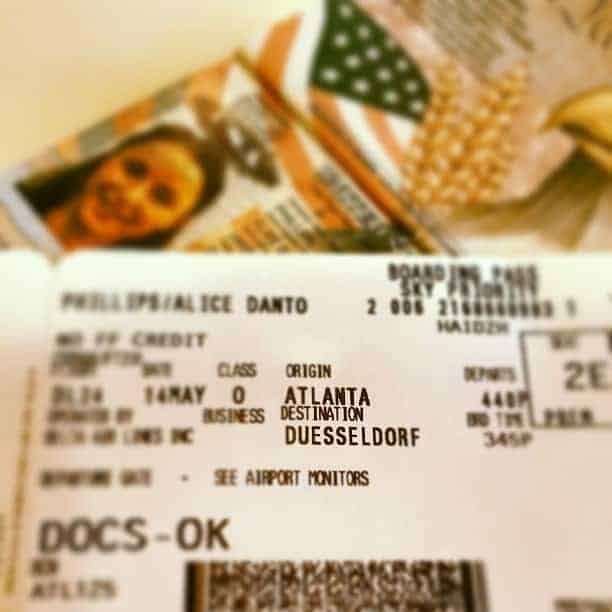 Thank goodness for cell  phones!  There was no way this was correct…I mean I'd even got a chatty email from Delta saying 'It's Time to Check In'!  Pull out my hot pink sexxy white Galaxy and whipped out my email…YES, I was real, I had a confirmation number–just not in 'the' system…how it happened, who knows, who cares…no time to belabor the 'glitch'…off to Gate A1 as showing on our ticket, but first we decide we have time, we can get a bite to eat.
Nacho Hippo calls us…we have 50 minutes until departure…how long should it take to turn out a salad and a bowl of enchilada soup?  Well, in this case, the soup was made in Mexico and had to be shipped through the border–it freakin' took 37 minutes for it to come…I'd long eaten my salad as sweet Ben waited…we were both famished.  A1 is right next to the Hippo…no need to worry!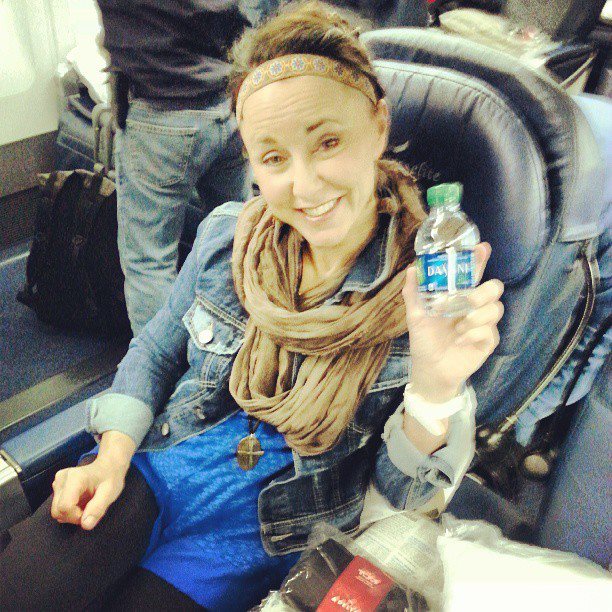 Time to board…yipppeee!  Oh, not so quick.  A1 says something like Cleveland, OH…WTFrig!!  We then hear our names called over the loud speakers… 'Calling passengers Phillips…this is the last call for boarding.   The gate was B1!!  So, we do this major quick plan…you run Ally to the gate and Ben will pull all the luggage!  Thank goodness I had my Crocs on because I broke into a major Olympic sprint to B1…Ben looked like he was pulling an oxen and carts dragging everything!  Out of breath, the gate agent was about to close the door, I began shouting 'We're here…we're here…the Phillips!! '    Thank goodness for my hot yoga practices…totally prepared me for this mad dash, the panting, and sweating!
I reckon things like this keep you on your toes and keep you fit, spry and young and what make an adventure and ADVENTURE~~at least that's the way my brain thinks!
*******************************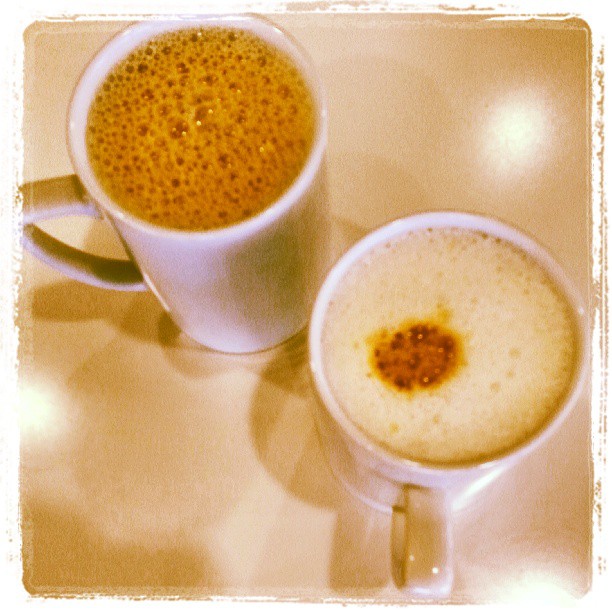 Arriving in ATL was a huge sigh of relief!  Yes, we double checked out departure gate, and, yes, it had changed from what was printed on the ticket~~lesson learned!  A safe refuge lay ahead…the Delta Sky Lounge…three bhours til boarding, a wi-fi connection, great snacks, and a totally cool and awesome bathroom…small things amuse me in life!
A packed and full flight, this 767 would be overnight lodging for hundreds of us.  Ben and I splurged…this trip is also our 19th anniversary celebration…so, we're traveling first-classs-yipppeee skipppeeee, movies, meals, snacks, pillows, blankets, leg room, our own individual TV screen~~you get it, I know!  Dinner was pure luxury…why?  Because I didn't lift a tiny finger…I just say in my big EZ recliner and had whatever I wanted delivered to me…that's a real anomaly in my life.  I'm usually the one doing all the prep work, cooking, serving, and cleaning up of the kitchen…I like it that way because the kitchen is MY domain, and I want it left the way I know I can operate next time.
After appetizers, salad, pan seared cod, desserts, wine and after-dinner drinks, I flipped on my mini-screen and watched two amazing movies…bi-p0lar in nature…'The Impossible' which was a gripping drama and 'Guilt Trip; which hit home way too close!  In between I paused the movies, headed to the loo, and did some yogi stretches and postures in the narrow galley or aisle of the plane~~I mean a girl's gotta do whatah girl's gotta do!
Like a fat well-fed, burped, dried and content baby after the movies, I rolled over, got comfy in my EZ chair and caught some ZZZzzzzzzs…Cologne, German touch down would be soon!