Unique Ways To Give Your Backyard a Makeover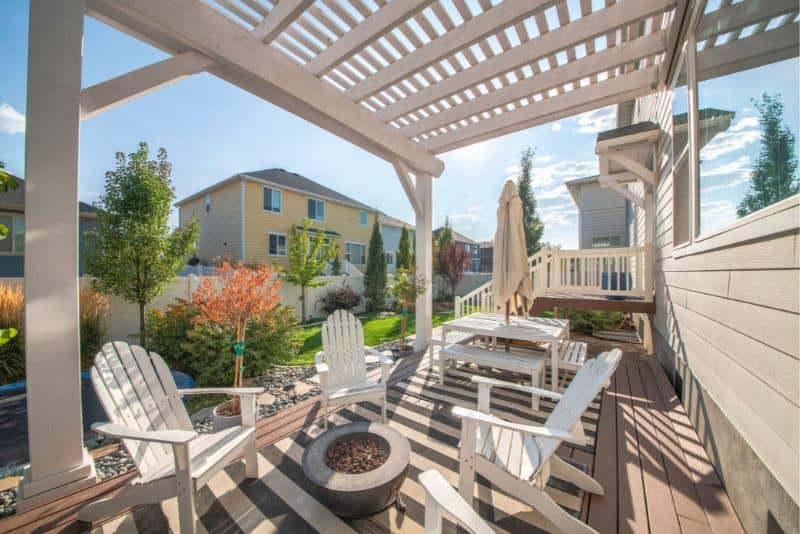 Many people don't have enough space within their homes to create a designated hangout area. Furthermore, they may also have unused space in their backyards. If this sounds like you, consider turning your property into an oasis with these unique ways to give your backyard a makeover.
Build a Pergola
A pergola is an excellent way to add a touch of flair to your yard and also provide protection from the sun. Building a pergola will allow you and your friends and family to spend much more time outside and enjoy your time together. Interestingly, you can build over a deck or patio, or you can add a pergola to a grassy or sandy area.
Pro Tip: Consider adding string lights and curtains to make the pergola more cozy and inviting!
Create a Peaceful Garden
There's nothing better than a yard full of fascinating trees and plants. With that in mind, you can create a peaceful garden in your backyard. Rather than growing vegetables and fruits in rows, consider creating an environmentally friendly space to relax and decompress after a long day.
Your garden should have beautiful trees, flowers, lights, a place to sit, and more to turn your backyard into a green sanctuary and help you feel at peace.
Build a Patio or Deck
While having a patio or deck may not seem like a big deal, it can completely transform your yard from bland to superb. Hiring a professional to build the deck may be the best decision, but you can build a simple one yourself with the right tools and know-how. Completing this project adds immediate appeal to your yard and may increase your overall property value.
Purchase Outdoor Furniture
Without adequate furniture, you may not spend much time in your yard; therefore, purchasing comfortable outdoor furniture should be a priority when it comes to creating an outdoor hangout space in your backyard. You'll need several seating options, whether that includes chairs, couches, or both. Additionally, you should include at least one large table or a few small ones in the space.
Pro Tip: Outdoor furniture can get pricey; building your own is a great way to save money while personalizing your space.
With these unique ways to give your backyard a makeover, you're ready to create the ultimate hangout in an unused area of your property. Regardless of whether you have frequent guests, you won't regret designing a stunning space that helps you spend more time connecting with nature.