Tasty & Simple Seafood Dinner Recipes for Holiday Parties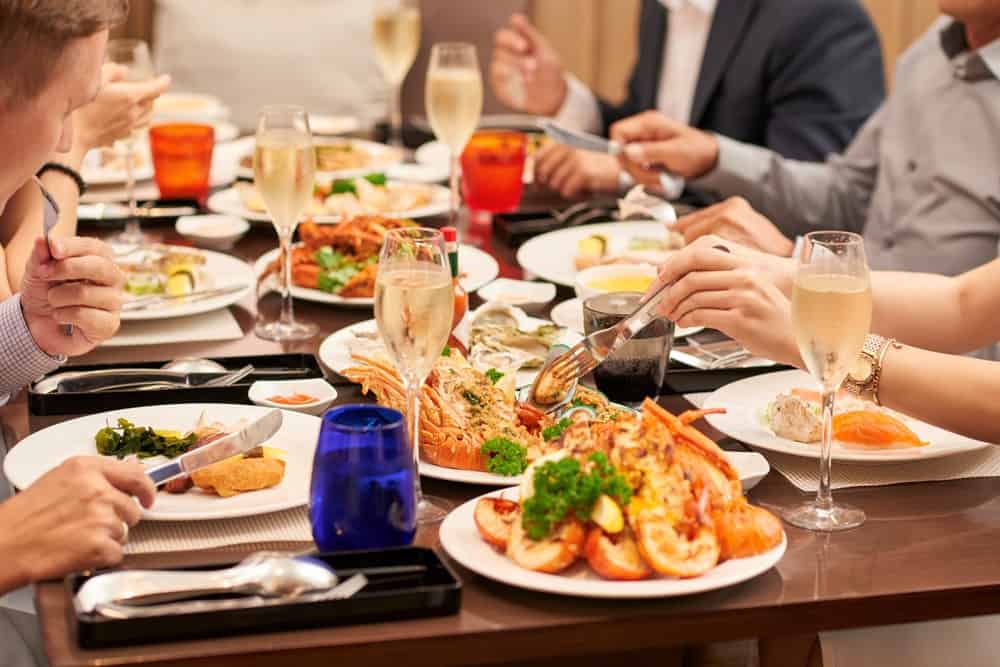 Tasty & Simple Seafood Dinner Recipes for Holiday Parties aren't difficult! With the right products and creativity, you're serving 5-star!
Holidays parties can showcase a seafood spectacular when adding tasty finger foods and main dishes to your buffet. And there's no need to worry about serving a non-traditional menu when you can easily incorporate seafood favorites into the mix. You'll be delighted to discover you've got more than a full fisherman's basket of recipe ideas ready to line your table this season.
Check out these tasty and simple seafood dinner recipes for holiday parties:
Spicy Mango Scallops
Are you wanting to add seafood recipes among the meats you'll be serving this holiday season? Baby, it's cold outside so warm up with this sweet and spicy dish that can be served with or without the rice. You can also substitute white rice for wild rice if you want, or simply cook up a large batch of scallops and double the recipe's ingredients for an appetizer that serves up to ten guests. Get the recipe here.
Crab Seafood Salad
Serve up this seafood favorite with other side dishes by either using imitation crab or better yet, use fresh crab meat for a healthier option. You'll love the easy preparation and simple ingredients such as celery and mayonnaise and a few sprinkles of spices that make this a tasty addition to your holiday dinner recipes. With frozen seafood delivery, you'll save added time and trouble by shopping online sources for the best quality seafood you can find. Plan your menu early and set aside that extra time for decorating the buffet with holly and other bright, festive trim. Nothing showcases seafood more than this Easy Latin Paella!
Baked Stuffed Lobster
Are you wanting a main dish that can be served with other traditional side dishes such as green beans, asparagus, or creamy potatoes? Look no further than this delicious and classy, baked stuffed lobster main course item. Simple ingredients with a delectable combination of crackers and sweet onion, celery, garlic, and cheese will leave your guests savoring the meal one bite at a time. This lobster entree can be doubled to accommodate a larger crowd, and you'll even find this option as an elegant choice for ringing in the New Year!
Hot Buttered Rum
If you and your guests are looking forward to fellowship around the fire after the holiday meal, add this treat to warm everyone's spirit. This holiday cocktail unites with the winter season's comfort foods as a warm, spicy beverage. Dark aged rum joins a combination of melted butter that's spiced with cinnamon, cloves, nutmeg, allspice, vanilla extract, and light brown sugar. This after-meal treat will not only warm your guests, but you'll feel an atmosphere of holiday cheer with each sip!
Nested Crab Cakes with Couscous and Pears with Gorgonzola Cream
Add a delicious seafood dessert to complement your holiday meal with crab cakes and a sweet gorgonzola cream. You can save time by shopping for frozen crab meals that include your crab cakes pre-cooked. Whip up the final ingredients and set aside for a sweet option alongside the crab salad and stuffed lobster. Ingredients such as heavy cream, cinnamon sugar, and fresh pears will set the holiday meal off with a jubilant flavor that's sure to please.
Wrap it Up
Consider making your seafood holiday party an annual tradition. Even a simple Shrimp Soup can wow the family!
Share the joy each year with a seafood extravaganza and consider cooking extra seafood favorites such as dips that your guests might enjoy as gifts to take home. Try something new each year and have your guests vote for their favorites. Your holiday seafood party will certainly become one that's cherished and looked forward to all year long. Cheers!