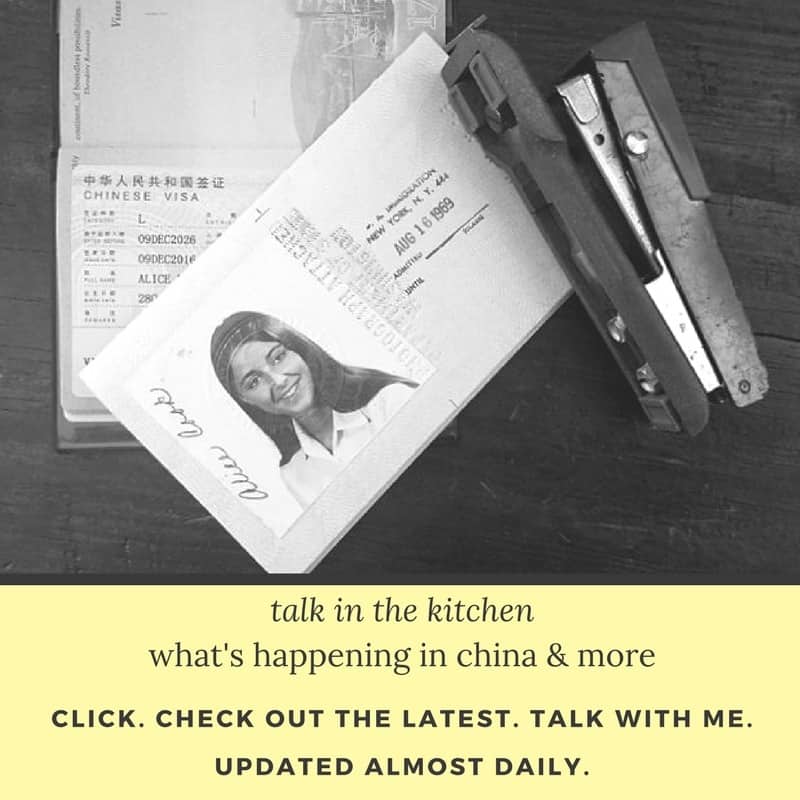 This post will be kind of different from most of my posts. Why? Because it won't be finished and complete. I'll keep adding to it almost daily talking to you about what's happening on our magic carpet ride to China! Just pretend that we're in my kitchen and just talking. Yep, 'talk in the kitchen' and what happens in the kitchen, stays in the kitchen!
You might see pictures with captions. Maybe I'll upload a quick unedited video of something cool. I'll be sharing interesting and captivating things I'm doing and seeing. Sharing inspiration for new foods. And, of course, sharing all kinds of NEW foods!!
Since Facebook is the social media platform where we usually talk and I share profusely, I'm having to shift to my website. It's kinda like 'bad' news 'good' news. Bad news is that Facebook, along with many many other social media platforms and websites, is banned in China (unless you have a VPS which I don't). Good news is that Ally's Kitchen isn't one of those banned websites! Yayyyyyyyyyyyy!!!
I want you to talk to me right here as you would on FB, Instagram, Twitter, and more. Just leave comments, and I'll get back to you as quickly as I can. Well, in between the bullet train to Bejing, Dim Sung cooking classes, eating myself sick with street food (I need inspiration for you and our new recipes!), hanging out at the Great Wall and more!
Now don't be a stranger. Come back every day! And, let's have fun with our talk in the kitchen! xoxo ~peace & namaste~ ally
PS…Here's the latest from the past about 24 hours…scroll on down for previous days!!
Check this off the Bucket List
What's on your list? Well, this was for me (and Ben), and we've made it happen on this Asian excursion! Come see and read all about it. Plus, I made a cool little video!
Dim Sum Lesson
Where best to learn the art of folding and making dim sum dumplings than Shanghai in the home of Mrs. Yi! No need to repeat everything here. Just check out this post complete with a short video of moi with Mrs. Yi!! xoxo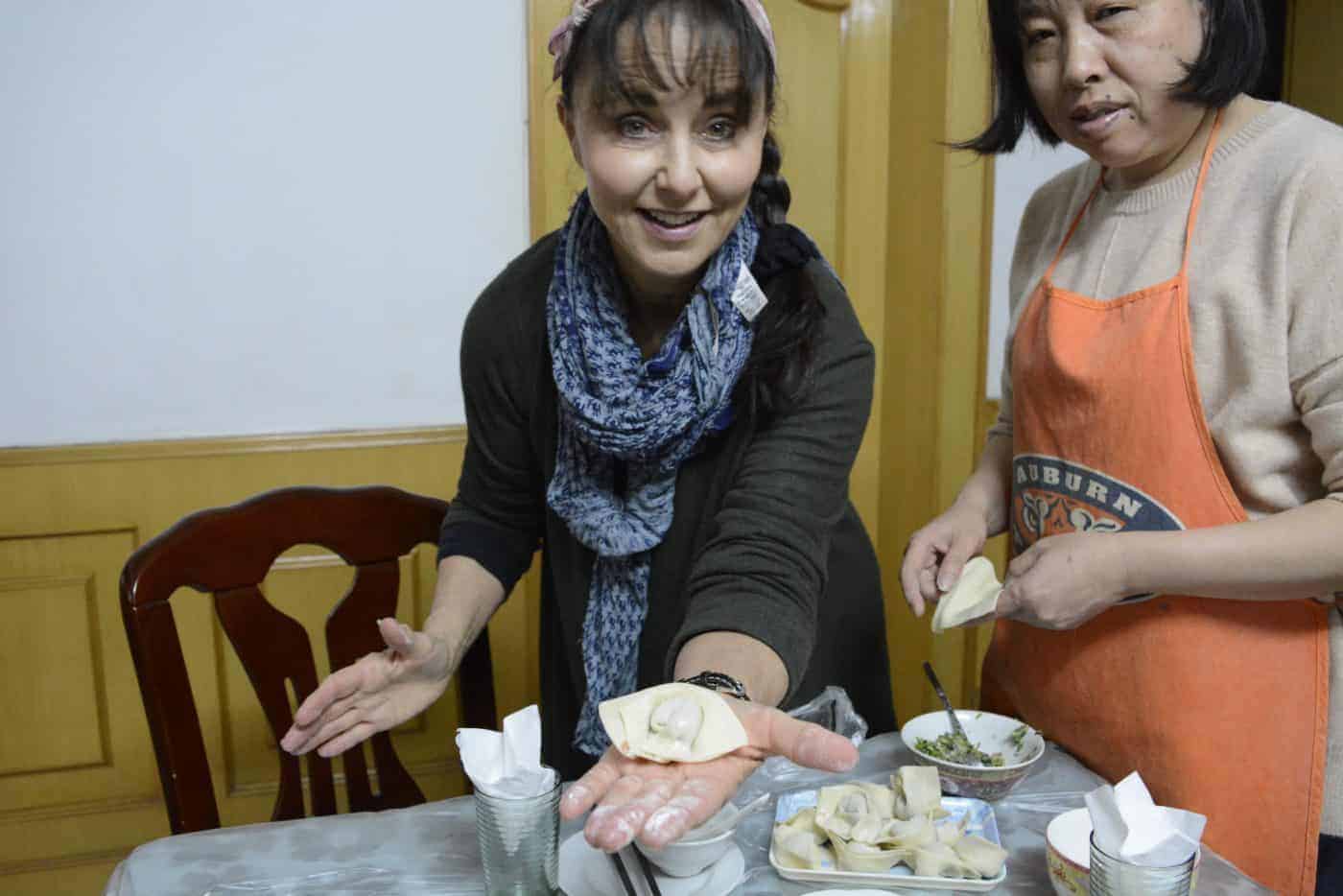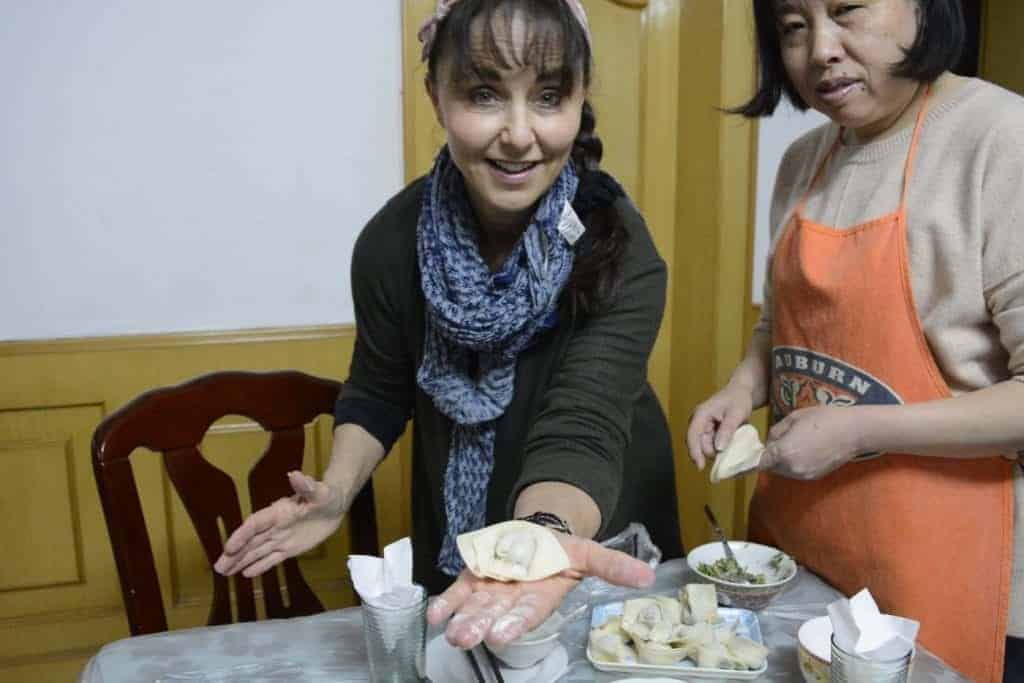 This experience deserves its own post, which I'm doing shortly! There's no way I can't share with you what it was like, or, at least, try to express in words the magnificence of this once-in-a-lifetime experience in this snippet. We spent nearly five hours on the wall, climbing, climbing, climbing. Challenging my fear of heights. Here're a few pictures of Nancy, our adorable energetic, exceptionally knowledgeable and always smiling and ready for an adventure Chinese guide, Ben and me!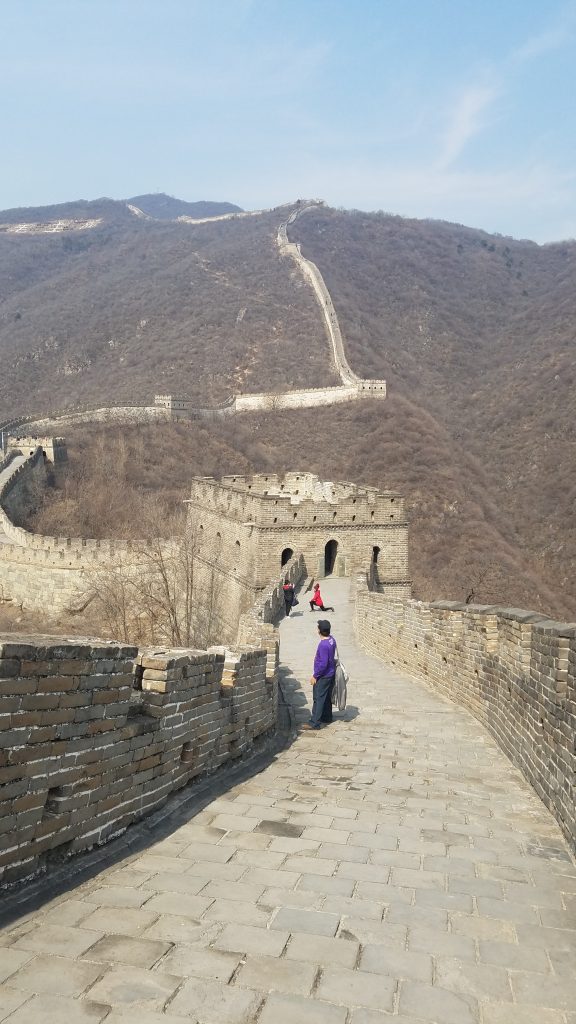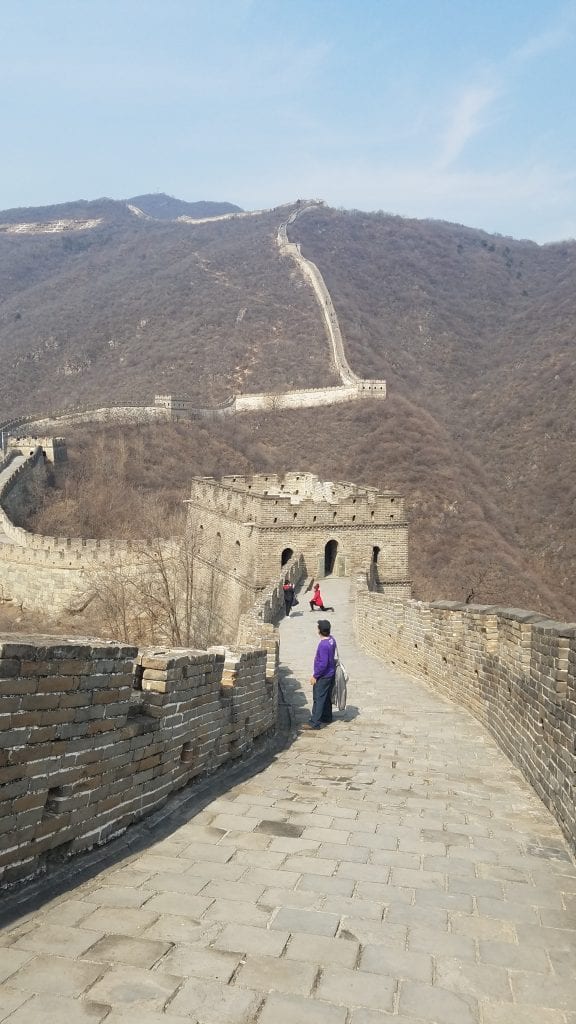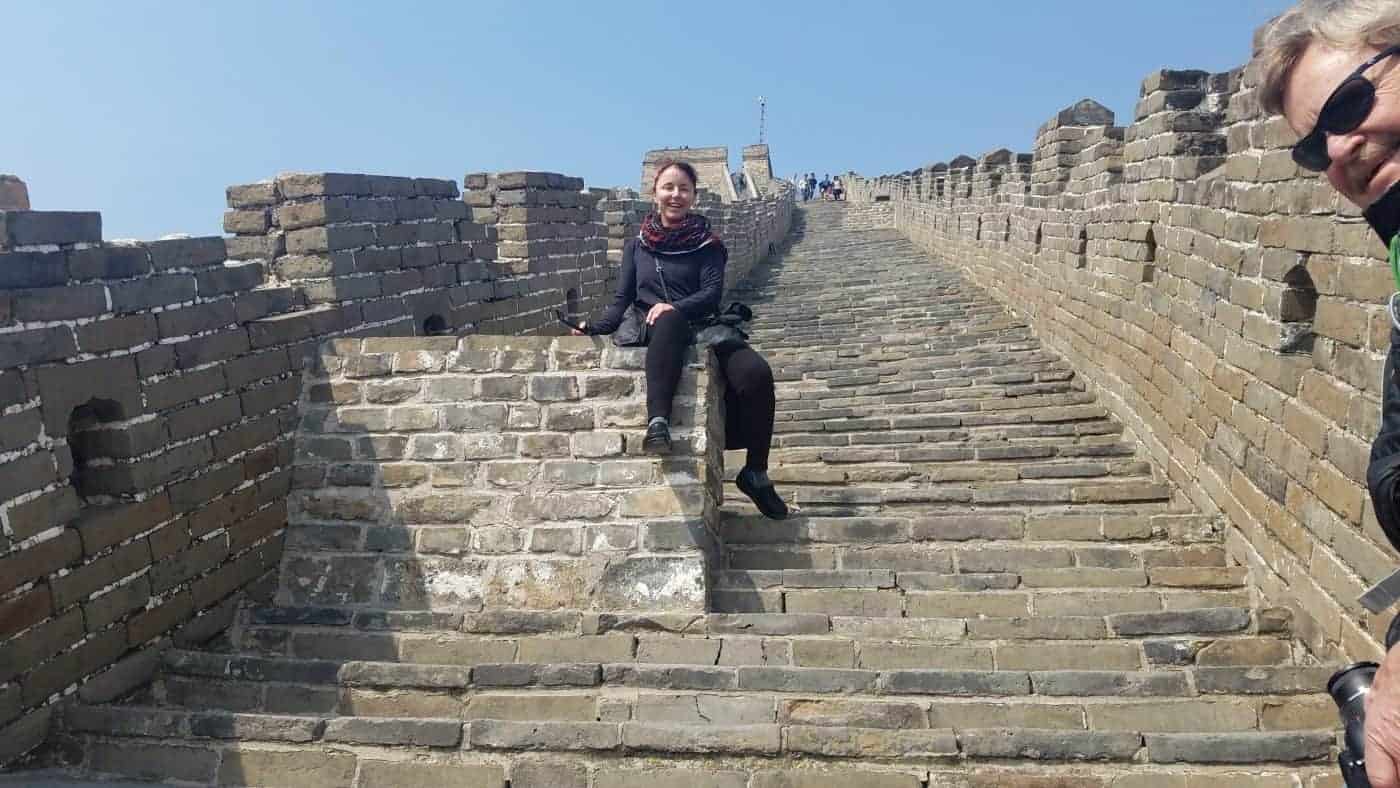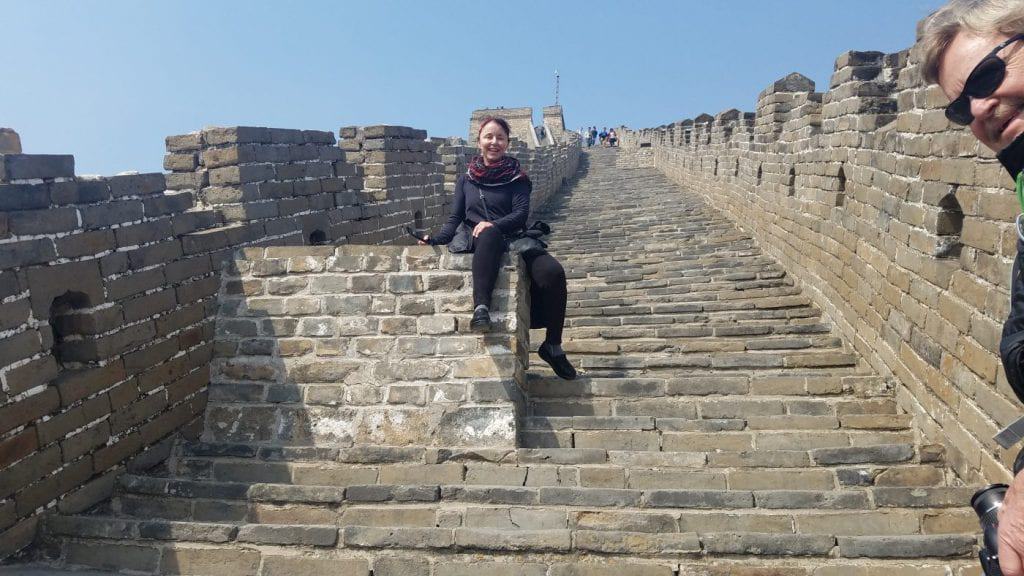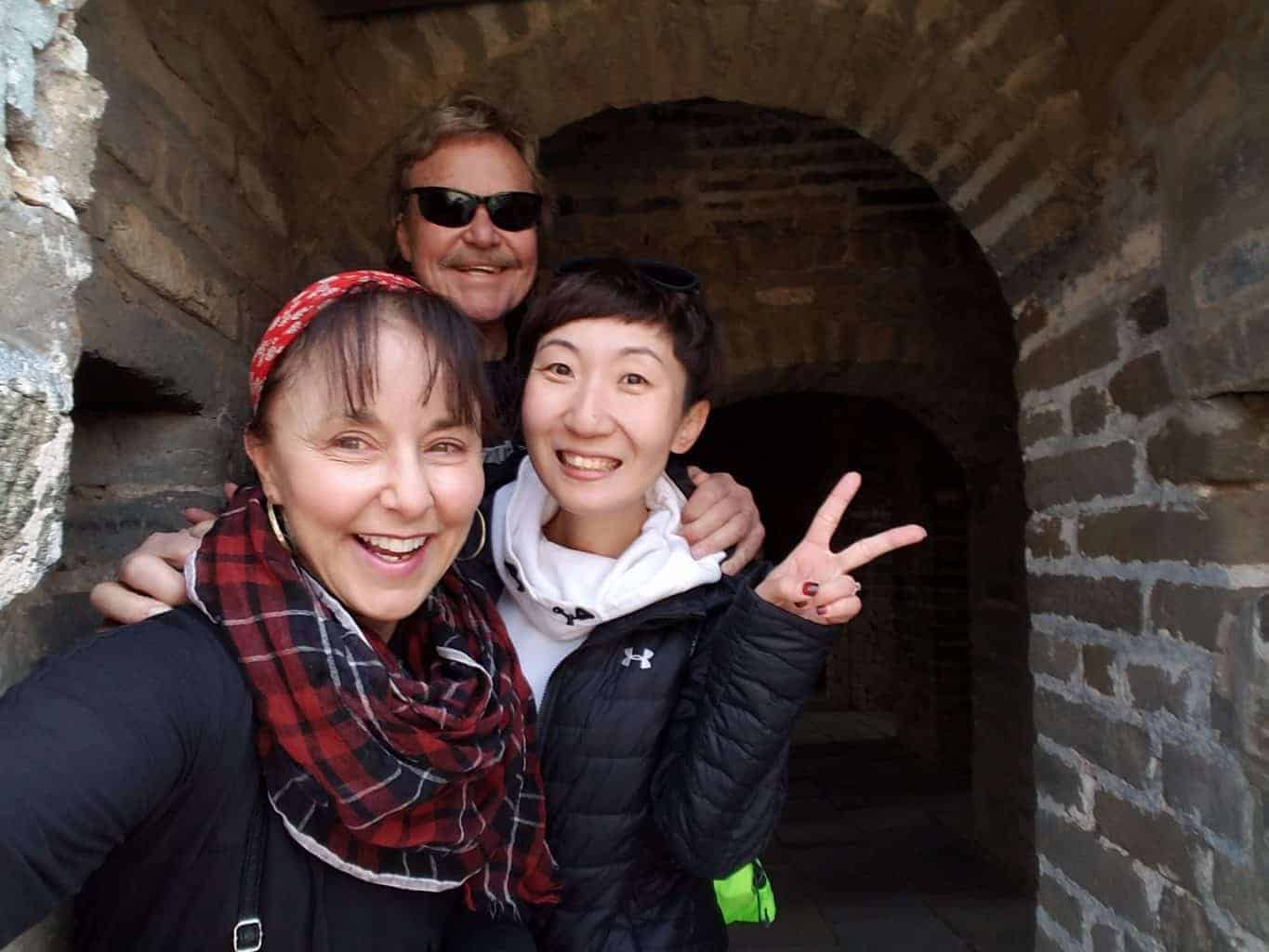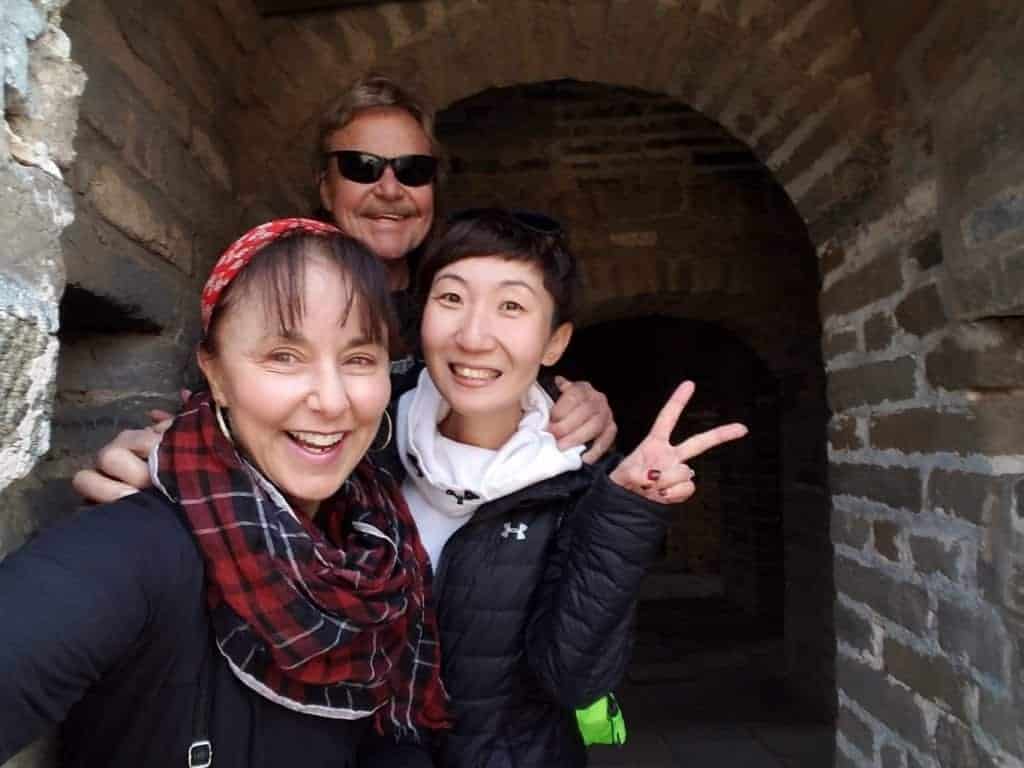 Opulence & Bejing Bound
So we moved to the Pudong Shangri-La for one night before we board the bullet train for the five hour ride to Bejing. It was a slight 'hassle' having to pack up and move just for one night, but once we got there, it was totally worth it. It's beyond words in terms of luxury, style, decor and opulence. No detail is left undisturbed. The staff is right there to meet your every need. And, what a view (completely glass walls), especially from the 29th floor where we had afternoon tea and later that evening cocktails. The Huangpu River separates Pudong and Puxi, Shanghai's cultural, residential and commercial center.
We attempted to get out and explore, but the rain and high winds nixed that plan. However, we did want to experience a local bar, so we braved the weather and headed to the Blue Frog, bar and grill. You could have plucked me right into an American bar like TGIFridays or Cheers. From the wait staff to the music, it was Western to the core. One difference? The menu. Yep, in addition to burgers and wings, you had traditional Chinese fare that was trendy enough for any bar and grill!
PS…these pixs are take with my Samsung 7…no edits other than reducing the size.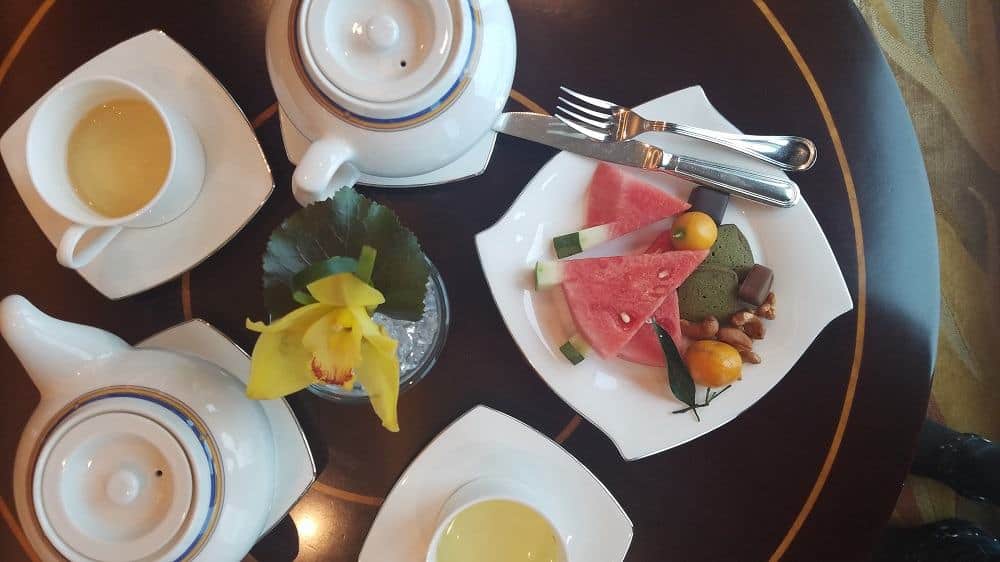 Never Imagined I'd Try some Things!
You have to have an adventurous spirit and open palate when traveling and experiencing other cultures' foods and customs. Visiting local markets where the abundance of farm vegetables from the countryside is brought into the city is a feast for the eyes. Some vegetables and fruits I've never seen or knew existed. Then there's all the meats, seafood, and eggs! Every kind you can imagine! And all are eaten. As are most ALL parts of the animal be it pig, cow, goat, sheep, lamb…whatever!
It's so stinkin' exciting realizing that this is a huge diverse world. Only travel, reading and an open mind can teach you this.
Have you ever tried mangosteem fruit? What caught my eye in the market was its stunning beauty. I'm so intrigued with it that I've done a separate post helping you understand more about this unique fruit not typically found in the United States. However, if, by some long shot chance, you do see a mangosteem fruit at a Whole Foods, Trader Joes, or other upscale high-end organic market, grab it! You want this experience of tasting it!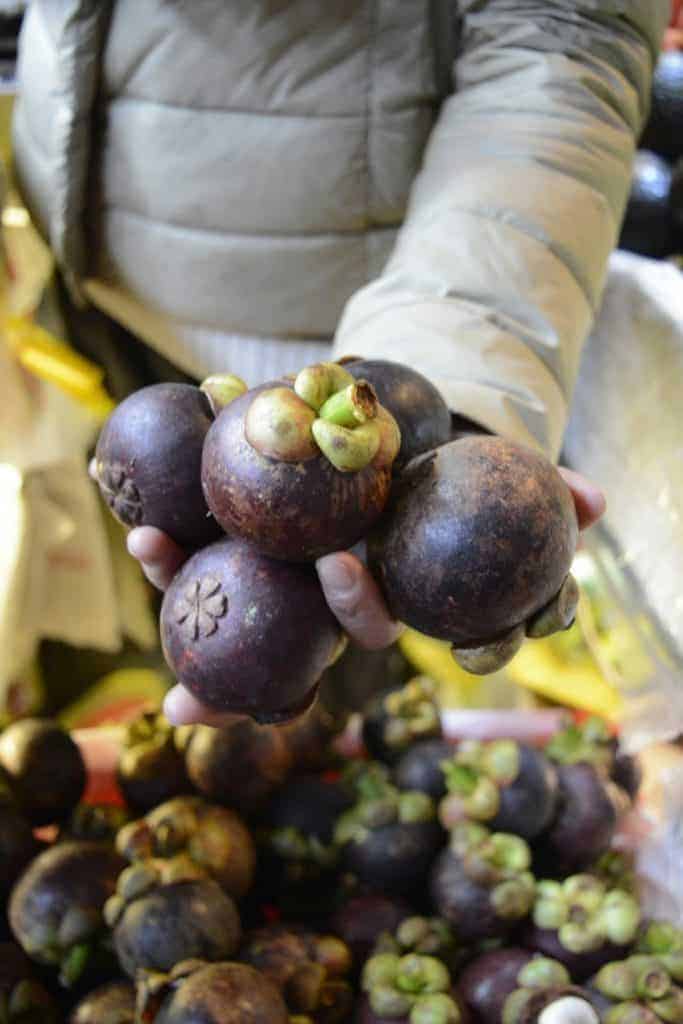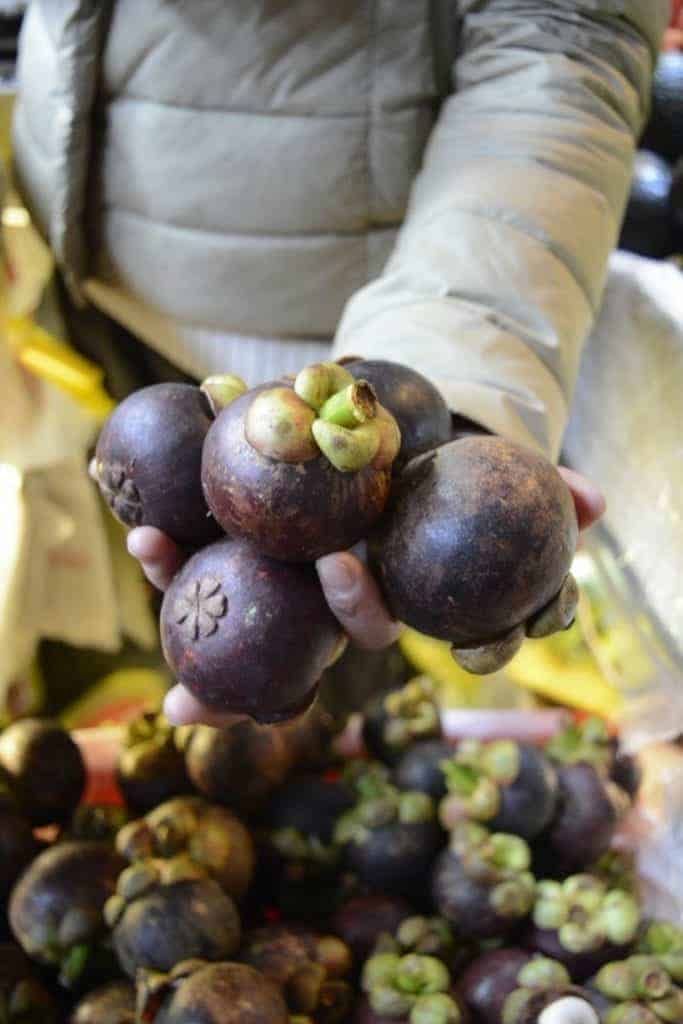 Then my next first? Eating a pickled pigeon egg! Ben wouldn't even entertain tasting it. He was totally hampered by his preconceived notions of the bird and what it represents. But, I thought, why not? I'm here in China. It's obviously very popular, and since we were having a meal in a local's home, I wanted to express my sincere appreciation for Mrs. E's hospitality as she hosted me in learning the art of making dim sum. Plus, my new bestie, Zoe, our guide and quite the foodie herself, devoured a couple of them saying they were tasty littl' bites! Be on the lookout for the post on my bucket list cooking lesson in dim sum making with a local, Mrs. E, at her home in Shanghai!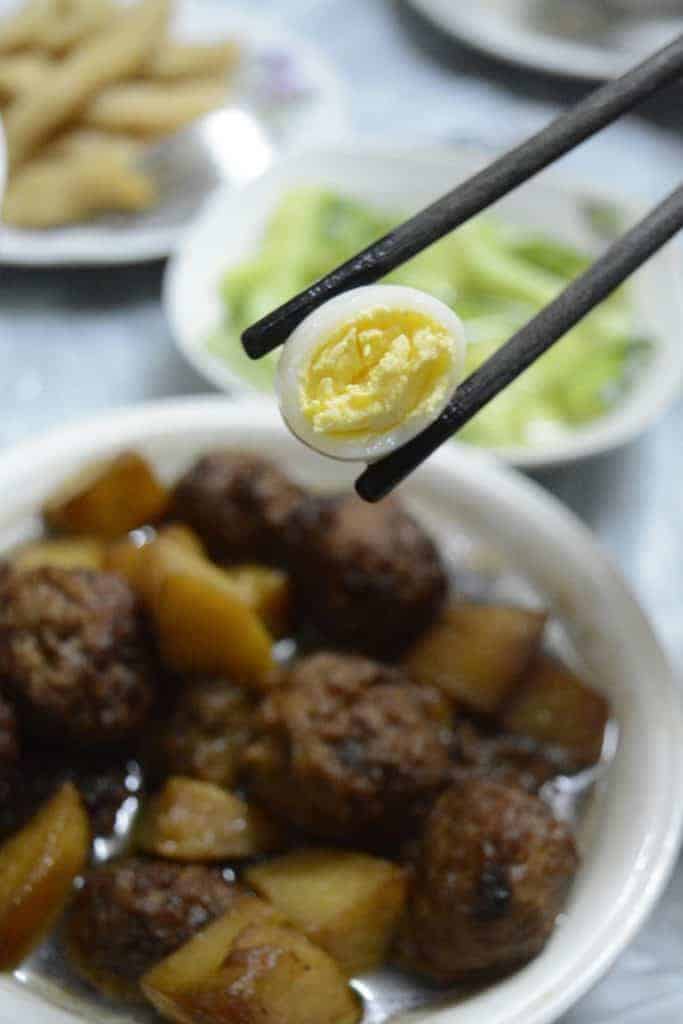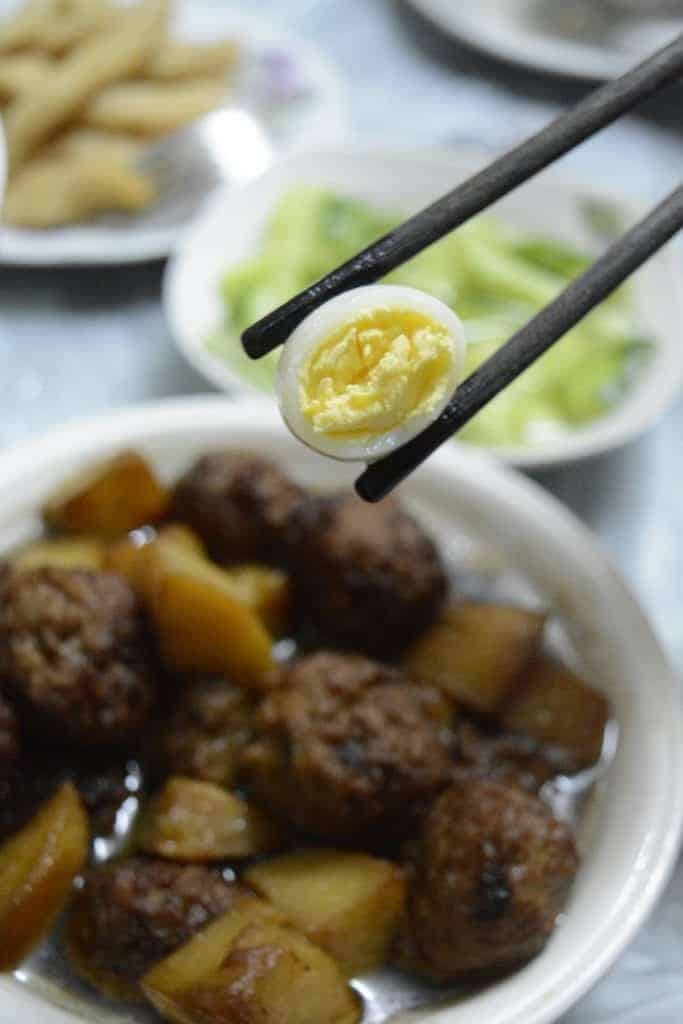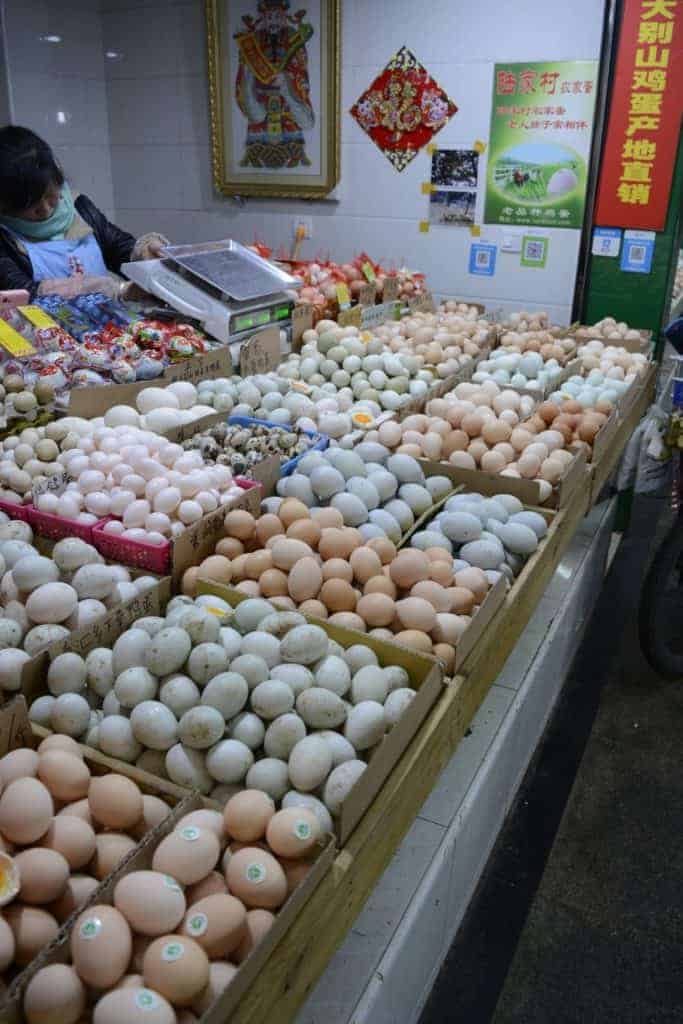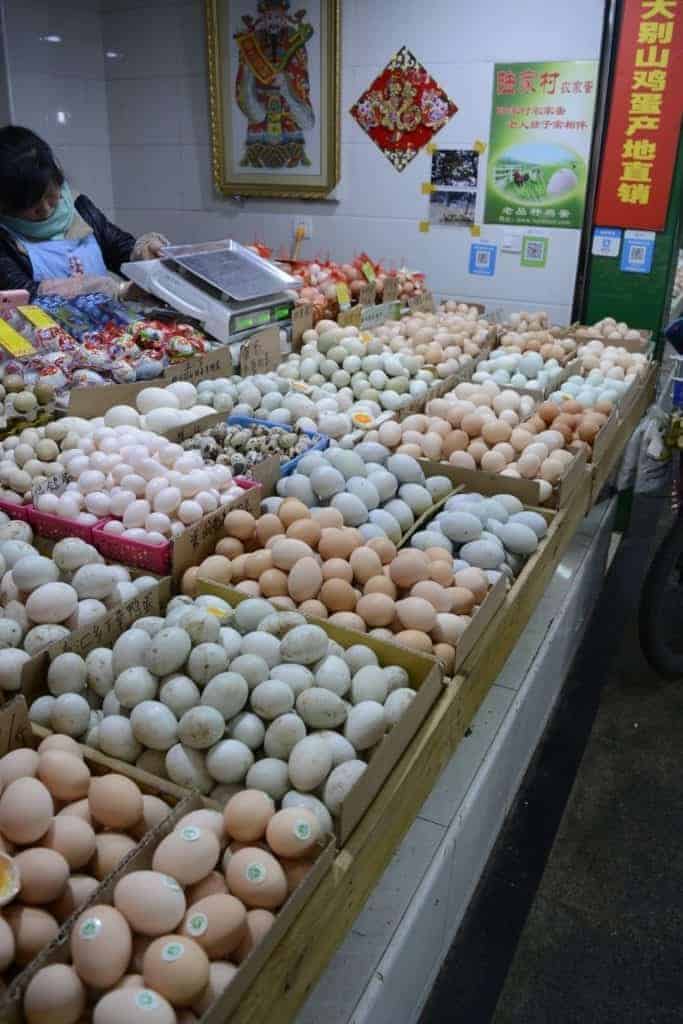 Exploring Shanghai
Man, oh, man, it was a full day of checking out nooks and crannies of Shanghai! With our amazing guide,  we learned more about life here than we could have learned reading a book! Don't even think of doing it on your own because of so many issues including language barriers and just the sheer size of this city (23 million people!),
Just a thought for today: "To travel is to take a journey into yourself." – Danny Kaye
The day started with breakfast, and I was like a kid in a candy store wanting to try all the new flavors for breakfast. So, what did I choose? Well, one dish was a Malaysian dish, Curry Laksa. A delicious combination of vegetables, prawns, coconut milk, tofu and vermicelli! Honestly, I do think I can closely replicate this dish as the chef was so kind to share the recipe with me!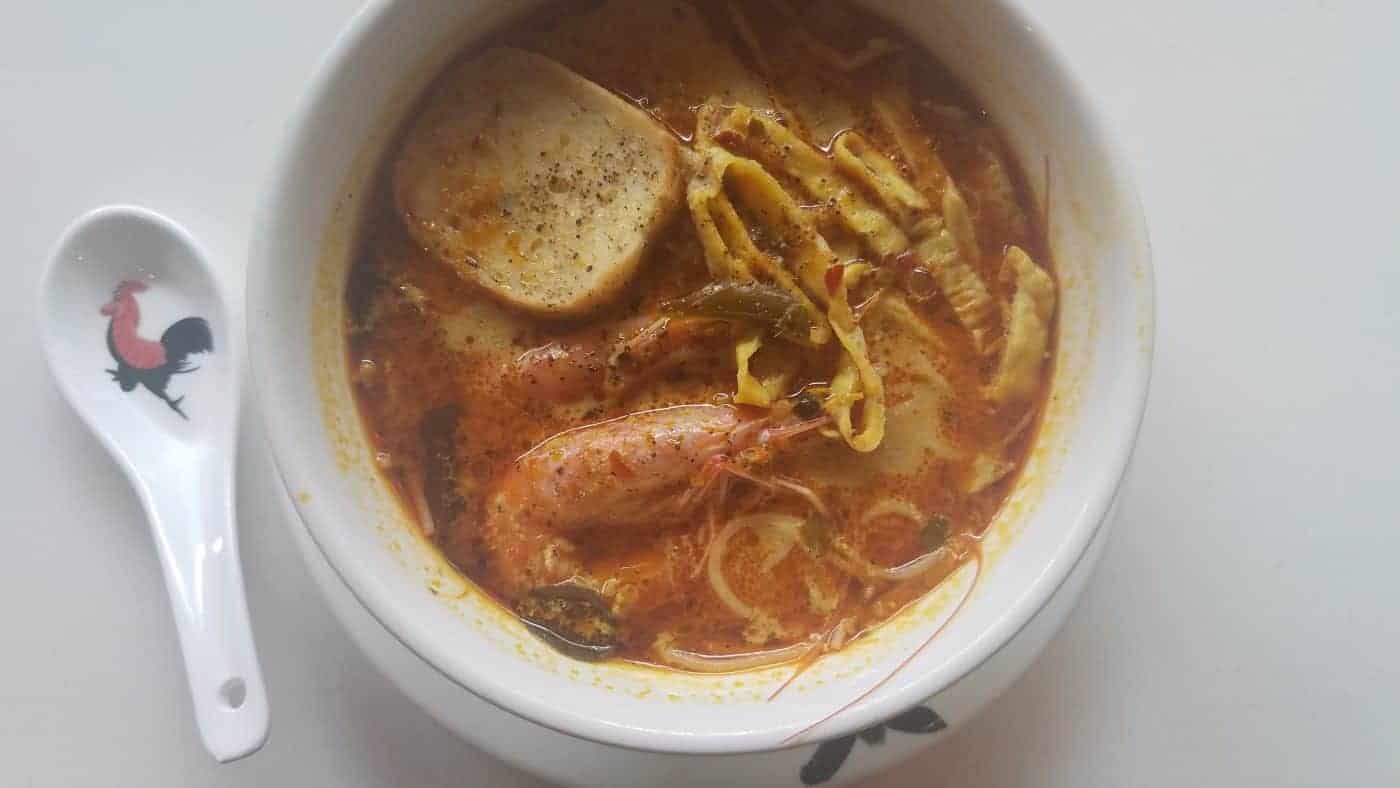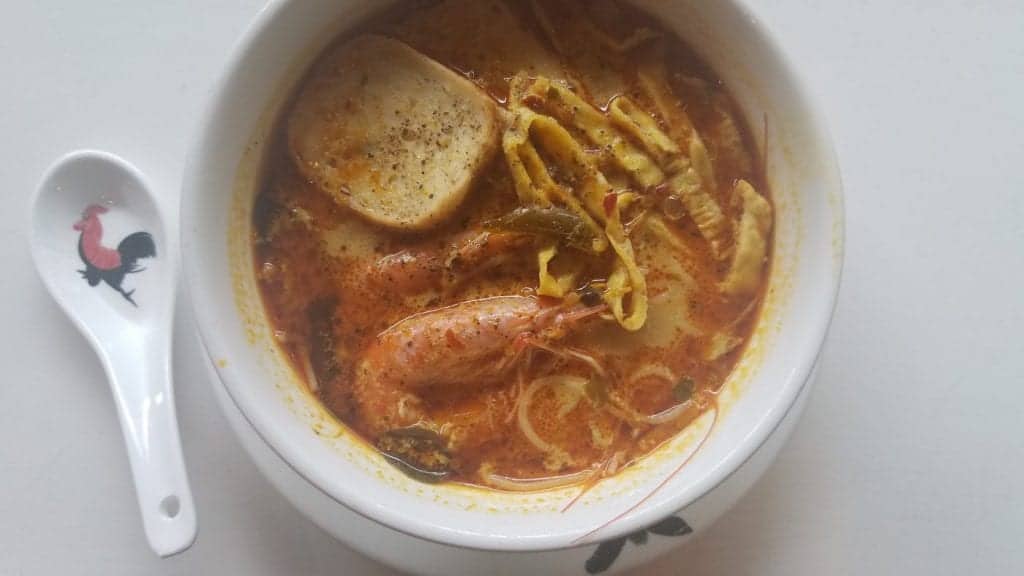 Retirement age in China is 55 for women and 60 for men. What do these probably vibrant people do after that? Well, many go to the park and dance and do a form of Tai Chi everyday. First stop, Fuxing Park, in the French Concession area of Shanghai, and it was bubbling over with people, mostly older. And, all were in some form of activity, movement, small singing groups, even if they were standing, they were moving something getting exercise. There was a fair share of folks pushing strollers and with young children, probably many the 'young' grandparents. And, yes, Ben and I joined in on the dancing in the park!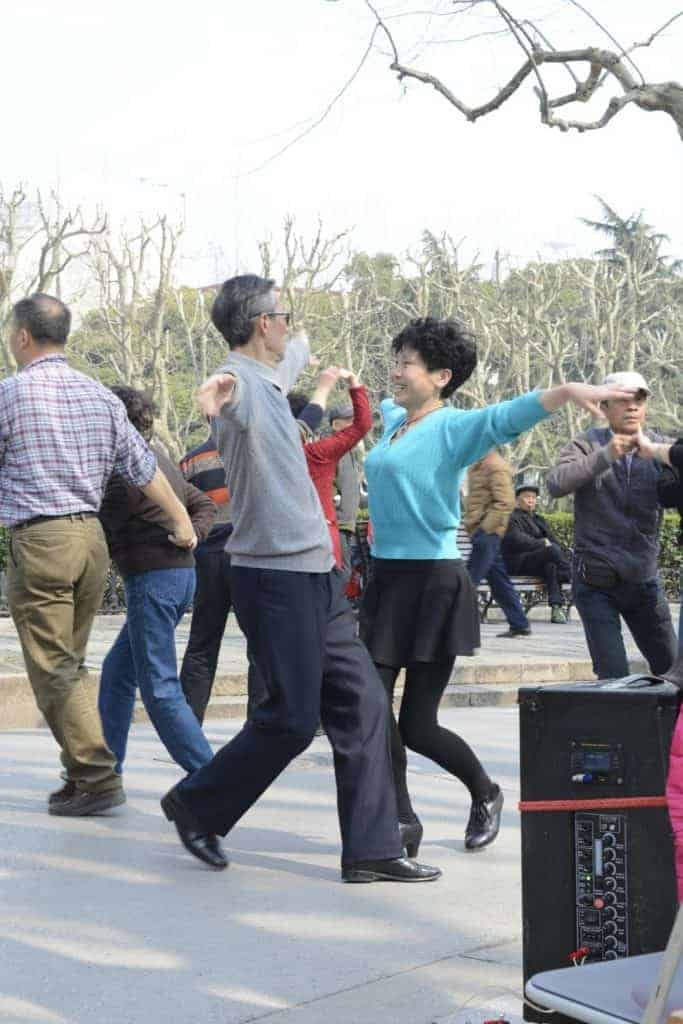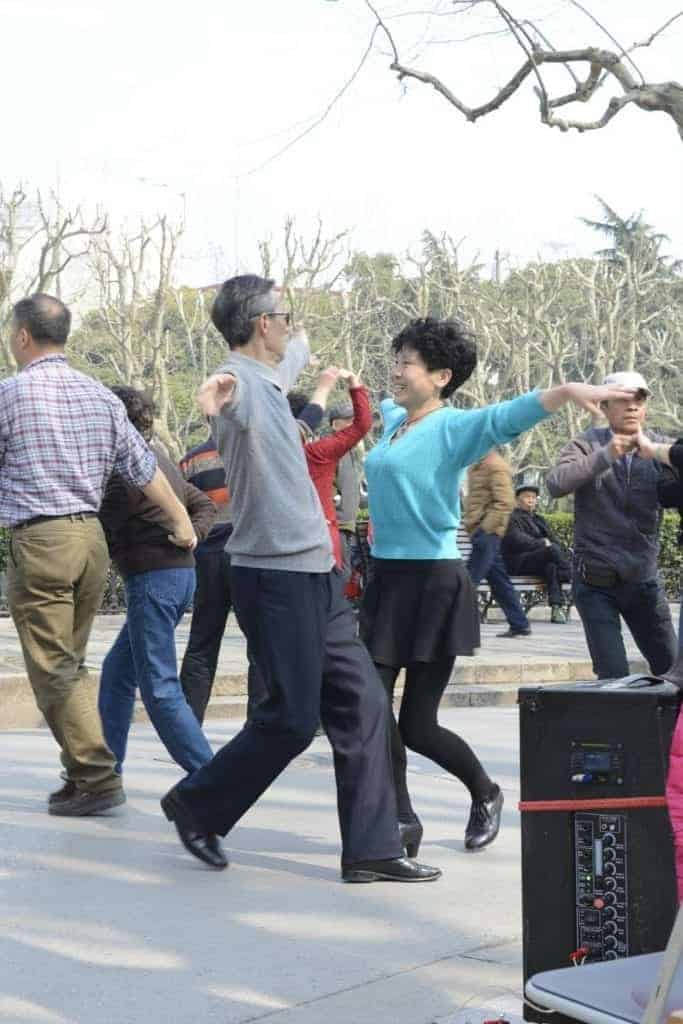 Meandering through Tian Zi Fang, a cozy way with art studios, boutique shops and overrunning with Asian restaurants, hip, chic and beaming with fabulous aromas, made me feel like I was in the 'souk' in Marrakesh. The narrow streets were winding and turning, crowded with people, overwhelmingly Chinese. I could have spent days there exploring and tasting!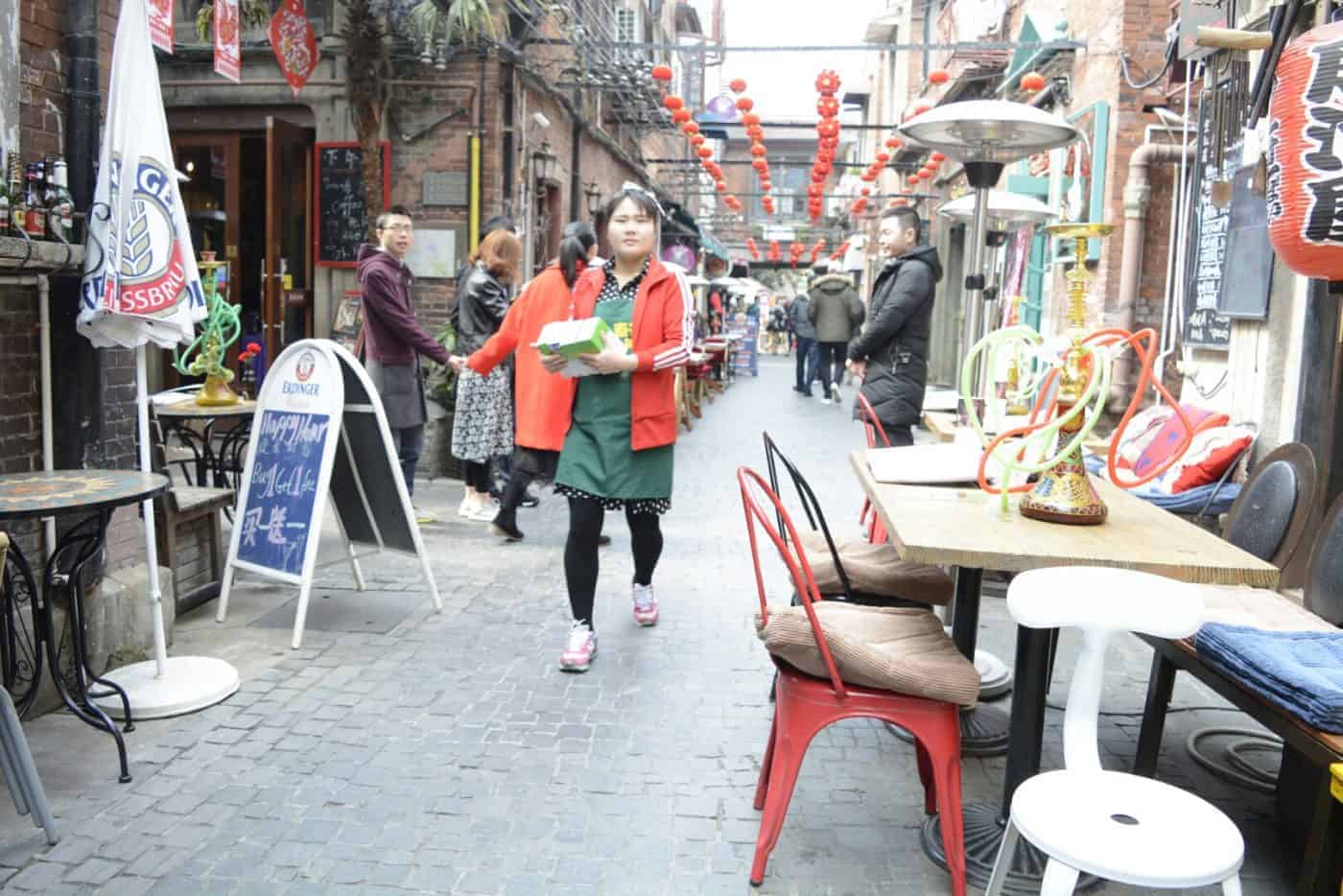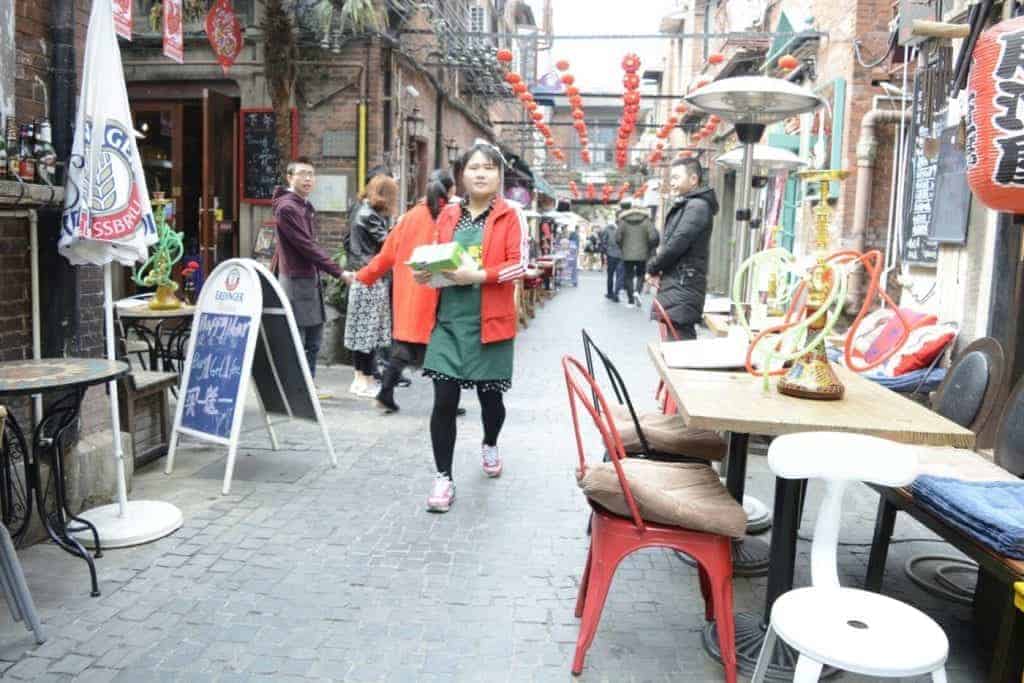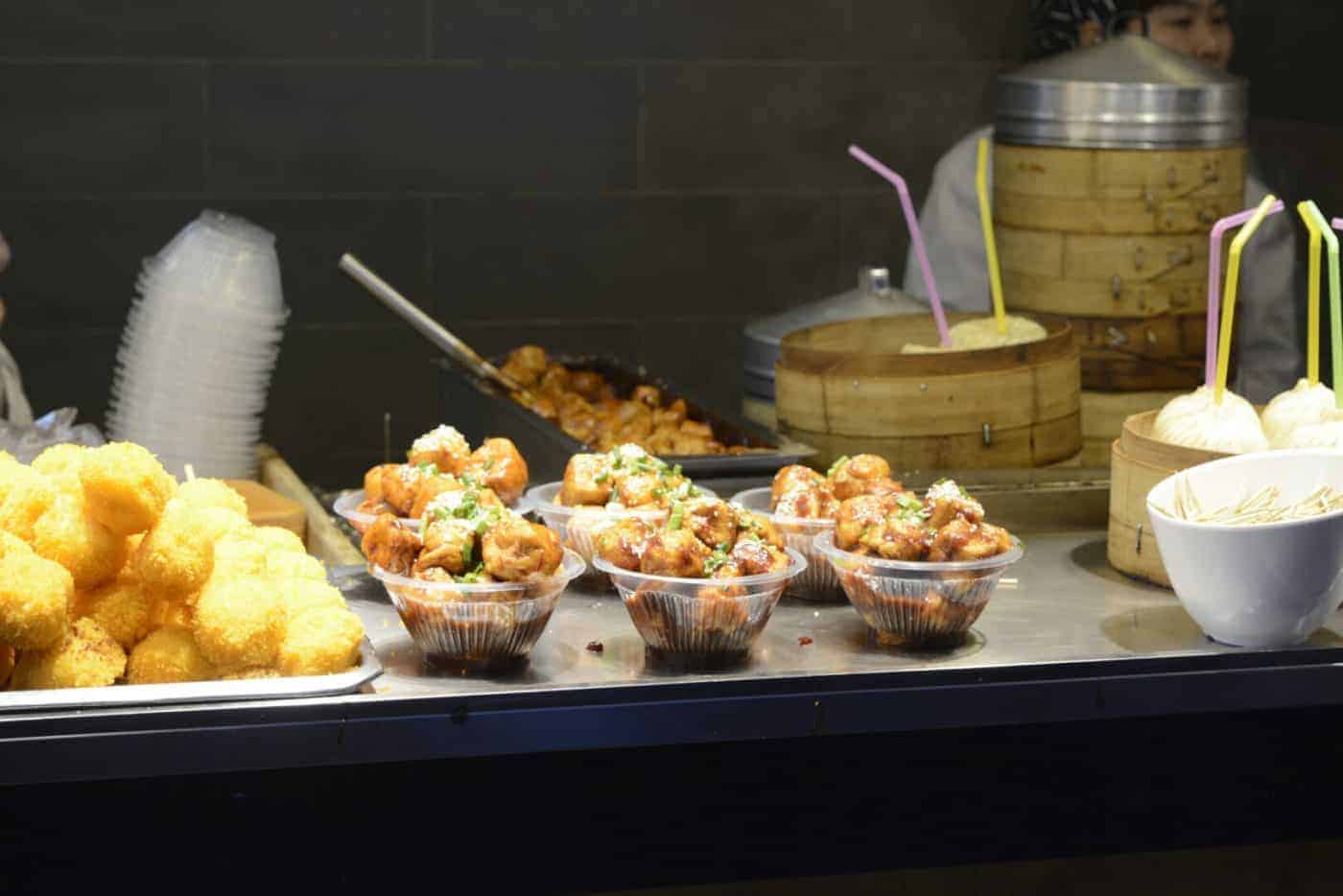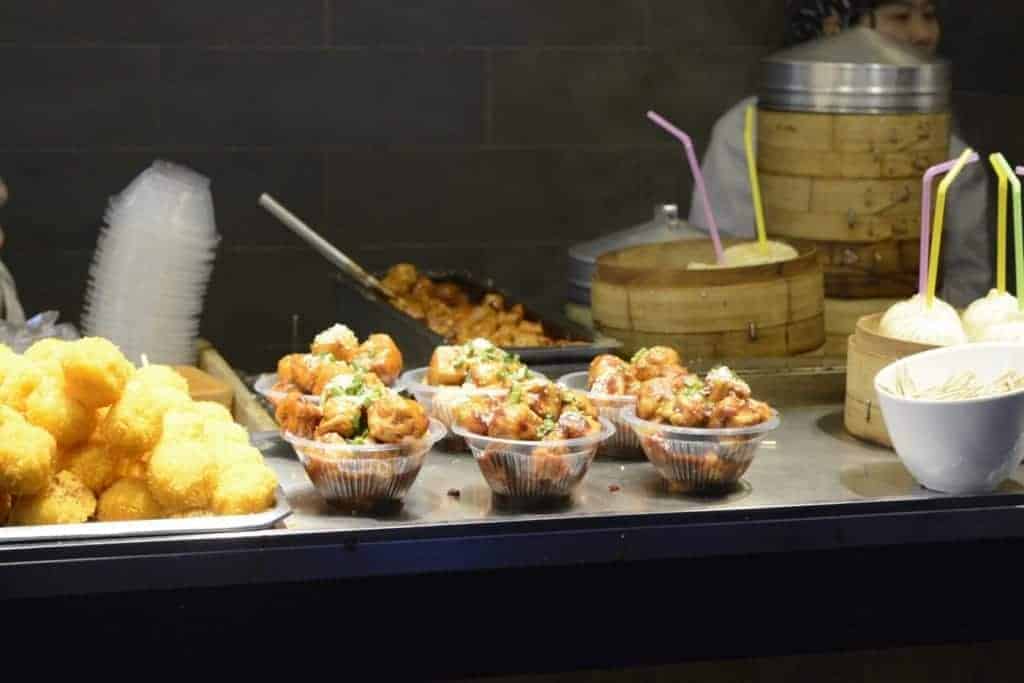 Oh, McDonalds has competition! It's Yang's Dumpling! A chain of dumpling fast food restaurants, we stopped in a mall to taste the famous dumplings that are freshly made. But, one thing's different, after they're cooked, they're pan seared in a hot as hades huge pan (about two feet in diameter) and served with a crusty golden brown bottom. OMG! These were smokin' heat hot inside and fabulous! We had two kinds of soup (curry and spicy) and pork and shrimp filled dumplings. Another popular fast food, 'Dry Hot Pots' from Chen du…I can't wait to create my version of it for you. The only problem, I don't think I can find the variety of ingredient options, kind of like being at SubWay and building a sandwich, like lotus leave root thin slices!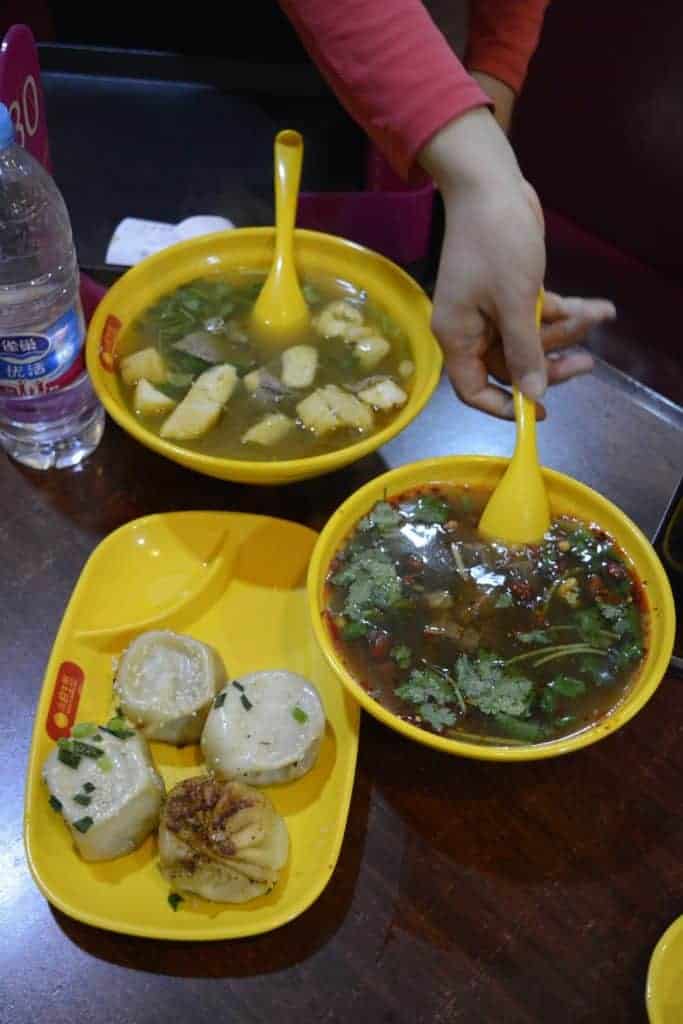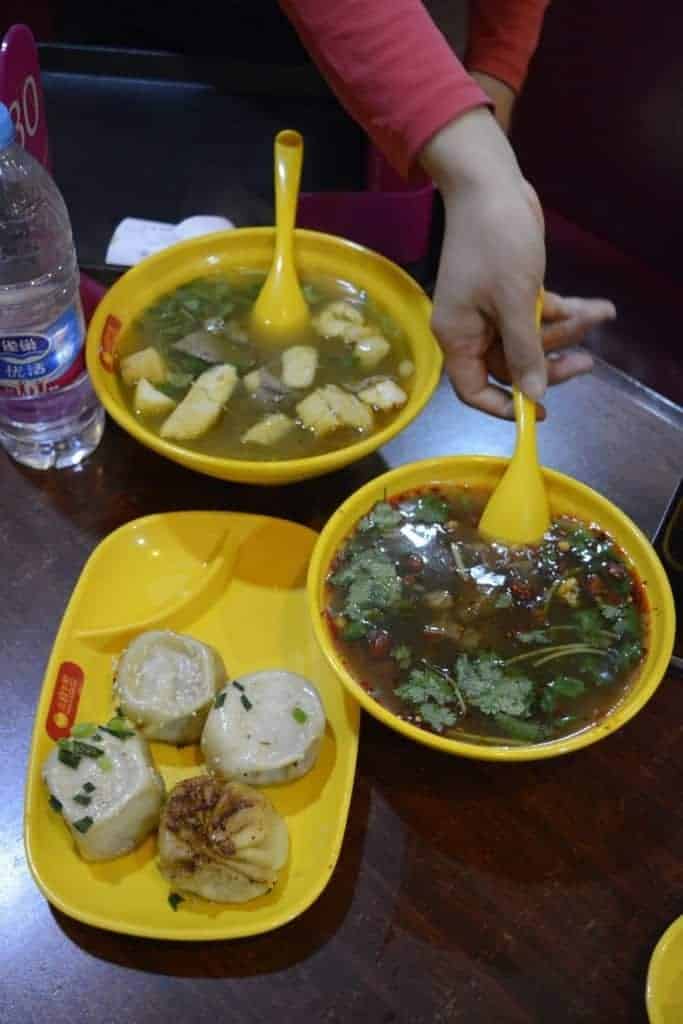 The local market, TaiKang Market, was steeped with fresh food, meats, seafood, and more. Interestingly, most of the customers were older folks rather than Millenials and GenXr's. Where do they shop? The grocery stores. And, boy, oh, boy, you can see how upscale this one in a mall is. I could have stayed here another few hours…yeah, I love grocery stores and fresh markets!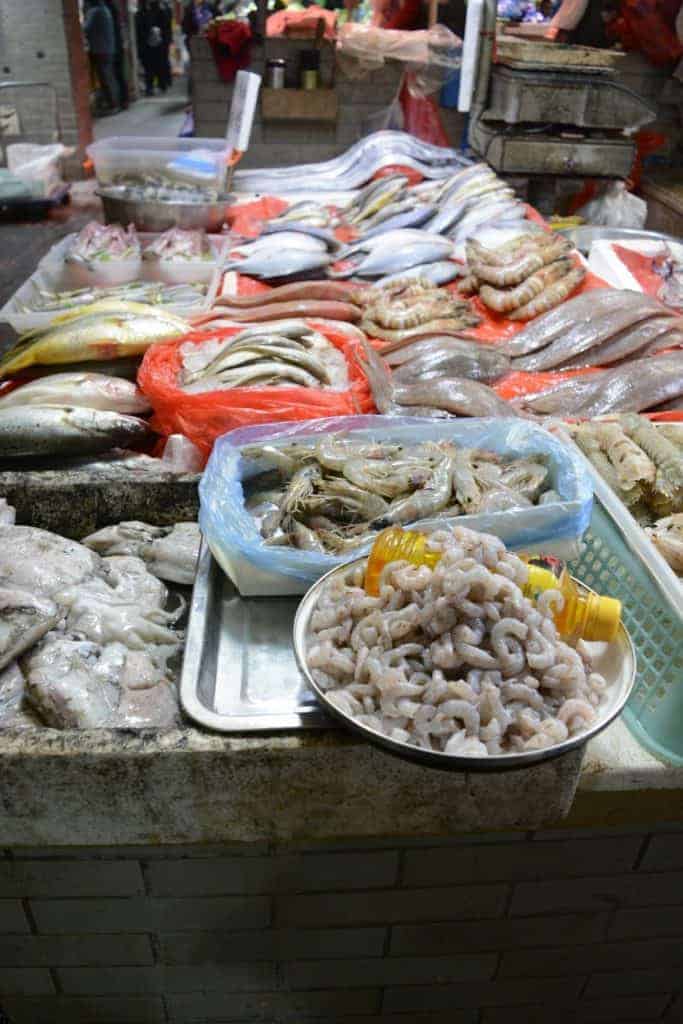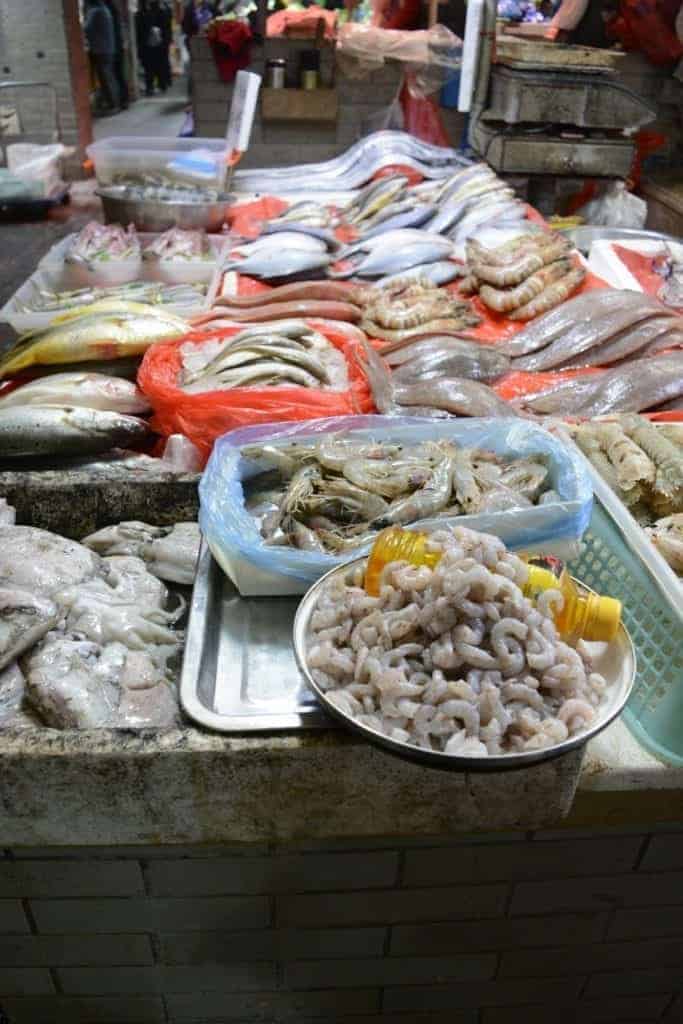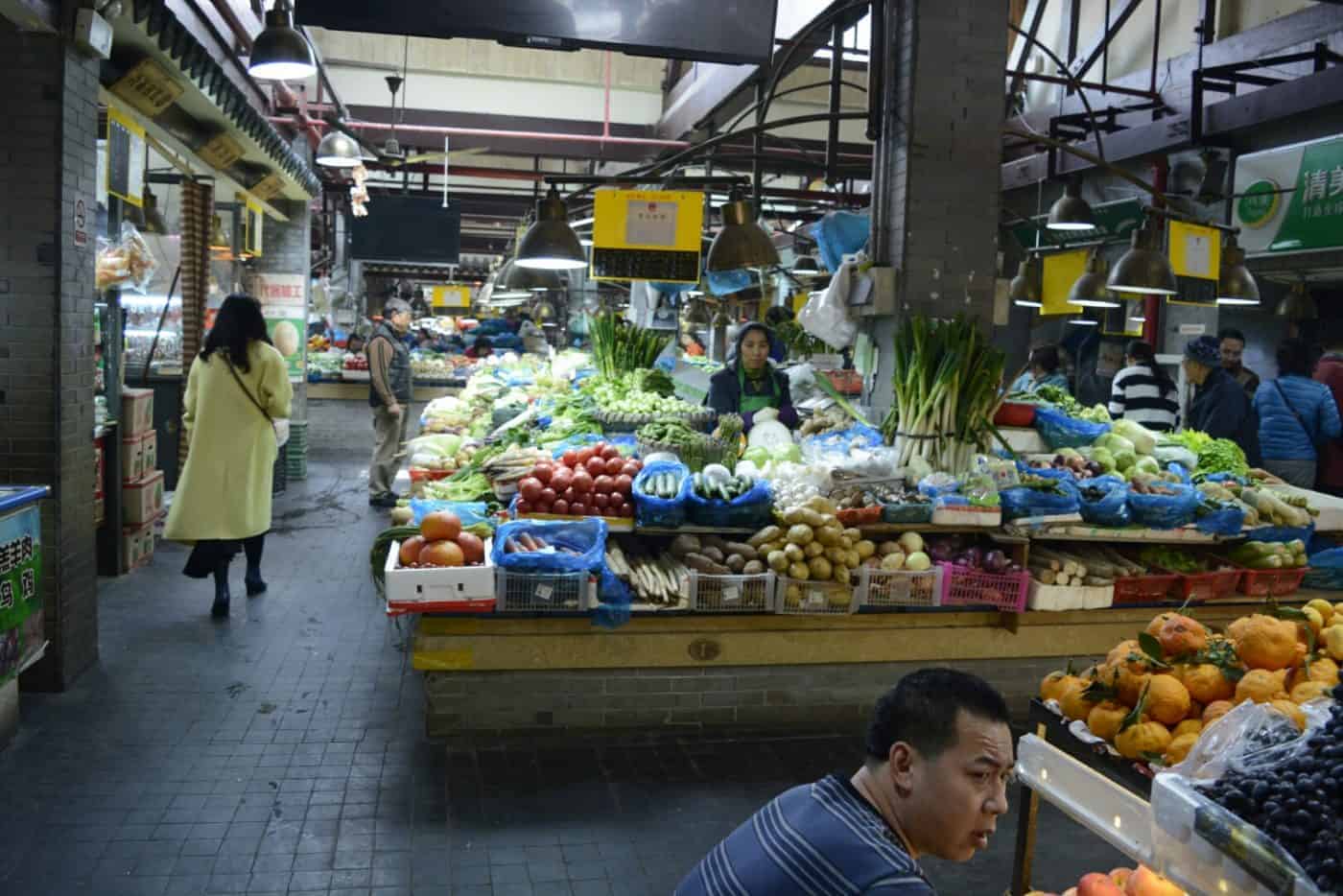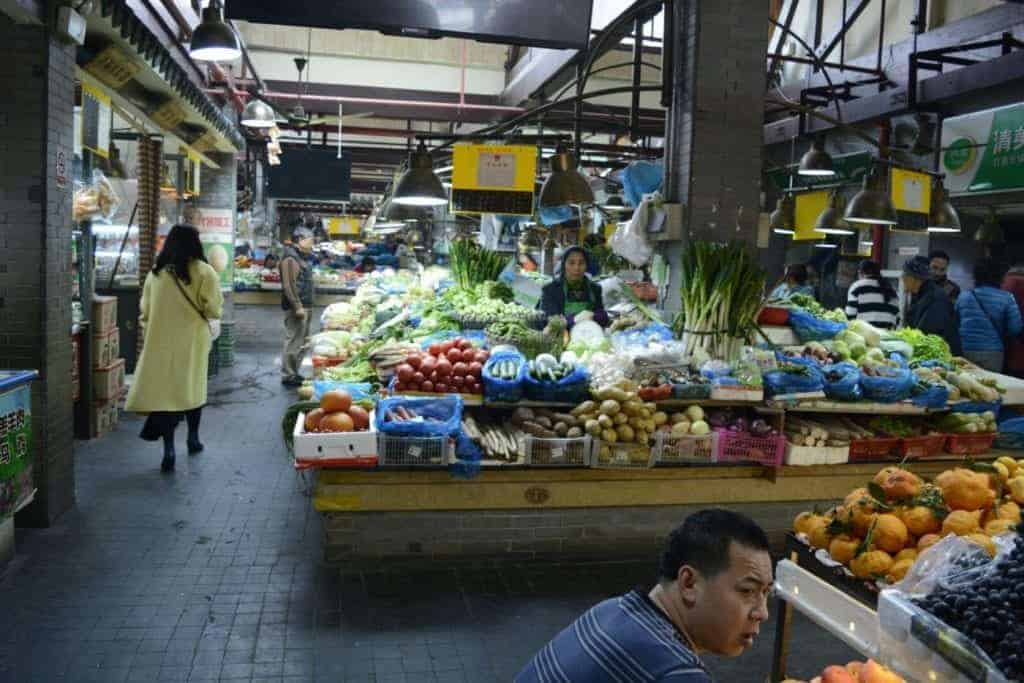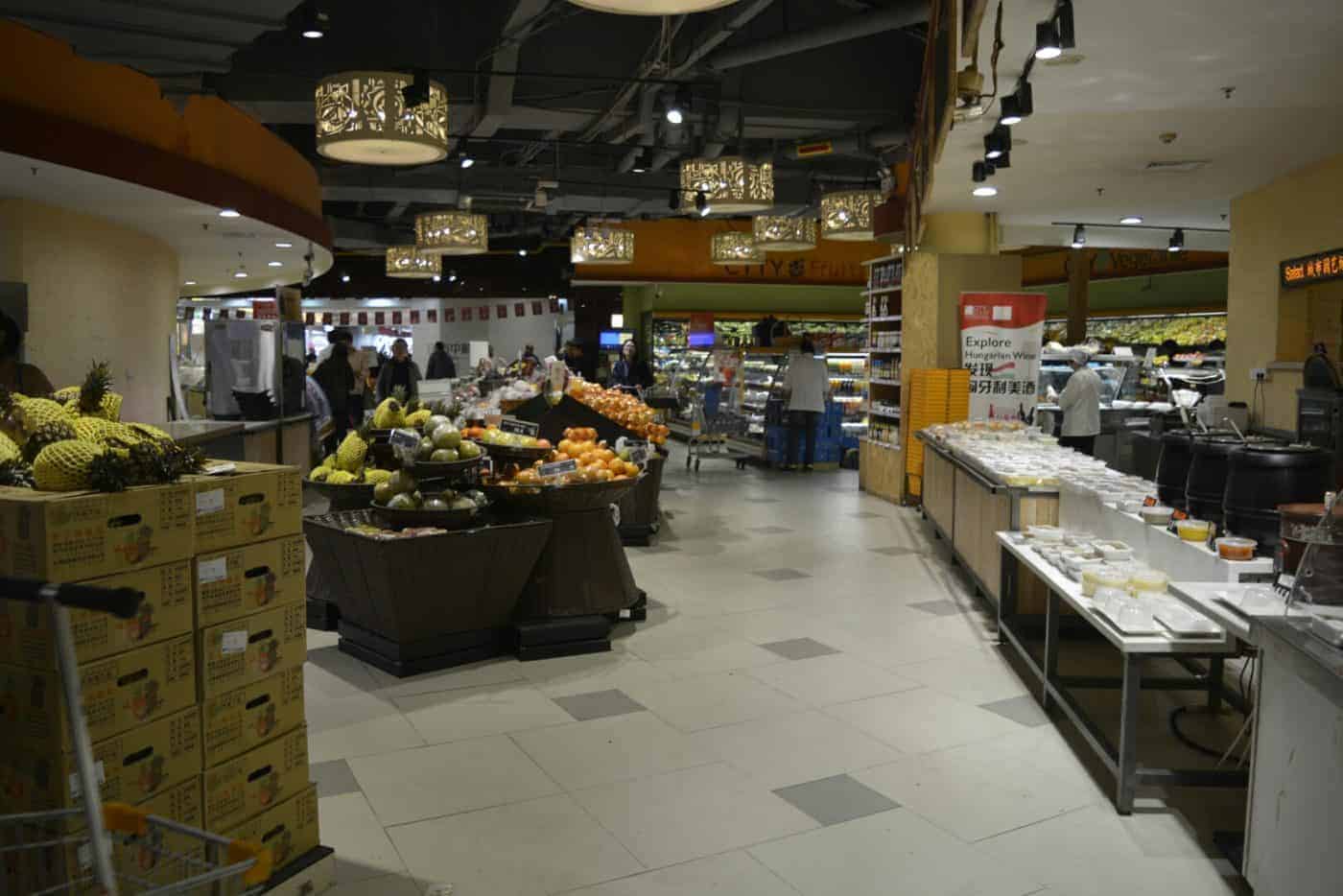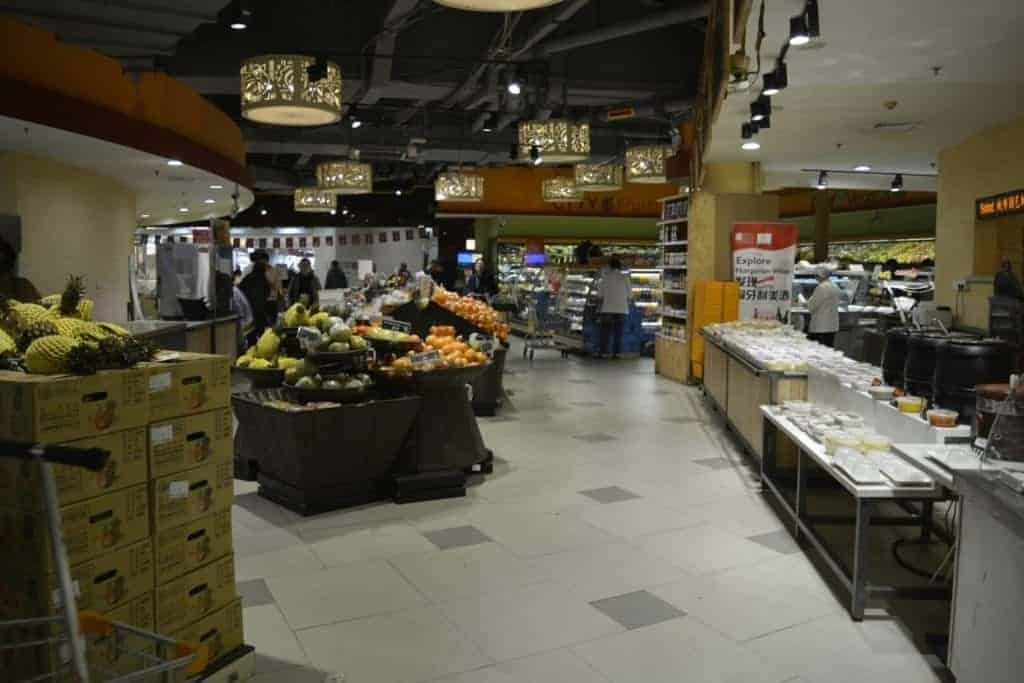 What does Xin Tian Di mean? New Heaven & Earth. Yep, it's in the center of the French Concession and it means a 'new world'. And, that it was. I felt like I'd stepped into a time warp, a place that was something from a big screen cinematic blockbuster. I'm talkin' retailers like Harry Winston, Versace, and restaurants like Wolfgang Puck. It's hard to believe you're in a Communist China.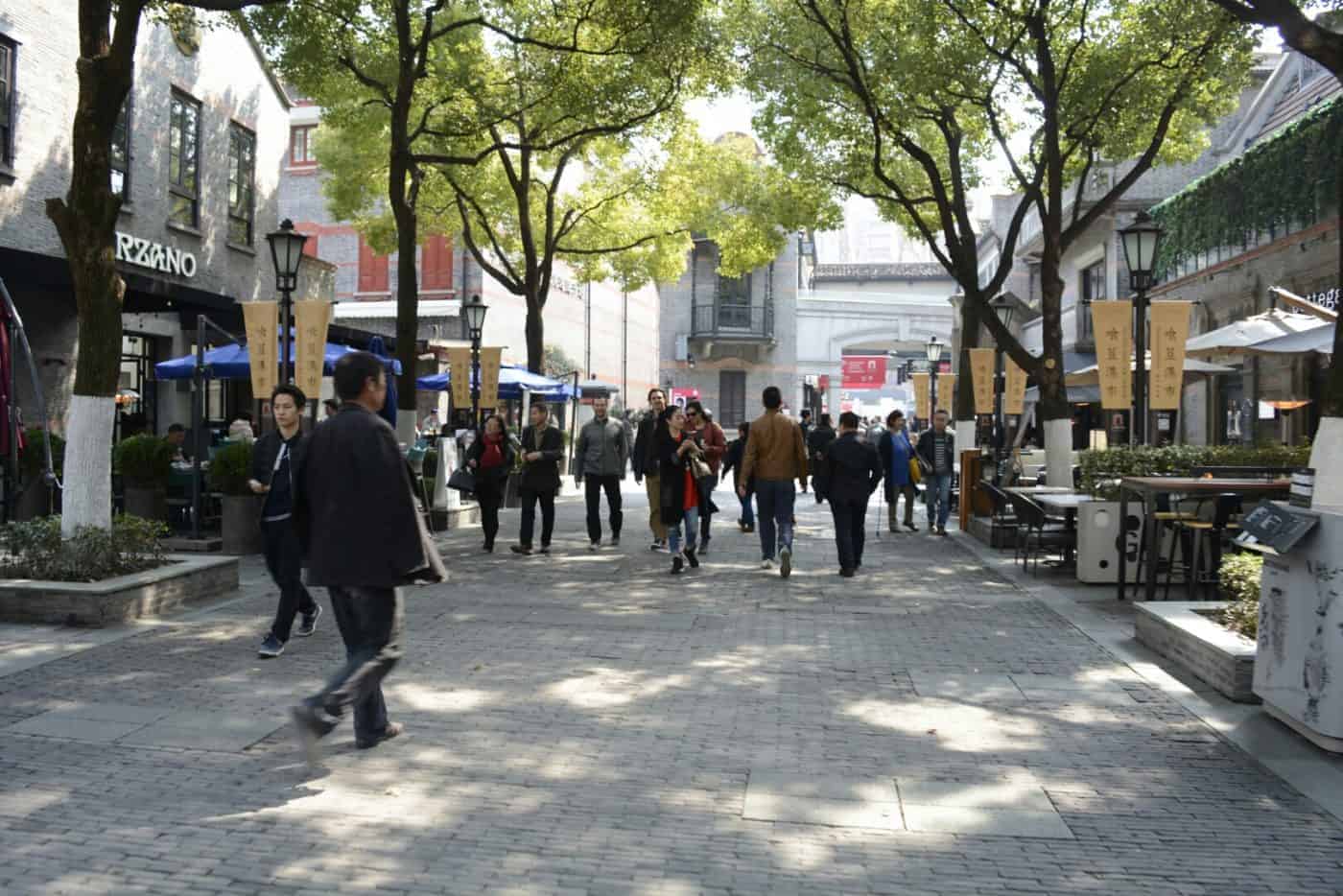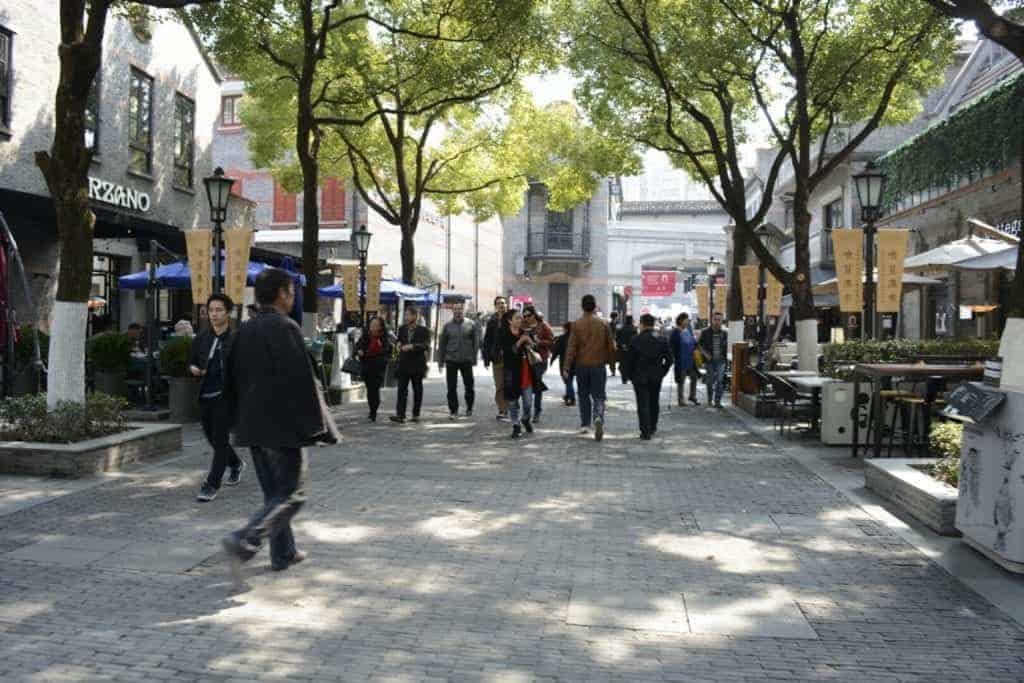 Tasting Kung Pao Chicken, Bashu Hot Fish, Pickled Vegetables and Spring Rolls at Lu Bo Lang, a Michelin Guide restaurant meant waiting and waiting. Yep, the line snaked around the jam packed Old China town location. Thank goodness we had reservations, so our wait for the amazing flavors was short. Lu Bo Lang is a considered a 'Bib Gourmand' recipient for the Micheline Guide. This means that it offers "exceptional good food at moderate prices," meaning restaurants we can actually afford, where diners can enjoy a full meal for under RMB200."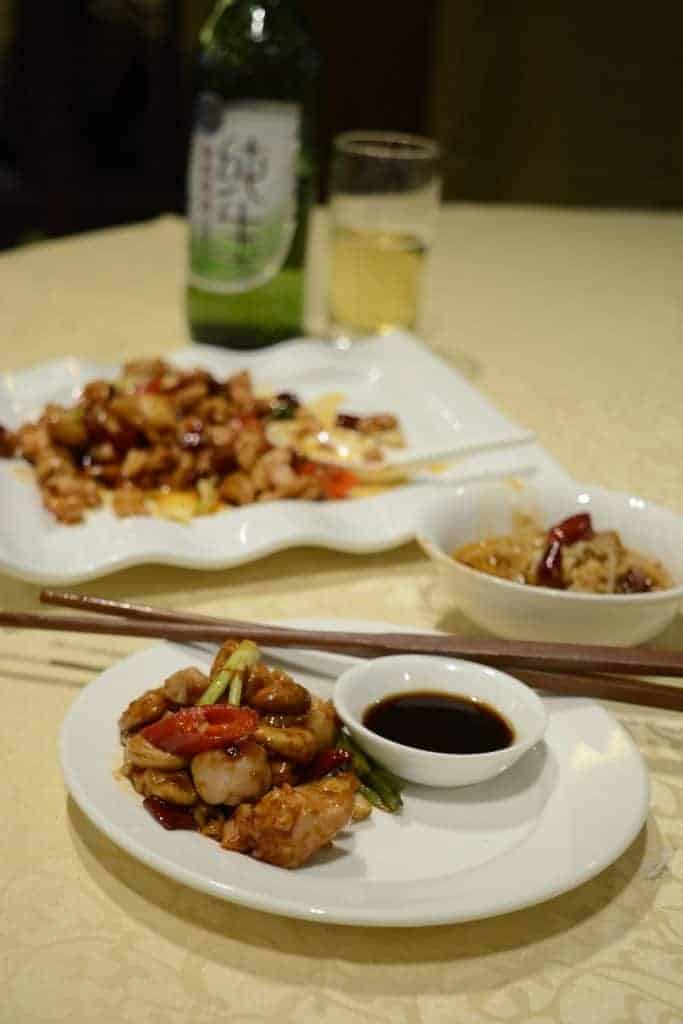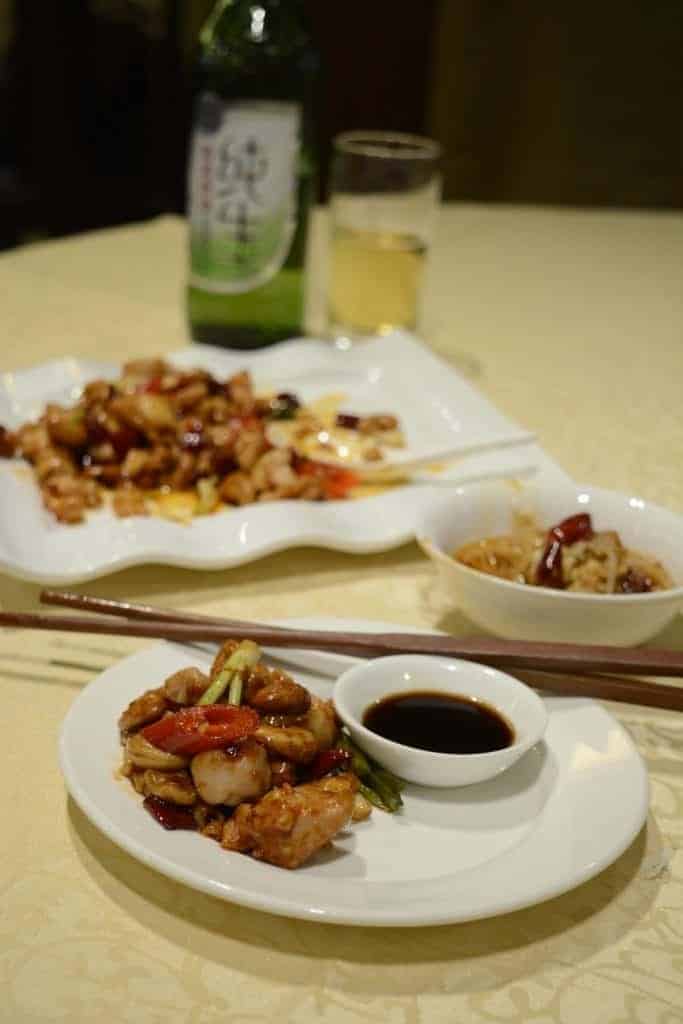 Rounding out the day? The Yu Shanghai Tea House for an authentic tea ceremony for the three of us. What floored me were the 'blooming' tea leaves. Yes, right before my very eyes, I watched as beautiful tea flowers 'bloomed' into full size flowers in hot water that was poured into a large clear wine glass. And, after tasting the six teas, my favorite was the Lychee Black.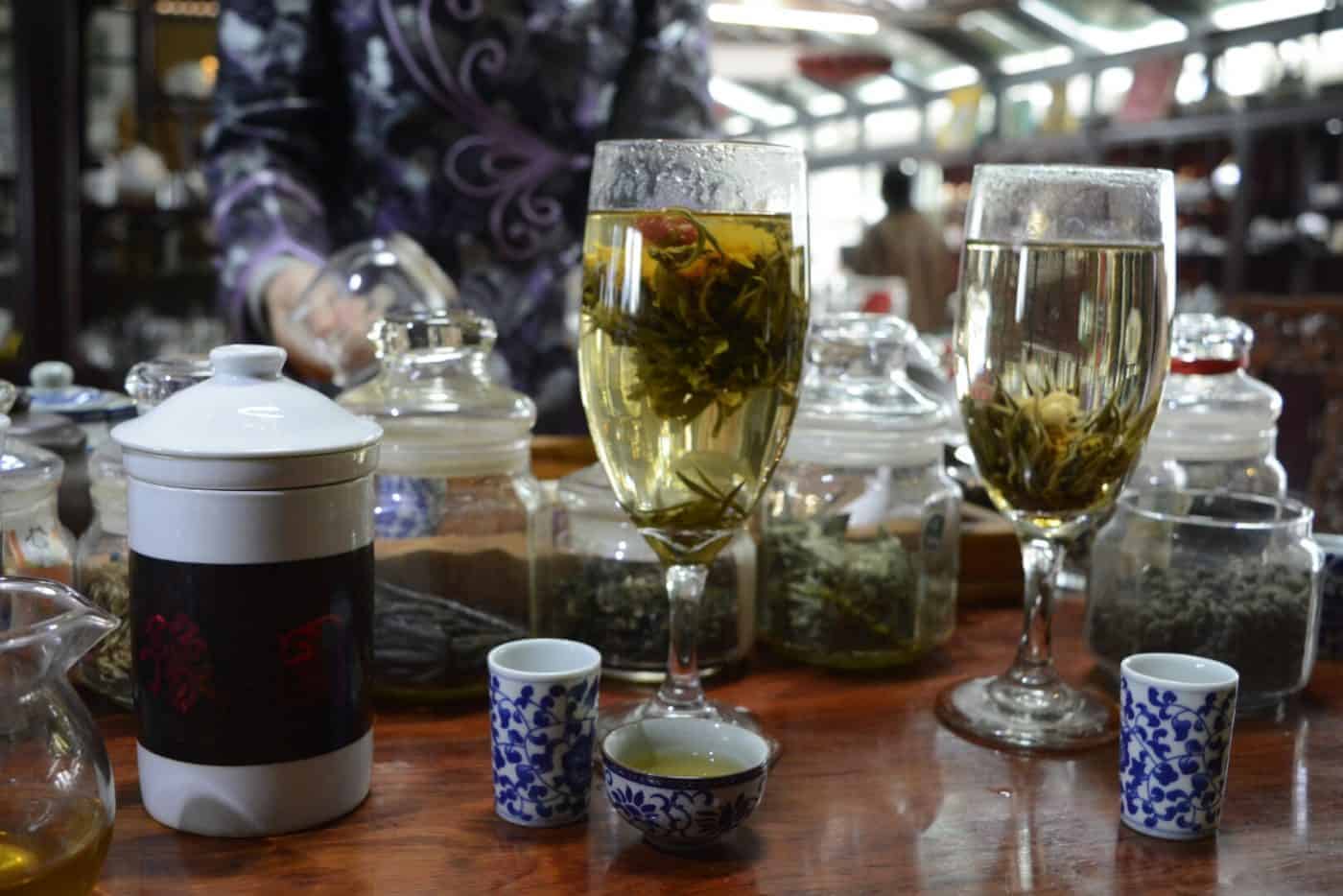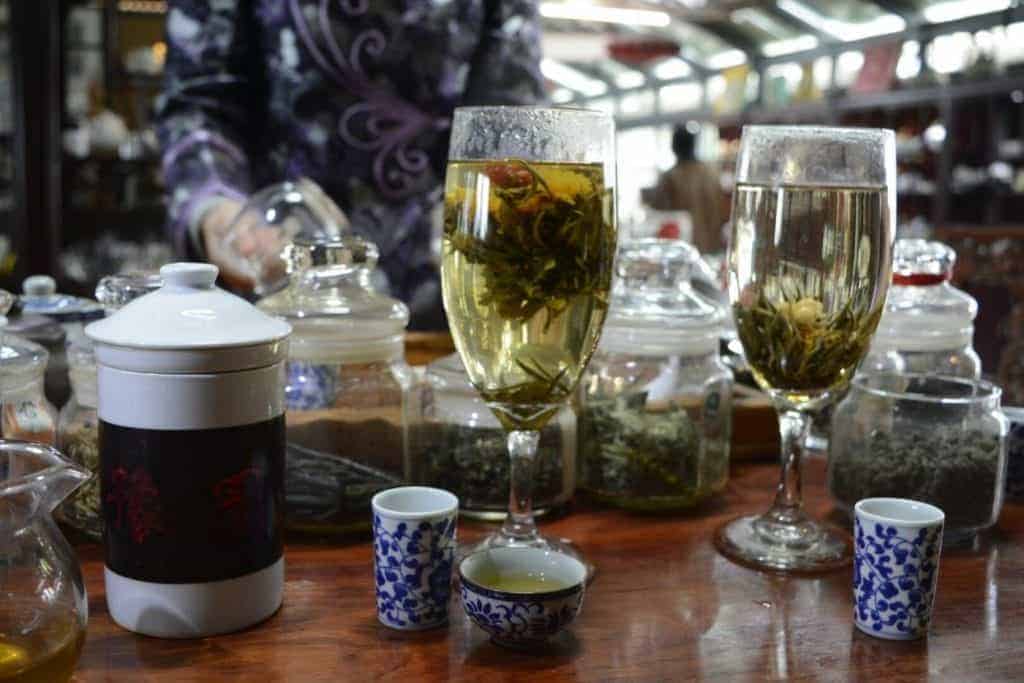 Finally, a meandering through the Jade Buddahist Temple.
This was a first for me. I'd never stepped inside a Buddahist Temple. And, while it was quite beautiful, it felt commercialized to me. Its opulence was evident in the massive size of the Buddahas. I think what intrigued me most was the fact that fresh fruit is left on the altars for the buddahs. This offering of food on an altar is an act of connecting with the spiritual world. It is also a means to release selfishness and open the heart to the needs of others. It's one of the oldest and most common practices in Buddahism.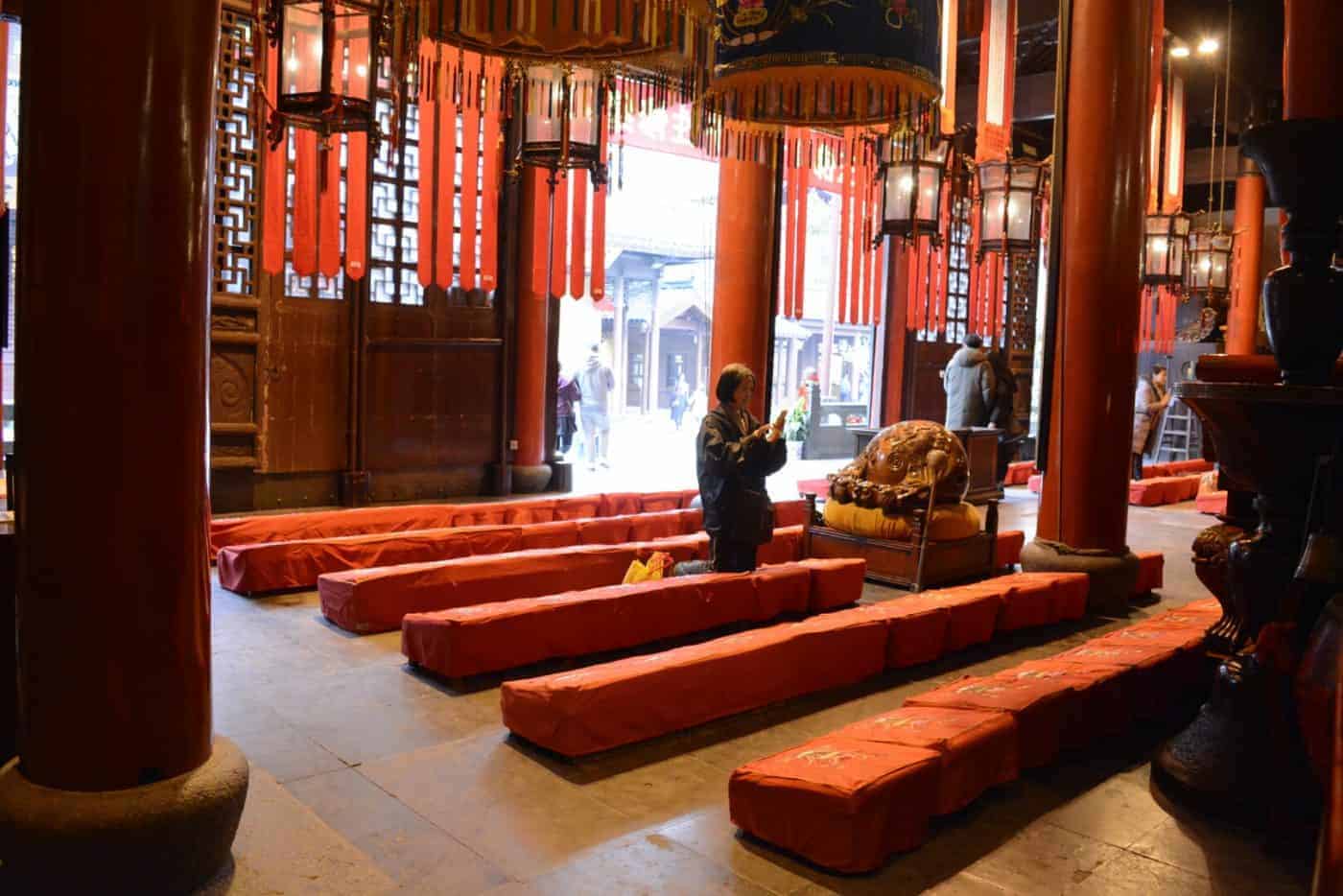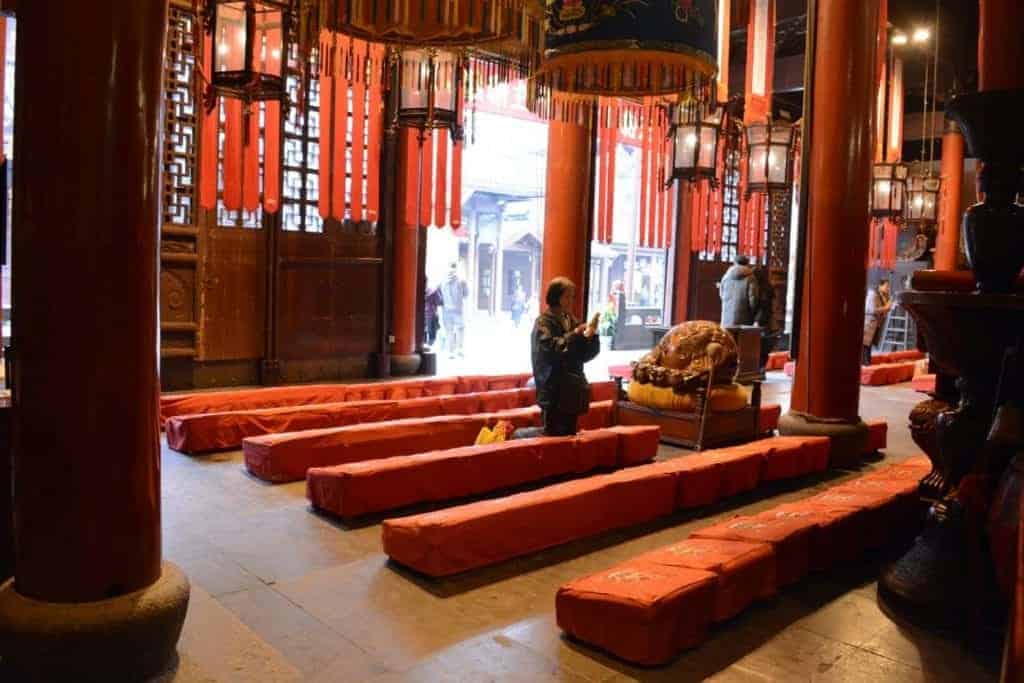 First Experience
Eating black fungus salad. 凉拌木耳
While the name might initially turn you off, be open minded. When I saw it, I thought, let my adventurous palate explore what this delicacy is. I mean I knew it wasn't anything that would 'hurt' me, like the usual connotation with fungus. It's made with the 'wood ear' mushroom, edible fungus, and it does kind of look like an ear.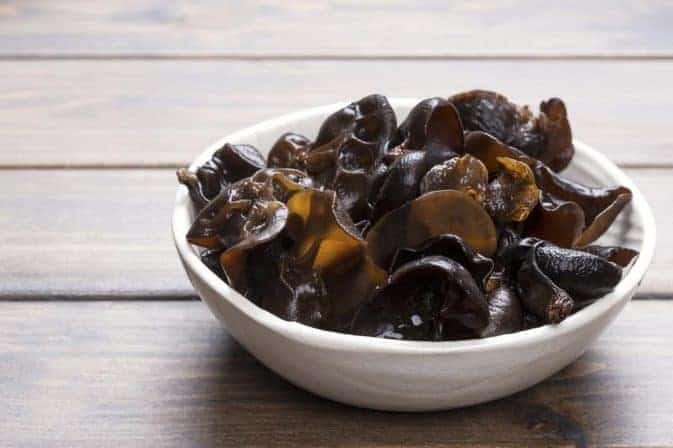 It's got great nutritional value and is rich in dietary fiber. For me, the texture was rubbery, chewy and there was a distinct saltiness to it. It's an appetizer not usually found outside of China where it's very popular. Here's a great recipe for it from Omnivore's Cookbook! I was really glad I tried it. In fact, I went back for seconds!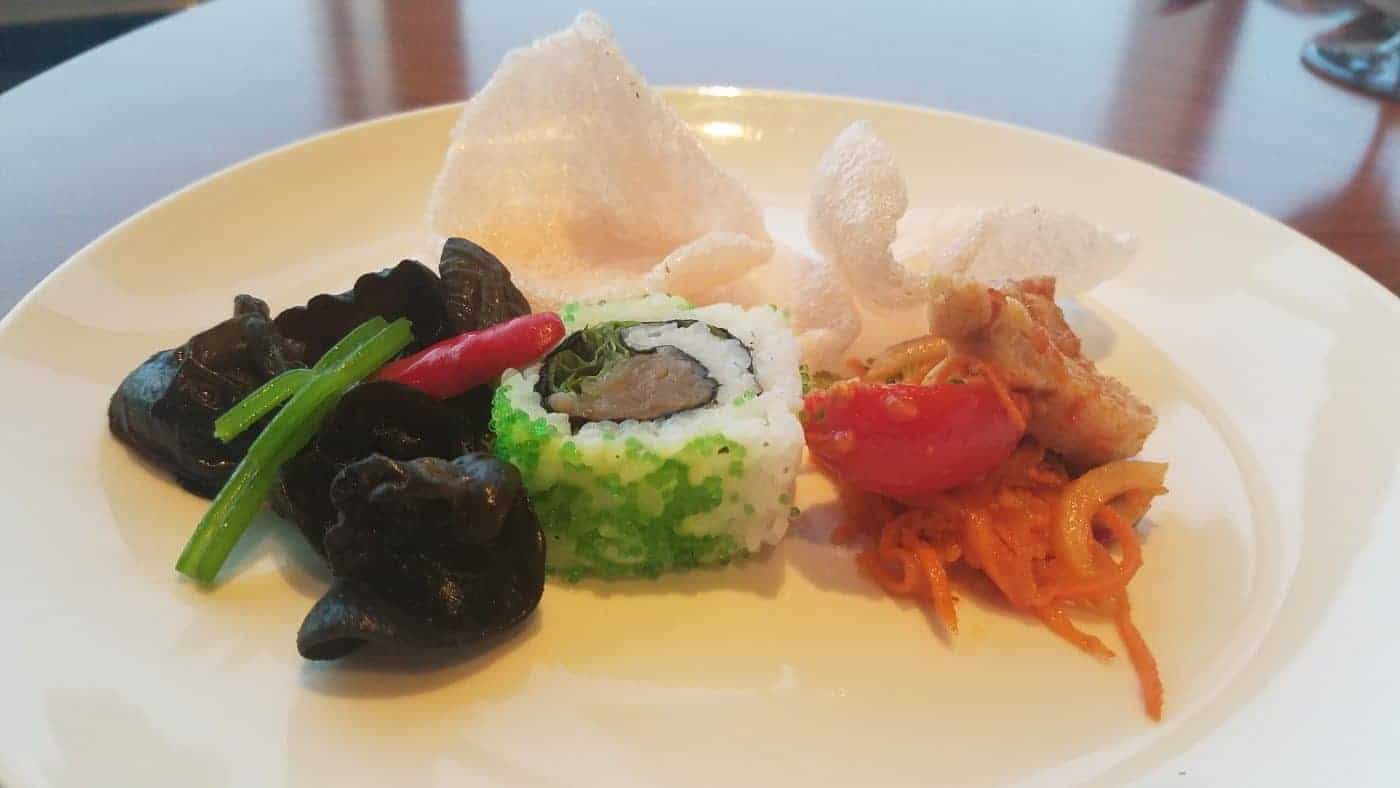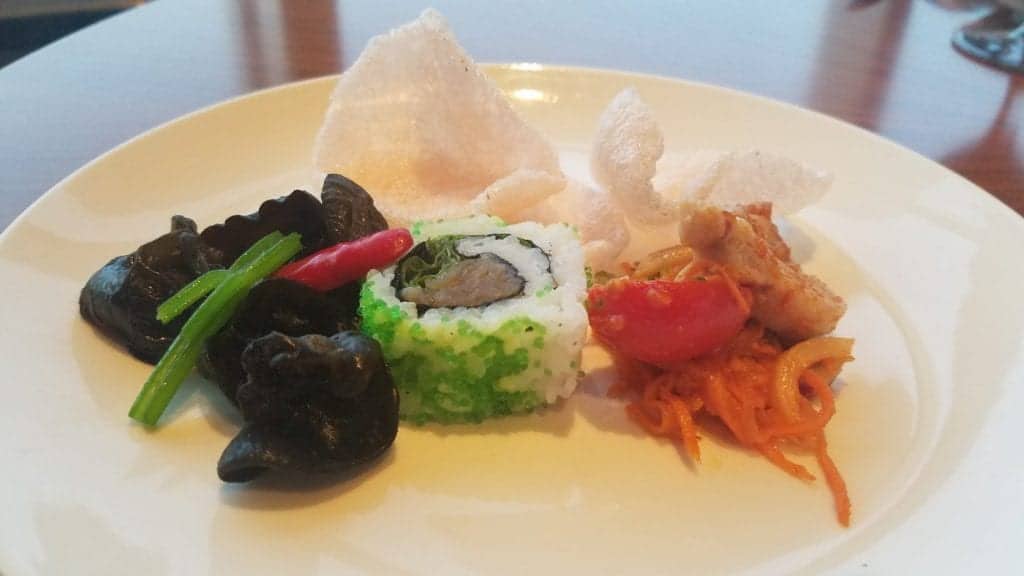 Another first eat. Prawn crackers or chips. Prawn crackers are made by mixing tapioca powder, prawns, and water. They're light, crispy and airy. Rather addictive! It's like you're not eating anything at all, but crunchy air! Kind of like our Western chips and things like Doritos, they're a very popular snack food. You can make your own or buy them on Amazon!