Roasted Peppers and Onions with Parsley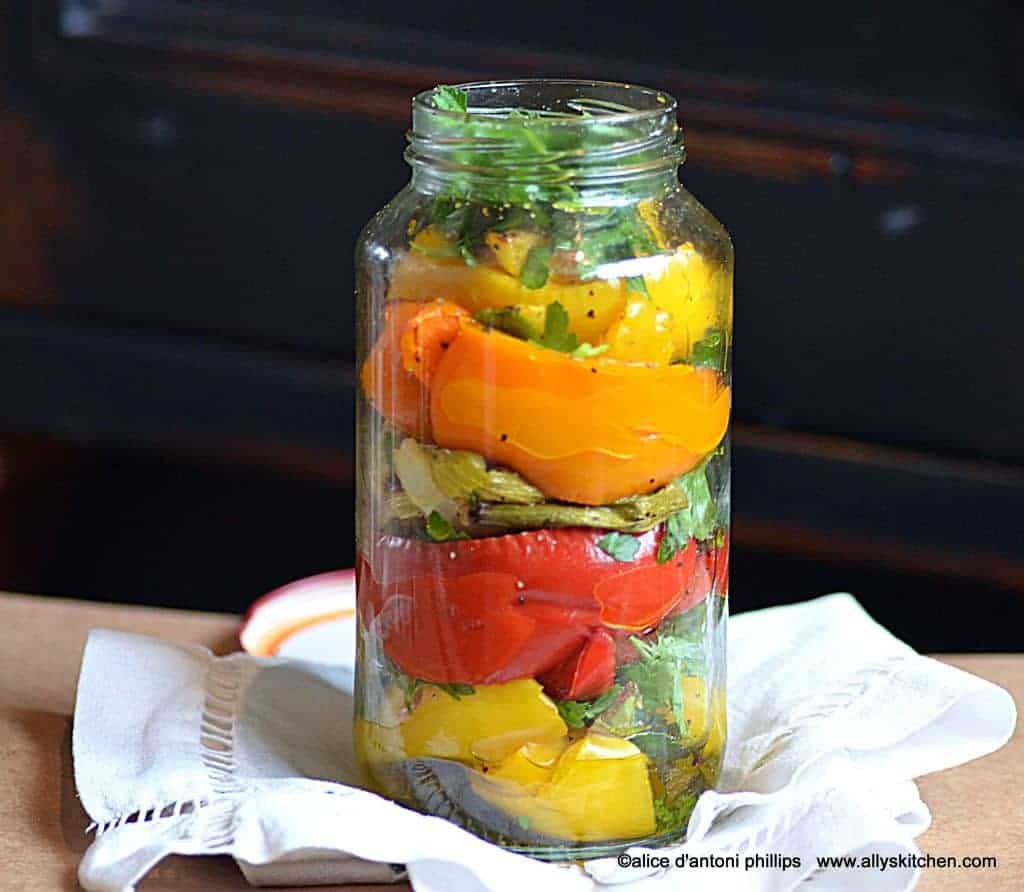 This Roasted Peppers and Onions with Parsley is an excellent source of vitamins. With its vibrant color and simple flavor, is sure to become a staple.
Roasted Peppers and Onions with Parsley
I love to create recipes that have an extended shelf life and recipes that have versatility. And, these roasted peppers and onions with parsley fill the bill on both points.
Keeping them refrigerated for a day or two before using really helps all the flavors to combine and jell into something even more tasty. There are so many ways to use them, too! From sandwiches to anti pasta trays to putting in salads or using as a complete side for something like a grilled piece of fish, chicken, pork, lamb, or a steak. You find these roasted peppers in the grocery deli at the salad bars, but why not make them yourself, especially when you find bell peppers on sale!
Roasted Red Peppers
Today I want to offer you a recipe for a simple and very tasty preparation for the winter – roasted red peppers. Pepper is obtained with a slight sourness, moderately salty and sweet, and garlic and parsley perfectly complement it. The marinade is also very tasty. Roasted peppers with garlic can be served as an addition to main courses. Peppers can be taken in any color, peppers of yellow and red colors are especially tasty. It is advisable to take fleshy peppers and not very large ones. Try it, delicious!
Bell Pepper Roasted
The bell pepper roasted is very tasty, aromatic and festive. Such peppers are good as an independent dish and as an appetizer. These peppers can also be consumed in fasting. To make the dish look bright, I took peppers of different colours. A little bit of tinkering, but the result is worth it!
Roasted Peppers
Roasted peppers are a delicious vegetable snack. Roasted bell peppers with garlic are a great snack for a summer day. It cooks very quickly and has excellent taste. An especially tasty dish is whole roasted peppers with gravy. No one will be left indifferent by the stunning aroma of roasted bell pepper, which is not only tasty but also healthy since the pepper contains many vitamins.
Another super easy, delicious and healthy recipe that you should give try is Tuscan Baby Yukon Golds with Pecorino Rosemary & Parsley! xoxo ~ally
Rice With Peppers
I love the combination of rice with bell pepper, it reminds me of summer. The dish always turns out to be very tasty, even despite its simplicity. The recipe is a very simple, tasty and satisfying dish – rice with sweet bell pepper.
This rice with peppers can be served as a side dish for both meat and fish. It is also good as an independent dish. The side dish contains a minimum of calories, so it is great for people who adhere to a healthy diet.
Check out some other great dishes.
Buffalo and Chorizo Flatbread
Emerald green dipping olive oil
Picnic fresh italian green beans
Give this recipe a try! xoxo ally!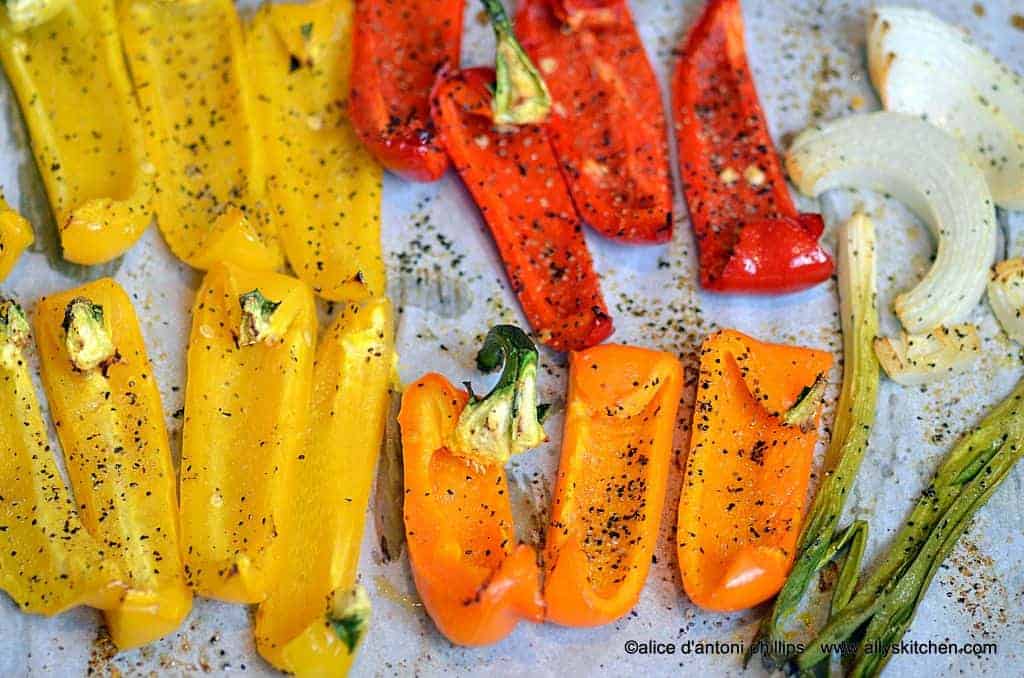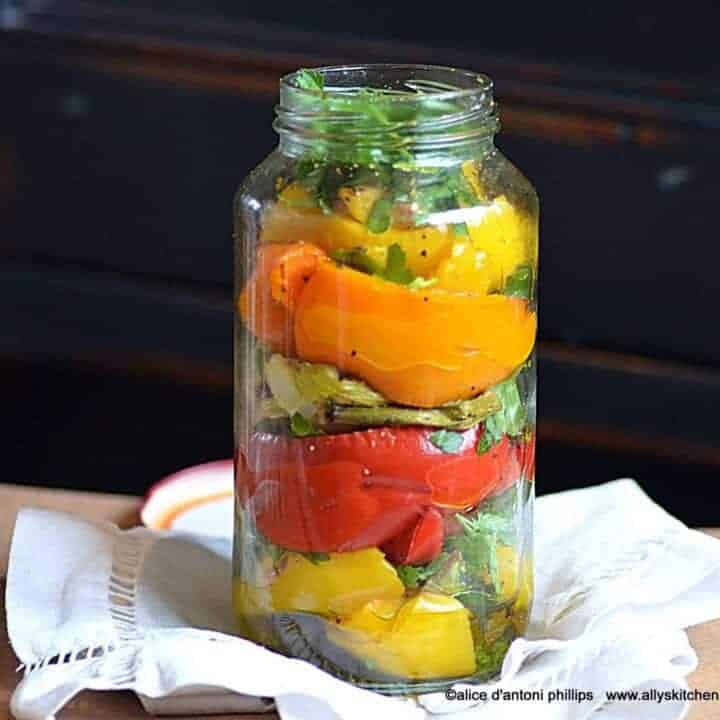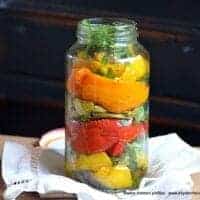 Roasted Peppers and Onions with Parsley
Yield: Makes: One about 20 oz. jar Preheat oven to 425

This Roasted Peppers and Onions with Parsley is an excellent source of healthy vitamins – and it's delicious! with its vibrant color and simple flavor, is sure to become a staple.
Ingredients
3 large bell peppers (your choice of colors)
3 green onions, with green tops
5-8 garlic pieces (optional)
1 Tbl. lemon pepper
1 tsp. sea salt
Cooking Spray
1/2 cup Italian parsley, chopped
1/2 cup extra virgin olive oil
Instructions
Wash and slice the peppers into slices. Cut the root bottom from the green onions. Place both (if using garlic add that) on a parchment paper-lined cookie sheet. Coat well with cooking spray then sprinkle on the lemon pepper and salt. Toss and blend making sure they're all coated well. Roast in a preheated 425 oven for about 18-20 minutes (more if you want additional charring).

Remove and let the peppers and onions cool slightly then put about half of the parsley in a canning jar, 1/4 cup of olive oil, and about half the peppers. Repeat this finishing out the peppers, onions, parsley, and olive oil. Turn the jar upside down and let the olive oil coat the peppers/onions very well.

Refrigerate for using whenever you're in the mood for great tastes!