Red wine mushrooms with gorgonzola. Wow, do they electrify the steak you're going to be serving them with or on! So simple. Yet, so elegant and sophisticated. These mushrooms have different depths of flavor from the array of ingredients.
Thanks to my good friend, Merry, from A Merry Recipe, who was literally in my kitchen with me cooking, I'm able to showcase these mushrooms with her talents and help. That's part of the privilege of this food universe and cooking. Meeting friends like Merry, yes, virtually, with whom you develop friendships that are spurred by food, food styling, eating, cooking contests and this whole universe of cooking. While we were cooking, you can bet we were sipping on the red wine, too! I mean it was after five!
We enjoyed these mushrooms on pan seared prime beef filets. Another simple procedure to get stellar results. Just heated a cast iron skillet scorching hot. Added a couple of tablespoons of butter. Put sea salt and coarse ground pepper on the meat. I mean when you have high-quality grass fed meat, you don't need much more. I pan seared on each side (the filets were about 2 inches thick) about 3 minutes. They were a perfect medium rare! Then topped with the mushrooms. Well, you can imagine the tastes! But, better than imagining, go ahead and make! xox ~ally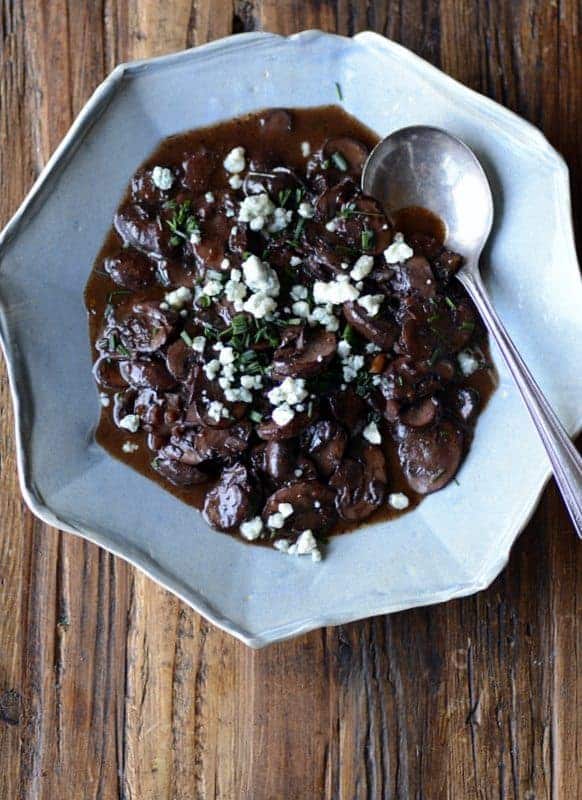 red wine mushrooms with gorgonzola
Ingredients
8 ounces mushrooms, your choice & sliced if button type
2 Tbl. butter, unsalted
1 Tbl. garlic, minced
1/2 cup beef broth
1/2 cup red wine (used a Cabernet sauvignon)
2 tsp. lemon juice, fresh
1/2 tsp. red chili flakes (to taste)
1/4 tsp. sea salt
1/2 tsp. coarse ground pepper
2 Tbl. gorgonzola crumbles
1 tsp. chives, minced
Instructions
In a small skillet over medium low heat, melt butter. Add garlic and saute about one minute. Turn heat to medium high. Add broth and wine.
Bring to boil. Add mushrooms, lemon juice, chili flakes, salt and pepper. Reduce heat to low and simmer about 10 minutes to reduce and thicken sauce.
When ready to serve, sprinkle gorgonzola crumbles and chives on top.
https://allyskitchen.com/red-wine-mushrooms-with-gorgonzola/
©ally's kitchen intellectual property