Za'atar a passionately aromatic spice Middle Eastern spice mixture that has so many wonderful applications in your cooking. Generally, the mixture is made with dried herbs like marjoram and/or thyme, but to get a vibrant color with intense fragrance you can use fresh herbs.
And, there's no 'rule' that you must stick to just thyme or marjoram, at least in my world of spice mixtures! So for this recipe I've used fresh oregano as well as thyme. Za'atar, a beautiful word meaning 'thyme' in Arabic, just rolls off your tongue when you say it, but when you taste it, you palate becomes mesmerized with the hints of woodsiness, earth tones and hints of citrus. Yes, you can purchase za'atar in some grocery or specialty stores and online, but why not experience making it on your own.
Actually, the only 'labor intensive' thing about this recipe is stripping the herb stems so you have just the leaves. The array of ways you can use this spice mixture is endless and only limited to your imgagination!
Oh oh! Here's another spice mixture I absolutely LOVE!! Harissa and I'll show you how to make it! xoxo ~ally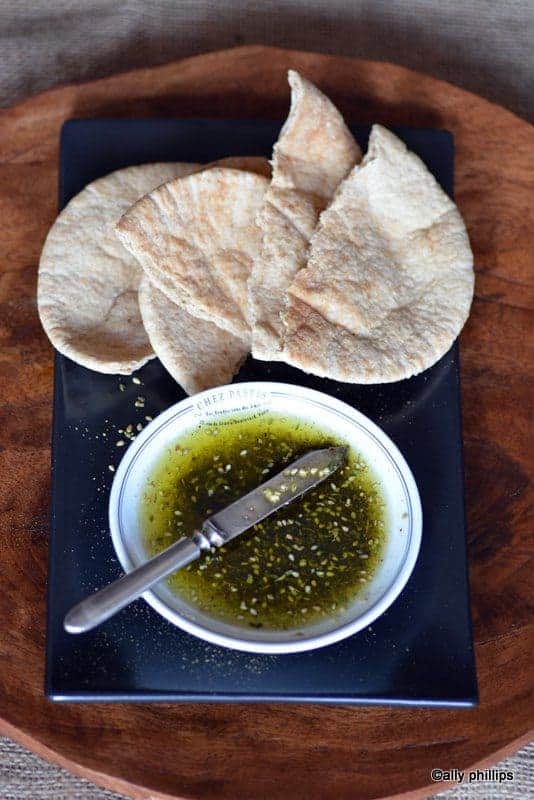 Ingredients
½ cup fresh thyme leaves
2 tsp. dried thyme
1/3 cup fresh oregano leaves
¼ cup sesame seeds, gently roasted
1 tsp. ground cumin
2 Tbl. sumac
1 tsp. sea salt
1 tsp. coarse ground pepper
Instructions
In a coffee grinder (dedicated entirely to herbs and spice mixture grinding), put the fresh thyme and dry thyme. Cover and blend for about 15 seconds. Add the fresh oregano leaves and blend again into a fine mixture. Remove to a bowl.
Add the sesame seeds and pulse several times (you don't want them completely pulverized). Add the sesame, cumin, sumac, salt and pepper to the thyme/oregano and blend well. Store in an airtight container. Or keep in the freezer where it will stay fresh for 6+ months.
https://allyskitchen.com/zaatar-spice-mixture/
©ally's kitchen intellectual property