4 Ways To Create a Focal Point in Your Dining Room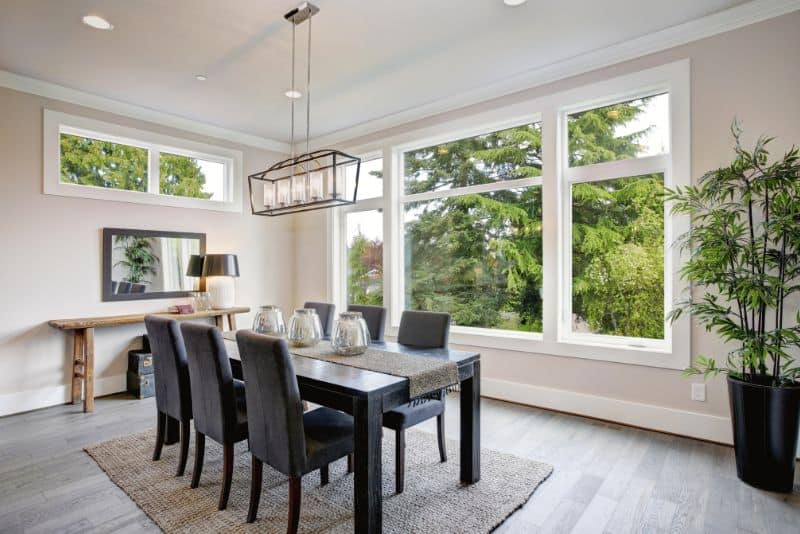 Where do you spend the most time with your family? While you may cuddle up on the couch together or share casual meals in the kitchen, the dining room is one of the more official gathering places. Some people only use it for special occasions and make special memories there. Others use it daily to share meals and spend time together. No matter how you use this important room, it should have an obvious focal point. Something that catches the eye and draws people in. I've gathered four ways to create a focal point in your dining room if you want to make your space more exciting.
Accentuate An Existing Focal Point
Some dining rooms have a natural focal point that just needs proper care. For example, a fireplace or large windows are both great focal points. However, those focal points can't shine if you have a painted fireplace that blends into the wall or heavy curtains covering your windows. Re-paint your fireplace or add a new mantle that breaks up the monochromatic theme. Find lighter curtains that are the right size for your window and tie them back on the sides so the natural light can get in. Now you have beautiful focal points!
Decorate Your Dining Room Table
You can make a focal point using large pieces of furniture if your dining room doesn't have natural focal points. This created focal point is often the dining table in the dining room. The table's size will help make it the natural focal point, but you can decorate it to further draw the eye. Add a table runner or tablecloth for texture. Place tall décor in the middle, such as a vase of seasonal flowers, candles, or a cake stand. The additional height on top of the table will help draw the eye and create a great focal point.
Place an Obvious, Exciting Texture
The table isn't the only place to add an eye-catching texture. You can place a rug beneath your table that can also act as a focal point. Choose a rug with an obvious, exciting texture and print. Do not pick something that will blend in with the existing flooring or table. Since the table will shade the rug, you may need to pick something in a brighter color that coordinates with the rest of the room. People will immediately see this pop of color and feel it when they sit down, making it a unique focal point.
Hang Something Big or Bright at Eye Level
Another tip for creating an inviting dining room space with a focal point is to hang things on the wall. Art or mirrors are best since they can easily catch the eye. Choose something big, although appropriately sized for the wall. You want to catch the eye, not overwhelm it. Catching the eye is also why you should hang the art or mirror at eye level. Choose a piece with bright but coordinating colors if you want to hang art. You don't want the art to blend in with your paint or wallpaper, but you do want it to look at home here.
These four ways to create a focal point in your dining room can make your space more visually exciting for special occasions or daily use. Use two ideas if you like more than one! Rooms can have up to two focal points before they become visually overwhelming.