Thanks to Dole Packaged Foods for partnering with me for this mango kale shrimp salad recipeI am the creator of this recipe and for the description and information that follows. For a full disclosure, click here!
How many times have you come home from a long day's work, whether it's working in your home or outside your home, and wanted something fresh, healthy and quick. Like in a flash. You don't want any more carry out. You're sick and tired of carb loaded fast food. And, you just want to do something goodly and healthy for your body. Well, this is the recipe you want!
Now, I've done it with shrimp, but you can use scallops or a filet of white fish if you like. Or you could pan sear a boneless skinless chicken breast or maybe boneless pork chop. What's so amazing about this recipe is the sauce for the salad! Oh, yeah, you're going to love the fresh burst of mango puree! In fact, you just might use a spoon and start eating it straight up!
Here's another VERY POPULAR Dole Packaged Foods recipe that gets rave reviews and lots of PINS! Think CELERY!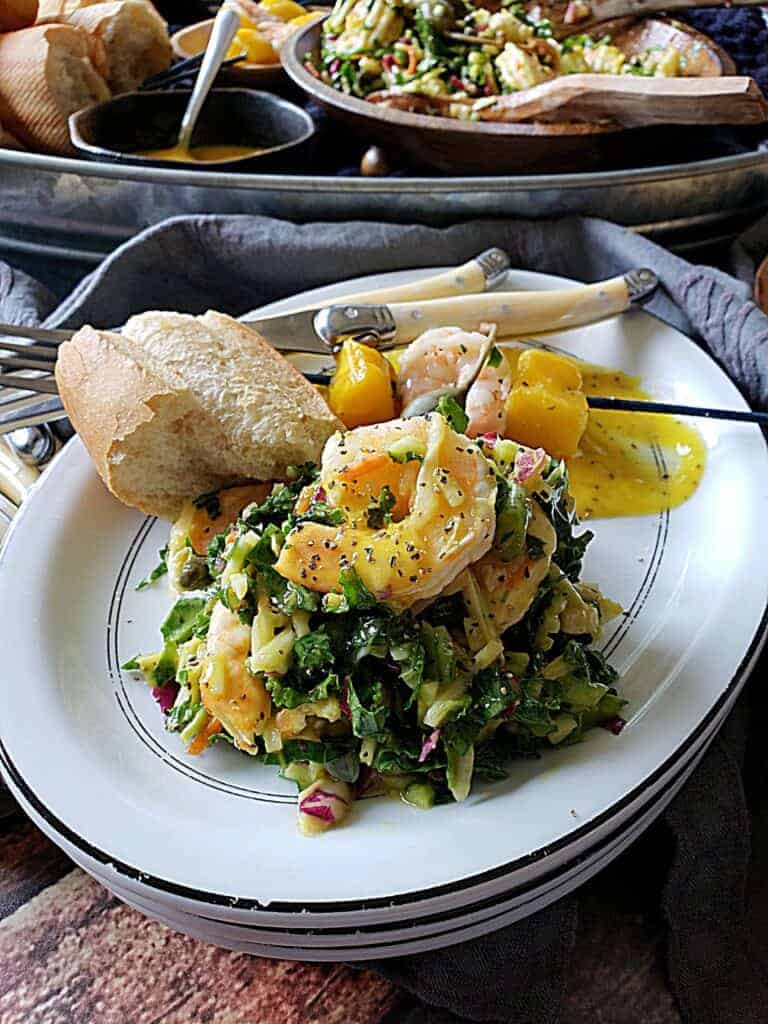 Ingredients
1 (16 oz.) frozen shrimp, large to jumbo, cooked, tail removed, peeled, divided
3 cups prepackaged kale slaw (broccoli, kale, radicchio, carrots, red cabbage) mix, roughly chop into finer pieces
2 Tbl. capers, drained
2 tsp. Kirkland's Organic No Salt Seasoning Mixture, can substitute McCormicks Mrs. Dash No Salt
1/3 cup House Vinaigrette, store bought, your choice of brand
2 cups Dole Packaged Foods Mango Chunks, previously frozen, almost room temperature, divided
Sea Salt & Pepper to taste
Instructions
In a large mixing bowl, put the all shrimp except 4-5 pieces, kale slaw, capers, toss and blend. Put one cup of mango chunks in the blender and puree.
In a small mixing bowl, whisk together the seasoning mixture, vinaigrette, once cup pureed mango, salt and pepper to taste.
Pour the mango vinaigrette over the shrimp/salad mixture. Toss and blend. Refrigerate about 15 minutes before serving.
Garnish/Serving: Skewer the remaining mango chunks and shrimp. Salt and pepper to taste.
Serve with crunchy salty pita chips, crusty hot bread/butter, sesame sticks. Your choice!
https://allyskitchen.com/mango-kale-shrimp-salad/
©ally's kitchen intellectual property