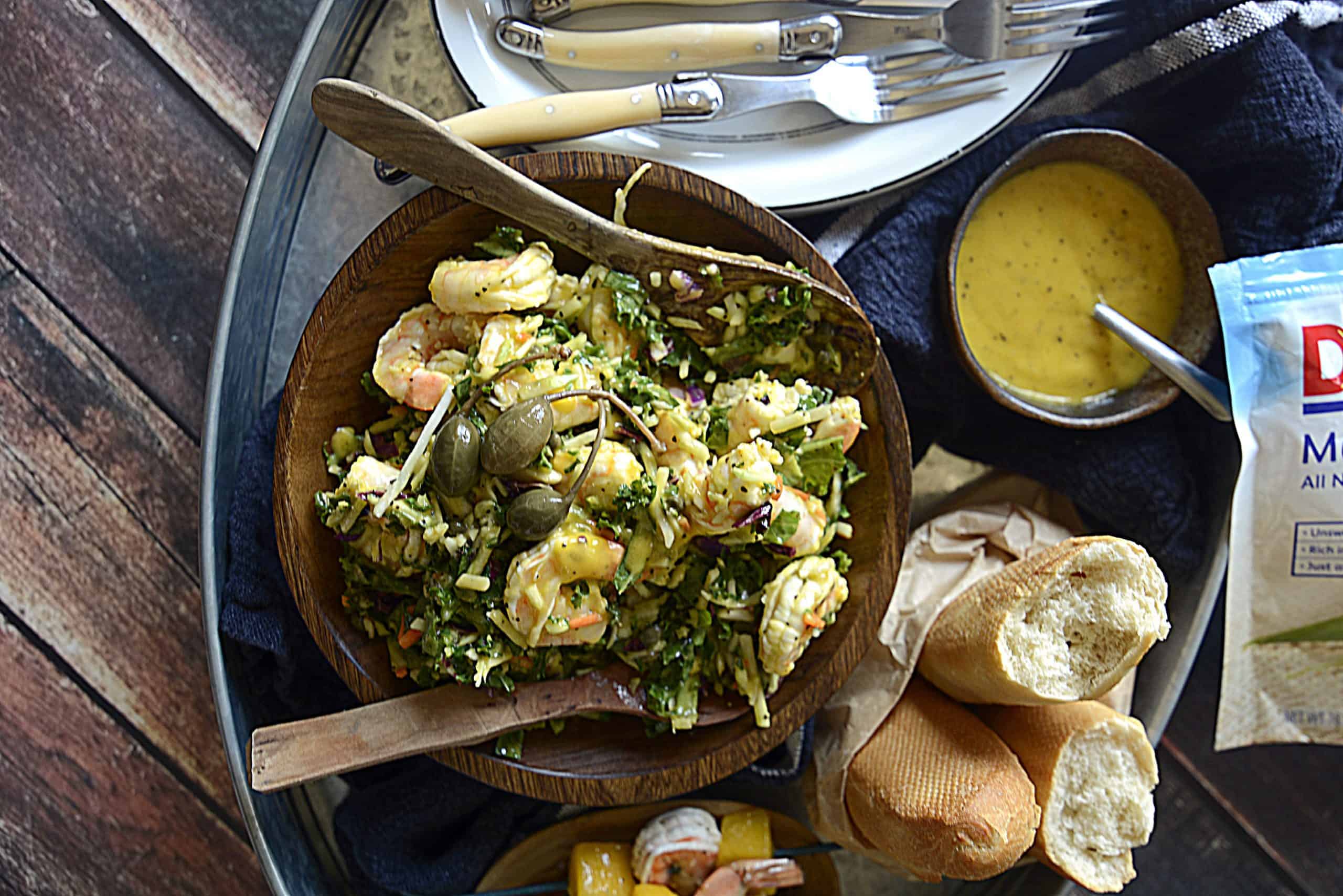 It just doesn't get much easier in making a healthy shrimp salad than this recipe! You're gonna love the mango puree dressing! Yummmm! Refreshing!
Fresh Mango Kale Shrimp Salad
When Spring is in full swing, and on the street, we are greeted by a warm sun. Do you want to see something just as sunny and joyful on your plate?
Then you should definitely try making mango shrimp salad. It will amaze you not only with its appetizing appearance but also with its sweetish-spicy taste. In addition, as you may have already noticed, it consists only of fruits and shrimp, so it will not harm your figure in any way.
Mango Salad Recipe
Thanks to Dole Packaged Foods for partnering with me for this mango kale shrimp salad recipe I am the creator of this recipe and for the description and information that follows. For full disclosure, click here!
Shrimp Mango Salad
Today you won't surprise anyone with salads with apples, tangerines, or oranges. We even make salads with pears. How do you like a salad recipe, for example, with mango and shrimp? It turns out that there are some recipes out there that are perfect for mango with shrimp and other proteins! Why is there growing popularity of mango as an ingredient in salad.
Well, This fruit has an amazing taste and extraordinary silky texture. The soft and firm juicy pulp just melts in your mouth. In addition, it is so bright that it will decorate any salad. And in combination with herbs or, for example, with red tomatoes or orange shrimps, mango looks fantastic! By the way, we are offering you recipes for a salad with shrimps and mango.
Healthy Recipe
How many times have you come home from a long day's work, whether it's working in your home or outside your home, and wanted something fresh, healthy, and quick? Like in a flash.
You don't want any more carry out. You're sick and tired of carb-loaded fast food. And, you just want to do something good and healthy for your body. Well, this is the recipe you want!
Fresh Mango Puree
Now, I've done it with shrimp, but you can use scallops or a white fish file. Or you could pan sear a boneless skinless chicken breast or maybe boneless pork chop. What's so amazing about this recipe is the sauce for the salad! Oh, yeah, you're going to love the fresh burst of mango puree! In fact, you just might use a spoon and start eating it straight up!
Luscious Recipe for Different Occasions
With such different options for mango and shrimp salad, you can surprise guests and please yourself and your loved ones on the occasion. So pick a recipe, prepare a salad, and enjoy an unforgettable combination of mango and shrimp flavors. Believe me – it's really delicious! The main thing is to cook with pleasure.
Mango Shrimp
Serve the mango kale shrimp salad as a cold appetizer or as a side dish. You can also offer this salad with grilled meat and chicken. Delicious! Juicy, summer taste.
Here's another VERY POPULAR Dole Packaged Foods recipe that gets rave reviews and lots of PINS! Think CELERY!
coconut cumin shrimp soup
mango sour cream bundt cake
super antioxidant kale greens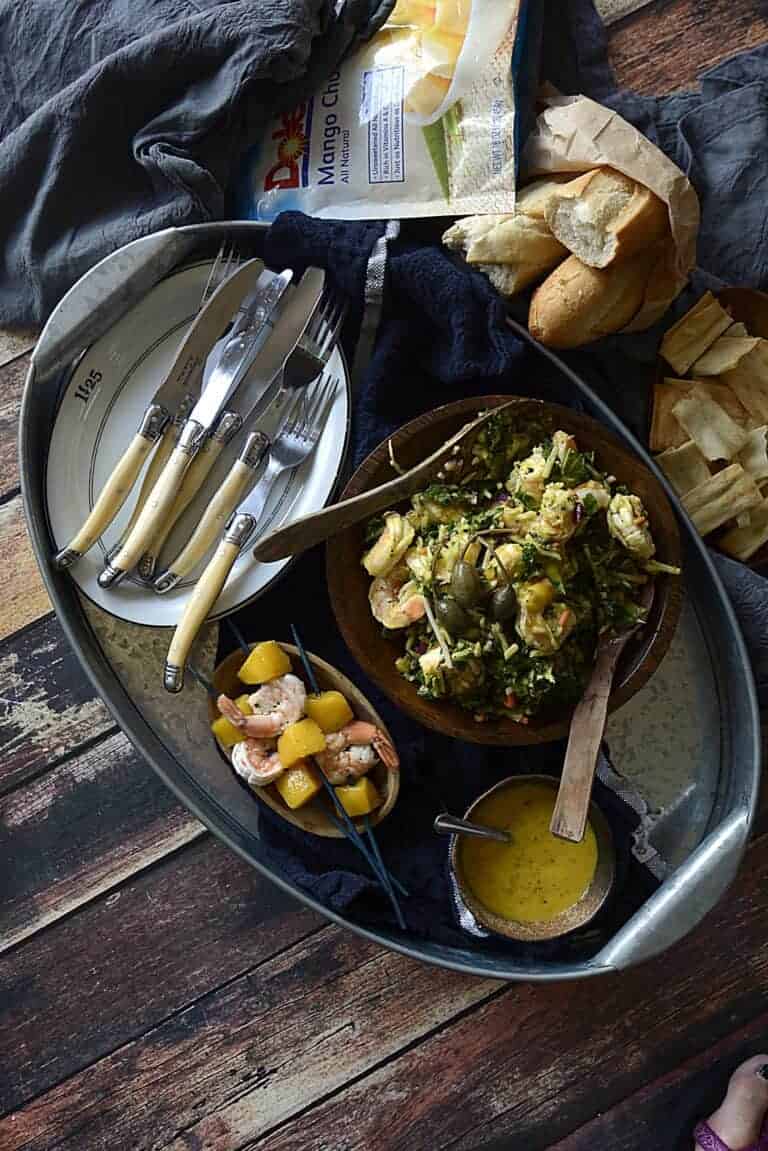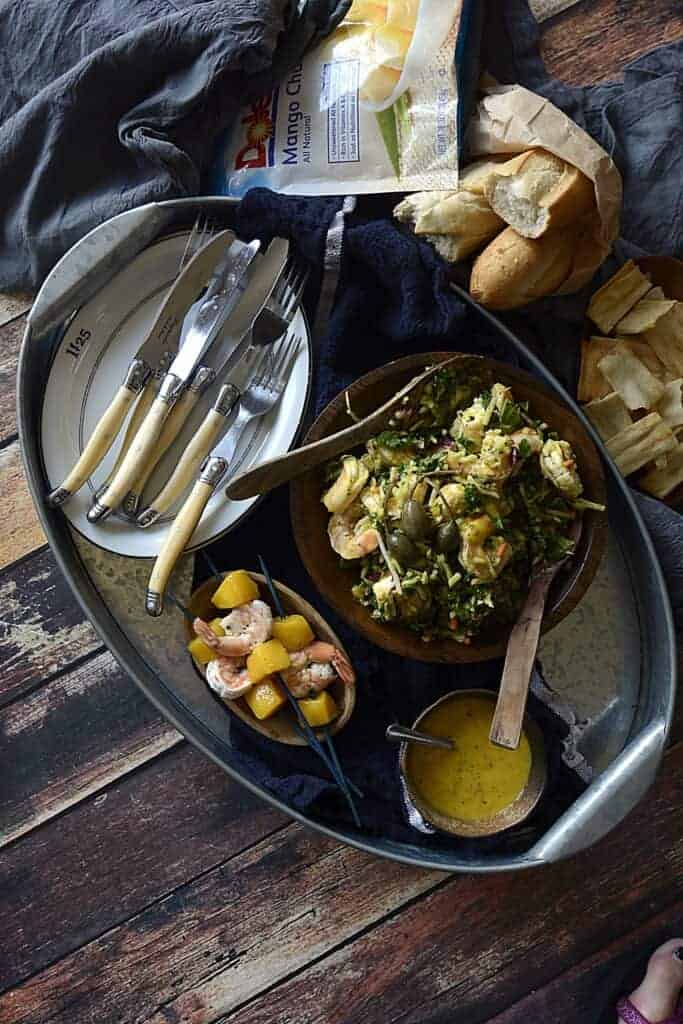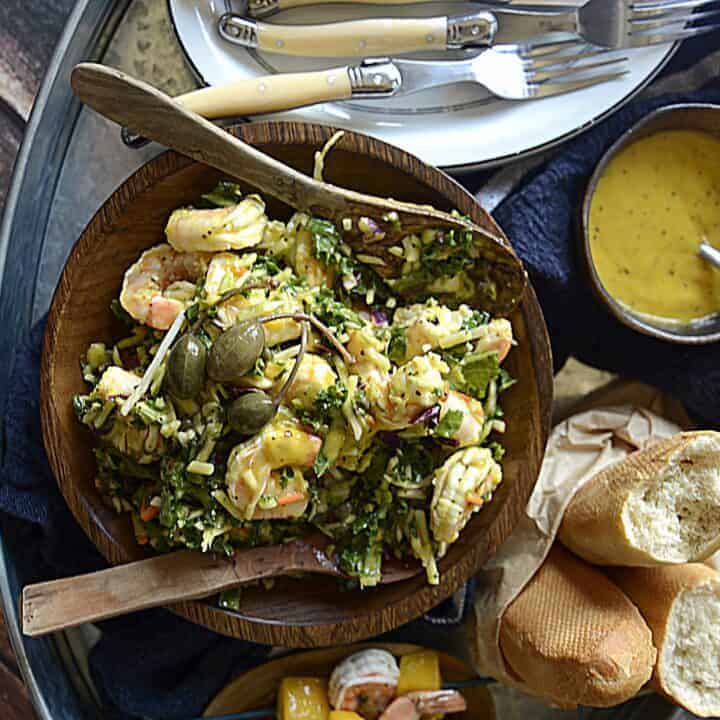 mango kale shrimp salad
Yield: About 3=4 folks (well, depending upon how hungry you are!)

It just doesn't get much easier in making a healthy shrimp salad than this recipe! You're gonna love love the mango puree dressing! Yummmm! Refreshing!
Ingredients
1 (16 oz.) frozen shrimp, large to jumbo, cooked, tail removed, peeled, divided
3 cups prepackaged kale slaw (broccoli, kale, radicchio, carrots, red cabbage) mix, roughly chop into finer pieces
2 Tbl. capers, drained
2 tsp. Kirkland's Organic No Salt Seasoning Mixture, can substitute McCormicks Mrs. Dash No Salt
1/3 cup House Vinaigrette, store bought, your choice of brand
2 cups Dole Packaged Foods Mango Chunks, previously frozen, almost room temperature, divided
Sea Salt & Pepper to taste
Instructions
In a large mixing bowl, put the all shrimp except 4-5 pieces, kale slaw, capers, toss and blend. Put one cup of mango chunks in the blender and puree.

In a small mixing bowl, whisk together the seasoning mixture, vinaigrette, once cup pureed mango, salt and pepper to taste.

Pour the mango vinaigrette over the shrimp/salad mixture. Toss and blend. Refrigerate about 15 minutes before serving.

Garnish/Serving: Skewer the remaining mango chunks and shrimp. Salt and pepper to taste.

Serve with crunchy salty pita chips, crusty hot bread/butter, sesame sticks. Your choice!