When I make a big ol' pot of beans, be they pinto, anasazi, lima, Great Northern, whatevvvvah, I just have to have a big pot of fried taters!  My mama could make THE best fried taters~~I do everything she does, but mine just don't turn out like hers~~I do think it's the skillet she used which had a handle that was broken, layers of baked on love from being used so much, and there was no desire to shine that sucker clean!
It was a heavy steel metal, not cast iron I don't think, and she kept it in the oven…that skillet fried up a lifetime share of things like chicken livers, potatoes, onions, hamburgers, pork chops, steaks and more stuff than you can shake a stick at!  The great thing about these 'Herb Fried Potatoes & Red Onions' is that if you don't eat them all~~no, that's not a joke~~you can stick them back in a skillet the next morning and warm them up for breakfast!
Serves:  2
What you need:
4-5 small potatoes scrubbed, clean and cut into desired size pieces
1 cup cooking oil (I used coconut because of its health benefits!)
1 medium size red onion cut into pieces
Sea Salt
Coarse Ground Pepper
1/2 cup fresh chopped herbs  (your choice of blend~~parsley, chives, basil, rosemary, chervil, etc.)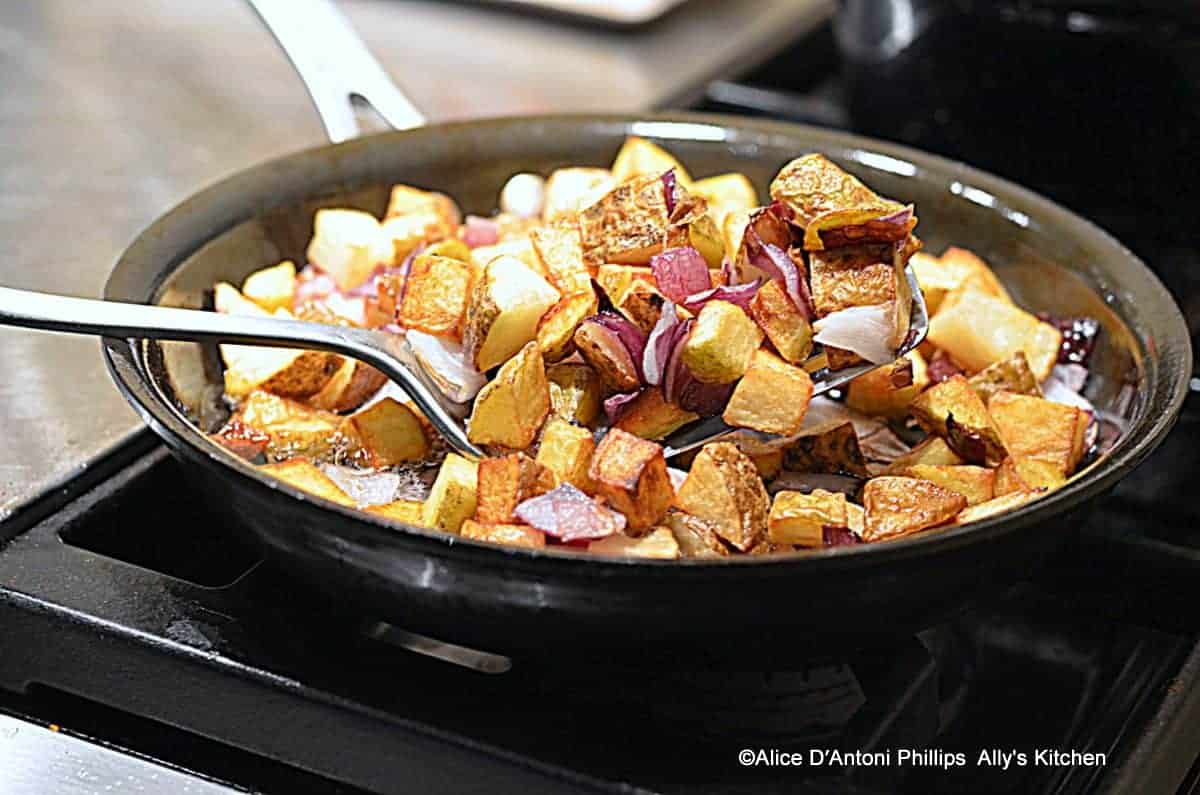 What you do:
Heat the oil in a cast iron, or heavy skillet, on medium high.  Add the potatoes and fry, turning to brown, until slightly tender.  (The time to cook will depend upon the size of your pieces.)  Add the onions with about 7 minutes remaining to fry.
When done, remove potatoes/onions with a slotted spatula to a paper towel or, better yet, brown grocery bag.  Sprinkle immediately with salt, pepper, and the fresh herbs and toss well.  Serve immediately!