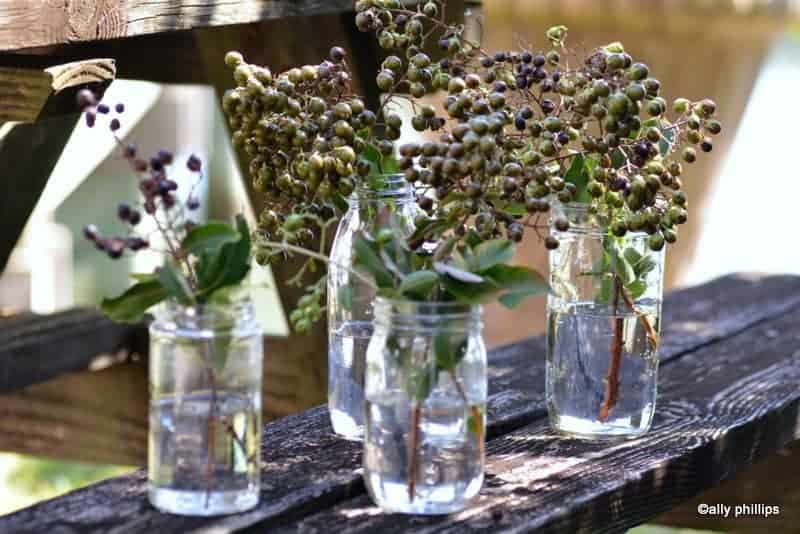 Free. We all love free. And, there's nothing freer than what Mother Nature gives us from Her bounty to use with our entertaining and decor. Regardless of where you are, whatever your geographic area's foilage/plants, and the time of year, there's always something that can be used for your table's centerpiece. And, during the holiday season when you can be entertaining more, it helps to save a few bucks with gussying up your table(s). So rather than order a big fancy florist arrangement or go buy something new, try exploring the great outdoors and grabbing some.
When I say free, I mean 'basically' free. Look for things you might want to use with your natural things that you already have around the house, in the garage, storage room, boxes, the attic. In my case, I had some silver spray paint, battery-operated candles, a few artificial flowers/decor, some empty cleaned (food) jars, cooking twine and a few more goodies.
I ventured outside with my scissors and cut big bundles of monkey grass. Hey, they needed to be thinned out and trimmed anyway! Look for those small branch twigs that fall to the ground with a gust of wind have unique and beautiful shapes; rather than pick up and throw out, I saved a few for using ont he table. Then I saw some crepe myrtle tree branches with bundles of buds on the ends that looked like bunches of 'grapes'. So I snapped me a few of these branches. The draping buds were varying colors from green to almost a dark burgundy hue.
Next to our patio chiminea was a big stack of dried wood, so I grabbed some of the smaller pieces with unusual shapes and dried bark for texture, which I spray painted with the silver paint. I wish I could have found some interesting rocks and pebbles, but nothing was to be found. Next time, I'll walk to my neighbor's house and snap some of her magnolia limbs…oh, they make glorious decor for the table or mantle piece or wherever!
My mission was accomplished. In no time at all, I created variations of table centerpieces using just the odds and ends I had and the beauty of Mother Nature. Arranging them is easy. You just let them 'fall' in place organically. Mix and match. Let the flow go naturally with the twigs, branches, limbs, leaves and more. Work in odd numbering groups, three, five, seven. Create depth. Bring out textures. Play with the placement of things until your 'eye' says 'I'm in love!'