I was introduced to Romesco by Chef Anthony Sasso of Casa Mono Bar Jamon in NYC.  Now I've made 'Artisan Lettuce Romesco'!   Chef Anthony came to cook in my Colorado kitchen preparing a spectacular meal for Ben and me and ten of our most favorite guests!  That entire soiree was an event of a lifetime, and if you want to take a peek then click right here!   The Fairy Tale~~The Picture Storybook    The Fairy Tale~~Making Ganache    The Fairy Tale~~The Beginning  PINTEREST Board~~The Campo Viejo Dinner    Campo Viejo Dinner~~I am the Help  
So, Chef Anthony is credited with turning me on to Romesco!  Since it was so incredibly delicious, I decided to boho what I say Anthony do and create a sauce for the Anthropologie Nibbles!
Here's what 'Wikopedia' says about Romesco:  Romesco (Catalan pronunciation: [ruˈmɛsku]) is a nut and red pepper-based sauce from Tarragona, Catalonia, Spain. It is typically made from any mixture of roasted or raw almonds, pine nuts, and/or hazelnuts, roasted garlic, olive or sunflower oil, bitxo peppers (similar to New Mexico chiles) and/or nyora peppers (a small, round, variety of red bell pepper). Flour or ground stale bread may be used as a thickener or to provide texture. Other common ingredients include roasted tomatoes, red wine vinegar and onions.
Makes:  About 5+ cups
What you need:
6 medium sized red bell peppers cut in half (cute off stems), drizzled with a little olive oil (about ¼ cup), sea salt, pepper and oven roasted
3 medium-sized onions peeled and quartered drizzled with a little olive oil (about 2 tbl), sea salt, pepper and oven roasted
Note:  Substitute two (16 oz) jars of drained roasted red bell peppers if you don't want to roaste
fresh bell peppers
3 small 'heads' of artisan lettuce (your choice of variety)
½  cup extra virgin olive oil
4 whole garlic cloves
1 ½ cups cherry tomatoes
1 cup chopped almonds
3 sandwich thin breads (torn into pieces)
4 tbl tahini
3 tbl honey
½ cup gourmet peppers with vinegar juices
(Note:  I used Uncle Gary's Gourmet Peppers.)
½ cup fresh basil leaves
1 1/2  tsp sea salt
1 tsp black pepper
1 tsp ancho chili powder
½ tsp red chili pepper flakes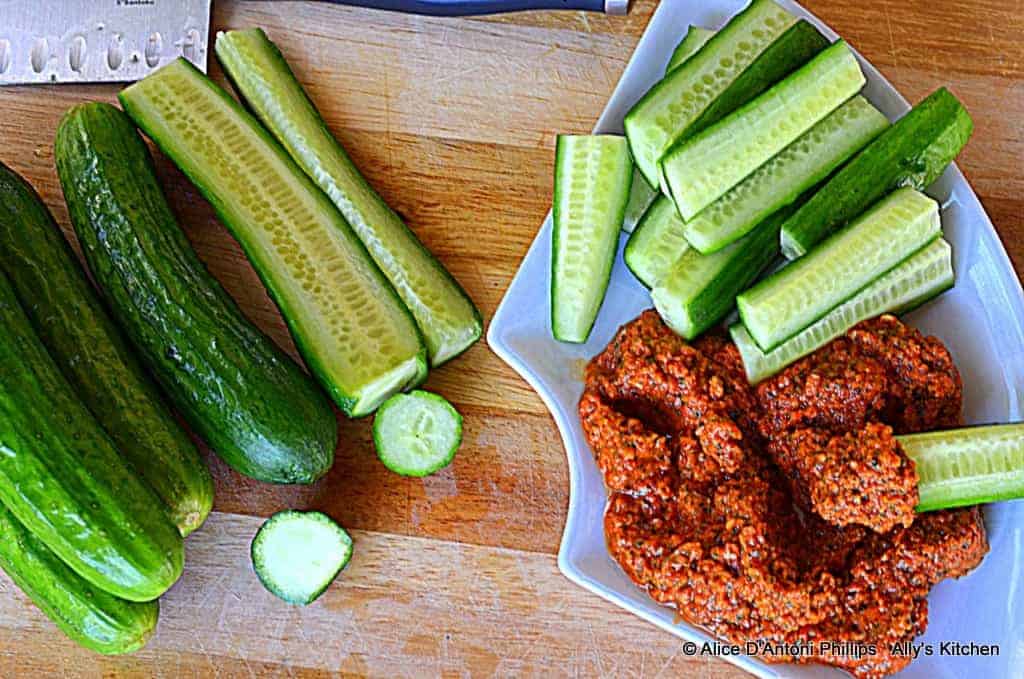 What you do:
Start by oven roasting the bell peppers and onions. Slice the peppers in halves; do not pull out seeds or inners. Cut the onions in cubes.  Spread them on a parchment paper lined cookie sheet.  Drizzle with some olive oil, sprinkle sea salt and pepper and roast in a preheated 400 degree oven for about 20 minutes.  You want the edges of the peppers and onions to get nice an crispy and brown.  This adds depth of flavor.
In a large food processor put the peppers, onions, and oil from the roasting.  Pulse until well ground.  Add artisan lettuces a little at a time and pulse.  Drizzle in olive oil as needed to keep the consistency smooth and flowing.
Continue adding in the remaining ingredients and pulsing and grinding into a thickened sauce.  If you prefer more thickness, add a little more bread.  When done, store in glass jars and refrigerate overnight so flavors can marinade.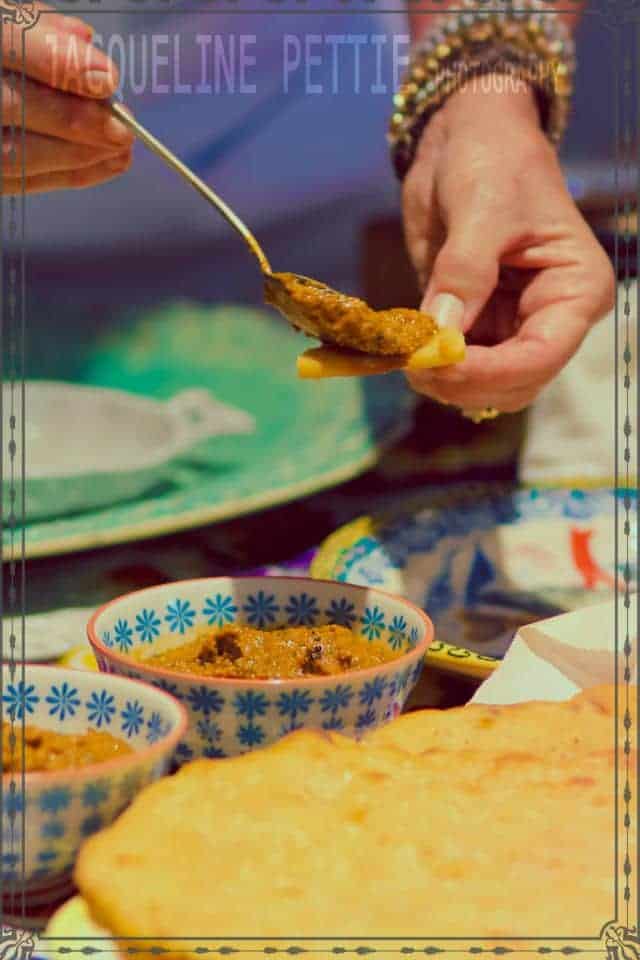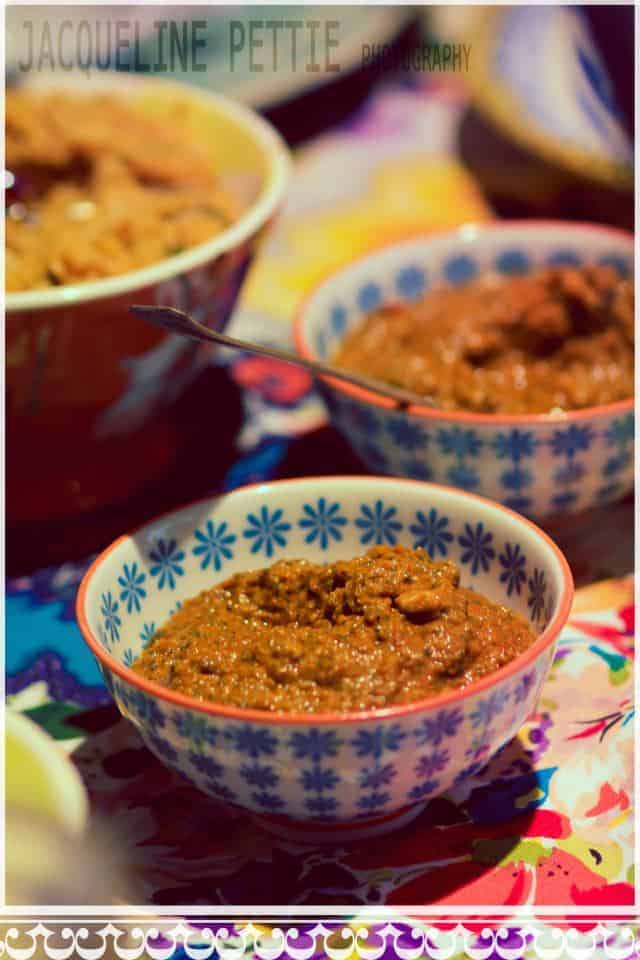 ©Alice D'Antoni Phillips   Ally's Kitchen