Ally + Ash Boho Artisan Bracelets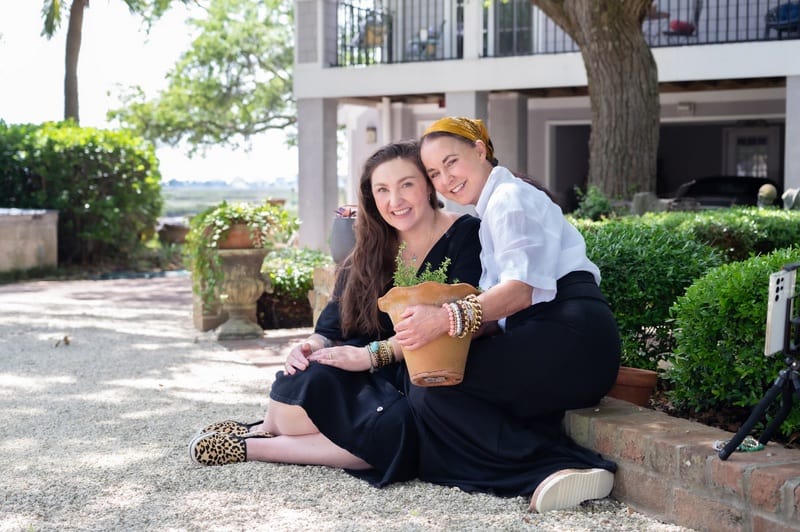 After thousands of you asking, Ally & Ash have designed exquisite Boho artisan stack bracelets. No mass production here! Limited quantities.
Check them out. Some fabulous stacks that will make any outfit pop! Or even when your cooking!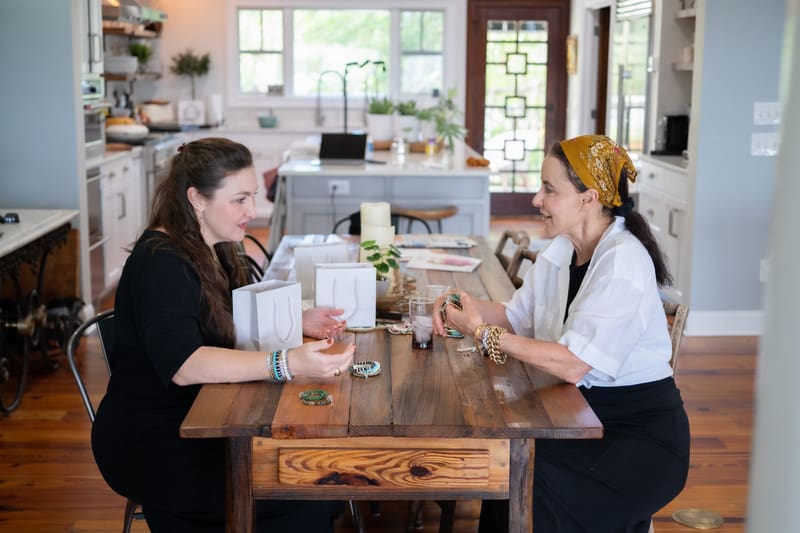 Boho Chic Jewelry
Back stories are usually intriguing, and ours is interesting.
Before I was Ally, I was Dr. Alice, an educational therapist, tutor, school psychologist, running a busy private practice. We served young people through adults and our focus was on helping them becomes the best students they could be. From organizational skills and learning strategies and test taking skills, college exam prep and more, our goals was to help give them skills for life.
Ashley's Daddy brought her to my office when she was a 10th grader. From the time she entered my doors, I knew Ashley was destined to be a successful person.
Absolutely adorably cute with her stack of books and in her cheerleading uniform, Ashley was full of energy, excitement and was like a sponge of learning.
She had all the attributes of success. Some coaching and mentoring would help these assets bloom. I worked with Ashley for the next three years, then she was off to college.
After earning a degree in architecture from Clemson University and working in an architectural firm, Ashley decided to change the course of her life. Always being artistic, she decied to return to jewelry design school. And, the rest is history. She's become a well-known designer and has designed for the best. Her line of jewelry was on JTV, the jewelry TV like QVC, after she won the competition for the 'best new jewelry designer'.
Ashley and I have remained friends now for about 20 years. Her husband, Enoel, is a gem. Pops and I were among the selected at their beautiful Boho wedding in her mother's backyard. Ash and Enoel have visiting us in Colorado. And, I've watched as their sweet family has grown now with Raphael and Maria.
There was no one better for me to collaborate with than Ashley on these designs. Honestly, it's like a God wink, a Godsend. We were destined to work together way beyond that first appointment at EdRx.
Boho Bracelets
Yes, I'm very well known for my left arm stack bracelets. They're a collection of beautiful bracelets with immense meaning.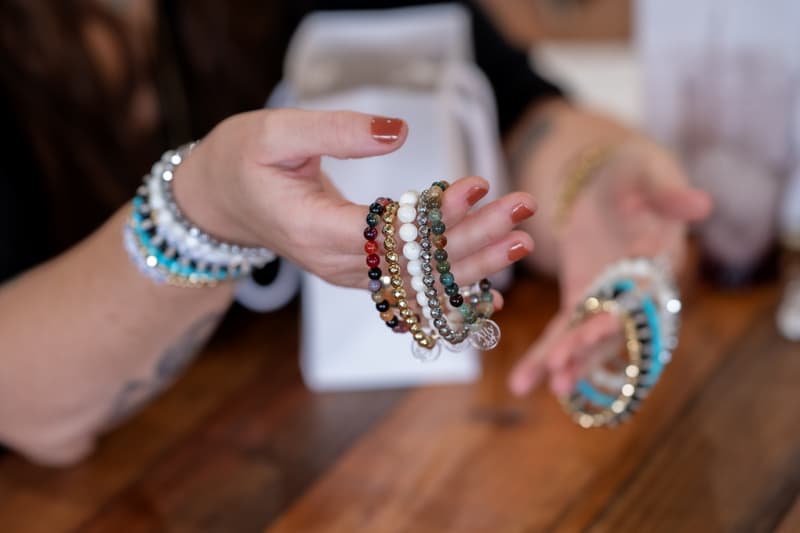 Beaded Boho Bracelets
Beaded Boho bracelets are meant to be stacked. And, that's precisely what Ashley and I have done as we design these sets. Each has a name, food-related of course, and each is unique.
Also, you'll not see these bracelets in mass production. Because they're hand made right here in South Carolina, we only create a limited number of each set. Once they're gone, they're gone. To learn more, go to Ashley's website, Ash Hoffman Jewelry.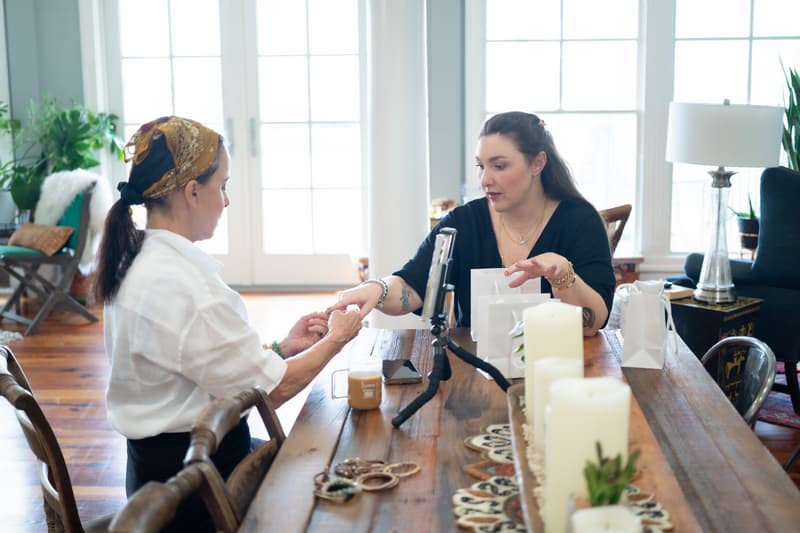 Bohemian Bracelets
My Bohemian bracelets have meaning to me. And, of course, you'll probably do the same thing as you add to your stack of bracelets.
Since I have fourteen grandchildren, I've got one for each of them on my arm.
While I don't take these bracelets in abrasive waters like swimming pools and hot tubs, I do wear them constantly. When I shower, I'll slide off my five Ash + Ally stack leaving the others on because they're real gold.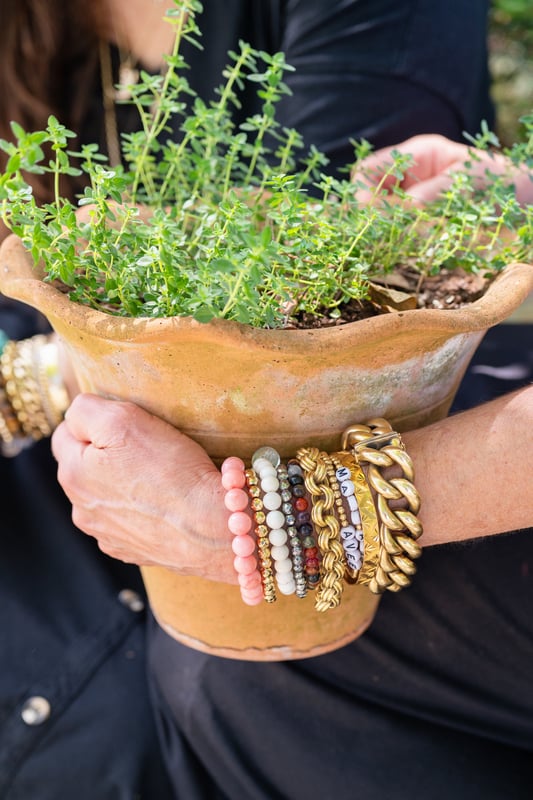 Boho Bracelets Set
Yes, my Boho bracelet set is also made with a gold bangle and two gold braided bracelets that were gifts from my Mama. Then I have two more Ash beaded name bracelets in gold plated, one says 'Avee' and the other 'Mama Ally'.
On occasion, Ash and I will be designing 'one ups'. That means there's one set of this design and that's all there is. That's because of the stones selected. You just can't replicate some pieces. So, while you're visiting Ash's website and you see a one up, like it. Well, you'd better grab it.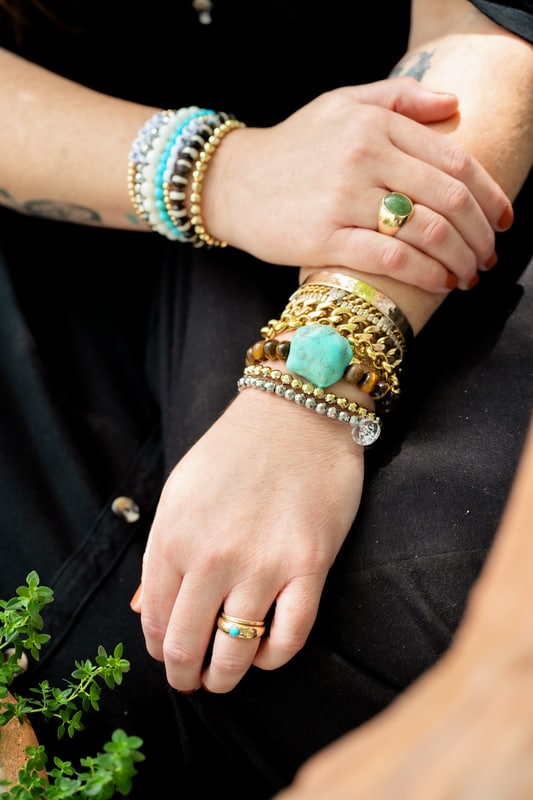 Boho Bracelets Gold
Depending upon your preference, you can add more gold to your stacks. And, these stacks are interchangeable. It's all about using your creativity!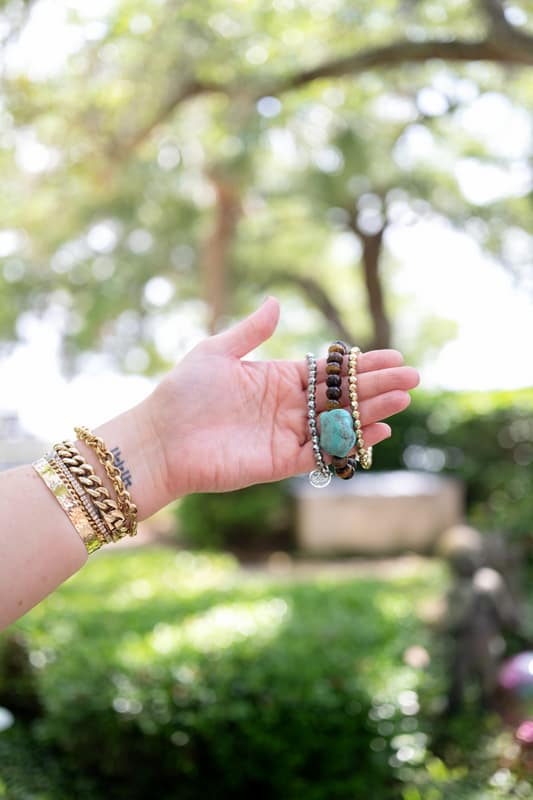 Boho Bracelets Silver
I love mixing metals. So, you'll see some silver and gold on my arm with my stack bracelets.
And, when you buy one or more of these sets, each comes with a beautifully inscribed small translucent disc with Ally and Ash (logo) on it.
When you wear these bracelets, anyone who looks at them will know they're the Ally + Ash design!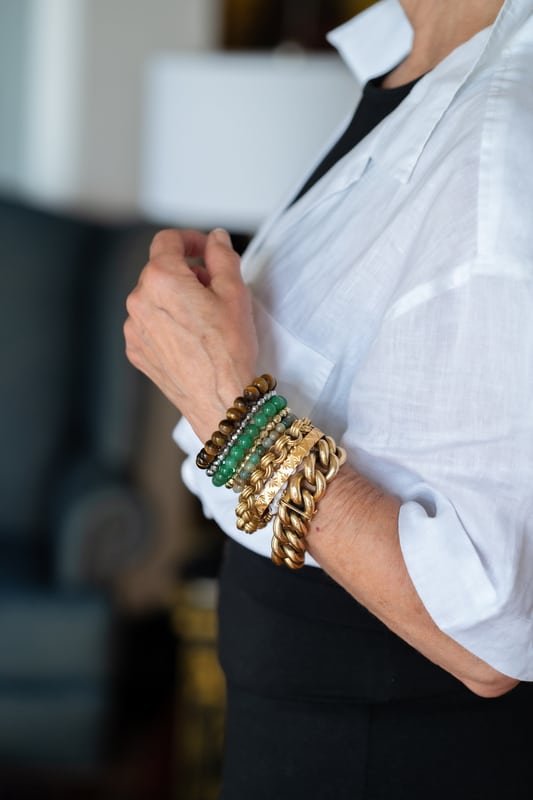 Boho Hippie Bracelets
Chic and gorgeous, these aren't your run-of-the-mill stack bracelet sets.
The stones Ash and I have selected are most all semi-precious. Stunning colors and designs and patterns.
Ashley Hoffman Jewelry
Ally + Ash bracelets launch June 1, 2022. You'll find them at Ash Hoffman Jewelry! When the small box comes to your home, you'll unwrap something of delightful beauty, love and happiness. These bracelets come with a care guide as well. And, they're available in three sizes, small, medium and large. All wrists are different. I wear the medium because I like my bracelets a tad bit loose for more comfort. It's a personal thingeee!