How To Decorate Your Apartment Patio for Fall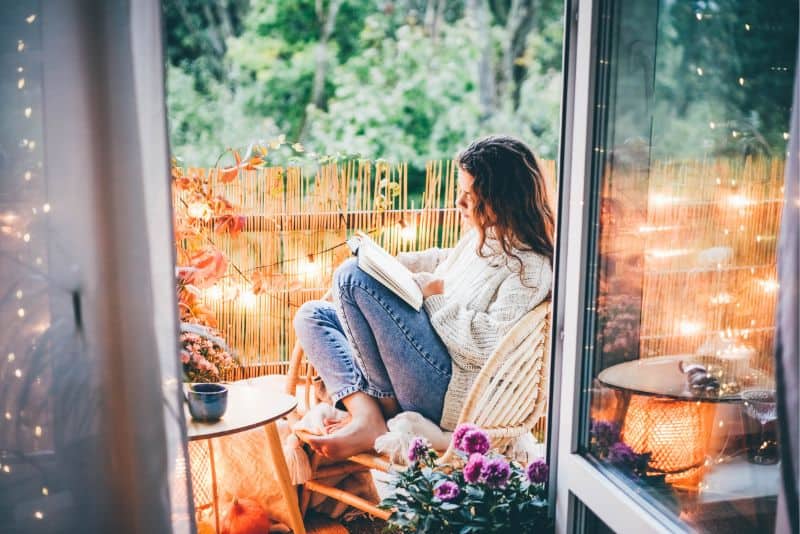 Fall is one of the most beautiful seasons to decorate for. The colors are warm and inviting, the textures soft and cozy, and it's easy to decorate using the natural landscape around you. If you have a smaller outdoor space, don't worry! I'll show you how to decorate your apartment patio for fall.
Space To Relax
If you want to spend more time out on your patio, you'll need a place to kick back and relax. A standard table and chairs will work in most spaces, but why not go for something more creative and Bohemian? Hang up a hammock, spread out some cushions, and make sure to have plenty of comfy pillows and blankets.
It's All About Ambiance
While it might not be possible to build a fire on a small patio (and we don't recommend trying!), you can achieve a similar ambiance through hanging lights or lanterns. These patio lights come in all colors and styles. Just make sure to buy ones that say on the packaging that it's okay to put them outside.
Plants and Pumpkins
If you haven't yet taken the opportunity to garden with potted plants, fall can be a great season to get started before the cold of winter. Pansies, violas, winterberries, and hellebore are just some of the plants that love cooler weather and will look lovely on your patio. Add a few pumpkins to instantly give your patio or balcony a festive vibe.
Doormats and Rugs
If you're tiptoeing outside to read a book on a quiet fall morning, it's much nicer if you have a rug or doormat to step on instead of cold wood or concrete. Since coir doormats are very popular, it's a good idea to know how to keep them clean. For rugs, check to see if there are washing instructions on the tag.
Small Space, Big Vibes
Just because you don't have a huge yard or patio doesn't mean you can't have an amazing space. In fact, it's actually easier to make things extra cozy! When you're decorating your apartment patio for fall, just remember to choose furniture and materials designed for outdoor use. You'll be sure to create an amazing relaxation zone in no time!