Unless you're Southern, you may not realize what a fried green tomato is or why a fried green tomato is so revered.  First of all, it's fried~~think crunch.  Second of all, it's dipped in buttermilk~~think luscious tartness.  Third of all, it's got an al detente-ness that lets you know it's not reached its peak of ripeness, and that's why it's an FGT!  I love mine with lots of salt and pepper and a good sauce on top.  I can make a meal on FGTs…nothing else is needed…oh, well, maybe a good sliced of cornbread.  Now, this salsa has the fabulous flavors of the FGT, and your crunch comes from the chips you scoop into the goodness!  It's a littl' work, but worth all the effort~~Whistle Stop Cafe would be proud to put it on their menu!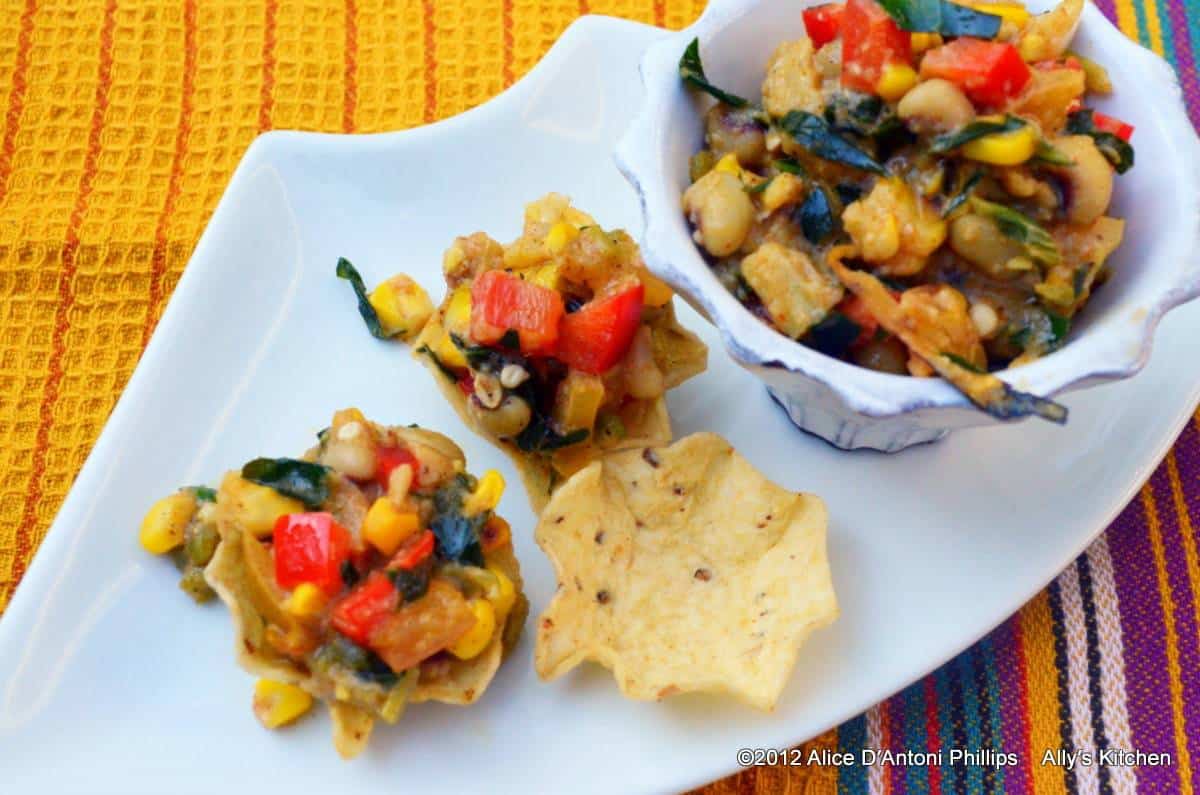 Makes:  6-7 cups of salsa
What you need:
Two skillets, one preferably cast iron medium size and one large sauté pan skillet.
Skillet #1:  the large sauté  pan skillet: 
1/3 cup bacon drippings
2 tbl chopped garlic
2 cups finely chopped fresh collards
½ cup frozen cut/chopped okra
1 cup frozen black eyed peas
1 cup diced red bell peppers
1 large jalapeno (seeds removed) and finely diced
½ cup chiffonade green onions and tops
1 tsp sea salt
1 tsp fresh ground pepper
3 tsp ground cumin
2 tsp ancho chili powder
½ cup lime juice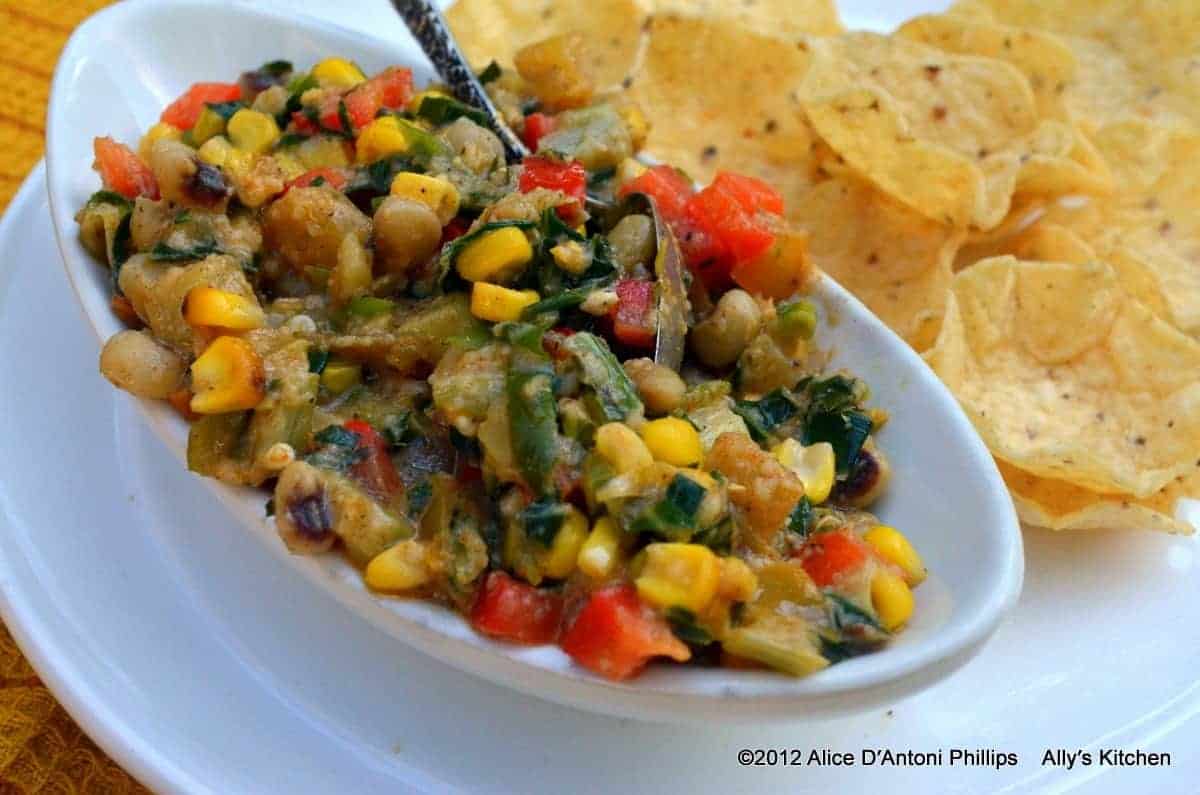 Skillet #2:  the cast iron skillet:
2 tbl bacon drippings
2 cups diced green tomatoes
2 tbl + ½ cup buttermilk (divided)
1 tbl cornmeal
½ tsp sea salt
½ tsp fresh ground pepper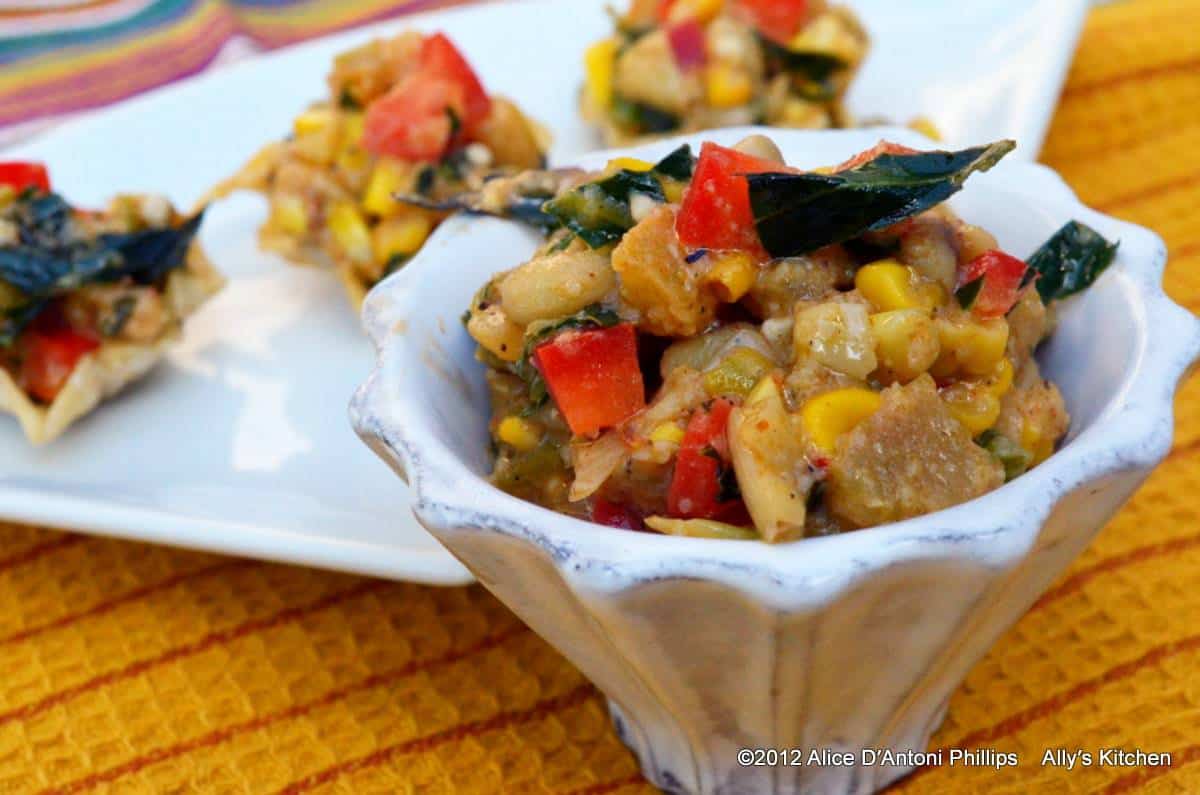 What you do:
Skillet #1:  Over medium heat, sauté garlic until translucent.  Add collards and toss.  Reduce heat to medium low and add remaining ingredients one at a time and blending well as each is added.  Reduce heat to low, cover, and let simmer and move to skillet #2.
Skillet #2:  In a mixing bowl, put diced green tomatoes and 2 tbl of buttermilk.  Toss and coat the tomatoes with the buttermilk.  Sprinkle the cornmeal, salt and pepper on the tomatoes and blend.  Get skillet hot with bacon drippings over medium heat.  Add green tomatoes and fry for about 5-7 turning with a spatula.  Scoop the fried green tomatoes into skillet #1 and blend.  Then take the ½ cup of buttermilk and deglaze skillet #2 getting all the good flavors and bits.  Mixture will become like a 'gravy.'  Pour this into skillet #1 and blend well.
Cover skillet #1 and let simmer for about 10-15 minutes stirring a few times.  Remove from heat and cool.
This salsa can be served warm or for more intense flavors, refrigerate several hours.
Note:  If the salsa becomes too thick, add a little water or chicken broth to thin.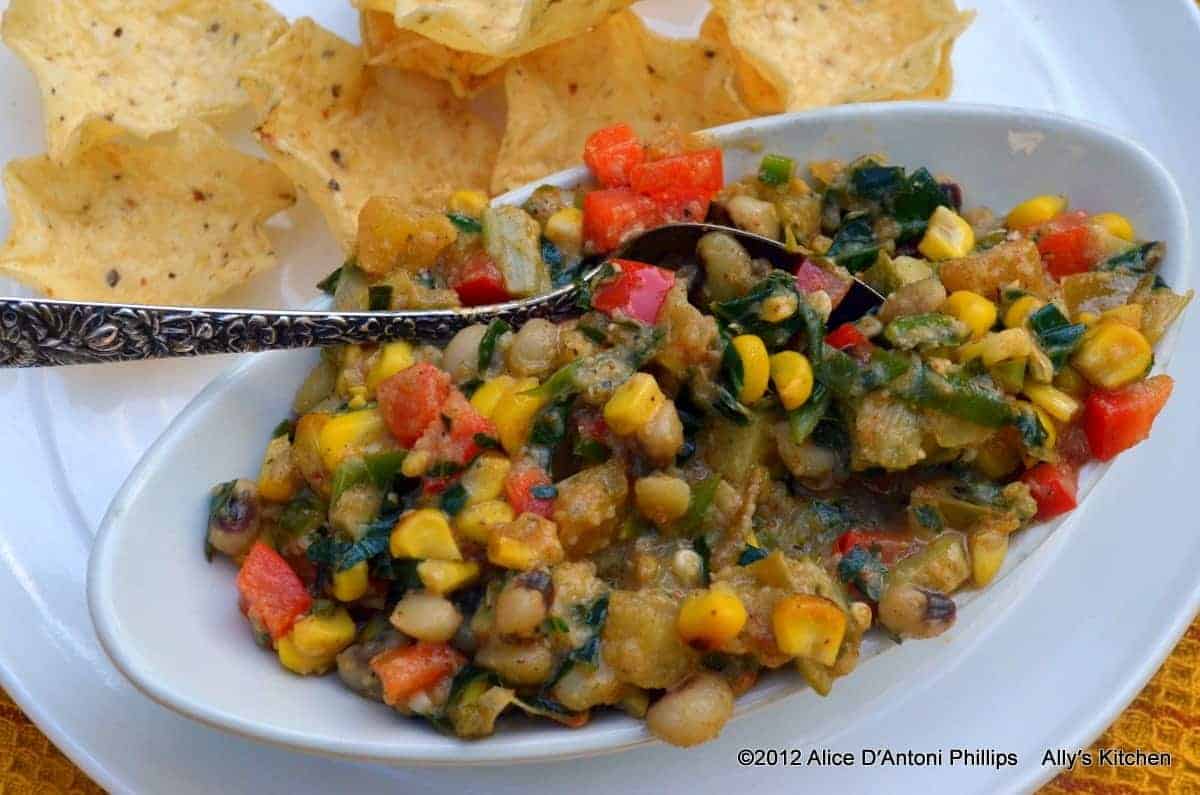 ©Alice D'Antoni Phillips   Ally's Kitchen