I love trying new recipes on dinner party guests. And, that's what I did with this curried chicken and dumpling casserole. But, the casserole I served at the dinner party wasn't exactly like this. Yes, the curried chicken part was, but for the dinner party, I used a puff pastry topping rather than the dumplings. And, I must say, the first casserole was good, but this second one with the dumplings is great!
There's just something special about the dumplings. They're speckled with fresh flat parsley and cracked pepper. And, they have a crunchy crispy exterior, but when you dig into them, you get that light fluffy dumpling texture. The dumplings also seem to absorb and so up the gravy of the curried chicken much better than the puff pastry.
This recipe may look a little daunting, but don't worry, it's really very easy. Basically, you're going to cook your chicken and have your tender tasty meat. Then you'll season and thicken the stock, add the vegetables, then put in your casserole dish with your dumplings on top. Or if you want to use puff pastry, that's great, too. Saves about 5 minutes needed to make the dumpling dough.
Truly comfort food. The kind of dish you want to share. This curried chicken & dumpling casserole is the new trendy version of chicken pot pie!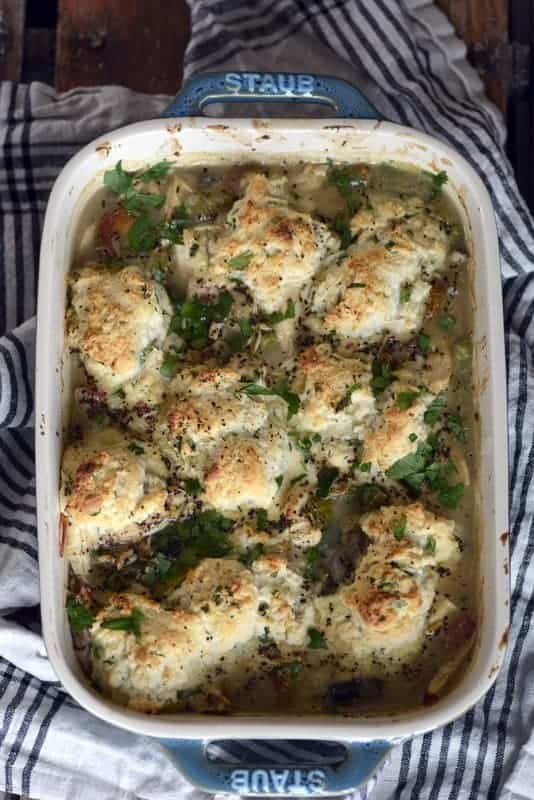 curried chicken dumpling casserole
Ingredients
Preheat oven to 350 then 400
CHICKEN:
5-6 chicken pieces, bone-in, skin on, breasts & thighs
1 cup sweet onions, large dice
2 tsp. sea salt
8-10 cups water
2 tsp. curry powder (yellow)
1 tsp. ground cumin
½ tsp. red chili flakes
1/3 cup flour, all purpose
VEGETABLES:
1 ½ cups peas, previously frozen
1 ½ cups carrots, sliced
8 oz. mushrooms, I used combination of shitake, oyster and baby bella
½ cup red bell pepper, medium dice
2 cups celery, sliced
DUMPLINGS:
¾ cup flour, all-purpose
2 Tbl. flat parsley, fresh, minced
1 tsp. sea salt
2 tsp. baking powder
2 Tbl. oil
1/3 cup buttermilk
Instructions
CHICKEN: Put the chicken, onions, salt and water in a large stock pot. Cover. Turn heat to high. Bring to boil. Reduce heat to medium. Cook for about 75 minutes or until the chicken is tender (check to see if more water needs to be added) and can be pulled from the bone. Add the curry powder, cumin and chili flakes to the hot broth. Blend well. Remove one cup to a small bowl. Cover the broth and keep heat on medium low.
Note: You want to have about 6-8 cups of broth when the chicken is done.
When the chicken is tender, remove to a large plate (be sure to get any skin/bones that may be in the broth). Let it cool somewhat. Remove all the chicken. Set aside. Discard the bones and skin.
Take the cup of broth in the bowl. Whisk in the flour to make a slurry mixture. Slowly drizzle into the pot of broth whisking and blending well. This will thicken the broth. Add the chicken meat and blend.
Add all the vegetables and toss and blend. Pour into a casserole dish coated with cooking spray.
DUMPLINGS: In a medium mixing bowl, combine all the ingredients and blend. The dough will be kind of thick. Dollop on to the top of the chicken/vegetable mixture.
Bake in a preheated 350 for about 20-22 minutes, increase heat to 400 and cook another 8-10 minutes or until the dumplings are done and golden brown. Let the casserole rest about 10 minutes before dishing out into serving bowls or a serving plate!
https://allyskitchen.com/curried-chicken-dumpling-casserole/
©ally's kitchen intellectual property