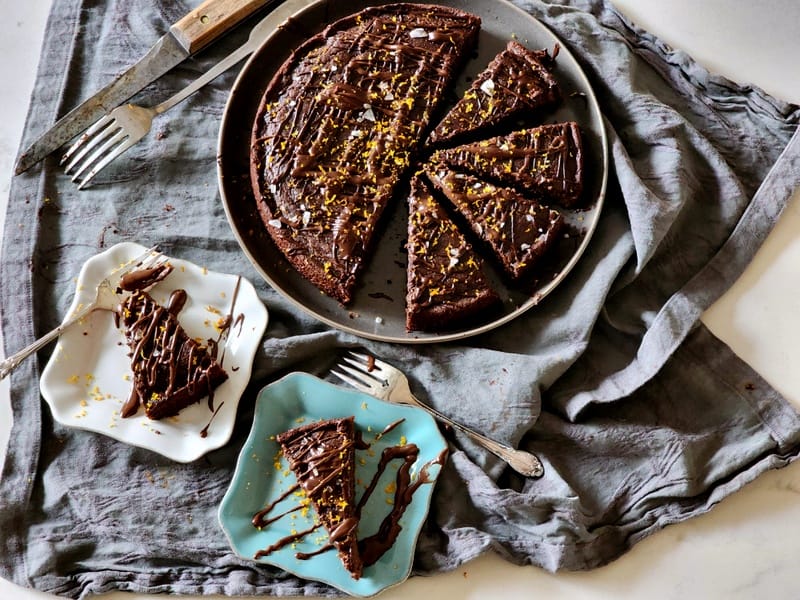 Two childhood favorites in one! Hot chocolate cake! Now you can have your hot chocolate and cake, too. Get ready for dazzling yummies!
View this post on Instagram
Hot Chocolate Cake Recipes
When you combine two of your childhood favorites it's not only amazing, it's epic!
And, that what I'm doing with this hot chocolate that's now a hot chocolate cake.
FlavCity Keto Hot Chocolate
Leave it to Bobby from FlavCity to work in his science lab and bring together ingredients that make a creamy delicious hot chocolate. Use the code ALLY15 for 15% off your order (good until DEC 30 2022)!
Yes, it's keto-friendly, too. So, sip away at your childhood dream and along the way make yourself a chocolate 'mustache'!
FlavCity Hot Chocolate Mix
When you're thinking of a hot chocolate mix that's actually got some acceptable ingredients in it, you want it to taste good. And, not only does this mix taste good, but it's made with NO sugar, 2.5 net carbs, and only 40 calories per serving. What a great way to curb your sweet tooth cravings then with a mug of this hot chocolate.
But, wait, we're gonna make it into a cake!
The ingredients, Organic Cocoa Powder, Organic Coconut Milk, Stevia Leaf Extract, Erythritol, Organic Cinnamon, Pink Himalayan Salt, are going to pair perfectly with all the other wet and dry ingredients in the cake.
Now if you're in the mood for hot chocolate with a healthy twist, then look no further! And, how do I make hot chocolate full of good nutrients? Well, yes, it can be done. Just take a peek! Healthy Hot Chocolate!
.
Healthy Chocolate Cake Almond Flour
You can make this cake with regular flour or almond flour for the gluten free folks.
I'm thinking other GF flours also would work, like rice and coconut flours.
Moist Gluten Free Chocolate Cake
Without a doubt, this is a moist cake. It's got a tad sponge texture in a really good way. This makes the slicing of it almost flawless.
And, since I'm using a larger bundt pan, about 10″ diameter, the cake is more thin, which I love.
GF Chocolate Cake Almond Flour
There's not a lot of work to this cake.
You gather your wet and dry ingredients. Then combine them both.
You bake. That's about it.
Chocolate Cake GF
And, the option of the chocolate ganache splatter and orange zesting is, like the walnuts, totally optional.
For me, I think chocolate and orange go together like peas and carrots!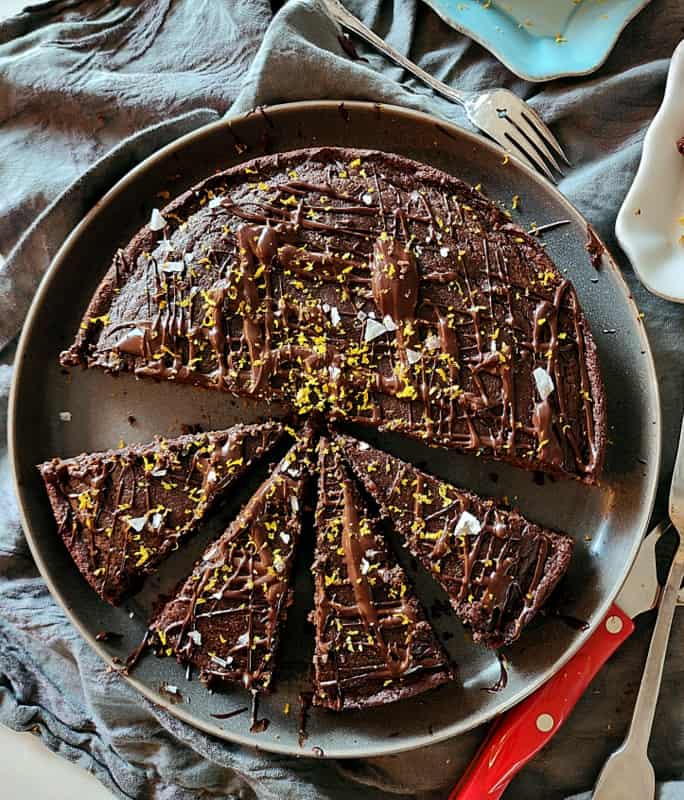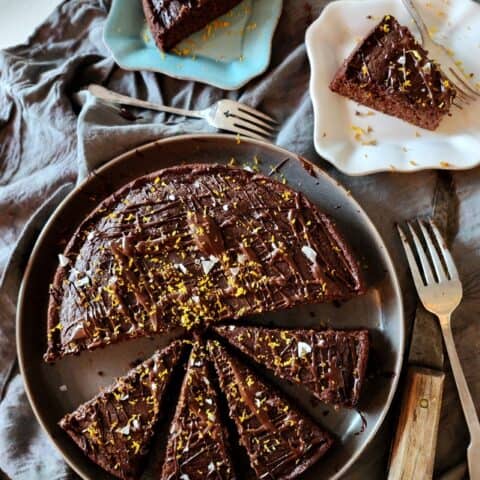 Easy Hot Chocolate Cake
Yield:
Makes: One about 10" diameter springform pan
Ingredients
Preheat oven to 350
DRY INGREDIENTS:
3 scoops FlavCity Keto Hot Chocolate
1 cup almond flour
3 Tbl. cacao powder
1 Tbl. baking powder
1/4 cup coconut sugar
WET INGREDIENTS:
1 banana, smashed
2/3 cup coconut milk, unsweetened + a tad bit more to get the right consistency
1/4 cup coconut oil
2 eggs
OPTIONAL:
Chocolate Ganache Splatter (1/3 cup Coconut Milk, 1/2 cup HU Chocolate Chips, 1/2 tsp. butter, salted)
1 cup walnuts, chopped
Orange Zesting when cake is finished
Sea Salt Flakes, garnish
Instructions
Combine in a large mixing bowl the dry ingredients. Blend and mix. Set aside.
In a large 4-cup measuring cup, whisk together the wet ingredients.
Combine the wet ingredients into the dry ingredients and blend well. The batter should be the consistency of a thick milkshake that pours easily. If you need to add a 'tad' bit more coconut milk to achieve this consistency, then please do so. Blend in the walnuts (optional).
Pour into a well-greased springform pan (about 10" diameter) with the bottom lined with parchment paper.
Bake in a preheated 350 oven for 29-32 minutes. Do the toothpick test in the center. If it comes out basically clean, all good.
Remove to a cooling rack. Dislodge when cool.
Splatter with chocolate ganache. Zest with fresh orange, Sprinkle on a few sea salt flakes.
GANACHE SPLATTER: Combine the coconut milk and chocolate chips in a small saucepan over medium low heat. Let it start warming. You'll see the chocolate chips beginning to melt. Use a whisk to blend together making a thick chocolatEEEE mixture. If too thick, add a tad bit more coconut milk. Finish with adding the butter. It will make your ganache glisten.