Vegetarian Cabbage Recipes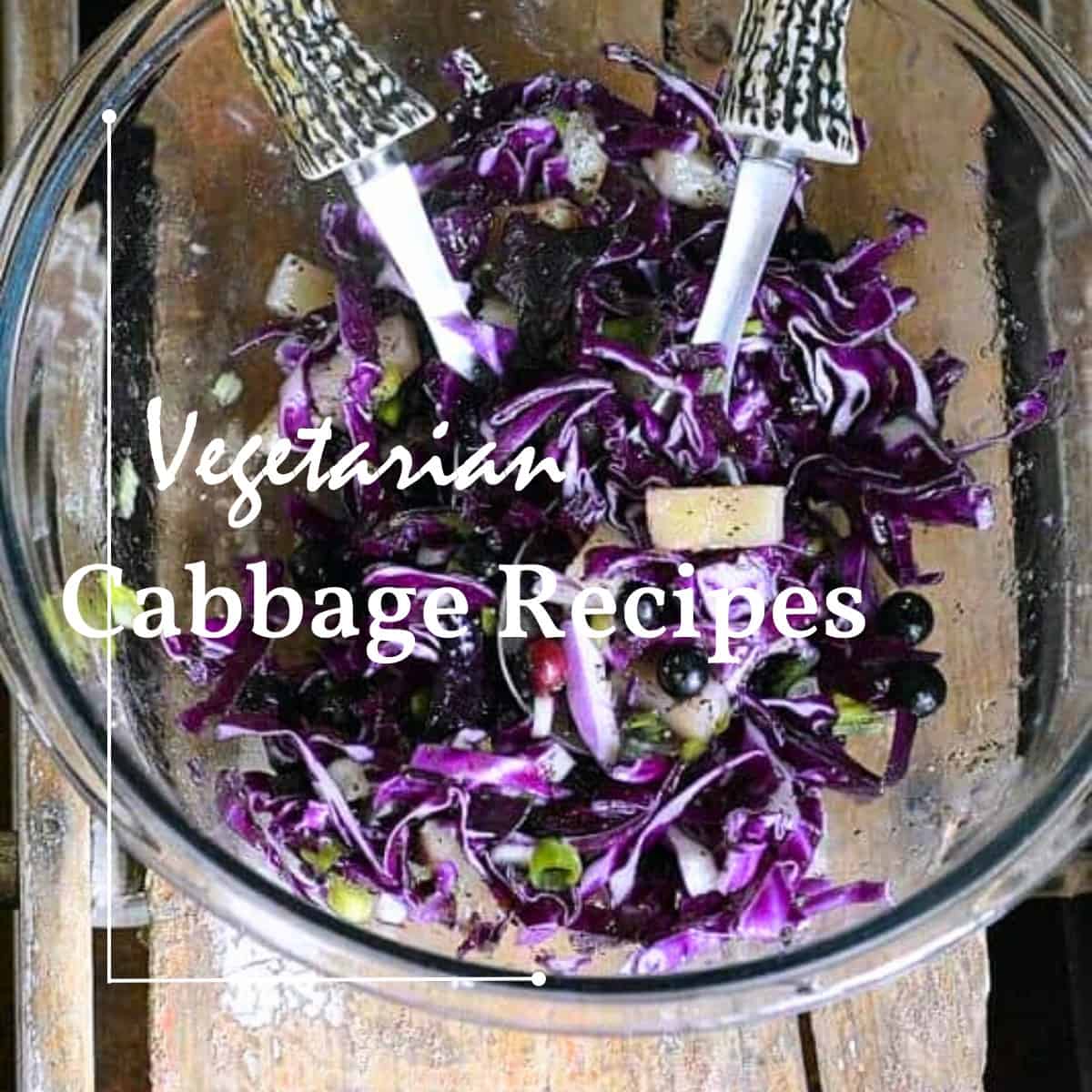 These vegetarian cabbage recipes are full of flavor, texture, and of course, crunch! They're so healthy, so easy, and so tasty that you'll wonder why you never used cabbage more often!
Growing up, we ate a lot of cabbage. It's a big part of Croatian cooking as well as Southern cooking. Since we were Croatian and living in the South, we ate tons of the stuff. And it's funny. I never got tired of it. My mother and grandmother were amazing cooks, and they could do things with cabbage you'd never think of.
I never lost my love of cabbage, and I still use it frequently, especially in salads and, of course, slaws. Over the years, I've made my fair share of delicious cabbage recipes, and I've put the best of the best right here for all of you vegetarians. These vegetarian cabbage recipes are packed with flavor, and there's no meat in sight!
Why You'll Love These Recipes
There's so much to love about every recipe on this list. The flavors. The crunch of the cabbage. The beautiful colors and textures. The health benefits. What's not to love about cabbage, really? And by extension, what's not to love about these recipes? You'll love these cabbage recipes beacuase:
They use limited ingredients that you can find in any grocery store.
They're easy to make.
They're loaded with both flavor and texture.
They're so healthy.
They make great sides for all kinds of other dishes – vegetarian and otherwise!
Why These Vegetarian Cabbage Recipes Work
Cabbage is an incredibly versatile vegetable. When it's raw, it has a great crunch and a subtle sweetness that becomes more prominent as you chew. When it's cooked, it's tender and its natural sweetness is heightened. You can even ferment it!
These recipes work because they take full advantage of everything cabbage has to offer. You'll find a variety of salads and slaws here, all taking advantage of that classic cabbage flavor. I've paired it with everything from apples to tomatoes, and every recipe just explodes with flavor.
Health Benefits of Cabbage
Cabbage is an incredibly healthy vegetable. In fact, many people call it a superfood. It's absolutely packed with vitamins, minerals, and nutrients, and studies have shown that it can support heart and gut health and reduce inflammation!
Cabbage is loaded with Vitamins K, C, A, and B6 along with folate, manganese, calcium, potassium, and magnesium.
It aids digestion and improves gut health.
It reduces whole-body inflammation.
Cabbage is loaded with flavonoids that may improve heart health.
It's thought that it can lower blood pressure and cholesterol.
What to Serve with These Cabbage Recipes
These vegetarian cabbage recipe are super versatile whether you're vegetarian or not. If you're vegetarian, you can pair these recipes with main dishes that feature beans, mushrooms, or tofu. Almost any flavor works well with them!
If you're a meat eater, these recipes work well with almost any chicken, beef, pork, or fish main dish as well as sandwiches, ribs, ham, or almost any of your favorite recipes.
The main takeaway here is that whether you're living a vegetarian lifestyle or you like meat, these cabbage recipes go with just about anything!
Vegetarian Cabbage Recipes You'll Love
From simple cabbage picnic slaw to flavors like cabbage apple salad, mandarin blueberry mandarin cabbage salad, purple cabbage with roasted tomatoes, and more, these delicious vegetarian cabbage recipes will have your family and friends combing back for more!
Give These Delicious Vegetarian Cabbage Recipes a Try!
Whether you want a cabbage dish with Asian flair or something a bit more classic, there's something for everyone on this list of delicious vegetarian cabbage recipes.
If you're looking for new flavors, more health benefits in your meals, or you simply want to try something new, give these recipes a try. I guarantee you'll fall in love with them.