There's just no way to say 'there's not time to cook healthy' with this dish!  Most all types of seafood are really easy and quick and make delicious meals with little or no effort, especially when you're pan searing.  This 'Sweet Ginger Sockeye Salmon' was served with 'Mint Peas' and a 'Horseradish Pepper Jelly Dill Sauce'~~Ben, my hubby, said it was the best meal he'd ever eaten~~of course, he said that the night before, too, when we had NYStrips and oven grilled crispy potatoes and onions!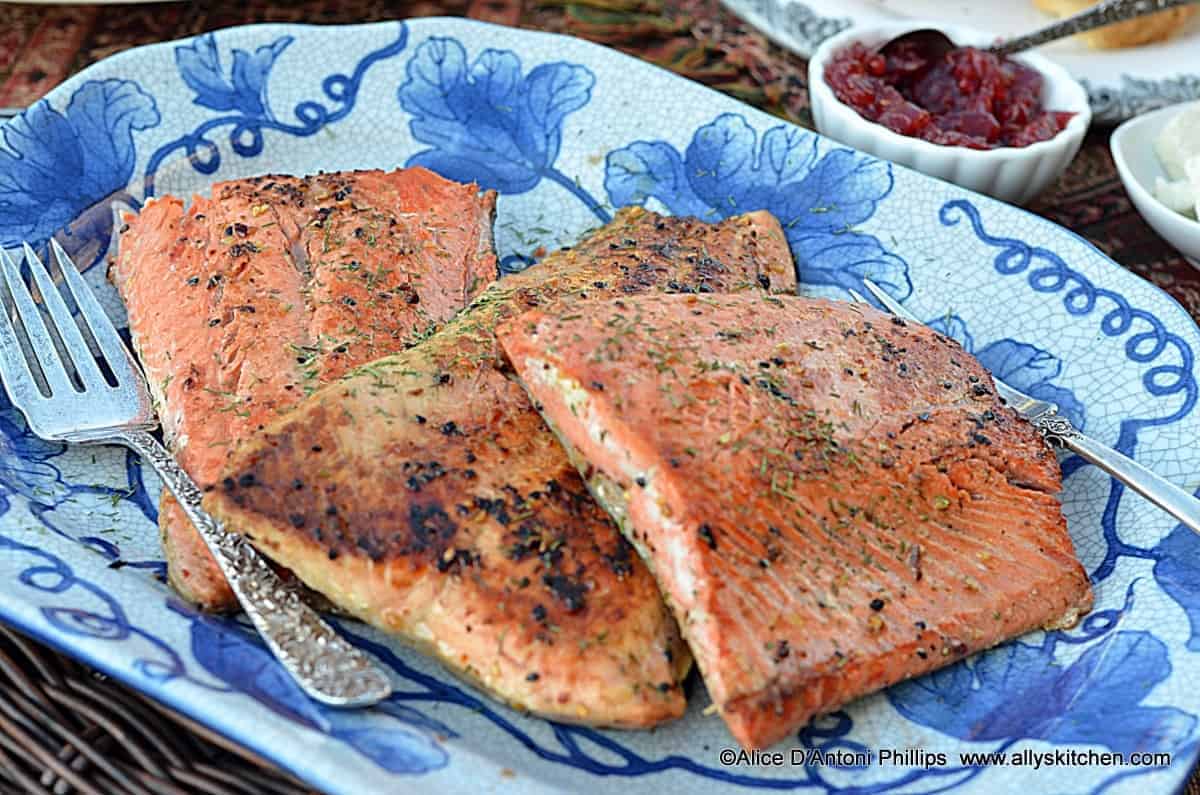 Serves: 4
What you need:
Cooking Spray
1 1/2 to 2 lbs of salmon (skin on) cut into about 6-8″ length pieces
2 tsp Simply Asia 'Sweet Ginger Garlic'
1 tsp grated fresh ginger
1 tsp sea salt
1/3 cup avocado oil (can substitute canola, coconut or olive oil)
1/2 lemon
2 tbl Fresh chopped dill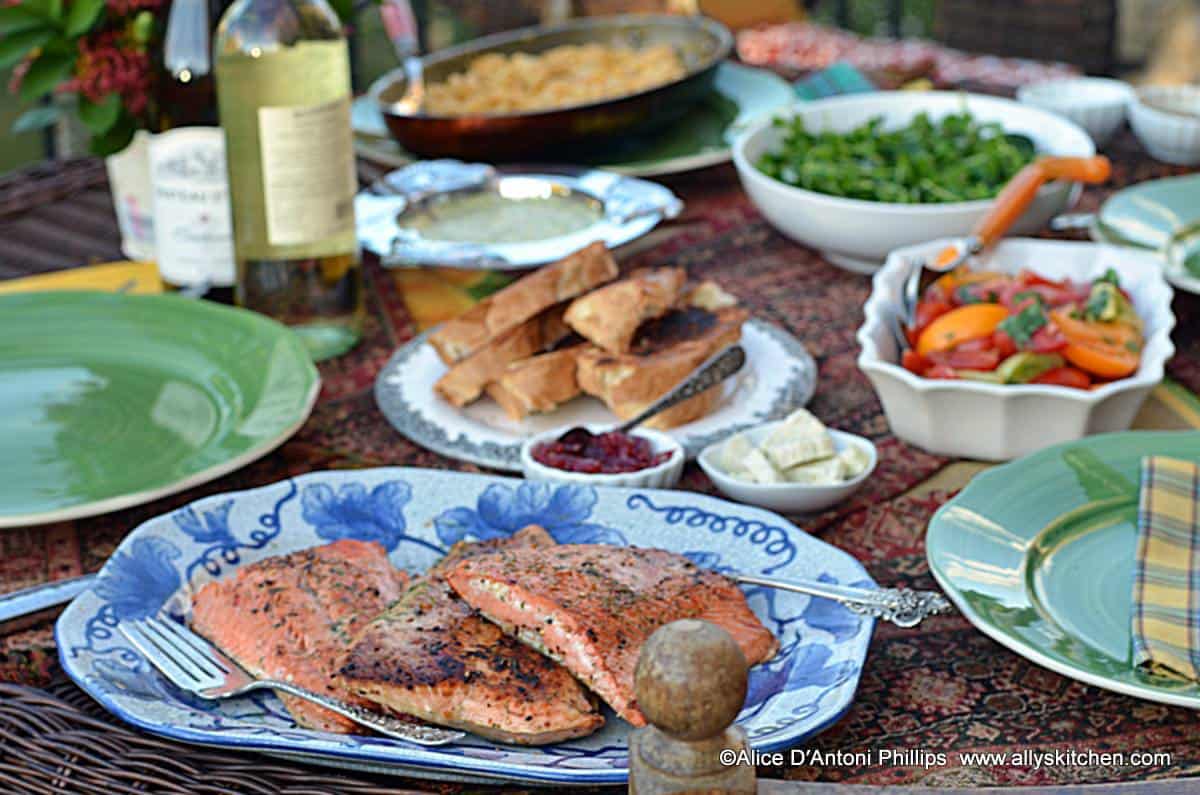 What you do:
Coat the top portion of the salmon with cooking spray.  Sprinkle on the 'Sweet Ginger Garlic', fresh ginger and sea salt.  Drizzle on 2 tbl of the avocado oil.
In a large non-stick skillet over medium high heat, put the remaining avocado oil and get it hot. (Note:  Cooking time will vary according to the thickness of your salmon.)  Place several pieces of salmon (do not crowd) top side down in the hot skillet, cover with a lid and let it sear about 3 minutes.  Reduce heat to medium and cook another 2 minutes. Flip the salmon and cook another about 2-3 minutes.  Remove to a plate. Squeeze lemon juice on the salmon and sprinkle with fresh or dried (frozen type) chopped dill.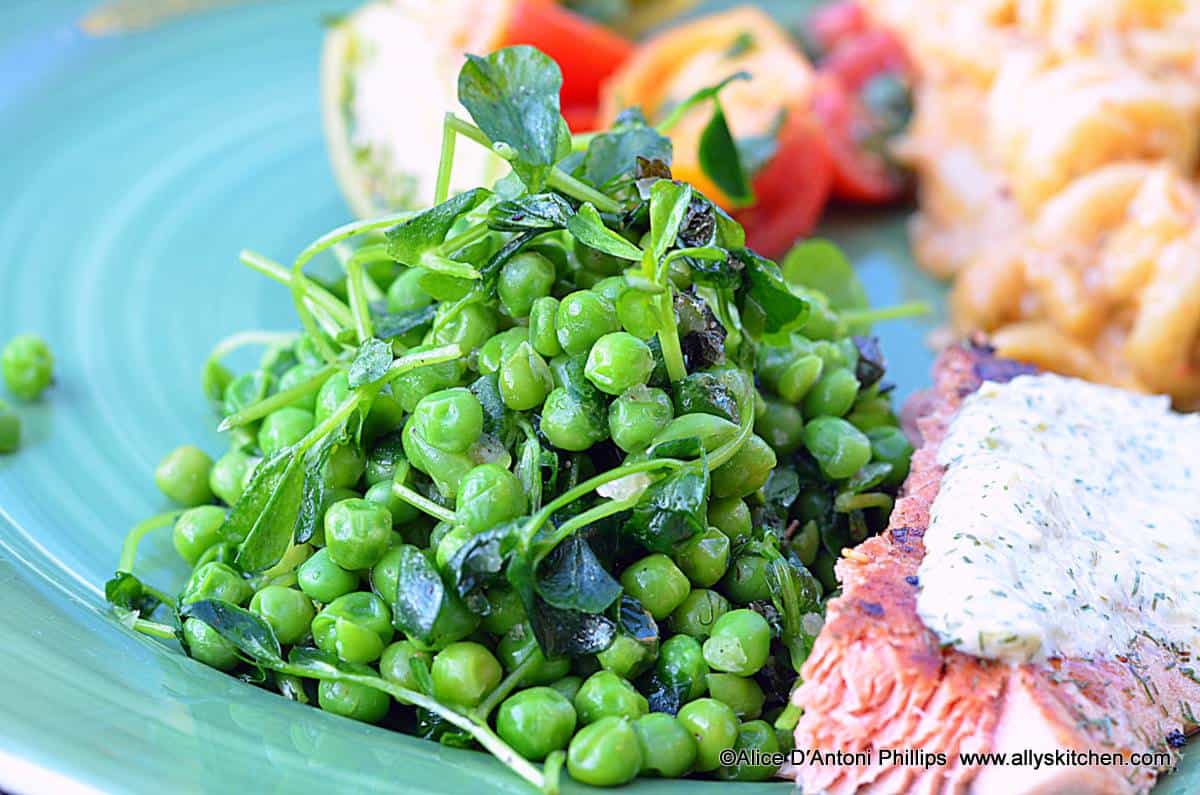 ©Alice D'Antoni Phillips   www.allyskitchen.com