If there's ever something that I could bottle and sell and make so many people happy, it's this 'Spicy Hot Olive & Almond Romesco'!  This is the second in a series (hummmm, that sounds important, huh?) of Romesco sauce-making for me…who knows what might be next.
My first was an Artisan Lettuce Romesco~~Anthropologie Nibbles, and it is scrumptious ..this is similar, but it has more bite and heat to it~~Spicy Hot Olive & Almond Romesco can be used in more ways than as just a dip!  Let your imagination take you wherever it can and explore the applications of it!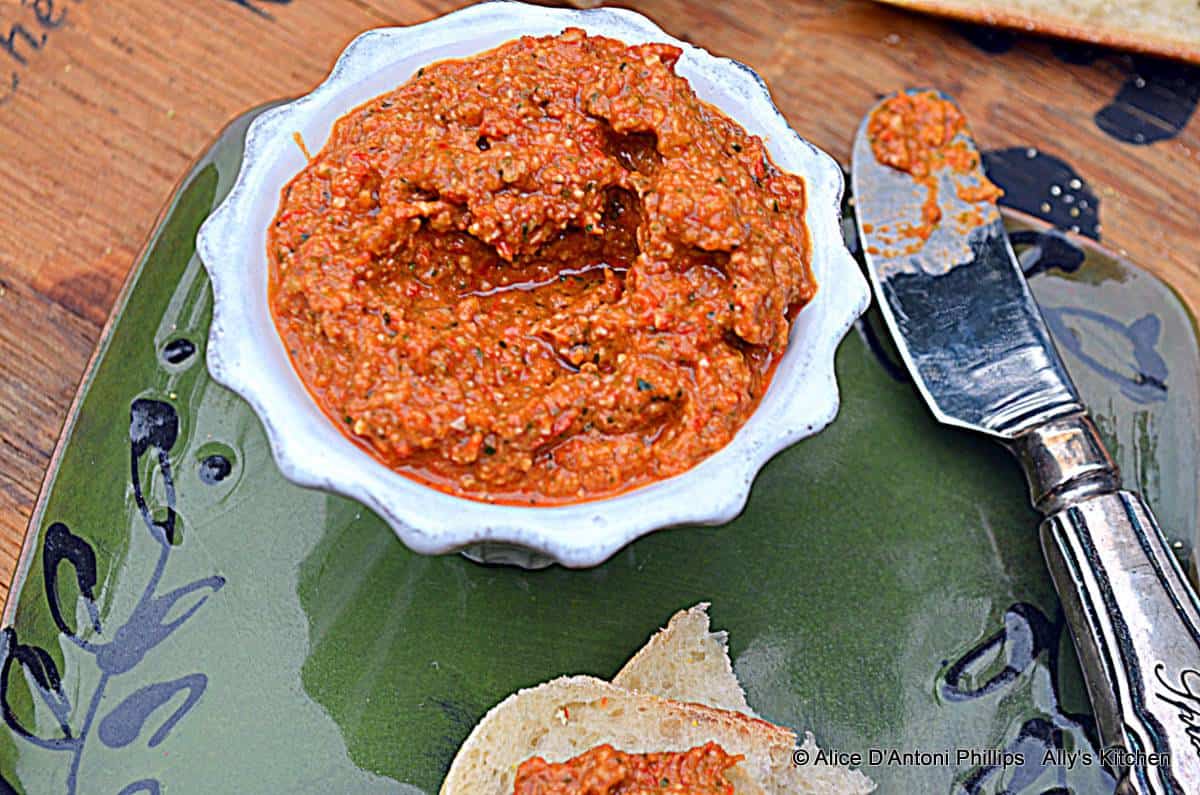 Makes:  About 6 cups
Preheat oven to 425
What you need:
2 cups cherry tomatoes
4-5 red bell peppers (stems off, cut in half, you don't have to get all the seeds and guts out)
2 medium onions peeled and cut in quarters
6 garlic cloves (skin on)
1 Pablano pepper cut in pieces and most of the seeds removed
1/2  cup extra virgin olive oil (divided)
1/2 cup green olives (pitted)
1/2 cup black olives (pitted)
½ jalapeno pepper (remove some of the seeds—depending upon your level of heat desired)
2 tsp sea salt (divided)
3-4 cups packed artisan lettuces (torn into pieces and stuffed in a measuring cup)
2 tsp ground pepper
1 tsp red chili flakes
1/2  tsp cayenne pepper
½ cup gourmet peppers in juice (I used Uncle Gary's, but you can use your choice of brands.)
¼ cup pepper jelly
¼ cup extra virgin olive oil
1 cup almonds
1/2 to 3/4 loaf soft French bread (can be day old)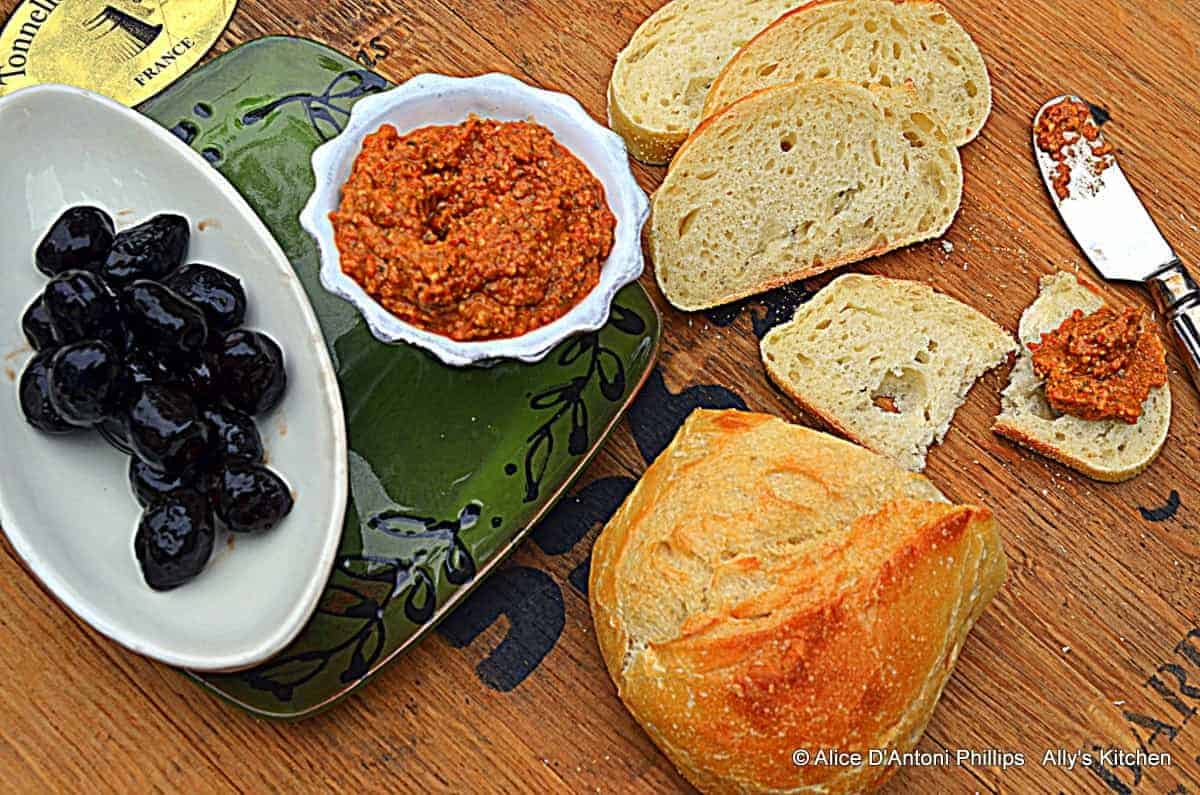 What you do:
Line a large cookie sheet with parchment paper.  Spread the tomatoes, peppers, onions, garlic, and pablanon peppers on it.  Coat with 1/4 cup olive oil and 1 tsp sea salt.  Roast in preheated 425 oven for about 20-25 minutes.  Charring around the edges is good. Remove and let cool.
Put the remaining ingredients~~but only half of the bread~~ in the food processor.  Grind a few minutes until it is a thick paste.  
Add in the roasted veggies and grind in the food processor until the mixture is smooth, creamy and thick.  If the sauce is not thick enough (about the consistency of thick cake batter) then tear up more bread and put in.  This will thicken the sauce.  Refrigerate until serving.  This can also be frozen for later use.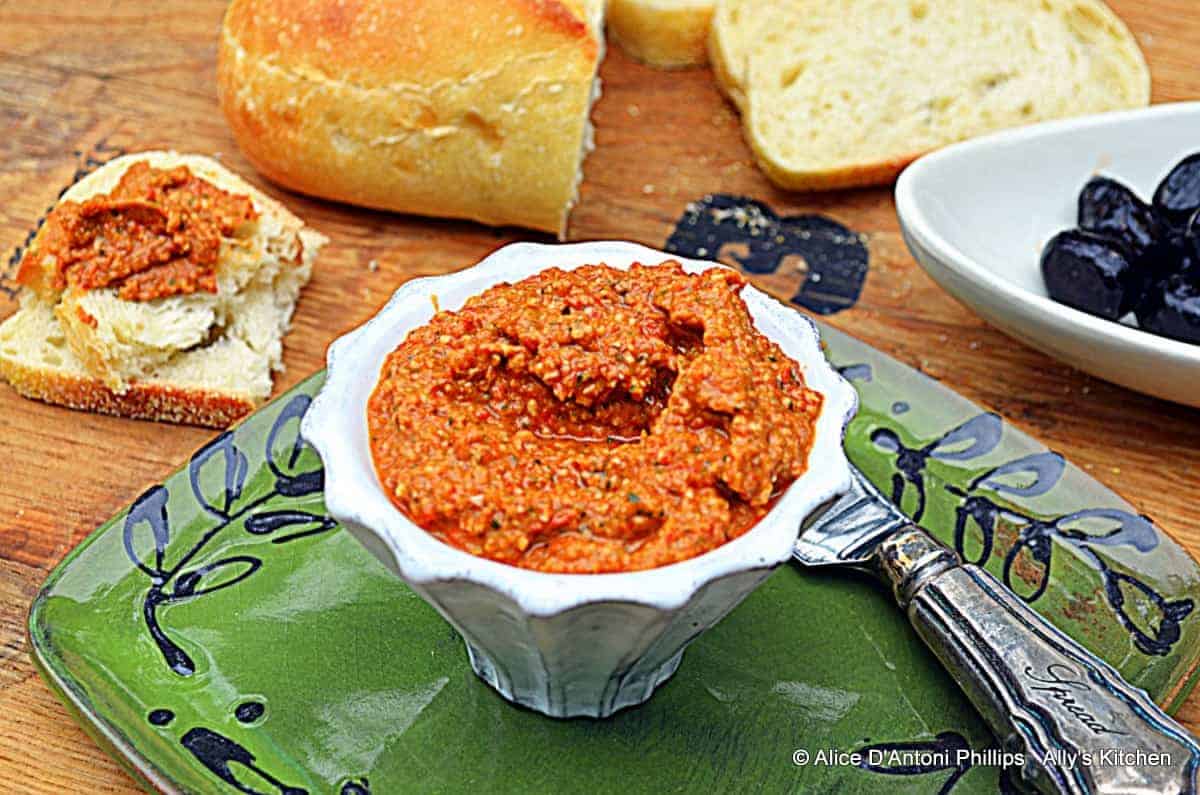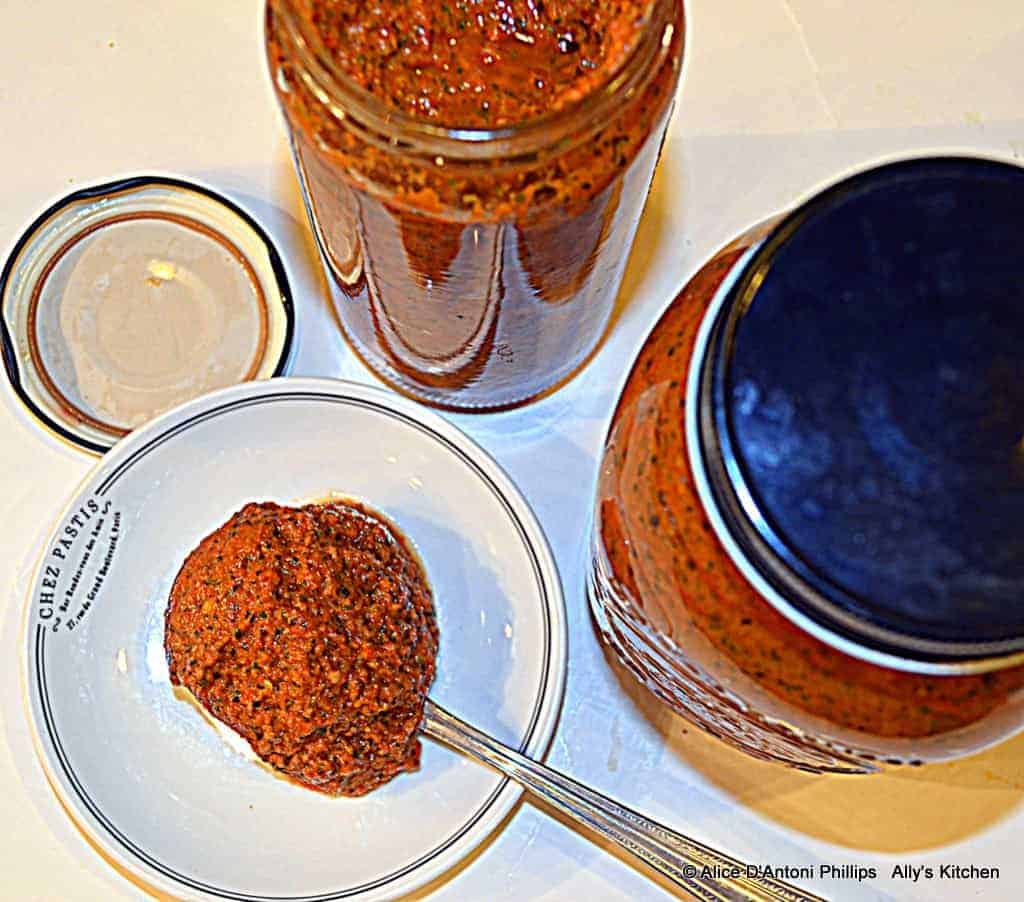 ©Alice D'Antoni Phillips    Ally's Kitchen