Olathe, Colorado is probably best know for its sweet corn~~this is not just any sweet corn! Yes, I've had Silver Queen~~mighty good~~and, as a devoted Southern girl, it's hard for me to say there's anything that beats the queen of corn.  But, I must say, Olathe Sweet Corn is off the charts GOOD!  There's even a festival during the summer in Grand Junction, CO to celebrate this corn!  Now Olathe really is a little town in Colorado, and you may be wondering what makes this corn just so great?
According to David Harold in 'Front Range Living', whose father John Harold brokered the deal with Kroger, the Western Slope's warm days and cool nights contribute to the reason why Olathe corn is spectacular. "The climate here is what makes this corn productive." he says, "There's a temperature differential between day and night, 90s in the day, then a drop of 25 degrees at night in the 60s, which makes it sweet and tender. It was bred here so it was made for this area…it's a specialty item and takes some care," David says, "When we pick it and harvest, it's not by machine, but hand picked. That's because of the tenderness of the kernels. We do it over an 8-week period."
So if you ever have a chance to taste this culinary delicacy that can be traced to the ancient Anasazi who farmed at Mesa Verde then consider yourself among the fat, happy and sassy because it's all of that and more!  It's one of my very favorite things about living in Colorado during the summer~~two things folks can't wait for here~~ski season to open and Olathe Sweet Corn to come to market!
What you need:
Fresh Corn ~~As many ears of shuck-on corn on the cob as you want that has been soaked in water for a few hours
Canola cooking Spray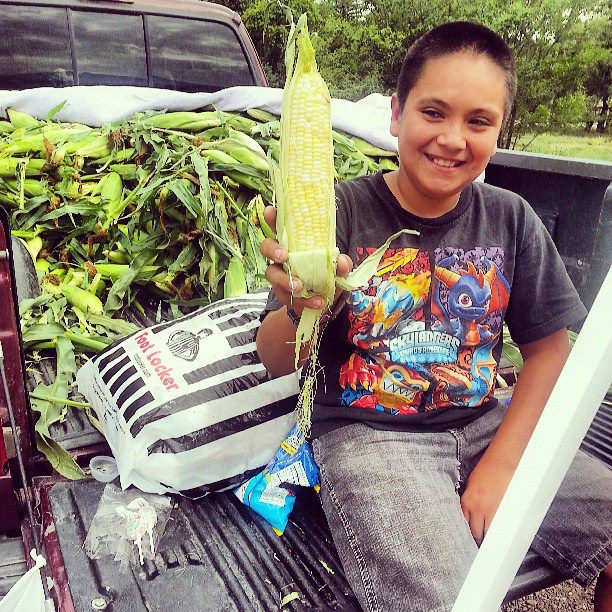 What you do:
Heat a grill to about 400-500 degrees.  Place soaked corn on shelf part of grill.  Close lid and cook about 35-40 minutes.  Remove and let cool somewhat.
Remove shucks.  Coat corn with cooking spray.  Increase grill heat to about 500-600.  Place corn on grill, close lid, and let it char a few minutes turning and rotating.
Ready to serve with butter, salt and pepper…or a sprinkling of your favorite seasoning like Old Bay, cumin, red chili flakes…whatever!
©Alice D'Antoni Phillips    Ally's Kitchen