One of my favorite Italian dishes is chicken marsala. And, I'm always looking for ways to use the basic elements of this dish in new recipes. I've created a chicken marsala soup, which is outstanding and one of my most pinned recipes. Imagine that. Chicken marsala in a bowl as soup. But, it's absolutely divine. And, now this slow cooker chicken marsala and sugar snap peas is yet another variation of this delicious dish.
Sugar snap peas are a wonderful contrast to add to this dish. When I create new recipes, the first thing I think about and consider are the aesthetic aspects of the dish. How do I make it pretty. What colors should be in the dish. Are the textures complimenting each other. And, I knew that the sugar snap peas would be a divine addition. I thought about capers for the salty aspect as well as some green, but the sugar snap peas add so much more dimension, flavor, texture and style to this recipe.
Finally, I wanted to use the slow cooker as the main cooking vessel. Lots of folks love their slow cookers. They're life savers. They're easy and perfect for busy people who want to come home to a great meal that doesn't mean staying in the kitchen for a long time. So, this dish being prepared in the slow cooker frees you from everything and in no time at all, you have the iconic chicken marsala and all you did was put everything in your slow cooker!
Enjoy, my dear luvs. Food is supposed to be uncomplicated and deliciously complicated. This slow cooker chicken marsala and sugar snap peas is precisely that! xoxo ~ally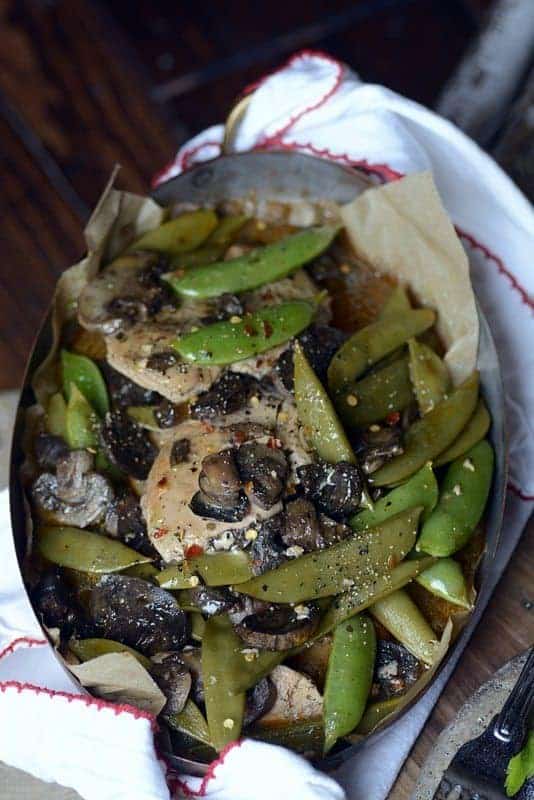 slow cooker chicken marsala and sugar snap peas
Ingredients
1 ½ lbs. chicken breasts, skinless, boneless and thin cut
1 ½ tsp. McCormick's Perfect Pinch Garlic Herb Seasoning
½ tsp. sea salt
½ tsp. red chili flakes
8 oz. sliced mushrooms, baby bellas or your choice of variety
1 pouch (11 oz.) Campbell's Chicken Marsala + 1 cup water to rinse pouch
2 cups sugar snap peas, rinse and clean
8 oz. linguine or fettucine
GARNISH
Freshly grated parmesan regianno cheese
Fresh Italian Parsley, roughly chopped
Instructions
Put the chicken breasts in slow cooker. Sprinkle with the garlic herb seasoning, salt and red chili flakes. Add the mushrooms on top the chicken. Pour the Campbell's marsala and water on the chicken.
Cook on high for 2 ½ hours. Turn heat to 'warm'.
Add the sugar snap peas and blend into the sauce mixture. Let the snap peas steam/cook about 15-20 minutes or until bright green. They will stay crunchy and bright green.
Take some of the broth from the slow cooker, about one to 1 1/2 cups and toss and blend with the cooked pasta.
When serving, garnish liberally with freshly grated parmesan reggiano and flat Italian parsley.
Notes
Don't add the sugar snap peas until about ready to serve to keep them crunchy and bright green.
Cover the pasta and let it steep in the broth for about 15=30 minutes before serving.
Serve pasta with chicken, more broth and the mushrooms and sugar snap peas.
Change up the type of mushroom you use! I love shitake and oyster. Or do a combo of mushrooms for more texture and flair!
Serve with sides of olives, green and black or capers!
https://allyskitchen.com/slow-cooker-chicken-marsala-and-sugar-snap-peas/
©ally's kitchen intellectual property